Products
Ai Voice

Ai Meetings
Overview
Convin is an AI-backed contact center software that uses conversation intelligence to record, transcribe, and analyze customer conversations. Convin supports omnichannel contact centers and performs quality audits across calls, chats, and emails. It is your one-stop solution to 3X your contact center performance by improving agent performance holistically, boosting customer experience, and increasing your contact center ROI.
Convin's Key features:
Quality Management System: It is your one-stop solution to call listening, randomizer (for sampling), call auditing, and custom reporting.
Automated QA: Eliminate random sampling, human bias, and inaccurate scoring with Auto QA. Monitor every conversation, including calls, chats, and emails, to understand agent performance and assign coaching.
Learning Management System: Create customized assessments for agents, enrich the knowledge base with the required information, and track agent participation in coaching sessions.
Automated Coaching: Have a grip over call center training sessions that are auto-assigned by AI based on best-performing agent conversations.
Conversation Behavior Analysis: Track and analyze winning and losing trends behind agent-customer interactions and leverage call behavior, action, and phrases to drive more business-winning deals.
Customer Intelligence: Unleash the hidden insights within customer calls using customer intelligence. Find keywords and phrases that led to won and lost deals. Listen to customer conversations to discover competitors, objectives, product features, competition, and sentiments.
Conversation Intelligence: Surface valuable insights to drive more strategic decisions and business outputs. Reduce repetitive and redundant tasks like note-taking, data entry, etc.
Language Support
The system can analyze calls in English, Hindi, Spanish & 70 other languages.
Sign up today: https://convin.ai/sign-up
Have questions? Book a demo.
How to setup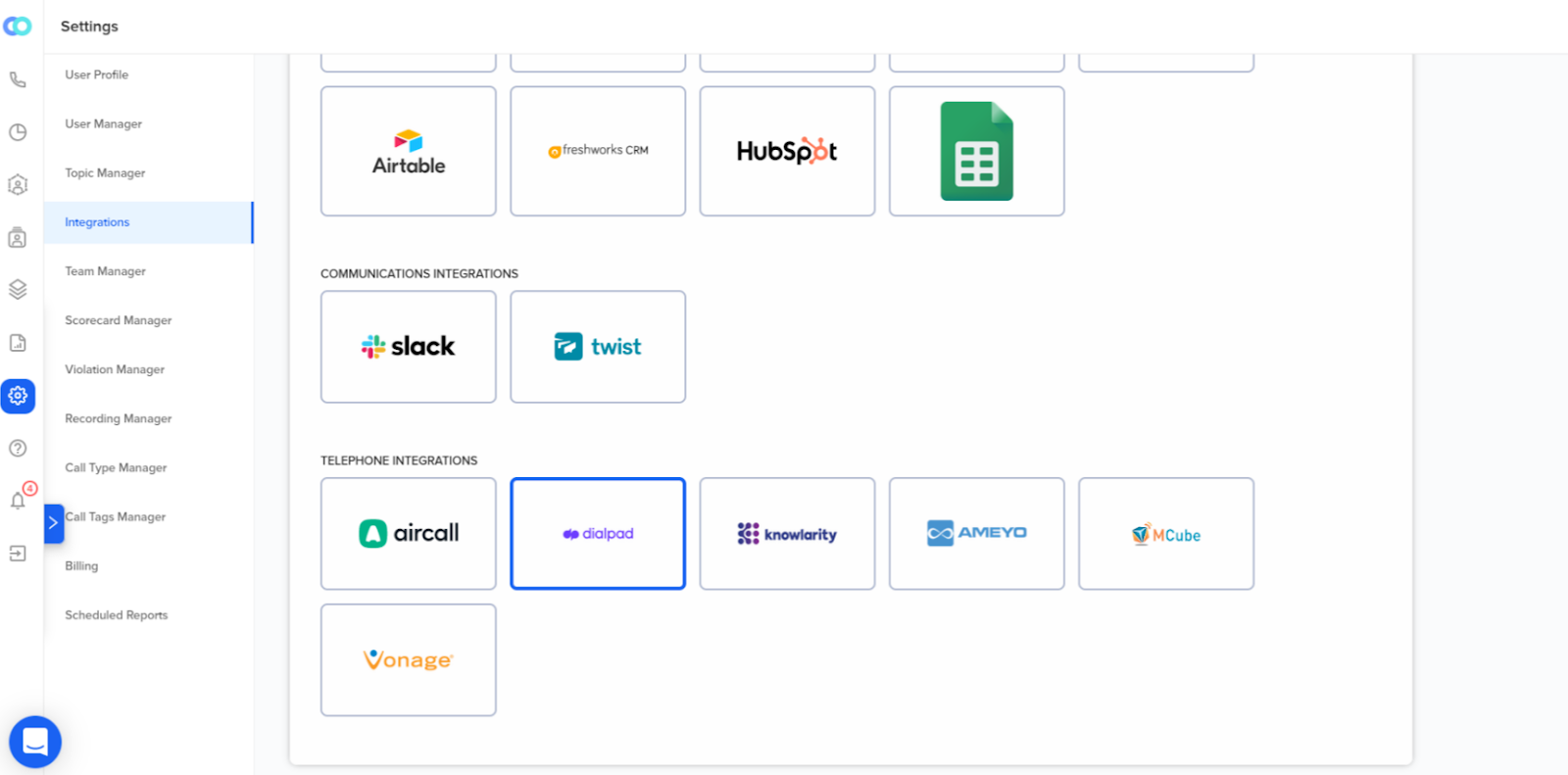 Log into the Convin dashboard.
Go to the 'Settings' section on the left panel.
Then go to 'Integrations' and look for 'Dialpad' under 'Telephone Integrations'.
Click 'Connect' on Dialpad Integration.
Sign in to your Dialpad workspace.
You'll now be redirected to the permissions page on the Dialpad dashboard. Click on Allow, and that's about it.