Overview
Mindtickle is a Sales Readiness platform that empowers revenue teams to engage the market with purpose and close deals with confidence. Mindtickle's sales readiness platform combines multiple solutions — including sales enablement and training, sales content management, conversation intelligence, sales coaching, and analytics — to create a unified approach to readiness.
Mindtickle's Call AI solution helps world-class companies be ready to grow revenue by recording, transcribing, and analyzing sales calls via Dialpad for customer insights and coaching. With conversational insights tightly integrated into sales training and content programs, Call AI helps revenue teams be ready for every selling situation.


Key Features:
Import every Dialpad call into Mindtickle Call AI
Automatically import all calls directly into Mindtickle Call AI

Easy access to all your call recordings
Refer to your call recordings, and use the system-generated transcripts to refer to past interactions.

Take notes and collaborate
Use Call AI to take notes and collaborate at the individual or team level using the personal or public comments section.

Get your action items tracked
Quick access to action items from past client calls.

Self-Coach with Call Insights & Scores:
Develop your sales conversations using the system-generated insights to make the next call better than the previous one.
Key Benefits:
Improve seller productivity: Helps sellers collaborate on meeting prep and follow-ups while bringing powerful customer insights into your CRM.

Create more top sellers: Apply individualized coaching, training, and reinforcement exercises informed by AI.

Identify and fix deal risks: Address the real-world behaviors that stop your sellers from winning deals.

Set the true north for seller performance: See how calls compare to the winning behaviors displayed by top sellers.
How Dialpad Integrates with this App:
The Call AI by mindtickle integration is available as a CTI in the Call AI by mindtickle environment.
How to setup
To set up Call AI integration with Dialpad, follow the below steps:
Note: Only the admin of Dialpad can integrate the Dialpad account with Call AI.
1. Sign in to the Call AI interface using your Mindtickle credentials or email address registered with Call AI.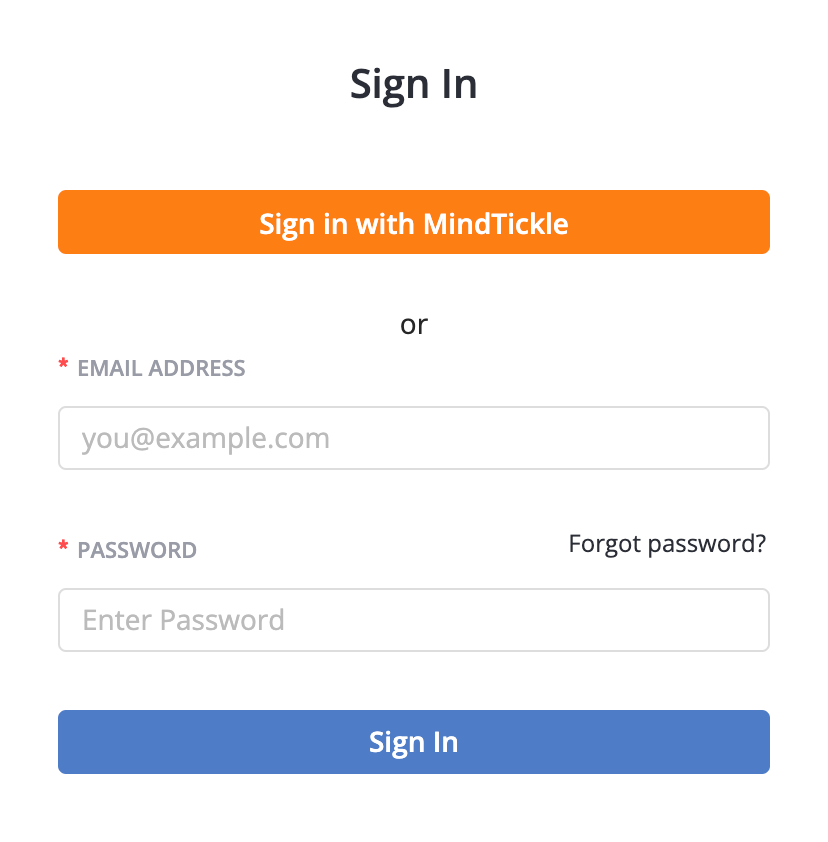 2. Click Admin > Integrations Setup > Dialpad > Enable Integration.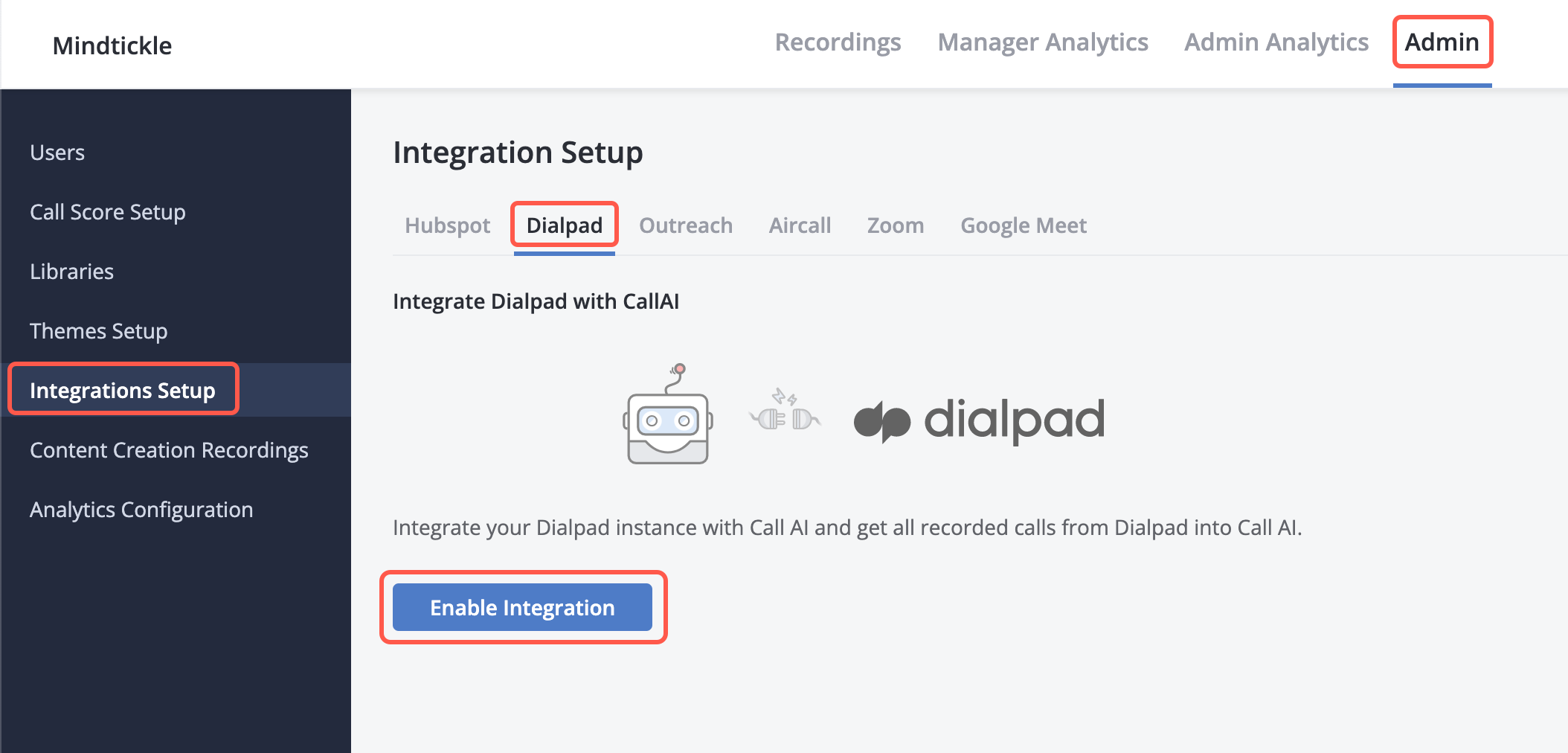 3. Sign in to your Dialpad account.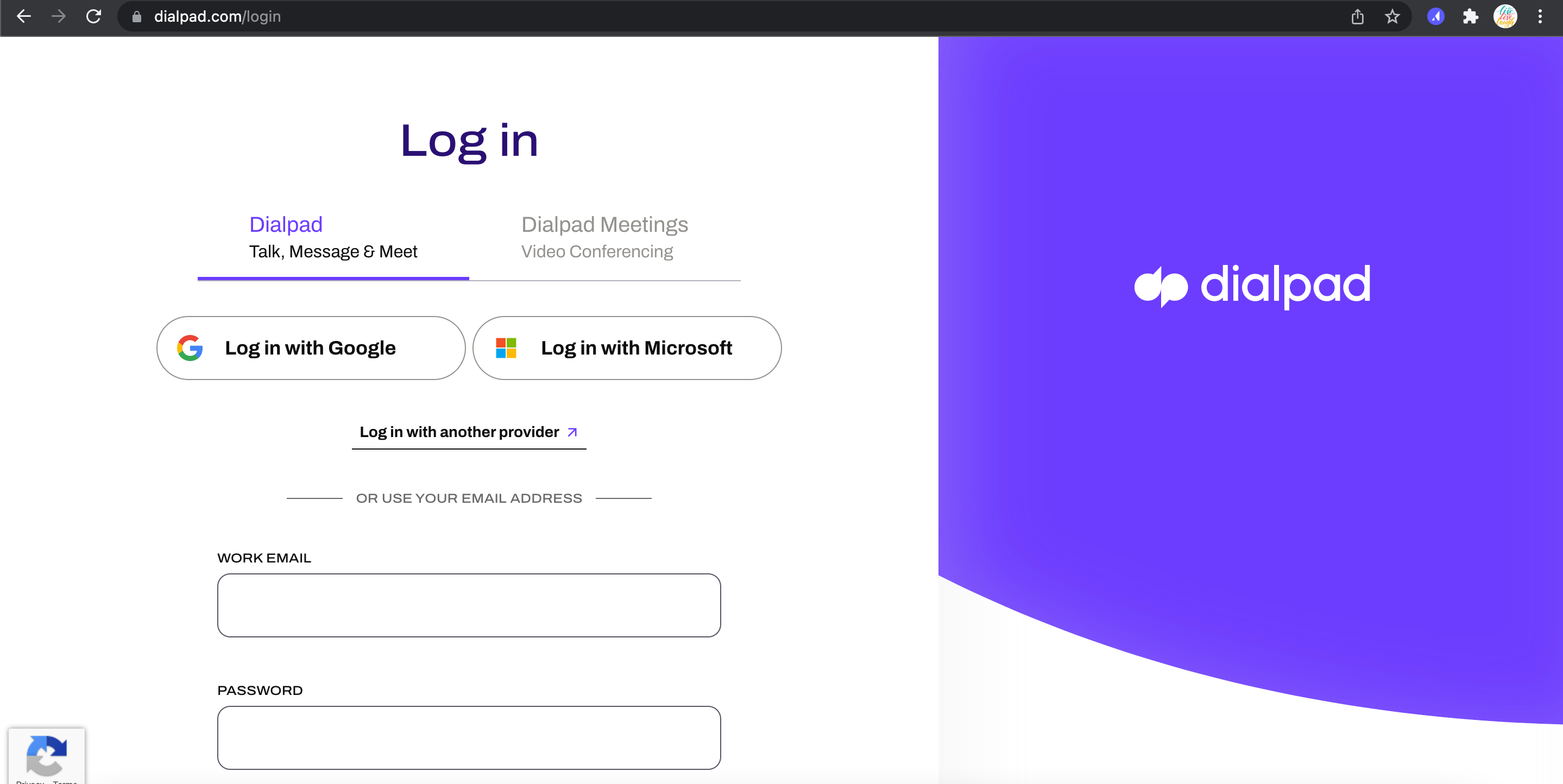 4. Click Allow to give permission to Mindtickle to access information about your calls.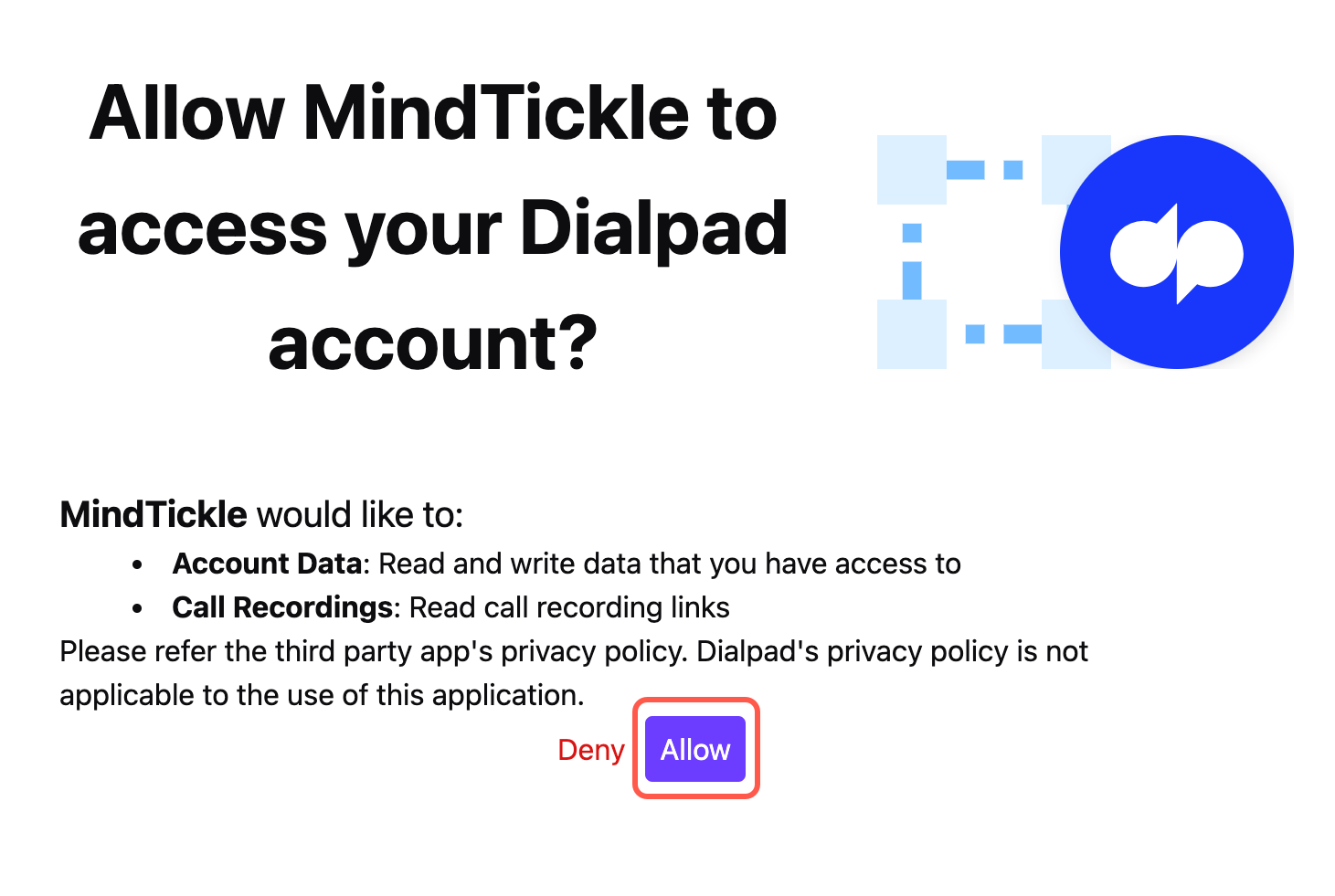 5. Record your call using Dialpad.
6. Once your call finishes, its recording appears in the recording list on the Call AI interface approximately in an hour. There might be a delay in recording if there is an issue from Dialpad's end. In that case, we recommend a wait time of up to 2 hours. You can use Call AI's powerful and guided search to quickly look for a specific recording. For information about the insights available for a call recording, see Call Recording Details.