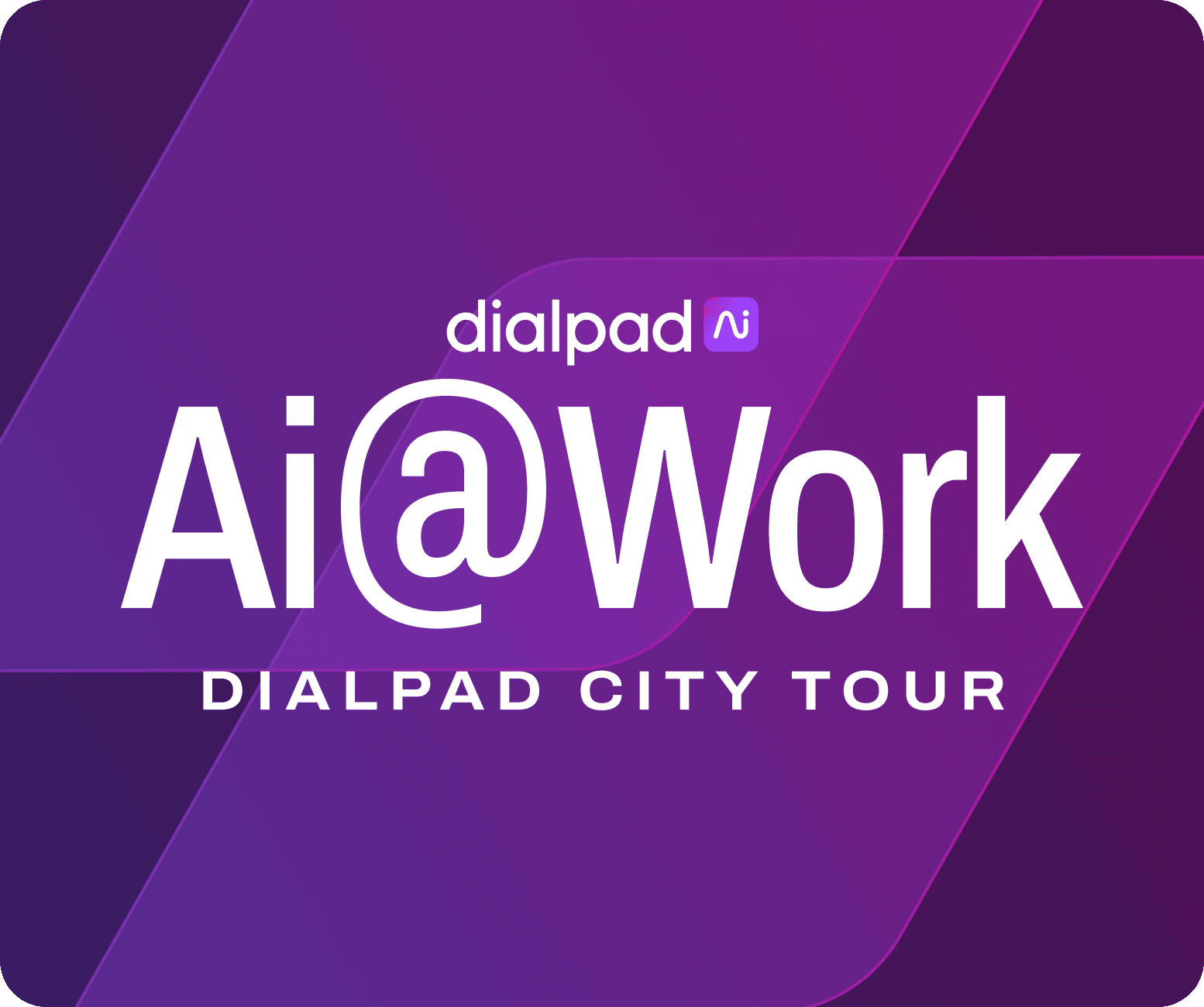 AUGUST 15TH | NASDAQ MARKETSITE | 12 PM ET
Ai for customer
service & sales leaders
Thanks for your interest! This event is now full.

+ To find additional stops on our Ai@Work tour, please visit: https://www.dialpad.com/ai-at-...
+ Or, if you have specific questions about the NYC event, please contact [email protected]

CEO & Founder - Dialpad
Craig Walker
Craig is the Founder and CEO at Dialpad. Previously, he was Founder and CEO of GrandCentral Communications (now Google Voice) and prior to that, ran Yahoo! Voice as the Senior Director of VoIP at Yahoo!.

VP OF ALLIANCES - DIALPAD
Sangeeta Walsh
Sangeeta works closely with customers, technology, and development partners to create mutual GTM activities that grow applications in Dialpad's app gallery, along with focusing on customer adoption and customer engagement of Dialpad Ai products. Prior to Dialpad, she led the team focused on growing and building RingCentral's developer and partner ecosystem.

CSO - Dialpad
Dan O'Connell
Dan is the Chief Strategy Officer at Dialpad. Previously, he was the CEO of TalkIQ, a real-time speech recognition and natural language processing start-up that Dialpad acquired in May of 2018. Prior to TalkIQ, he held various sales leadership positions at AdRoll and Google.

VP OF AI ENGINEERING - DIALPAD
Jim Palmer
Jim Palmer is the VP of AI Engineering at Dialpad. His teams manage custom speech recognition (ASR), natural language processing & understanding (NLP/NLU), Generative AI & LLMs, as well as AI Engineering to power real-time AI features in all Dialpad products at scale. Jim was also the Co-Founder and CTO of TalkIQ, which was acquired by Dialpad in 2018.

CMO - Dialpad
Morgan Norman
Morgan is the Chief Marketing Officer at Dialpad. Prior to Dialpad, Morgan was the Global VP of Corporate, Brand, Growth Marketing at RingCentral. Morgan is returning to Dialpad where he led go-to-market and global marketing as CMO from 2015 to 2017. Prior to Dialpad, he held Marketing Executive roles at Copper, Zuora, NetSuite, and Microsoft.

PRESIDENT - PT Services Group
Bob Zupanek
Bob Zupanek serves as the President of The PT Services Group, a dynamic appointment-setting company based in Pittsburgh, PA. The PT Services Group is known for providing trust-based appointment setting lead generation programs for the benefits, financial advising, insurance, and Managed Service Provider industries.

Systems Engineer - Remi
Jonathan Meredith
Jonathan Meredith is an IT engineer with over 20 years of work experience in the fields of Analog Telephony. Jonathan has been using Dialpad as his trusted partner since 2020, growing from administering one Ai Contact Center and 120 end users to 8 Ai Contact Centers and 465 end users.

VP of Operations - Foley
Ray Dunne
Ray Dunne is the VP of Operations at Foley services.   At Foley, Ray leads a team responsible for service delivery of Foley's specialty background check services to companies that hire drivers. Prior to Foley, Ray worked at Iron Mountain Records management for 25 years. He has held various leadership positions within Information Technology, Operations, and the Global PMO.
ANALYST SPOTLIGHT
Ai adoption strategies from top analysts
Ai brings new opportunities for personalized experiences, improved customer experience, workforce collaboration, and guided training. However, many Ai systems are out of reach due to cost, lack of data, and expertise. As new solutions bring the power of Ai to everyone, businesses must quickly determine how to invest in pragmatic approaches to Ai. Learn from one of the top analysts on Ai, R "Ray" Wang, CEO of Constellation Research, on how Ai will benefit everyone.
SESSION SPOTLIGHT
Ai deep dive sessions
Ai is powerful, broad, and at times, a complete mystery. Many organizations struggle to deploy Ai effectively and aren't clear on how to make the most of their Ai toolset. In this session, you'll learn about the practical ways Dialpad built Ai into its foundation, applying it to our technology so you can take advantage right away. From automating manual tasks like live coaching to dramatically improving your customer experience—Dialpad Ai is there for your teams at every step.
CUSTOMER SPOTLIGHT
Ai thought leader panels
Businesses today are looking to leverage the power of Ai in their organizations, but wondering how to best capitalize on the promise. Hear from five industry leaders on how they're leveraging Ai to up-level their customer service and sales organizations, create differentiated service experiences, and generate new revenue streams.
Get all the latest
insights on Ai

Explore next-gen Ai features
We'll cover step-by-step playbooks on how to take your Contact Center to the next level using live Ai coaching, real-time sentiment tracking, and direct CRM integrations.

Get access to live demos
See demos of unified Ai Contact Center and Ai Sales Center workspaces with built-in Ai transcriptions, Ai call recaps, predictive CSAT scores, and more.

See how industry leaders use Ai
Hear from industry experts and company leaders about their trials and successes after introducing Ai into their own organizations.

Network with other leaders
Meet and network with other business leaders who are on their own journey leveraging and deploying Ai across their company.
Take a tour of Dialpad
See how easy it is to connect teams globally—all
on one beautiful, Ai-powered platform.
Save your spot today
We can't wait to see you at the event.