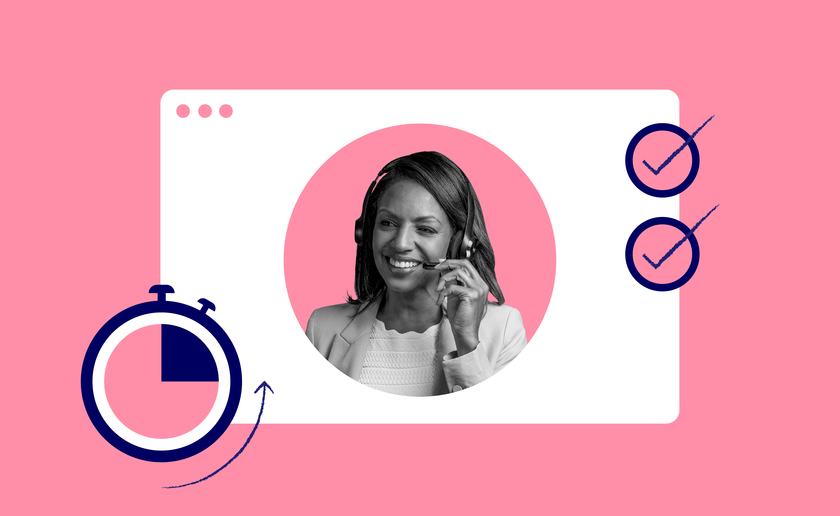 August 13, 2020
Is your call center hitting its target time? The average handle time in a call center is six minutes and 10 seconds. Keeping times low is the key to handling more calls, reducing wait times, and improving overall customer satisfaction.
Combining your staff and artificial intelligence can bring times down and have a positive impact on your business. By leveraging the right software and focusing on improving new and existing agents' skills, you can create an uninterrupted flow of calls, allowing you to reduce call times and wait times by as much as 35 percent.
These seven tips will keep you on track to higher customer satisfaction through lower average handle times.
1. Use the Right Call Center Technology Correctly
Every organization is different. Finding the technologies that work best for you is an essential first step. The products and services your business sells play a significant role in call time. A SaaS company for a database, for example, could expect to naturally have a longer call time than another that handles single sign-on.
This doesn't change the fact that 66 percent of adults treasure their time more than any other commodity, however, so you have to find the solution that lets you hit the call time sweet spot.
Pick the Right Tools
Today's workplace is awash in tools promising to help reduce call and queue times. Software exists to help with email, call routing, call handling, question answering, customer feedback, voice-over-internet protocol, sales, etc. If you have a need, there is a solution.
You need to find the software that solves technical problems for your team—research how your agents use technology and check out demo products before deciding.
Keep in mind that remote agents require an additional level of support. Department heads cannot walk over to an agent's cubicle to discuss their productivity or develop a sense of which routing patterns work best without accurate metrics. Any face-to-face interactions involve time-sensitive meetings over video conferencing.
When looking for a tool, don't take the decision lightly. The wrong fit could mean an increase in call times as agents fumble through options to find what they need.
When used correctly, transitions between customers should become seamless. Evidence-based practices centered around analytics let you fine-tune your processes — and people — even further.
Eliminate Complexity
With so many features to control, it is easy for agents and executives to spend more time than necessary learning and deploying software. It can take up to two years for new employees to become proficient users.
Allowing your managers and agents to work with familiar tools instead of those that reinvent the wheel gives you a chance to hit the ground running. Call center products such as Dialpad integrate with Microsoft Office and G Suite for internal or external communication. They also export data to your favorite visualization tools.
Cloud call center options take integrations and efficiency even further by eliminating server management and the pain of having IT teams integrate remote workers. Fully managed cloud call center software continually grows to meet the needs of the most demanding teams.
2. Record Calls for Success
Once you've chosen your tools, set up a means for gathering information, nearly all call center tools let your department administrators or agents record calls. Recordings give you a significant amount of feedback.
By checking recorded calls, you can tell how a customer or lead feels and how quickly agents find the right information. Recordings work even when both parties know you are listening in.
Call records are also an excellent resource for reviews and training. Agent personalities and abilities shine through, allowing you to place them in the proper queue. Veterans reveal mistakes they did not know they were making while showing managers patterns they never knew working with your customers. Find out more information in this guide for contact center call recording.
3. Improve Coaching and Learning with Technology
Call recording and listening in do little without a feedback loop. This information helps you build sets of behaviors and coping mechanisms within your team. They are not purely for hiring and firing agents. Coach and guide your employees with your newfound knowledge.
Contact center software lets you jump into at-risk deals and calls that get too heated. Walk your representatives through the process instead of letting them flounder when it matters most.
4. Use Collaborative Learning
Let your employees train each other through recordings and listening in as well. Pair new and veteran employees. New employees will get to see first-hand what it takes to work at your contact center. Veterans will get a fresh perspective on an old job.
Research points to some critical benefits from collaborative learning, such as:
The development of higher-level thinking, oral communication, and self-management skills
The promotion of team interaction
A 65% retention rate, compared with 14% for solo learning
Exposure to diverse perspectives on problem-solving
Each of these skills is crucial to the success of your agents. Call center agents have to solve both personal and technical problems. Infusing new talent with the right tips and old talent with exposure to diverse critical thinking skills improves productivity and benefits the entire organization.
Collaborative learning even works in remote organizations. Technologies for file sharing and listening into calls let teams interact. You can allow trusted veterans to chat and work through difficult problems with new hires from a world away.
5. Improve Productivity through Analytics
Analytics is a current buzzword, and there's a reason for it. Key metrics let you discover the reasons behind your average handle time and help you direct your training, coaching, and collaboration efforts. Visualizations analytics empowers key players to fine-tune training materials, routing, and integrations with the information they need.
There are many metrics to choose from. Having too many in one dashboard can create information overload. Systems with customizable and simple wallboards let you organize your agents into teams or view individual statistics to get a quick overview of performance.
Among the metrics you should focus on are:
Average call abandonment rate
Average number of missed calls
Percentage of blocked calls
Average time in queue
Average speed of answer
Actual average handle time
Average after-call work time
Customer satisfaction rating
Tune your processes around these critical factors using constructive criticism and praise. In a survey, the Harvard Business Review found that 69% of employees preferred corrective feedback. Nearly 57% claimed they would work better if their efforts were recognized.
Even team members benefit from a useful analytics tool. The latest software allows agents to find patterns that increase call times. Filler words and the speed of speech make a difference. If agents talk too slowly, they run the risk of boring a customer or lead. If they speak too quickly, they won't be understood. Dialpad notifies your staff in either case.
6. Learn to Use AI and Automation Effectively
The AI and automation revolution are here and picking up steam. You and your team have access to an increasing number of ways to gauge success and offload work.
Software such as Dialpad contact center intelligently takes into the human element, with the built-in AI learning how agents interact with customers. Using them correctly in a call center setting can take your efforts to improve the workplace to another level.
Categorization, automated routing, and simple question-answering services give agents back a significant chunk of time. Categorizing interactions allows you to intelligently route calls for 33% more agent capacity. Combining automated routing with automated responses to repetitive questions and intelligent suggestions has a real impact.
7. Avoid Antipatterns
While using these tips appropriately creates efficiencies, mishandling them increases your average handle time. Showing a queue of calls, for instance, decreases productivity as employees extend their time with customers to create breathing-room when busy.
Among the most damaging of bad practices are those involving the abuse of power that comes with real-time feedback and snoop on employees. While it's helpful to sit on calls with new employees to ramp up, consistently sitting in on calls with seasoned agents leads to unwanted anxiety.
When your employees feel like Big Brother is right around the corner, they are less likely to perform well — and more likely to see management in a negative light. Changes you attempt to make might meet with resistance and disdain.
Another equally destructive practice is for managers to place their trust entirely in your software. How they interpret and use the information on an interpersonal level is as crucial as having the facts.
The overall goal of any manager is to generate efficiencies and establish a solid workplace culture. Knowledgeable and content employees make for better handle times. Happy employees are 20% more productive than their peers.
Training and Technology that Reduces Average Handle Time
Getting call center operations working smoothly to reduce average handle time requires the right mix of people and technologies. Learning how to leverage analytics, deploy artificial intelligence, and build teamwork through software creates efficiencies that dramatically improve call times and shorten queues.
Dialpad offers comprehensive solutions geared towards sales representatives and call center agents. As a cloud solution, we offer lower costs and many integrations. Get in touch with us to find out more about how we help contact centers reduce their average handle time.