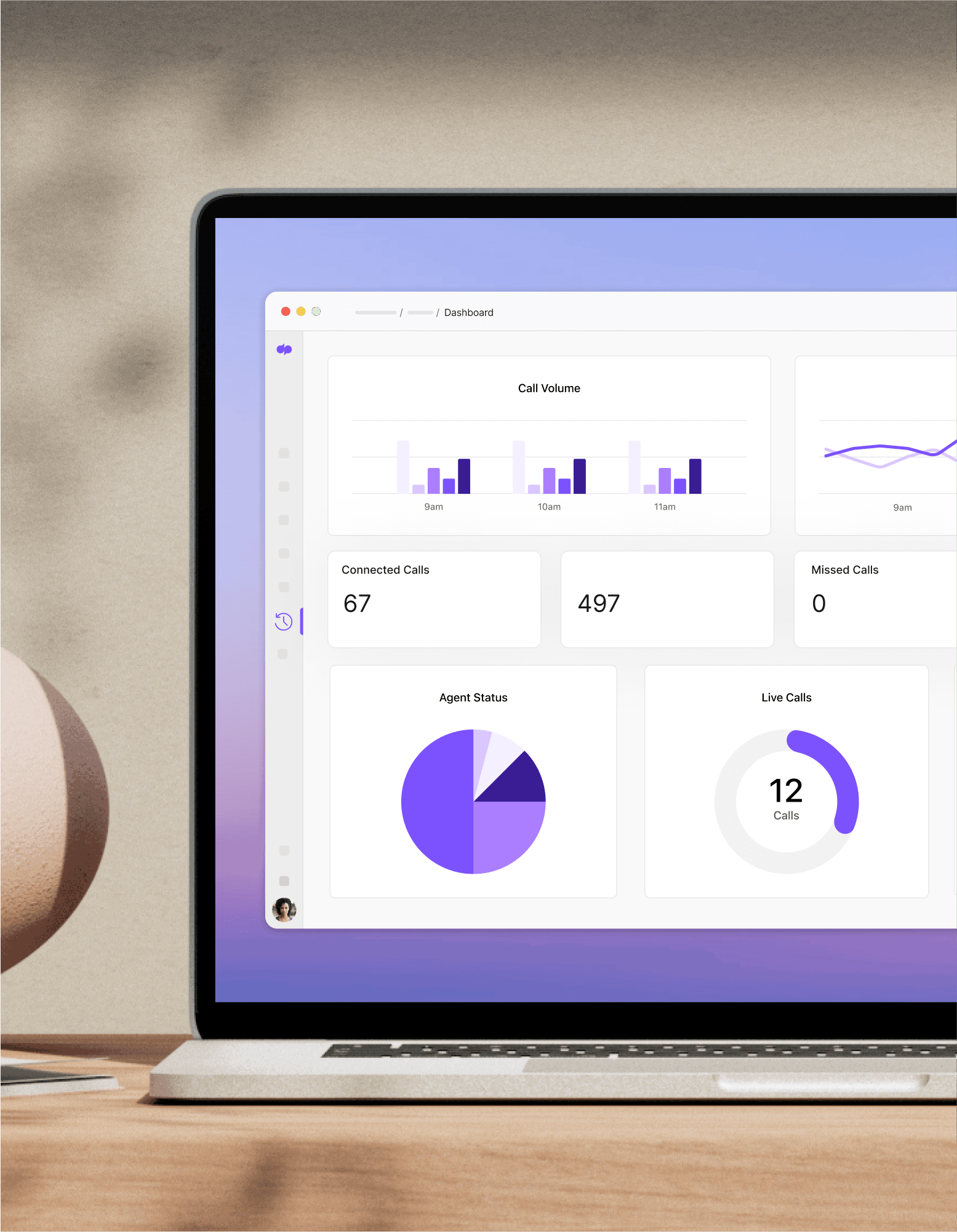 Contact centre wallboard
Call centre management requires adaptability, and easy access to analytics is a must if you're to rank priorities and direct staff accordingly. Luckily, Dialpad's software comes with built-in contact centre wallboards and more to provide real-time information on your KPIs. Book a product tour to see how it works!
What is a contact centre wallboard?
A contact centre wallboard is the go-to place for customer support managers to track their contact centre's performance. At a glance, you can gain a real-time view of what's happening, including insights on active calls, average wait times, and the total number of agents online.
This real-time data helps your management team make informed decisions on workflow priorities. Both inbound and outbound contact centre managers will find call centre wallboards useful for monitoring activity, setting achievable goals, and bringing out the best in their employees.
Dialpad's built-in wallboards are designed for day-one usage. They're also highly customisable, so supervisors can opt to see only the most essential analytics for their operations.
More than just your typical contact centre wallboard software

Truly unified communications
Phone calls, video meetings, instant messaging, SMS/MMS messaging... With Dialpad, contact centre agents can communicate with teammates, customers, and prospects via whichever channels they prefer—all from the desktop or mobile app.
Ai tools for super-supervisors
Dialpad Ai is built in-house and fully integrated into the contact centre solution. That means you get real-time transcriptions for calls, keyword tracking, and even live sentiment analysis—all designed to help supervisors improve operations, train agents more effectively, and prepare new hires quickly.
Real-time assists
Dialpad Ai helps agents live on calls, too. Managers can create Real-Time Assist (RTA) cards for tricky topics and set them to trigger on agents' desktops when certain keywords or phrases are spoken on calls (all without them having to personally sit in to help agents).

Built-in analytics and reporting
Dialpad's built-in analytics dashboard provides insights into hold times, missed calls, average speed to answer, and more—all in real-time. Dialpad even has IVR analytics to show which menu options are used most (and least) often by callers, while speech and text analytics can highlight common keywords or topics raised by customers.

Looking for contact centre wallboard software?
See how Dialpad Ai Contact Centre gives you everything you need to manage an omnichannel contact centre, from telephony to self-service options to real-time analytics. Book a demo, or take a self-guided interactive tour of the app on your own!
Unlimited call recording

With Dialpad, contact centres can easily start or pause recording right from the call screen, and admins can turn on automatic call recording for the whole contact centre. For security and compliance, there's also an API that automatically turns off call recording if sensitive information, like credit card details, are being discussed.
Integrations with CRMs and other tools
Dialpad offers integrations with other popular contact centre tools, too, like Microsoft 365 and Google Workspace, and CRMs like Zoho CRM and Salesforce. Designed to increase agent productivity, these automations embed Dialpad's dialler inside the CRM, so agents can make calls without toggling between different apps. You can also build custom integrations with the open API!

Easy call routing
Make changes to your call routing with just a few clicks from your online dashboard, with options ranging from round-robin routing to routing by idle time and skill level.


HD call quality
Great call quality is essential for a call centre. Dialpad's global voice network and unique dual cloud architecture are designed specifically to give contact centres crystal-clear voice and video calls around the world. The Enterprise plan even comes with a 100% uptime SLA!

Infinite scalability
Not only is Dialpad simple to set up and implement, but you can easily add (and remove) hundreds or even thousands of contact centre agents, manage their phone numbers, and more—all from your online dashboard. No equipment to ship out, and no server closets or office space is needed.

Robust WEM functionality
Get real-time agent forecasting, quality management, scheduling, and more in one fully integrated suite. With Dialpad + Playvox, turn support agent data and customer activity into easily digestible dashboards and give supervisors everything they need to improve agent productivity and maintain contact centre performance.
What are the key advantages of using contact centre wallboards?
They provide accurate, real-time call centre KPIs
Wallboards provide around-the-clock call statistics, notifications, and insights into the customer experience. You can see live statistics and provide real-time guidance across every channel.
Be the first to know about service outages at your hosted contact centres, and action those issues via the built-in interactive menus. Maintain your service levels by setting alerts when warning thresholds are passed, allowing you to stay on top of your game all the time.
Before you ask, we know that not all KPIs (Key Performance Indicators) were created equal. That's why Dialpad's interface allows you to highlight only those that are most valuable for your supervisors to track. For instance, tracking the incoming number of calls vs call flow capacity, thus allowing you to plan around peak hours.
With Dialpad, you can unlock so much more analytical insight than was ever possible with your traditional PBX telephony system.
Improve agents' productivity and performance rates
Customer service managers often struggle to get the most out of their employees. After all, it's a human-facing role that requires extensive micromanagement to suit everyone's needs. Right?
Wrong. If your team struggles with productivity, direction, or efficiency, a call centre wallboard could be the exact solution your management needs.
Dialpad's AI-powered virtual call centre software provides real-time stats on individual agents. You can easily identify weak team players with the graphs on agent performance, such as average handling time per customer or rates of absenteeism. From here, areas for improvement (such as feedback, additional training, or onboarding) can be pinpointed with ease, allowing your managers to focus on what they do best.
Likewise, wallboard software makes it easier to find your strongest employees. Statistics don't lie, and you can evaluate who deserves recognition for their accomplishments without the risk of bias. A call centre wallboard may be just the tool that helps drive a positive culture of inclusivity in your workplace. Certainly, your call centre managers will find it an invaluable tool for measuring and improving operational performance.
Increase customer service and satisfaction
Your call centre is often the most personal point of contact with your customers. It's the front-facing side of your operation, and it's crucial you deliver high-quality service to ensure customer satisfaction across the board.
Dialpad's call centre wallboards will help you reach your targets, and are critical tools for call centre workforce management.
Dialpad also helps you determine which employees deliver the best (or worst) customer service. This is key for dealing with VIP customers (or capitalising on high-value prospects), whom you should put in touch with your best call handlers. You can flag a caller as high value quickly and easily from your wallboard display.
The overall effect of this will be happier customers who return to your business.
See how Dialpad's contact centre wallboard display works
Dialpad's call centre wallboard displays put the most important KPIs front and centre, with options available for immediate action. (For instance, sending a notification to call handlers when service levels are too low.). Book a demo now to see how simple Dialpad's call centre wallboard is to use!
Provide a better customer experience with Dialpad Ai Contact Centre
See how easy it is to deploy new contact centres, manage agents, and keep an eye on your metrics in real time with a demo. Or, take a self-guided interactive tour of the app first!
FAQs about call centre and contact centre wallboards
What should we be displaying on our call centre wallboard?
The beauty of a contact centre wallboard is it can be as customised to your needs as you wish. That means you can have it show only the most relevant data and KPIs. For instance, it could fetch internal call data from your UCaaS platform, as well as external sources like review websites or social media pages.
Your call centre wallboard can even show different metrics depending on who's viewing it. For example, while a manager would want to see the big picture, you may make a limited wallboard available to your team members. This way, they can easily see their targets for the day, as well as priorities or suggestions.
Of course, you'll want to consider how your wallboard appears to team members who are part of an international, dispersed workforce, too. For instance, by providing employees with native language options for their location.

When is the best time to implement a wallboard solution in a call centre?