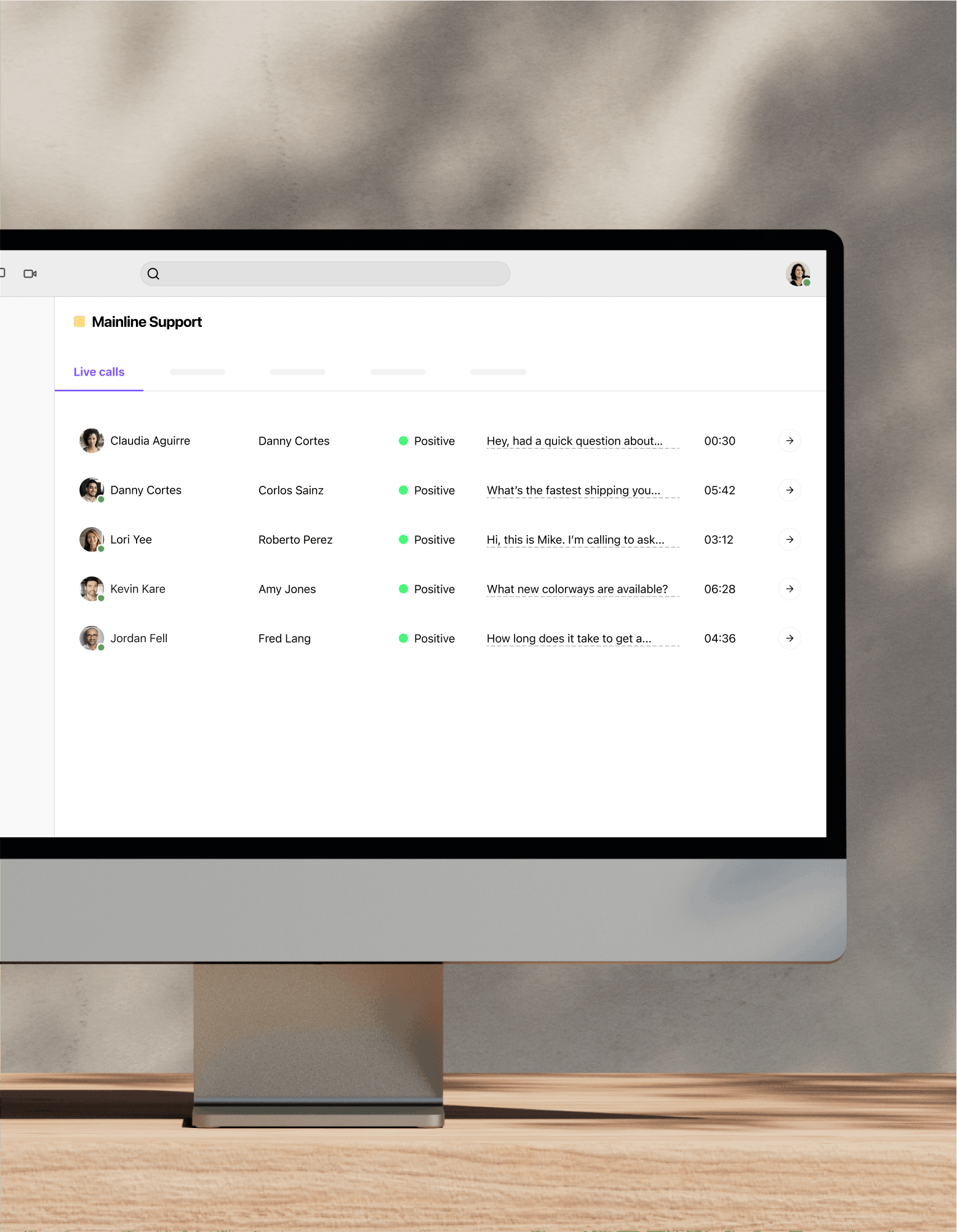 Cloud contact centre solutions
Providing great customer experiences requires flexible and robust cloud contact centre software. Dialpad's easy-to-use platform lets teams collaborate from anywhere, and the powerful proprietary artificial intelligence equips agents with critical intel in real time. See how it works with a demo!
What is a cloud contact centre?
Cloud-based contact centres comprise a suite of tools that enable businesses to engage with customers across multiple platforms. They store data in the cloud and facilitate customer communications over the internet instead of relying on on-premises hardware like traditional call centre software.
With cloud phone systems as their backbone, the best contact centre software allows dispersed teams to take calls anywhere, on any device. These also give you access to a range of AI functionalities, empowering your agents to deliver a more efficient, effective, and personalised customer experience.
Provide a better customer experience with the best cloud contact centre solution
Massive scalability
The scalable nature of Dialpad's solution means you don't have to worry about predicting growth or seasonal spikes in customer demand. From small startups to large enterprises, our platform scales with you. Quickly and easily add (and remove) agents, manage their phone numbers, port over existing numbers, and more. No equipment, server closets, or office space necessary.
Tools to help supervisors help their teams
Dialpad makes it easy for supervisors to monitor active calls and pinpoint the ones that need their attention in real time. Our robust AI tech, Dialpad Ai, transcribes calls and shows supervisors customer sentiment, live. Before deciding to jump in and help, supervisors can simply pull up transcripts to get more context—all without distracting customer interactions.
Real-time training—at scale
Empower your contact centre agents to tackle customer questions quickly and effectively with Dialpad's Real-Time Assist (RTA) cards. Managers can create RTA cards with tailored notes on tricky subjects and set them to pop up automatically on agents' screens as soon as specific keywords or phrases are spoken on calls.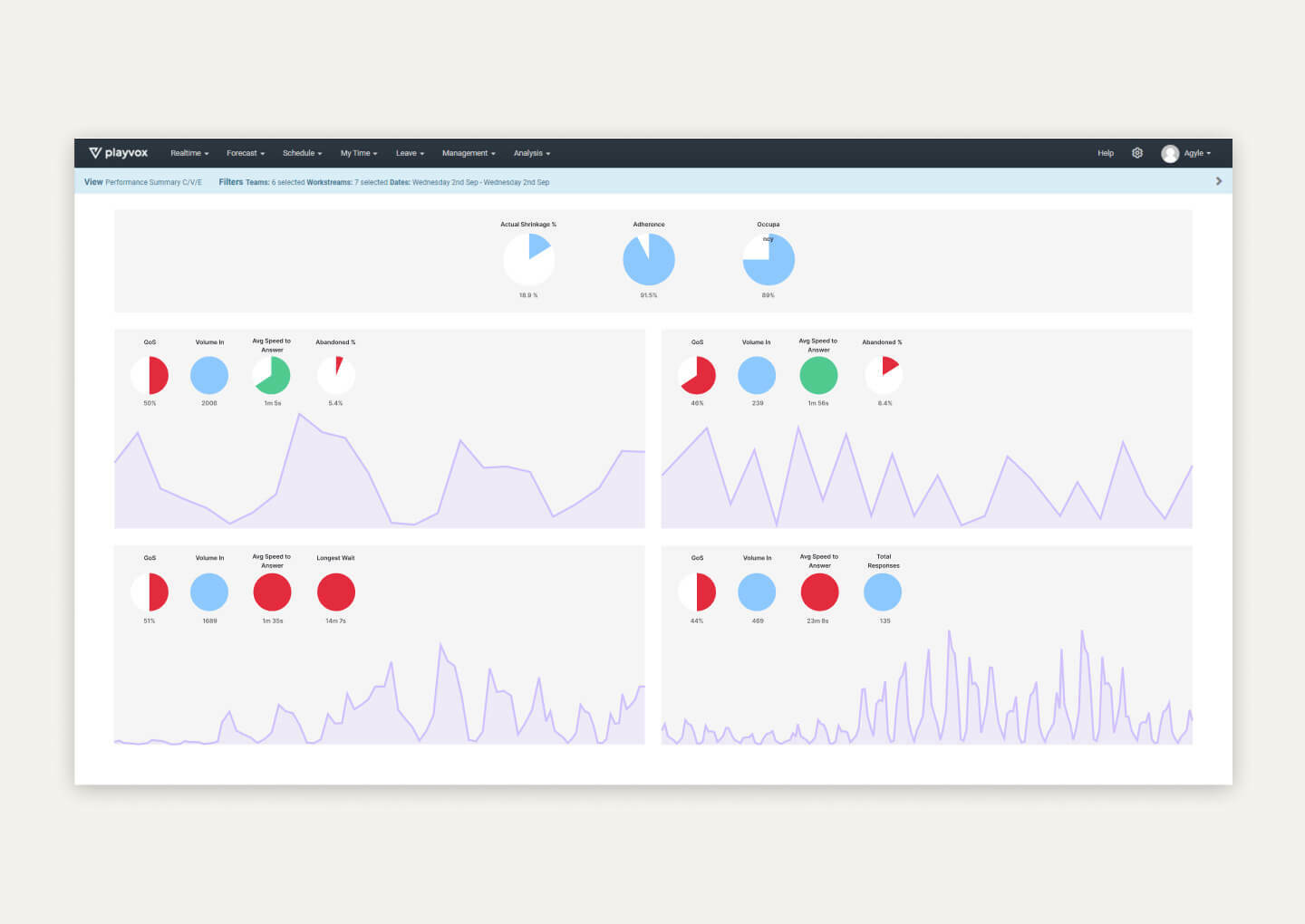 Advanced WEM capabilities
With Dialpad + Playvox, you'll have access to an insightful suite of contact and call centre workforce management capabilities. That includes real-time agent forecasting, quality management, scheduling, and more. Transform agent and customer data into actionable insights, reports, and comprehensive call centre wallboards to give supervisors all the tools they need to boost contact centre performance.

A cloud contact centre solution that lets agents work from anywhere
See how it works with a demo, or take a self-guided interactive tour of the app on your own first!
Better reliability and call quality
Dialpad's modern and adaptive architecture provides crystal clear audio, high availability, and low latency on every call. With a global voice network, Dialpad intelligently routes calls to use the shortest paths and ensure end-to-end quality. Features are released directly to users—no server maintenance or IT involvement required. And the Enterprise plan comes with a 100% uptime SLA.
Greater cost-efficiency
Avoid hardware costs and setup, installation, and maintenance fees with Dialpad's cloud-based contact centre solution. You'll also be able to make savings on your software. As a truly unified CCaaS and UCaaS platform, in a single app, you'll be equipped with all the tools you need to optimise the running of your contact centre alongside your entire communications suite.
Integrations with your favourite tools
Dialpad's cloud contact centre platform integrates with all your favourite tools, including Microsoft 365, Google Workspace, and CRMs like Zoho and Salesforce. With native integrations, agents can ditch toggling between different accounts and windows, driving productivity. You can also build custom integrations with Dialpad's open API.

Call routing
Dialpad's IVR (Interactive Voice Response) functionality offers a wide variety of call routing options to help customers resolve queries efficiently and effectively. Route customers based on agent idle time, skill level, and more. Upload custom greetings to guide callers to the right agent, set routing rules by department, and track which menu options are being used most so you can optimise the caller experience.
Call reporting and analytics
Dialpad's contact centre analytics gives you a clear overview of team performance at all times, right inside your online dashboard, to help you supercharge agent productivity. You'll also have access to heatmaps that show call volume patterns and other valuable stats, like average speed to answer, to enable you to make educated staffing and scheduling decisions.
Any device, anywhere
Dialpad allows for complete flexibility, working across iOS, Android, PC, Mac, or simply from your web browser. Supervisors and agents can work from anywhere on any device—ideal for the hybrid and remote work era.
Dialpad's Ai contact centre vs. regular cloud contact centre providers
Unlike many other service providers, Dialpad owns all of its technology and has been built with a telephony-first approach. This means you won't be at the mercy of third-party vendors to gain access to all the tools you need or suffer poor call quality, expensive routing paths, and an inconsistent call experience.
Instead, you can rely on Dialpad alone, as a truly unified UCaaS and CCaaS solution, to provide high-quality and reliable VoIP services alongside a full range of contact centre features and functionalities.
In fact, Dialpad's native artificial intelligence is an industry leader in real-time call transcription—it's even more accurate than almost all leading competitors.
Dialpad is also incredibly easy to deploy, thanks to its cloud-native platform and intuitive self-configuration. You can set it up in minutes and access the platform from all devices, even if you want to use the web browser instead of downloading the app. This is because every feature is fully functional in the browser version, something other contact centre solutions can't always guarantee.
Lastly, Dialpad is highly scalable. You can add a user to your office plan and create an account instantly. And, if you have quieter seasons and want to scale down to suit your current business needs, the process is equally simple, unlike some other cloud contact centres.
Unify your business communications in the UK with Dialpad's cloud contact centre
Dialpad's unified platform provides a harmonious experience for contact centre employees, uniting a full range of UCaaS and CCaaS features and functionalities in a single user interface. It also brings together hybrid or remote teams across communication channels, regardless of the device and location they're working from.
With transparent pricing, high-value bundles, and support always on hand, Dialpad is a great option for UK businesses looking to hit the ground running and supercharge the customer experience.

A true Ai-powered
cloud contact centre solution
Gain more customer insights in real time and empower agents and supervisors. See how Dialpad Ai Contact Centre works with a demo, or take a self-guided interactive tour of the app on your own first!
FAQs about cloud contact centres
How does a cloud contact centre work?
Unlike call centre solutions, which are limited to phone calls, good contact centre software allows agents to manage customer communications across all channels, from video conferencing to instant and SMS messaging, social media, and more. In other words, they facilitate an omnichannel approach to customer service.
The "cloud" part of the name means that this solution and its data are hosted by the cloud instead of via hardware. Communications are routed via the internet instead of traditional channels like legacy phone lines.
So, in short, cloud contact centre solutions work by leveraging VoIP technology to provide adaptable, flexible internet-based services.

What are the benefits of using a cloud-based contact centre instead of an on-premises contact centre platform?
How can using a cloud contact centre platform streamline a contact centre's processes?
What core features should I look for in a cloud-based contact centre solution?
How does a cloud contact centre solution improve the customer experience?
How can a cloud contact centre scale my workforce and improve agent performance?
Cloud-based contact centres sound like they're more for large organisations. Are they good for small businesses?