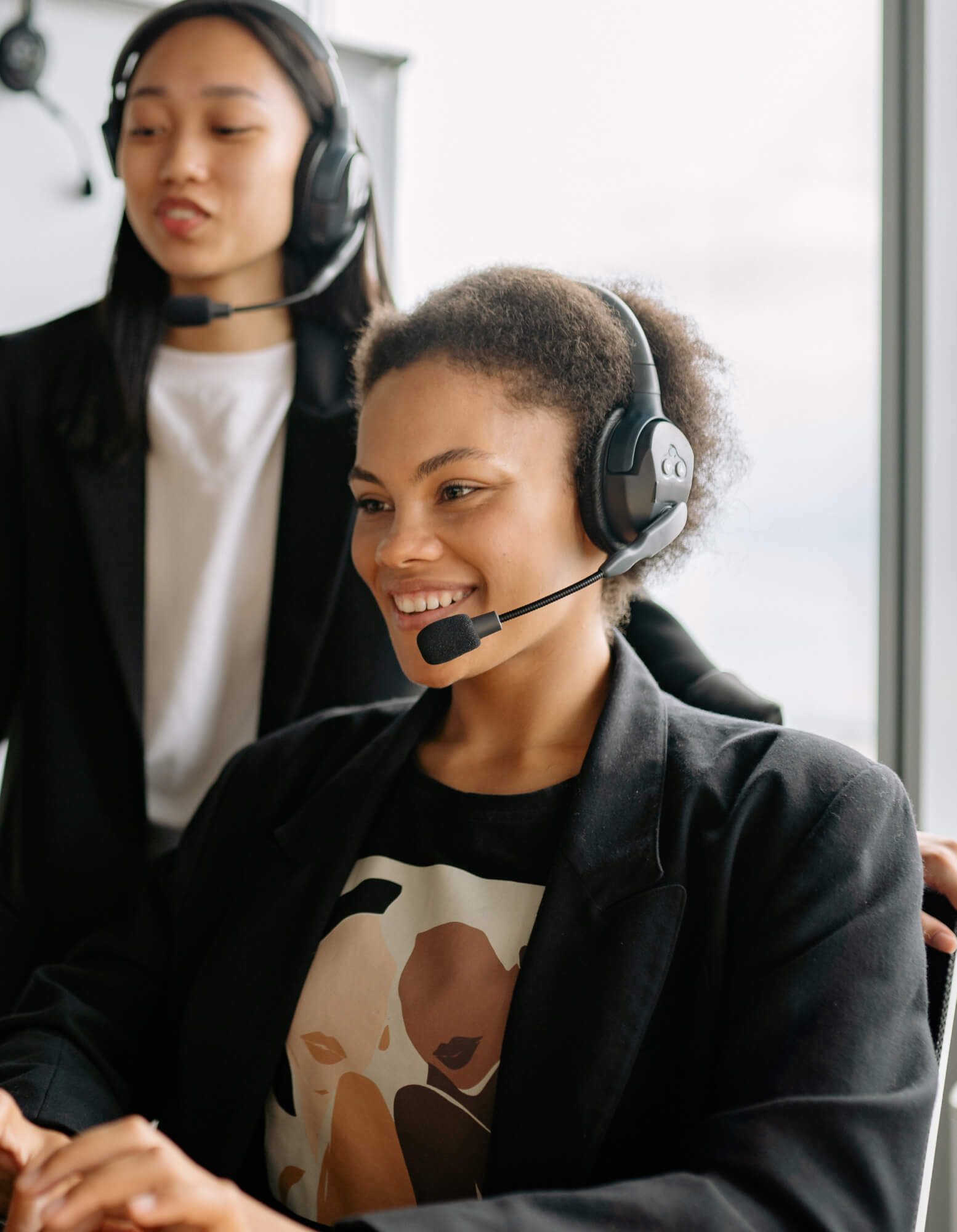 Call centre workforce management
Learn about how to manage your team of agents—and if you're looking for a contact centre solution, check out a product tour of Dialpad to see it in action!
No matter how organised you are, call centre workforce management can be a challenge. Scheduling your agents is one thing, but then you've got to consider forecasted call volumes, break times, and holidays, and all those other fun things that feel like you're solving a particularly tricky sudoku.
In this guide, we'll break down what contact or call centre workforce management (WFM) is, how to do it well, and how to harness the power of WFM software to manage your team of agents effectively and confidently.
What is contact centre workforce management?
Let's start with the basics: what is workforce management (WFM)? Well, it's a term that encompasses all the processes that involve managing your contact centre staff.
Generally, proper WFM ensures you have the appropriate number of (aka. enough) contact centre agents available when and where you need them. If you're a contact or call centre manager or involved in employee staffing, you know that managing a workforce can be a complicated process and there are a ton of considerations needed to maintain operational efficiency.

👉 Did you know?
With the Dialpad + Playvox integration for contact centres, you can improve agent productivity and scheduling using one unified solution. Playvox WFM with Dialpad allows businesses to leverage the most comprehensive, collaborative, and insightful workforce management solution on the market.
The fundamentals of contact centre workforce management: 4 things a supervisor has to do efficiently
There are a lot of moving parts to effective contact centre workforce management. But what exactly does that mean for you? Let's go back to the fundamentals and take a look at what a supervisor must do well to be successful at workforce management.
1. Forecasting
Nobody can predict the future. But that doesn't mean that workforce management is completely unpredictable—you can still use data to predict your future workload. This is where forecasting comes into play.
To decide on your staffing levels, you'd typically look at demand signals like sales or promotions, special events, equipment or software failure or updates, weather, and historical data. Run a hotel chain in Edinburgh? Then you should expect August to be busy, busy, busy thanks to the Fringe. Or, if you've just released a new version of your software product, you're likely to need more contact centre agents scheduled to manage increased call volumes and inquiries.

✨ PSST—CONTACT CENTRE OVERHAUL, ANYONE?
Grab The Contact Centre Playbook, which breaks down everything you need to know, from setup to staffing to optimising.
To predict trends accurately, you should collect data from each of your customer touchpoints, including phone calls, live chat messages, email, and even SMS texts.
From there, you have a better shot at predicting future customer interactions—and providing the best customer support possible. In Dialpad, you can generate heat maps as an easy way to visualise your call volume patterns and even average speed to answer:

You could use Excel spreadsheets to manually compile and analyse the data (who doesn't love a good spreadsheet?), but there's an easier solution: automation. With a WFM system you can improve forecasting accuracy, and free up time for important tasks like overseeing contact centre or call centre operations.
✒️ Vetting different contact centre solutions?
This RFP checklist covers the essentials to be aware of and why they may be important for your contact centre.
2. Scheduling
Now that you have all the data from your forecasts, you can move onto scheduling. Again, not easy, but using the right workforce management tools, you can have the right number of agents when and where you need them.
With the data provided by your forecasts, you should have all the information you need to determine which shifts and hours will need coverage. This will prevent you from both under and overstaffing.
While scheduling can also be done manually, automating part of the process can save you both time and money. No more remembering when your student staff's terms start, or school holidays. For example, this is what this looks like in Playvox:

Of course, you can't schedule staff that you don't have. Forecasting and being able to see your scheduling needs for the upcoming months will allow you to scale your operation first if needed. This means you need to think of scheduling far enough in advance to hire and train new agents if necessary.
👉 Dialpad tip:
Staff your team according to skill sets and call patterns to gain improvements more quickly across your most important call centre KPIs (Key Performance Indicators). Having these KPIs in mind while you're scheduling will help you stay focused on your workforce optimisation (WFO) efforts.
3. Assigning agents
After you know where and when you need your agents from the forecasting and scheduling process, it's time to put your aces in their places.
Assigning your staff can be a delicate process. You want your team to be in a place where they are most useful and productive while ensuring they're not overworked. One way to work around this is "shift bidding," which takes into consideration length of service, call handling ability, and performance in order to assign agents with the right skills to the right roles.
Shift bidding may not work as a standalone solution though—you'll likely also have to consider agent preferences (including time-off requests) and business policies.
Making the right assignments requires an extra layer of planning. For example, if your business just rolled out a new product, you might want your agents with specific product knowledge handling the anticipated influx of inbound calls.
👉Dialpad tip:
You can easily assign agents right in your Dashboard. Just select Add people from your team and use their name or email address to find them. You can then select your routing preference, like skills-based routing. This will prioritise call routing based on the agents' rank and proficiency for specific types of calls.
4. Intraday managing
You've used all the right data and scheduled all the right people. But no matter how much we predict and plan, we can't plan for everything. If there's one thing you can expect from the day-to-day of your contact centre, it's the unexpected.
This is where intraday management comes into play. The goal here is to prepare yourself for changes, like an agent calling in sick or a sudden spike in call volumes. From there, you must be able to reforecast targets to make sure your service levels are being met and that agents are keeping up with call volumes and other tasks.
But what exactly can you do when the unexpected happens? Well, this depends on your contact centre's specific procedures. Some options may be to:

Have additional agents available

Promote self-service options for customers

Route calls to other available teams
Whatever the situation, you should be able to turn to Standard Operating Procedures or SOPs (usually put in place by your WFM team).

See how Dialpad Ai Contact Centre could work for your supervisors and agents!
Book a demo to see it in action, or take a self-guided interactive tour of the app on your own!
Why is workforce management in a contact centre crucial?
So, other than, "to prevent me from having a horrible day", why exactly is contact centre workforce management crucial?
Let's look at some benefits of effective WFM.
A better customer experience
In the end, when a customer contacts your business, they want good customer service—no matter what's happening within your contact centre. From high call resolution rates to real-time support, customers want their call handled efficiently without any issues.
Poor workforce management can result in long hold or wait times, as well as longer handle times because your agents aren't assigned to roles that reflect their skills. Even without super fancy software or a huge team, just having the right agents available to answer questions and making sure you're properly staffed at all times will go a long way in improving your customer experience.

Cost savings
When you can't accurately predict the number of staff you'll need at any given time, you may have to err on the side of caution. This can lead to overstaffing, which will cost you considerably in payroll.
However, understaffing can be just as damaging to your bottom line because it can lead to customers waiting longer to get their problems resolved and more stressed / less effective agents, which ultimately leads to decreased customer satisfaction. This is definitely a "Goldilocks" situation—you want to have just the right number of agents available on duty.
Higher employee engagement
Remember: Happy agents = happy customers. Employees who are happy (i.e., not overworked or stressed) are generally more engaged. This increased engagement will translate directly to your bottom line. (Don't believe us? A study by Gallup found that companies with a highly engaged workforce are 24% more profitable.)
Here are three ways that WFM can help increase employee engagement:
More productive feedback
To be able to give productive feedback to your agents, you need to have the right data. Having proper workforce management means you have that data that will allow you to empower your workforce to become more productive and efficient.
Training
Agent training shouldn't stop when you finish onboarding an employee. From optimising workflows to improving how an agent handles disgruntled customers, training allows you to be constantly improving your workforce.
The data provided by WFM software solutions, like Playvox, allows you to pinpoint exactly where your team or individuals need to improve for proper performance management: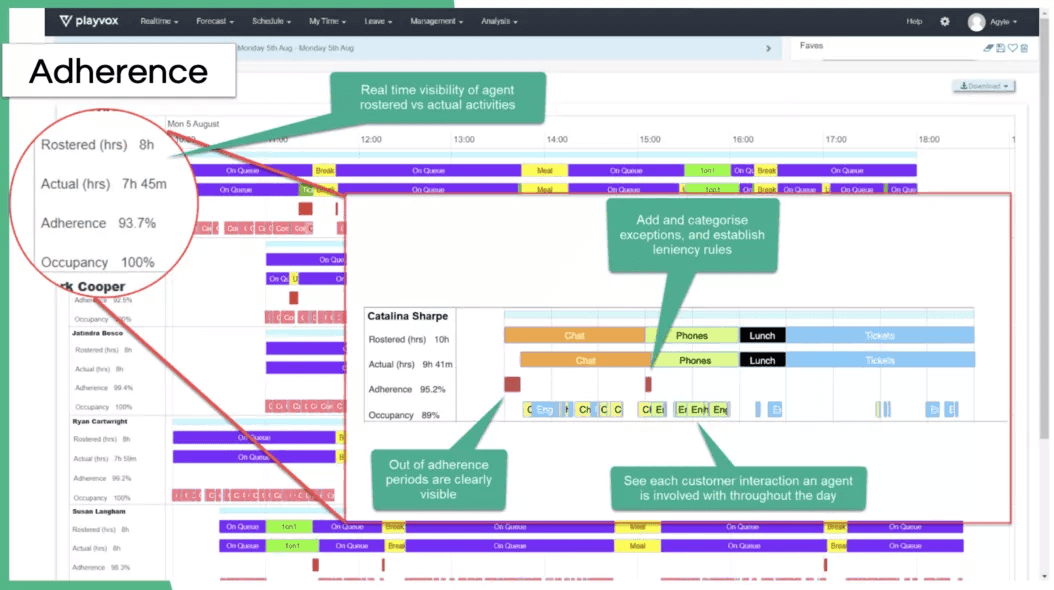 Metrics
Your feedback and training won't be as effective if it isn't supported by data. Allowing employees to engage with your contact centre analytics and giving them goals to work towards will drive employee engagement. Data is king, especially when it comes to WFM.
Why should you use contact centre workforce management software?
It's true that certain aspects of workforce management can technically be done through some crafty work with a spreadsheet. But there are some things vital to workforce optimisation that you can't do through managerial blood, sweat, and tears alone. There are just not enough hours in the day to work through that much data.
Lucky for you, there's no longer the need to manually do a lot of these tasks. Whether you have tens or hundreds of agents, workforce management software can help one supervisor manage a whole contact centre workforce more easily than ever.
It can improve time management and custom scheduling
Manipulating spreadsheet data and trying to accommodate agent availability with staffing demands can be time-consuming—not to mention prone to the tragedy of human error. A typo or a simple mistake can lead to overstaffing or understaffing during a crucial time for the business, and no, that's not hyperbole. It happens.
WFM software allows you to forecast and manage your agents' time more easily, without having to mess around with that calculator you've avoided since your GCSES. This makes it easier for your contact centre to respond to increased contact volumes or staffing fluctuations. (It also allows your team to reschedule easily without causing you the headache of starting the schedule from scratch.)

👉 Did you know:
The Dialpad + Playvox integration takes into account your KPIs, business requirements, goals, and forecasts to generate the best possible agent schedule for your team. This schedule is produced automatically without any input from you!
It provides better analytics and reporting
With WFM software, you can get automatic tracking for important metrics like service levels and time spent on tickets, chats, and calls. And if you're integrating your contact centre software with your WFM solution, these metrics will even generate automatically and in real-time.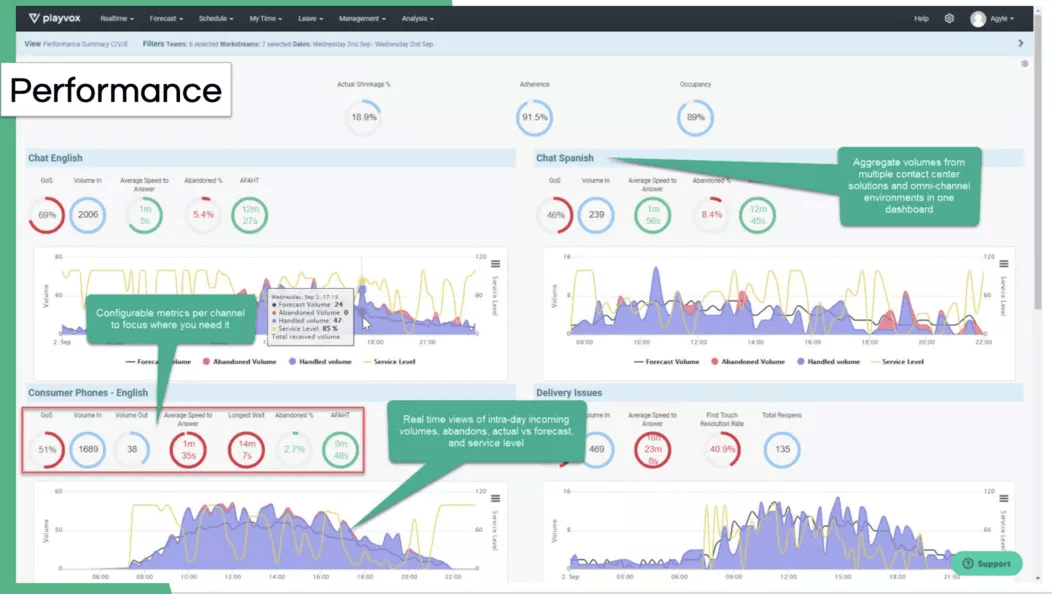 Having these metrics at the palm of your hand means less paperwork for your agents—and the most up-to-date data.
It helps with automated approvals
Do you ever feel like you're just constantly approving a never-ending list of shift swaps, work availability, and leave requests?
Everyone seems to have a birthday party, a holiday, or a doctor's appointment coming up. With WFM software, you can take everyone else's schedules off your plate.
For example, with the Playvox and Dialpad integration, you can introduce rule-based approvals. This allows for agent self-service—which means you'll no longer have to manage every single time-off request, work availability change, and shift swap. This gives you more time to spend on actually managing your contact centre.

A 3-item checklist for choosing the best contact centre workforce management software
Now that you know the benefits of investing in workforce management software, how do you decide on a single solution?
Let's break it down into four factors that should guide your decision-making process.
1. Check your company requirements
What does your contact centre need from its WFM software? In terms of functionality, will it fit in with your current contact centre software and other tools? These are essential questions to ask yourself when choosing a solution—yes, we'd argue even before things like budget.
(You can always make a case for slightly more budget if there's a WFM solution that will pay for itself in a year or two. Cheaper isn't always better.)
And beyond fancy features and functionality, the software you choose should integrate with your current software and your omnichannel or multichannel strategy. For example, how many people do you need available for customer support via live chat vs. how many agents you need to answer incoming calls?
Integrations are important because the more data and agents you have, the more time you can lose—often, because you have so many repetitive and low-value tasks like copying and pasting data back and forth between different tools.
If you're considering WFM software, always check to see what will integrate with your contact centre or call centre software, because this is arguably your most impactful integration. For example, if you're already a Dialpad customer, then Playvox is without a doubt the choice because they integrate seamlessly together, syncing automatically in one unified communications solution.
2. Set your budget allocation
Budget—always a big consideration. We can't tell you how much to spend, but the key here is to remember that the initial price tag is only one part of the cost.
Beyond investing in the software today, you'll also have to consider maintenance and software upgrades—and then there's the potential of decreased operational costs resulting from an optimised workforce. What if there's a WFM solution that costs £10 more per month, but can free up 40 to 50% of your contact centre supervisors' time? Even if you only have one or two supervisors, that could be worth quite a bit to your business.
3. Decide the features you need—and try them out
Finally, it all comes down to what this WFM software can offer you.
If reporting is important to you, then you'll likely need a solution that comes with built-in reports that are accessible and well designed. (Outsourcing different contact centre tasks is definitely common, but be mindful of what you decide to outsource!)
Yes, we're biased, but the best solution that we've seen, with the most robust features for the best price is the Playvox integration with Dialpad.
(Check it out if you need contact centre software or if you're a Dialpad Ai Contact Centre customer already and just need that extra workforce management muscle. It gives you real-time data, intraday management features, and mobile access so you and your agents can access the software whenever, wherever.)
Ready for a contact centre workforce management solution?
The way to ensure efficiency in your contact centre workforce management is through the power of technology. Now that you know what you need to focus on in your WFM strategy and the benefits of the software, you have all the tools you need to go out and optimise your workforce.
Make sure you have the right software for your company and, if you're in doubt, get in touch to see how you can manage your workforce through Dialpad.
Need help with managing your contact centre workforce? Dialpad's integration with Playvox gives you a full-fledged contact centre with robust WFM features—take it for a spin!

Looking for a workforce management solution?
If you need a better way to do call centre workforce management, book a product tour to see how Dialpad Ai Contact Centre could work for your organisation.