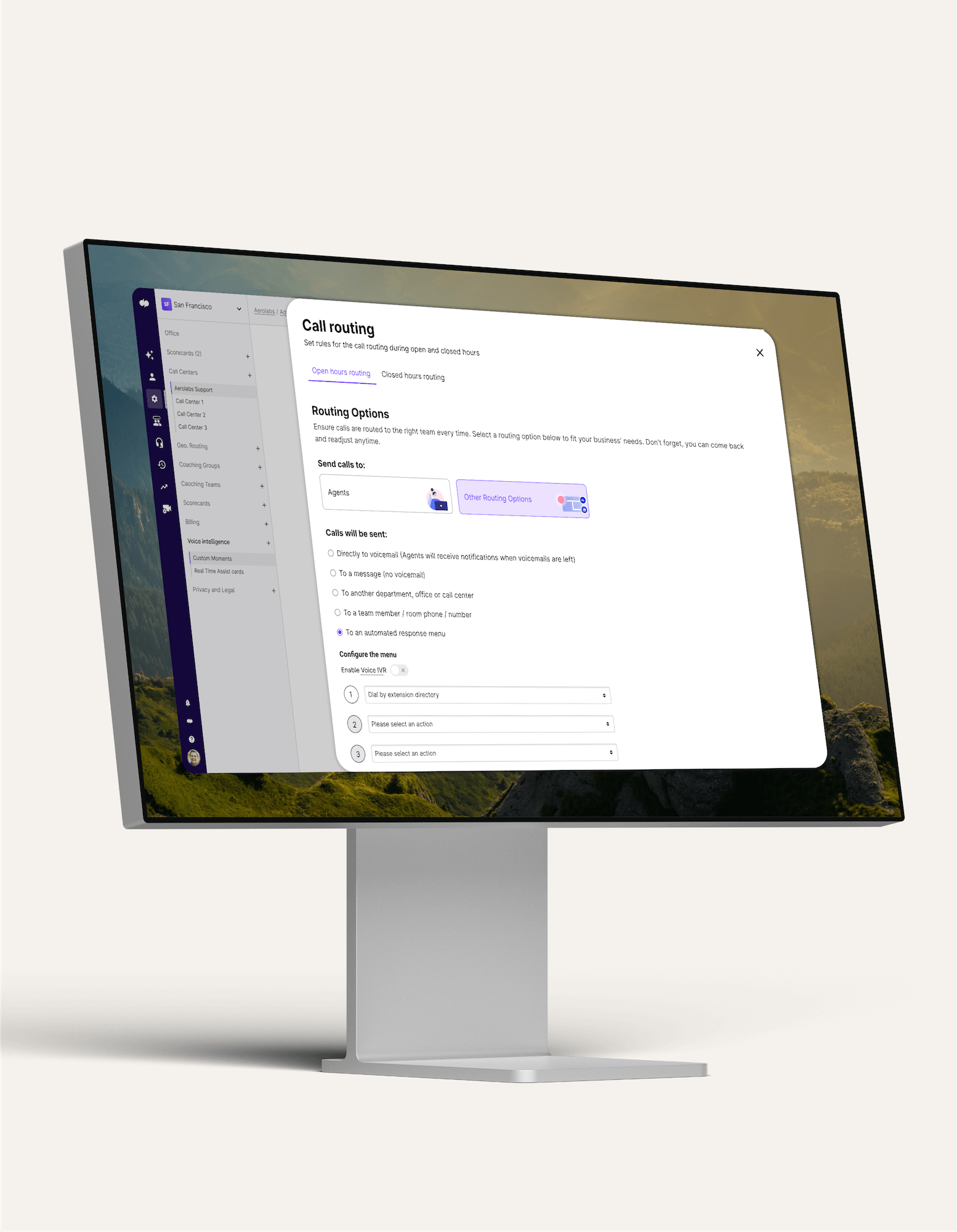 Virtual receptionist service
Need a better way to manage your calls? With Dialpad's virtual receptionist functionality, you can route calls automatically and give customers the help they need first-time, every time, with customisation options like greetings, skill-based routing, and more. Try Dialpad's unified communications platform free for 14 days—it takes just a few minutes to get started with a virtual phone number.

Sign up for a free 14-day trial!
What is a virtual receptionist?
A virtual receptionist (also called an auto attendant or IVR system) is an automated phone answering service that automatically routes calls according to customer needs. For instance, scheduling a product demo, answering a question or for appointment bookings. Auto-receptionists ensure no business calls go unanswered, so they're a great way to boost customer satisfaction and retention for your UK business.

How does Dialpad's virtual receptionist feature work?
When a customer calls your main line, Dialpad's virtual receptionist plays a recorded message that greets them and lists the different routing options. For example, "Press one for customer service, press two for sales, press three for… (and so on)."
The caller then enters the number for their desired service on their keypad and the virtual receptionist routes them to that service.
Dialpad's virtual receptionist can handle phone extensions, too. Once the recorded message starts, the caller can enter the extension of the employee they want to talk to and the auto-receptionist will automatically call that extension.

Why use a virtual receptionist?
Virtual receptionists free up you and your team to focus on more complex customer issues, reducing wait times and boosting productivity. They're also available 24/7, 365 days a year, so customers can always get the help they need.
Virtual receptionists are a highly scalable and cost-effective solution. For instance, Dialpad's auto-receptionist comes included at no extra cost, meaning you don't have to employ extra staff or consider outsourcing to deal with incoming calls.
Plus, with Dialpad, you can pair your virtual receptionist with call waiting and other advanced features to better manage your calls and keep staff and customers happy.
What else do you get included with Dialpad?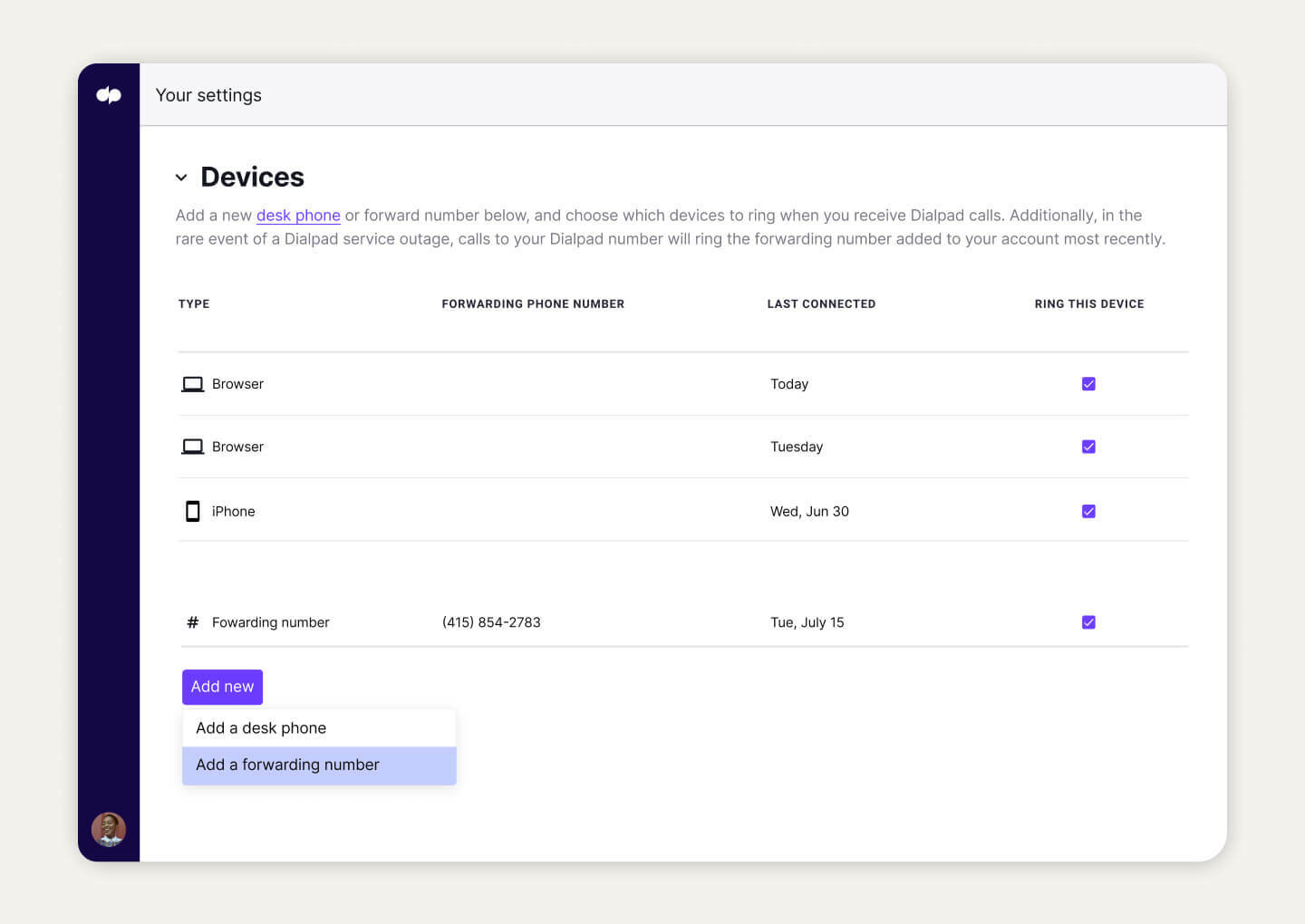 Call forwarding
Add up to five call forwarding numbers in Dialpad. You can forward important calls to your mobile, a colleague, another team or even a landline!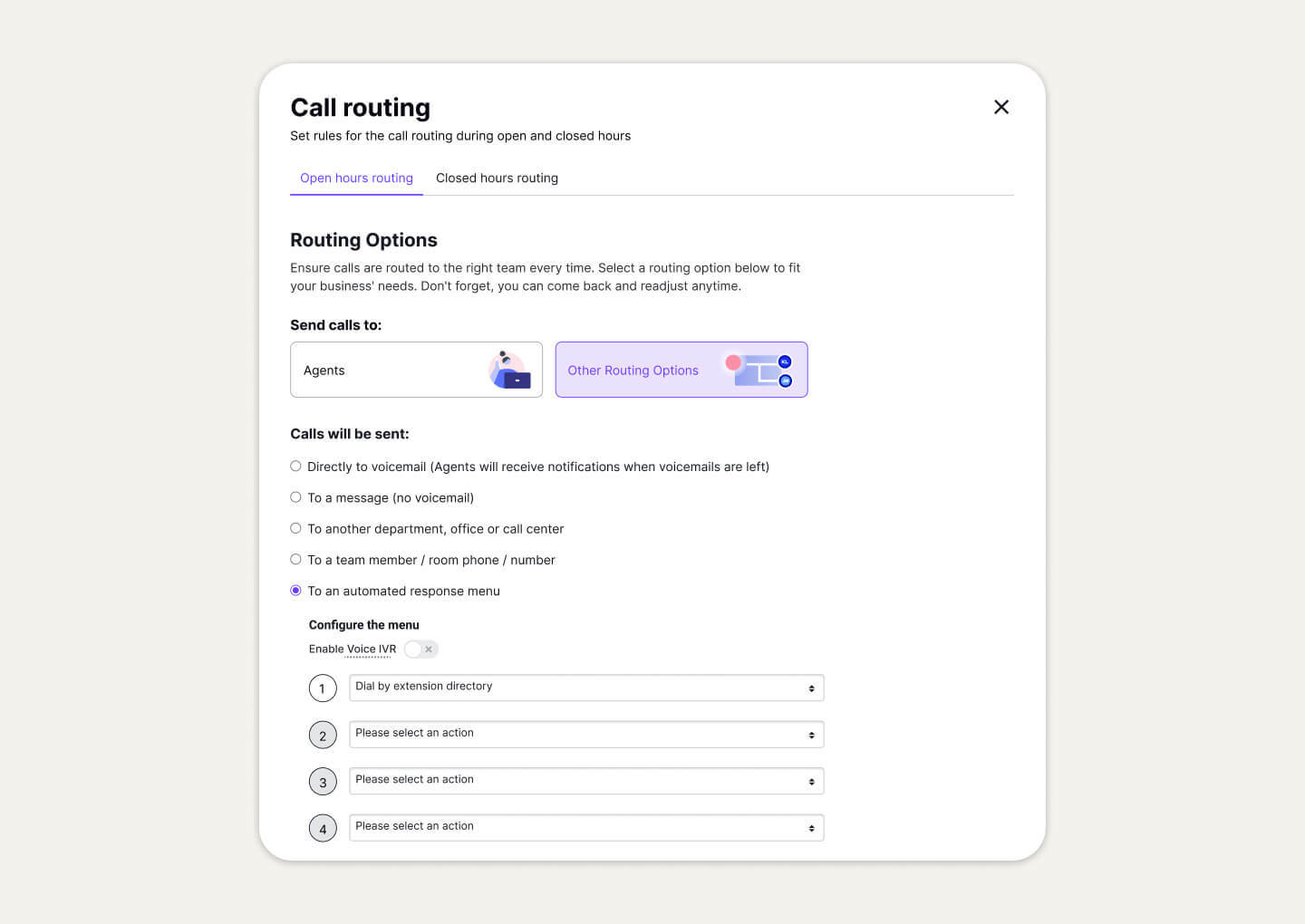 Easy call routing
Having a good call routing feature can automatically direct your incoming calls to the right person or department, and is used by organisations like law firms, healthcare providers, and insurance companies. With Dialpad, you can easily make changes to how the system is set up to answer calls, right from your online dashboard.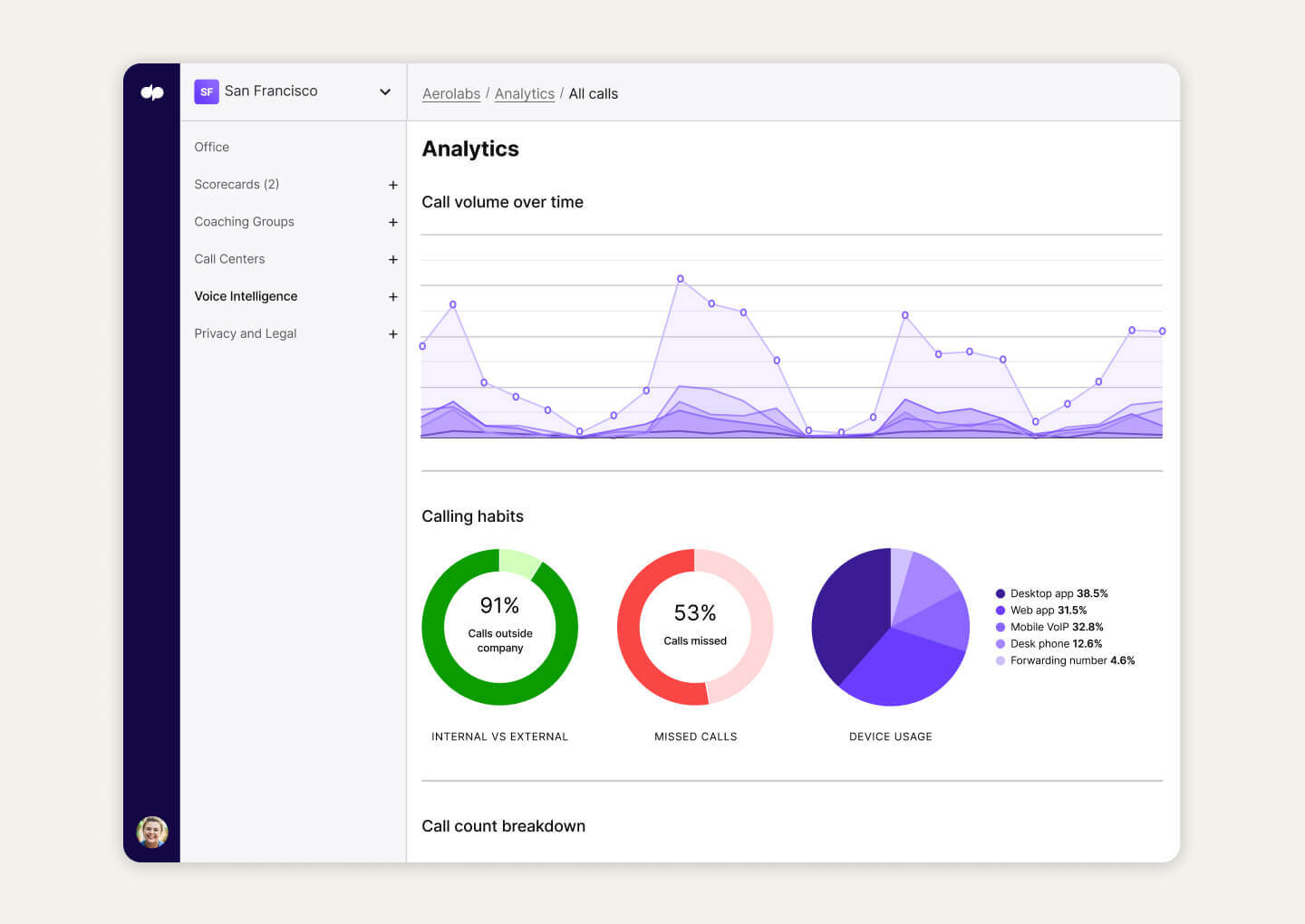 Built-in call analytics
Understand how your call volumes are trending, how many phone calls you're getting (and missing) and more with Dialpad's intuitively designed analytics dashboard. No need to call support or wait for someone to pull the numbers for you—see it all in your online account.
A fully integrated contact centre
If you run a sales, support or other call centre team of agents, Dialpad also has contact centre functionality that's 100% integrated into its unified communications platform product. Agents and supervisors can communicate with each other, and also handle external conversations with customers and prospects from a single app—one consistent user experience, one account, and one login.
Customer support, worldwide
Get 24/5 or 24/7 customer support on live chat and phone calls depending on your plan. Plus, there's always the detailed online Help Centre where you'll find answers to all the common questions.
Try Dialpad's virtual receptionist feature for free
Dialpad isn't just a phone system. It's a unified communications platform that comes with video calling and messaging features too. Sign up for a 14-day trial to take it for a test drive! It takes just a few minutes to get set up with a virtual business number. Or, take a self-guided interactive tour of the app!
"
I wanted. . . something that makes it easy to transfer calls and make calls to other departments and people regardless of where they are. When I implemented Dialpad, I just felt my whole business was connected better.
"
­Zak Saboune
President of Service Today
What Dialpad's virtual receptionist feature gives you
Dialpad's live virtual receptionist comes with a range of customisation options. You can record or upload a customised greeting for the main reasons customers call you, such as opening hours or price, so callers reach the right place first time.
You can also customise your call prioritisation queue so emergency calls or VIP callers are answered first. Plus, you can choose the language your auto-receptionist speaks, including English, Spanish, French, Chinese, German, Italian and more.
With Dialpad, you'll also get IVR analytics that shows how often customers use each menu option. This enables you to optimise your menu for even more efficient call handling.
How to set up your own virtual receptionist with Dialpad
Now, let's look at how to use Dialpad to set up your own virtual receptionist for your UK business.
1. Choose your virtual phone number
With Dialpad, you can set up your account in a few minutes and choose a virtual phone number for your business.
You'll get a free virtual local number and you can add on a toll-free (0800 or 0808), international or vanity number. In fact, you can add as many virtual numbers as you like or port over your existing numbers to Dialpad.
2. Record your greetings and messages
Once you've got your number, go to your Dialpad account and open Admin Settings > Departments > Business Hours and Call Handling > Call Routing > Edit Call Routing. Here, you can record or upload your welcome greeting.
You can also record your menu options, such as connecting to a department, leaving a voicemail or message and so on. Plus, you can record a voicemail greeting as well as error messages一for instance, if a caller presses the wrong button or there's a problem with the system.
If you've set specific hours for a department, you'll need to repeat these steps for both open and closed hours.
3. Create your menu and call flow
To create the menu for your virtual call centre, select "Other Routing Options", then "To an automated response menu". You can structure your menu by choosing the action for each key.
For example, option one could be "Forward to a person", option two could be "Leave a voicemail" and option three could be "Recorded message". You can specify which person or department to route the call to, as well as which recorded message to play.
Make sure your menu is efficient so callers can get help as quickly as possible. Also, set fallback options that determine what happens if no agents are available. For instance, is there another department the caller could try or should they leave a voicemail?
4. Create your call routing strategy
Next, you need to decide your call transfer strategy. With Dialpad, you can route calls based on idle time, skill level, or a fixed, round-robin or random call pattern.
You could test a few strategies to see what works best. You could also use call transcripts and analytics to pinpoint common customer issues and determine which agents can best help them.
You can set your call routing rules in Call Routing > Edit Call Routing. Here, you can also set ring duration (how long the phone rings before defaulting to your fallback option):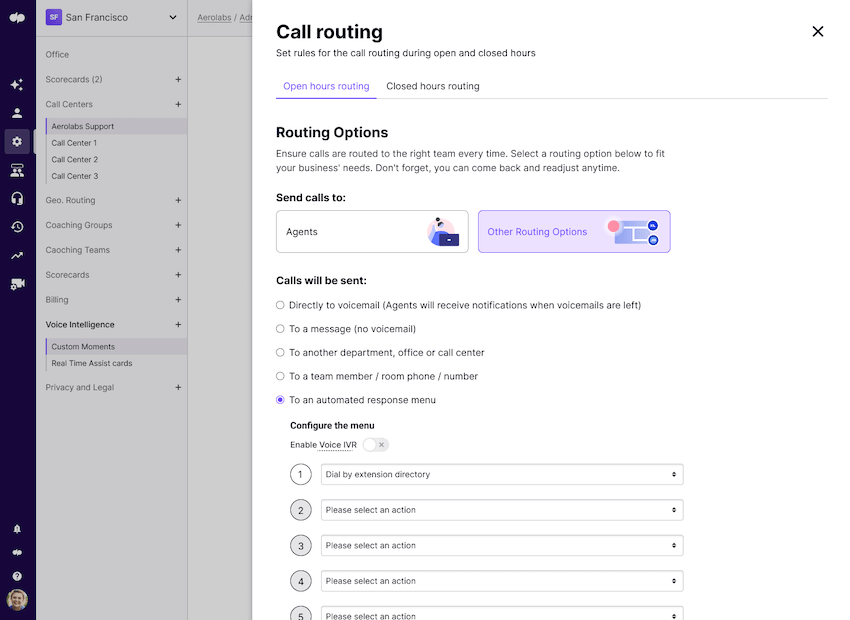 5. Set up your other basic communications features
From your admin account, you can also set up your other communication features, such as hold music, caller ID, voicemail and more. Your employees can also personalise some features from their user accounts.
Dialpad is fully customisable, so you can tailor it to fulfil your unique business needs and give customers the best possible experience.
Make call routing easy with a virtual receptionist
Dialpad's virtual receptionist ensures UK businesses that every customer call is answered and routed to the right place first time. Business owners can take customer care to the next level while letting agents focus on solving the most complex issues and queries, instead of repetitive call management tasks.
And the best part? With Dialpad, you'll get loads of other features, including AI-powered transcription, real-time analytics, HD conferencing, live call coaching and more in one beautifully-designed app. What's not to love?
Get more than a virtual receptionist
Because Dialpad is a versatile unified communications platform, you get video conferencing, SMS/MMS messaging, and more—all alongside an easy-to-use VoIP phone system. Try it now with a 14-day free trial! It takes just a few minutes to get set up with a virtual business number.
FAQs about virtual receptionists
Does Dialpad's virtual receptionist cost extra?
With some providers, virtual receptionists cost extra. With Dialpad, it's a standard feature that's included in every business phone plan. Plans start at just £12 per user, per month for a multi-level auto attendant, unlimited calling and video meetings, unlimited SMS/MMS, real-time transcription and lots more.
Can I customise my greeting message?
How many options is ideal for a virtual receptionist?