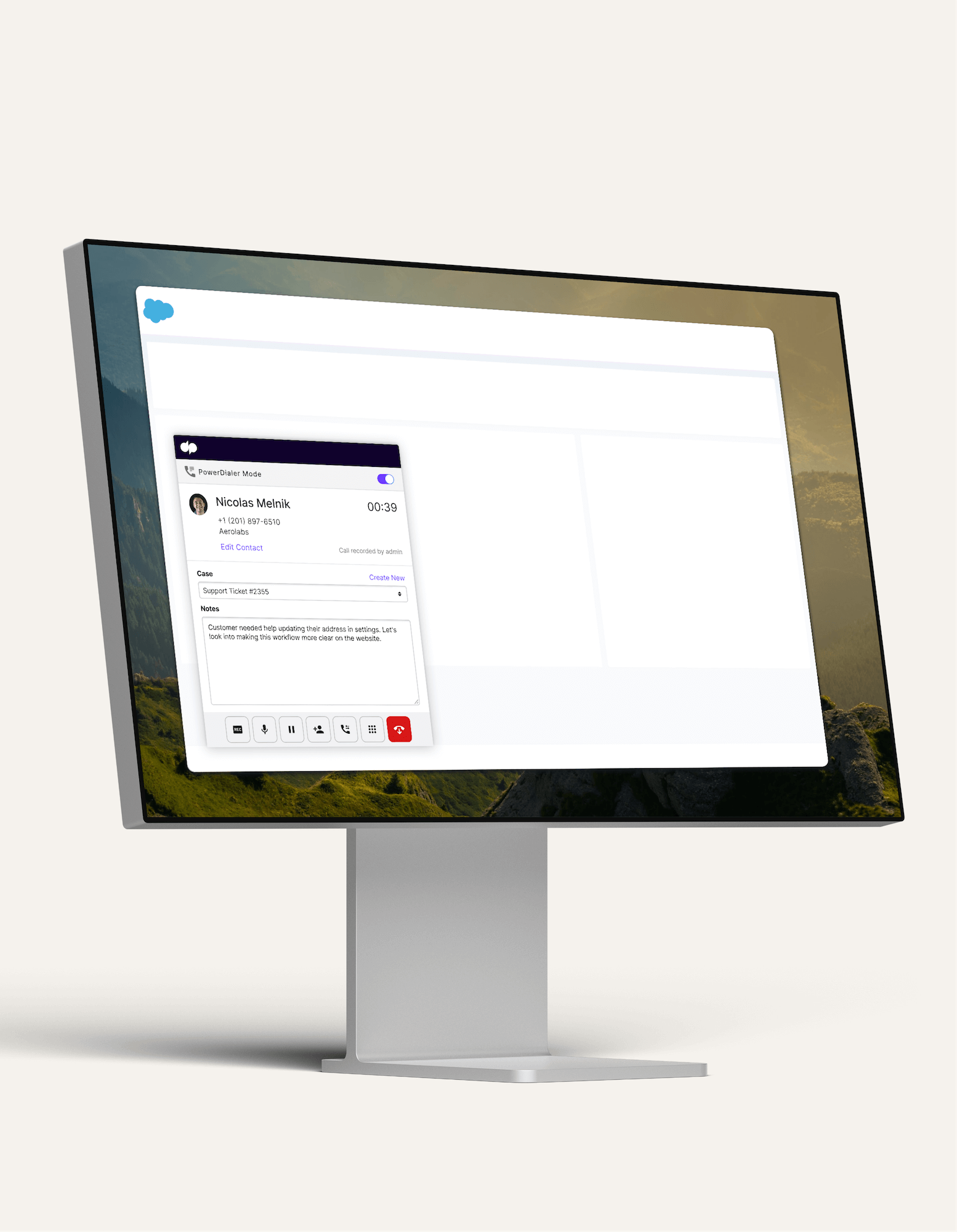 Power dialler
If you want to automate making phone calls, the power dialler you get with the Dialpad and Salesforce integration can help. A power dialler (a specific type of sales dialler) automates the call-making process and is a vital cold calling solution. Get a product tour to see how it works!
How does a power dialler work?
Power diallers work by automatically dialling the next phone number on your outreach list as the previous call ends. That removes the manual dialling aspect of call centre work and the need for your agents to have to select the next number to call.
Power diallers can also be programmed to move to the next call on the list if no one picks up or the line is busy, thereby saving sales reps even more time.
A power dialler is similar to an auto dialler as they both dial numbers automatically, but they differ in how they dial numbers, with auto diallers dialling many numbers at once.

👉 Dialpad tip:
Try to look for contact centre software that comes with a power dialler. This is generally better than having a separate power dialling system because this lets agents do everything from making calls to logging call results, and more—all in one place.
More than just power dialler software
As well as offering power dialling functionality, Dialpad also gives you so much more:

Integrations with CRMs and other tools
Your dialling system isn't the only tool your team is using, and your power dialler should integrate with these tools. Dialpad integrates with popular apps like Salesforce CRM, giving you a power dialler right inside your CRM dashboard. Streamline your call centre workflows, and empower your team to make more calls—in less time.
Call recording
An essential supporting feature for contact centre management is the ability to monitor and record calls. In Dialpad, you can record calls and also make a "playlist" of calls to highlight where improvements can be made for your team.

Voicemail drop
With so many prospects to call, sales reps can waste a lot of time leaving personalised voicemails. To save time—and increase the chances of having an actual conversation with a prospect—Dialpad's voicemail drop feature allows reps to "drop" pre-recorded messages into a call as soon as a prospect's answering machine starts. This way, reps don't have to spend time reciting a message every time.
Real-time call monitoring
Dialpad's industry-leading AI technology transcribes live calls and provides sentiment analysis—in real-time. For supervisors who oversee large teams of outbound agents, real-time call monitoring is a powerful way to oversee multiple active calls more effectively.

Multi-country call campaigns
Because Dialpad Ai Contact Centre has a global voice network, agents can make international calls worldwide using the power dialler—right from the same platform.
The benefits of power dialler apps or features
There are many benefits of power dialler apps and functionality. Here are our top three:
Ensures time-saving convenience
A power dialler saves time that would otherwise be spent manually selecting contacts and making calls. Instead, you can focus on the activities that require more creative effort and focus on getting lead generation right, closing more sales, or whatever the overarching aim of your outbound calling is.
Improves productivity and overall call performance
Agent productivity and efficiency will only improve if you provide them with a power dialler. Rather than worrying about manual dialling, they can focus on improving their actual calls.
What's more, recording phone calls can also be an additional option alongside power dialling if you choose a solution like Dialpad help here, too.
Replaying old calls and analysing them to find areas for improvement is a very useful teaching tool and a great way for you to monitor the progress of sales reps, measure the success of training programs, and boost agent performance.
Increases connections and interaction rates for your business
With a power dialler, your agents don't need to worry about wasting time between each call. The dialler will work through a contact list in the background and keep connecting your team to leads and prospects.
The ability to integrate your power dialler with your CRM tools, too, makes both systems more efficient, and an accompanying custom caller ID feature means that you can ring customers from a reputable number, increasing the chances that they'll answer and not hang up.
Looking for phone services or power dialler software?
Dialpad is more than just power dialler software. It's a UCaaS and CCaaS platform with the capability to streamline your company's work across the board. Seamless integrations, efficiency-optimising tools such as call recording and voicemail drop, and international call campaign capabilities, make it essential call centre software.

Need a power dialler?
Book a demo to see how easy Dialpad's is to use, or take a self-guided interactive tour of the app first!
Frequently asked questions about power diallers
What is a power dialler?
A power dialler is a piece of software which often comes with your business phone system or VoIP setup. You can use power dialler software to automate the process of making phone calls, meaning it's a vital tool for any contact centre that manages high volumes of outbound calls.
Power dialler cold calling software means agents on sales teams don't waste time dialling manually or having to juggle software and the contact list.

What is the difference between a power dialler and a predictive dialler?