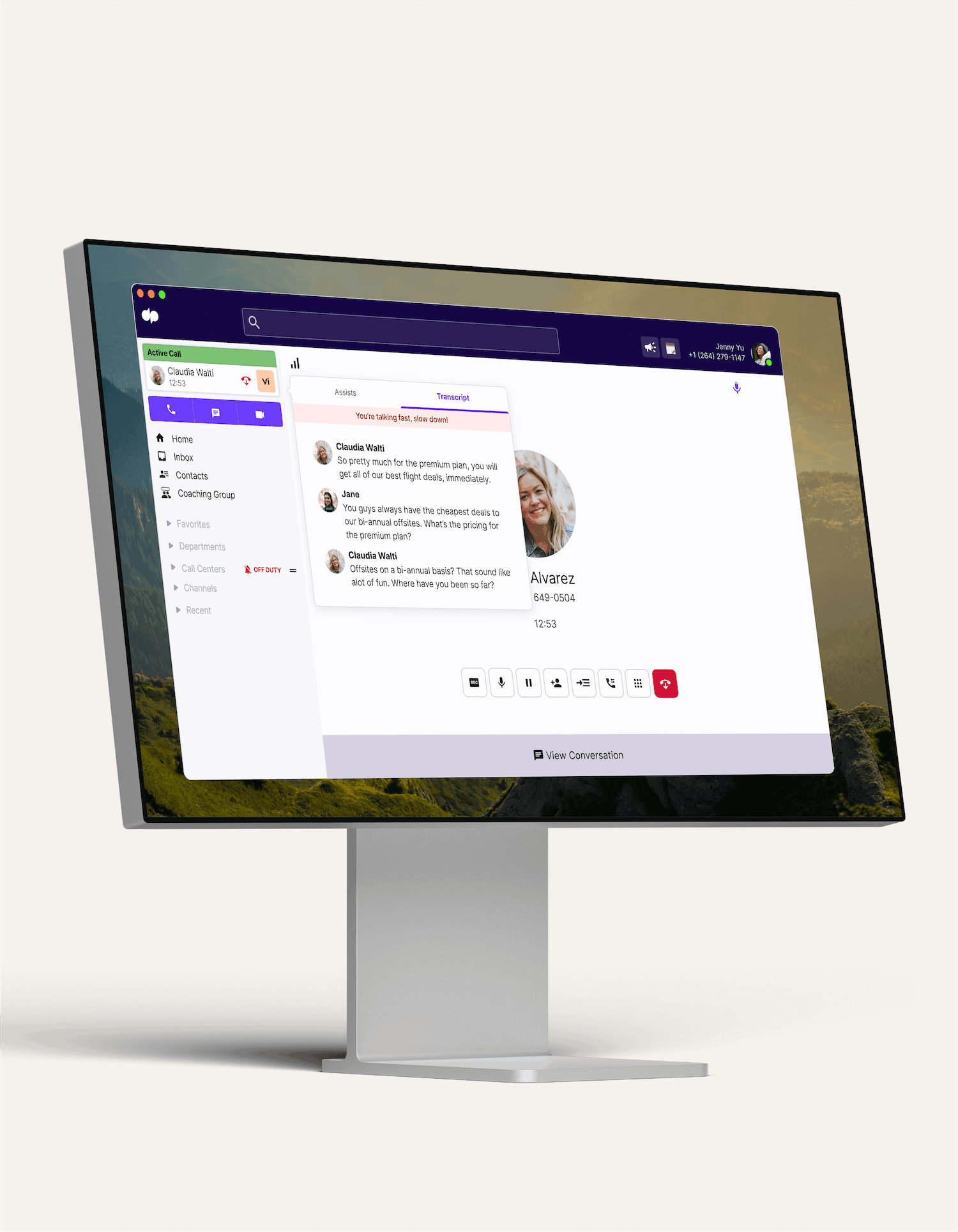 Hosted contact centre
Looking for a hosted contact centre solution for your business? Dialpad's cloud contact centre platform is a hosted solution that's scalable, easy to use, and flexible. And you can set it up in just a few minutes. Book a personalised walkthrough to see how it works!
A modern contact centre is designed to be agile and efficient. But what is the best call centre software architecture to achieve this?
That's exactly what we're going to be talking about today. Hosted contact centre solutions have proven popular in recent years thanks to their relative affordability and ease of deployment when compared to traditional on-premises contact centre solutions.
But what if we told you there could be something even better?
We're catapulting all of that tedious contact centre hardware into the ether. Because up in the skies there's a browser-accessible communication platform that's changing the way our contact centres work, for good.
Both outbound and inbound contact centres are today accessing synchronicity via the cloud.
Cloud service providers like Dialpad are now offering AI-powered, very flexible contact centre solutions with reduced operational costs and instant scalability that can be implemented in minutes.
Ready to find out more?
What exactly is hosted contact centre software?
In a hosted contact centre, your contact centre software isn't installed on-premises. Instead, it's installed and hosted on a remote off-site server provided by an industry solution provider.
Typically hosted contact centres are referred to as "single-tenant," while cloud contact centres are "multi-tenant." We'll get more into this later.
As a user, all you have to do to manage the contact centre is connect to the remote server over a network connection. In recent years, this was a popular option for startups and businesses looking to update their legacy hardware.
But, contact centre technology has come a long way since then, and hosted call centre software still lacks agility and flexibility in a few ways. (More on that in just a bit.)
If you've come across the term "CCaaS" (Contact Centre as a Service), that typically refers to cloud contact centres—not hosted contact centre software—so make sure not to confuse the two! (Most contact centre vendors today are cloud-based.)
Why have hosted contact centre solutions become an outdated option for businesses today?
Even though hosted contact centre solutions are a step up from maintaining traditional on-premises systems, they're still not quite as good as cloud contact centres.
Quick note: Some people use "hosted" and "cloud" contact centre solutions interchangeably, but we're referring to hosted contact centre solutions here as a step up from on-prem, but not exactly cloud solutions. They do require less maintenance than a traditional on-premises server because that's handled by your service provider, which makes them more affordable. But to be honest, that's a pretty low bar considering how exorbitant the prices of on-premises contact centres can be.

✒️ Vetting different contact centre solutions?
This RFP checklist covers the essentials to be aware of and why they may be important for your contact centre.
Things to consider if you're thinking of a hosted contact centre
1. Hosted contact centres aren't easily scalable
Although hosted contact centres are a step up from on-premises solutions, they're still not super scaleable compared to true cloud-based alternatives. This is important because contact centres, especially those in industries with lots of seasonal fluctuations, may need to quickly scale up—or down—their capabilities, call capacity, and number of agents.

2. Hosted contact centres cost more (than cloud solutions)
Again, if you're comparing hosted contact centres to on-premises options, you'd be saving, because the service provider is maintaining their data centre, equipment, and connections, so you don't have to.
But you're not saving as much as you would with cloud contact centre software. One of the biggest benefits of going with the cloud is that it eliminates any aspect of the data centre management—including the people and expenses required.

3. Hosted contact centres give you more control
As we mentioned earlier, a hosted approach can give you maximum control over your implementation of the software and isolate your data, allowing you to do things like implement special behaviour or code customisations of your own design (although this does make it harder to maintain and upgrade a system over time because it differs from a standard implementation).

🔎 TL; DR
Hosted contact centres are better than on-premises contact centres, but cloud contact centres are generally better than both.
A better alternative to hosted contact centre services: Cloud contact centres
Cloud contact centre services are a step up from their hosted counterparts and offer the best alternative to traditional on-premises hardware and phone systems.
So why exactly is a cloud contact centre better?
A cloud contact centre is a solution that facilitates processing, data, and all of the call handling logic online. Because of that, cloud contact centres are incredibly flexible and scalable.
A cloud contact centre can be accessed from anywhere, on any desktop or mobile device connected to the Internet. In the office, at home, on the road—you name it. As long as you have an internet connection, you can interact with your contact centre as an agent or as a manager, wherever you go.
Because of this, businesses with cloud-based contact centre solutions are able to cut back on their physical office space, computing and telephony infrastructure, saving time and money on everything from equipment to utility bills.
After all, with agents able to work remotely, there's no need for so large of a footprint on the ground. Plus, since most cloud services work on a subscription-based pricing model, there's zero upfront capital investment required.
The big benefit of the cloud is that it offers instant flexibility. You can scale up—or down—much more quickly with a cloud contact centre compared to a hosted or on-premises contact centre.
Other benefits of going with a cloud contact centre:

You can deploy new call queues and groups of agents in just minutes or days (not months):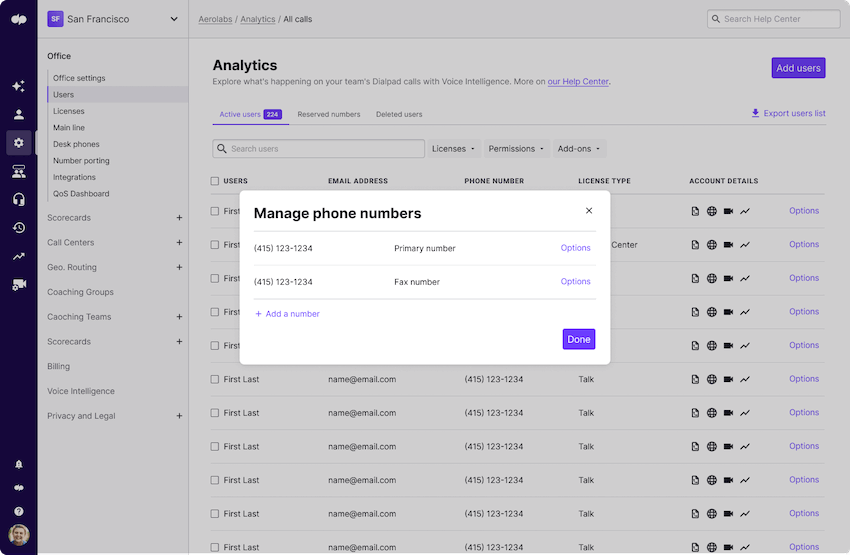 You have access from anywhere—great for establishing a virtual call centre in another location or to meet sudden demand.

No expensive setup costs for facilities or hosting technology.

Lower operational costs (and total cost of ownership) since everything happens faster, and managers have visibility into contact centre operations and people around the world.

Easier scalability to add phone lines, people, and support queues anywhere in the world.

Zero maintenance, with automatic upgrades provided by the software vendor and applied instantly to all users of the contact centre software.

System, data, and network security provided as part of the service.

Reduced downtime, with automatic failover and low latency connections.
All of this allows you and your agents to focus on the valuable work: facilitating customer interactions and boosting the customer experience—not the administration and maintenance of your tools.
When you're choosing a cloud contact centre platform, look for features that can help you improve customer satisfaction and also your agents' workflows.
For example: real-time support for your agents and managers, configurable IVR (interactive voice response) and other customer self-service options, ACD (automatic call distribution), agent skills-based and intelligent call routing, customer callback capabilities (when no agent is available), an automated outbound dialler, and both screen and voice call recording.

Looking for a contact centre solution?
See how Dialpad Ai Contact Centre is fully integrated with its unified communications product! Check it out in action with a product tour.
5 benefits of moving to Dialpad for your cloud contact centre
Shifting your contact centre or call centre platform to the cloud may just be the best decision you ever made.
Here are a few of the main benefits:
1. Unified communications
You've probably seen many Unified Communications as a Service (or UCaaS) providers out there bill their products as a "unified solution" that combines both UCaaS and CCaaS. Most of the time, they're actually reselling or white-labelling other companies' products, slapping their logo on it, and selling them together.
Why that's not great: Even though you can buy that software together as a package, often the user experience is totally different (because they're still different products). What that means is basic things like logging in would require separate accounts and passwords, the look of the software is totally different and takes longer to learn or get used to, and so on.
Dialpad does not do that. Our contact centre software is truly integrated with our UCaaS platform (which gives you SMS/MMS messaging, inbound and outbound calling, and more).
For example, you could start a video meeting in the same window / account / experience as the "contact centre solution" side: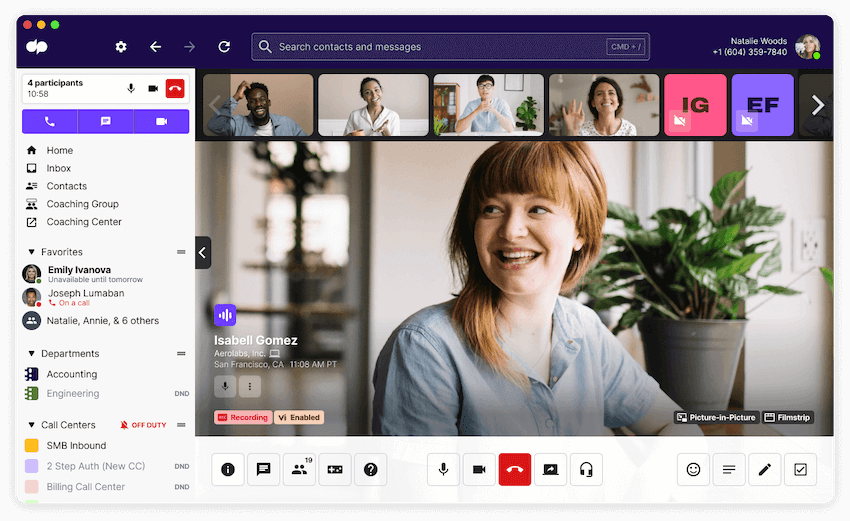 It's all within one log-in, one user interface—and truly unified.
2. Easily available call analytics that provide real-time insights into what is happening
With a cloud contact centre service, you won't just get telephony functionality—you'll get the important data piece as well.
Some service providers will give you detailed contact centre analytics and call monitoring so that you can assess call performance and optimise your agents' workflows and workforce management. For example, Dialpad has a variety of dashboards and analytics to tell you how your contact centre is performing. There are heat maps that show call volume patterns, average speed to answer…
And even how effective your IVR menu is: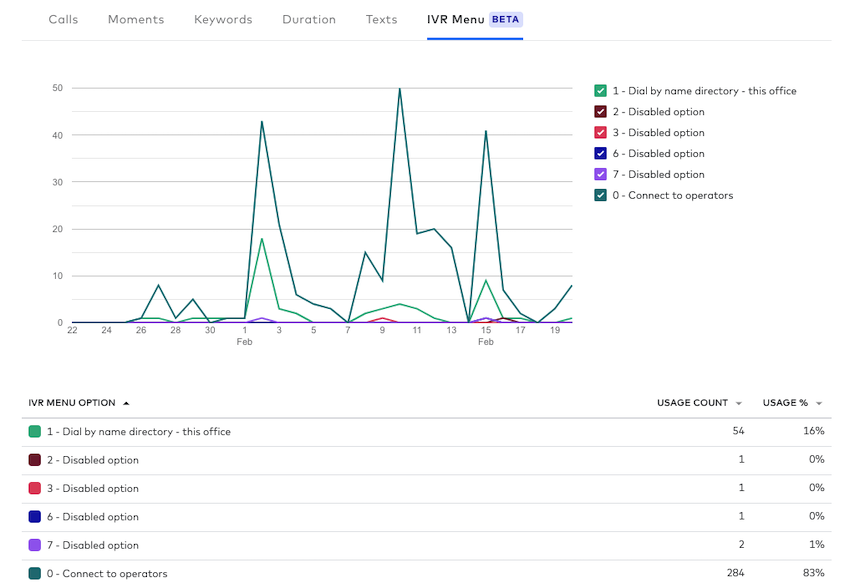 3. Security
Cloud-based contact centre platforms come equipped with enhanced security features that protect you—and your customer information.
All Dialpad services, for example, comply fully with regulatory standards (more on that here). We have customers in healthcare, legal, and other regulated industries—and Dialpad security is assured through GDPR, Privacy Shield, and SOC2 Type II compliance, and CSA STAR membership.

4. Uptime
Some cloud contact centre providers can be key partners in helping reduce your contact centre operations downtime. (So choose wisely!)
In fact, Dialpad offers a 100% uptime service level agreement (SLA) for our enterprise CCaaS and UCaaS customers. That means zero scheduled downtime and round-the-clock availability.
5. Integrations
Another big advantage of moving to the cloud is access to integrations with tools and software you're already using. With hosted solutions and physical hardware, more often than not, they won't be able to sync up their call centre solutions with different apps.
For example, Dialpad Ai Contact Centre integrates with popular CRMs like HubSpot, Zendesk, and Salesforce: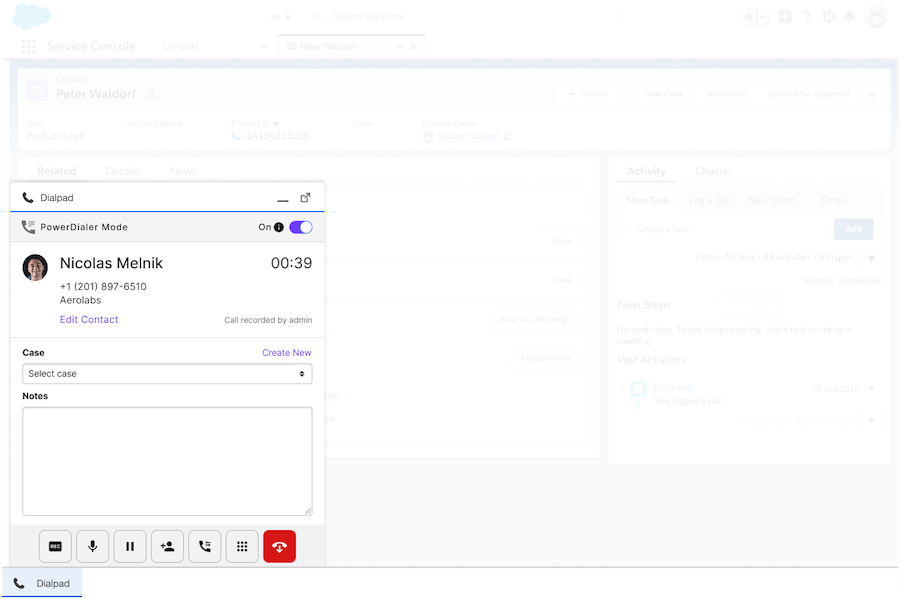 A final note on cloud contact centre design: Split-cloud architecture
When you hear people talk about cloud contact centres, scalability and disaster recovery are usually two of the main benefits that come up.
If you'll let us geek out about cloud contact centre design for a minute…
Dialpad's unique flavour of "cloud" lies in our proprietary split-cloud architecture, which is the reason behind why we can guarantee 100% uptime for enterprise customers, and why we can help customers scale from zero to 5,000 contact centre agents in three or four weeks (which would be impossible to do with hosted contact centre solutions).
Why is it called "split-cloud?" Well, because the "work" is split into two parts: our data centres are streamlined and fully focused on delivering high-quality voice, while routing and business logic and more resource-intensive processor work is done in the cloud (GCP, or Google Cloud Platform).
This is something special that Dialpad does, and it's super-efficient and super cost-effective.
If you remember the benefits that we mentioned earlier of multi-tenant SaaS, Dialpad gives you all of that and more. It truly grows with you—while preventing overbuying and overprovisioning of services. No more wasted spend or resources.
But this is really getting into the weeds—if you've read this far and are interested in learning more about how this works and why it's a significant leg-up from hosted contact centres, get in touch with us for a product tour! We can tell you more.

Learn more about hosted contact centres...
... And see how Dialpad's contact centre platform works with a product tour!