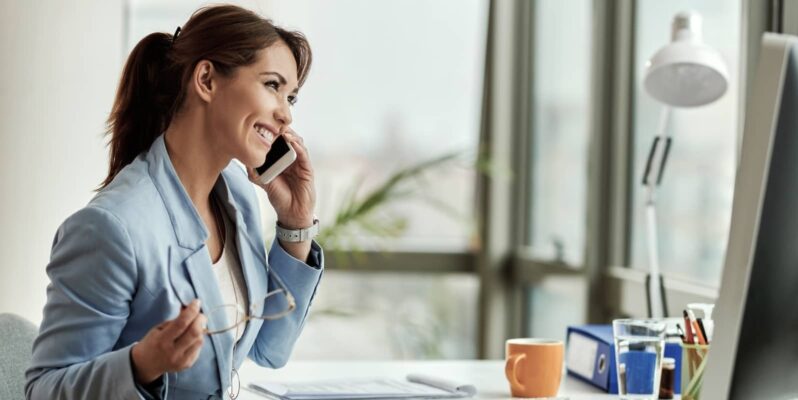 A good telecommunications system keeps track of all of your important conversations. Not only do you need to be able to communicate with your employees, but you also need to be able to reach your customers. And in today's world, that means having a good call tracking system in place.
But what is call tracking, how does it work, and what are its regulations in the UK? In this blog post, we'll answer all of those questions and more. If you haven't used call tracking in the past, we'll provide some use cases for this feature in different industries and tools to consider.
What is call tracking?
Call tracking is the process of recording and storing phone calls made to and from a business. This data can then be used to measure the performance of employees, assess customer satisfaction, and improve the overall quality of the customer service experience.
There are a number of benefits that come with call tracking. By recording your phone calls and reviewing them at a later time, businesses can identify areas where employees need more training. The data that you gather from your customer communications can also be used to improve processes and systems, as well as to resolve disputes. In addition, call tracking can help businesses to monitor compliance with regulations.
Call tracking regulations in the UK
In the United Kingdom, call tracking—specifically, call recording—is regulated by the Data Protection Act 2018 (DPA). The DPA considers call recording a form of data processing and is subject to protection.
Although it is legal to record calls, businesses must have a legitimate reason for collecting and storing personal data. You must receive explicit consent from the individual in order to record the conversation. This means you cannot just assume your customer knows they are being recorded and agrees to it.
Call tracking can be a valuable tool for businesses, but it is important to ensure that you comply with all relevant laws and regulations.
How does call tracking work?
Tracking calls give businesses can gain valuable insights into the performance of their employees and the effectiveness of their customer service. By monitoring calls, you can identify areas where your employees need more training, or where your processes are falling short. Additionally, call tracking can help you evaluate the performance of individual employees and make sure that they are meeting your standards.
There are a number of different ways to track calls, but the most common method is to use a call recording software. This type of software records all calls made to and from a phone line, and stores them in a central location. Call recordings can then be accessed and reviewed at any time, making it easy to monitor call quality.

Your call tracking system should also provide information about when calls were made, who they were to, whether their enquiry was resolved, and other relevant information about the customer.

How do I start tracking phone calls for my business?
Before you start call tracking, consider your needs and objectives. Since there are different factors that you can track, the main question is why do you want to track calls? Here are three common scenarios.
Improve customer experience
If your goal is to increase customer satisfaction and improve call quality, call recording software is your best option. As an Ai-powered customer intelligence platform, Dialpad provides detailed call analytics and insights into every aspect of your calls.

For example, you can use speech analytics for your calls to track how often a certain phrase is mentioned, such as "pricing", "refund", or "cancel".
You can also see a heatmap of your contact centre to see when your team is handling a large volume of calls. This information can help you create a more optimised schedule for your reps, focused around the busiest hours of the day:


You can also access all of your call data and call transcriptions in one place. This is especially helpful if you want to analyse certain calls and track their outcomes.
Monitor your sales calls
If your team does a lot of outbound calling, then it's helpful to keep track of metrics related to your lead generation efforts, such as how many calls are made and the number of leads, revenue that it generates, and overall return on investment.
With Dialpad's real-time sentiment analysis, contact centre managers can easily view which calls have a positive or negative sentiment. When a call is showing negative sentiment, a manager can listen in on the call and "whisper" to the sales agent to provide tips on what to say in order to prevent the lead from going cold.
Track marketing campaigns
The most common usage for call tracking for digital marketing teams is if your business is running paid ads (also known as "pay-per-click" or "PPC"). Call tracking helps your marketing team with attribution, so they can understand which ads are generating interest and clicks to better optimise your marketing budget. They can also give your sales team and idea of which ad the customer saw in order to provide them with a more personalised pitch.
To track incoming calls from the different ads and marketing channels, some businesses may use different virtual phone numbers that route to one main line. Your CRM and analytics software should be able to provide you with information about how the inbound call came about.
Use cases for call tracking in different industries
Call tracking not only helps improve customer service quality, increase sales leads, and track your marketing activities—it can also be used in different industries. Here are a few examples.
Healthcare
In the healthcare industry, call tracking can be used to monitor calls between patients and healthcare professionals. This can help to identify areas where patients are not receiving the best possible care. Call tracking can also be used to monitor calls between different healthcare professionals, such as doctors and nurses. This can help to identify areas where communication is poor and may lead to errors in patient care.
Banking and finance
In the banking and finance industry, call tracking can be used to monitor calls between customers and bank staff. This can help to identify areas where customers are not receiving the best possible service. Call tracking can also be used to monitor calls between different bank staff members to make sure everyone is on the same page.
Retail and ecommerce
In the retail and e-commerce industry, call tracking can be used to monitor calls between customers and support team. This can help to identify areas where customers are not receiving the best possible service or understand what areas of the business (or what specific products) are receiving a high volume of complaints and need to be improved.
Choosing a call tracking software
There are a few factors to consider when choosing call tracking software for your business, such as the features you need, the price, and the reviews.
One of the most important factors to consider is the features that are offered by the different call tracking software providers. You'll most likely want to look beyond the basic VoIP features provided by most cloud-based providers, like the ability to track multiple telephone numbers, call recording, call reporting, automation, and integrations with other software.
Another factor to consider is price. Call tracking software can range in price from a few dollars per month to hundreds of dollars per month, depending on the features and number of phone numbers you need to track.
With Dialpad, plans start at £12 per month and include all the call tracking features you need, from call reporting, caller ID, customisable IVR (interactive voice response). You can also get an 0800 number or local number depending on what your business prefers:

Finally, you'll want to read reviews of call tracking software before making a decision. This will help you get an idea of what other businesses think of the different options available.
Track your calls
Call tracking can be an extremely valuable tool for businesses of all sizes. When used correctly, it can help you to better understand your customers and prospects, and make more informed decisions about your marketing and customer service strategies.
However, it's important to be aware of the regulations surrounding call tracking in the UK, and to take steps to protect the privacy of your customers and employees. When choosing a call tracking software for your business, be sure to consider the features offered, the price, and the reviews.
More than just call tracking
Get call recordings, voice transcriptions, call summaries, and much more with Dialpad. Book a demo, or take a self-guided interactive tour of the app on your own!