Back to Blog
What you need to know about recording phone calls in the UK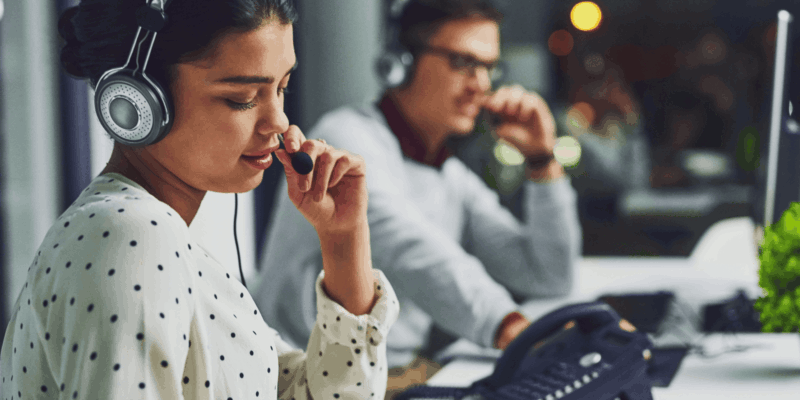 If you have customers in the United Kingdom, you may need to record phone calls with them for various reasons. But before you start recording calls, it's important to understand all the legal implications and guidelines to help protect your customer's data and privacy.
We'll guide you through everything you need to know about recording phone calls in the UK, from how to get a recording of a phone call to how to choose the right call recording app for your business.
GDPR call recording guidelines
The UK's General Data Protection Regulation (GDPR) came into effect in May 2018, and brought with it a number of changes to the way businesses handle personal data and track calls. One area that was affected by GDPR is call recording—specifically, the recording of phone calls made to or from customers in the European Union.
Under GDPR, businesses must have a lawful basis for processing personal data, and this includes telephone call recordings. In most cases, the lawful basis will be 'legitimate interests', which means that the business has a legitimate reason for recording the call.
However, there are some circumstances where another lawful basis may be more appropriate. For example, if the call is being recorded for training purposes, then the lawful basis could be "consent." This means that the person being recorded must have given their explicit consent for the call to be recorded—just providing a notification that a call will be recorded does not suffice.
If you are planning to record calls made to or from customers in the EU, it's important to make sure you have a GDPR-compliant call recording solution in place.
How to get a recording of a phone call
If your business has a legitimate reason for recording the call and has received consent from the caller to record the call, the next step is to start recording.
Before you can do that, you'll most likely need to use a call recording app, which will automatically record all calls made through the app.
There are also some phones that have a built-in call recording feature. To use this, you'll need to enable the feature in the phone's settings. Once it's enabled, all calls made on the phone will be recorded.
Finally, many telecom systems and VoIP providers offer call recording services that can be enabled for an additional fee. With Dialpad, the lowest tier plan (which starts at £12 per month) includes call recording. In the next section, we'll go over how to do this in more detail.
How to record a phone call
If you're using Dialpad, recording phone calls is simple and you can record both incoming and outgoing calls with just a few clicks.

Here's how:
Make sure that you or your admin has enabled the call recording feature in the Dialpad admin settings.
When you're on a call with a customer, click the "Record" button in your menu. This will prompt you to start recording the active call.
To stop recording, click the "Record" button again.
After you hang up, the recording will automatically be saved to your account for future playback.
You can also choose to record all calls made through Dialpad by enabling auto-recording in your settings. With auto-recording enabled, all calls will be automatically recorded and saved to your account.
How to listen to call recording
How to listen to your call recording will depend on how your call was recorded. If you enabled call recording on your phone, in your recent calls list. To playback a recording, tap the play button for the call.
To listen to a call recording in the Dialpad desktop app, click on the Dialpad logo at the top left of the app. Then, click on the "Recordings" tab and find the call you want to playback. Hover over the call and click the play button that appears to the right side of the caller's name. The recording will begin playing back immediately in your app.

How to choose the right call recording app
When choosing a call recording app, there are a few things you should keep in mind. First, consider what features are important to you. Some apps allow you to record calls automatically, while others require you to manually start and stop recordings. Some apps let you choose which calls to record and which to ignore, while others will record all calls made through the app.
Another thing to consider is storage. Some apps save recordings locally on your device, while others save them in the cloud. If you're worried about running out of space on your device, look for an app that saves recordings in the cloud.
Finally, think about price. Some apps are free, while others charge a monthly or annual subscription fee. If cost is a concern, consider going with a free call recording app.
Best call recording apps
Now that you know what to look for in a call recording app, it's time to choose one that's right for you.
Dialpad
We're going to be a bit biased, but we'd recommend using Dialpad for all of your calling needs, beyond just call recording. Dialpad Ai Contact Centre also has features like real-time voice transcription, which is helpful to be able to search keywords in a transcript after a call in case you need to review something that was said during a customer conversation. After the call, you can also receive a call summary with action items so that your team knows what tasks to prioritise after the call.

Dialpad is great tool for training your reps too. For example, if you have examples of calls that went very well, you can add them into a coaching playlist so that both new reps and existing team members can easily access them and review them.
RecordiaPro
RecordiaPro allows you to record calls without having to download an app. It offers the basics such as automatic call recording, cloud storage, and a web player for listening to recordings. It also offers a monthly subscription plan that includes unlimited recordings and transcriptions.
CallApp
Another call recording app is CallApp, which also has a caller ID and call blocker feature, in addition to telephone recording and cloud storage for recordings. It's a free app for Android devices only, which means that the app is ad-supported. There is a paid version available that removes those ads.
Call Recorder
The Call Recorder app call recording for inbound and outbound calls and transcription services. Users of the app must pay for a weekly, monthly, or yearly subscription to use its features. It also supports local phone numbers in the United Kingdom and language support for over 15 languages.
Phone call recordings in the UK and beyond
Phone call recordings are an extremely useful tool that helps agents focus on their customer conversations without having to manually write down every detail about what was said during a call. It's also a great way to train your reps, but for phone recordings in the UK, it's important to be aware of the laws and regulations regarding call recording.
Make sure that your team knows the policies around the recording and monitoring of telephone calls. Remember to get consent before you begin recording and use a GDPR-compliant telecommunications app to record (and possibly even store) your calls.
Record calls while staying GDPR compliant
Get call recordings, real-time transcription, call summaries, and much more with Dialpad. Try it out with a free 14-day trial, or take a self-guided interactive tour of the app first!
FAQs about recording phone calls in the UK
Can I record phone calls in the UK? Is call recording legal?
Yes, in the United Kingdom, it is legal to record phone calls as long as you have the consent of the other party to the conversation according to the GDPR (General Data Protection Regulation).
There's also the Regulation of Investigatory Powers Act 2000 (RIPA), which is a UK law that governs the use of investigatory powers by public authorities. The law requires public authorities to obtain a warrant from a judge before they can carry out certain types of surveillance, including recording conversations.
It's important to make sure that your business is compliant with regulatory requirements, so make sure to create a recording policy that aligns with regulatory procedures. If you have any additional questions about this, we'd recommend getting legal advice for your specific situation.

What is a call recording?
How to know if someone is recording your call?
How do I prevent others from recording my call?