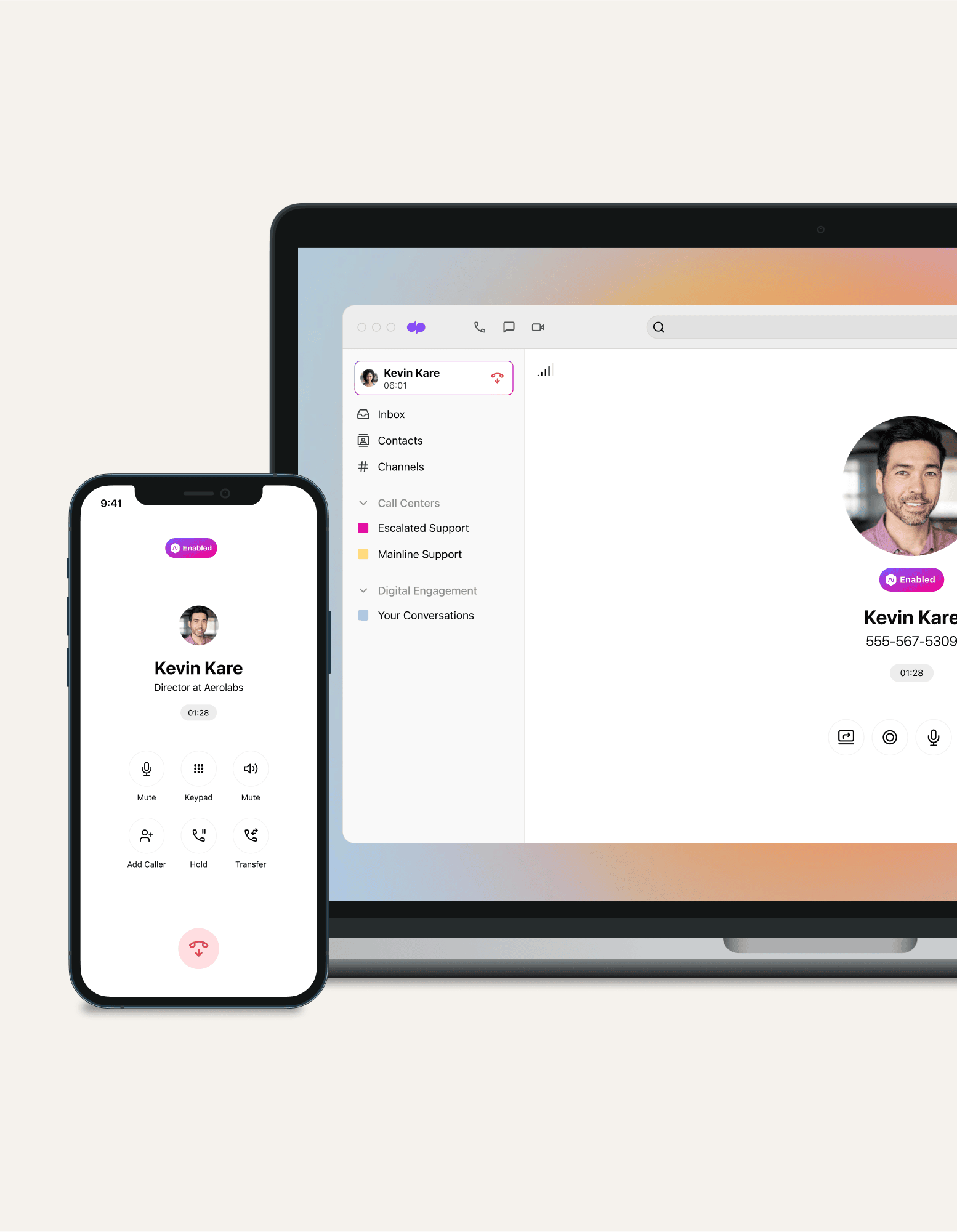 an in-depth guide
Outbound call centres
Running an outbound call centre? Looking for outbound call centre software or, better still, an intuitive contact centre solution that's easy to set up? Book a product tour of Dialpad's AI-powered customer engagement platform to see how it can make your agents' and supervisors' lives easier!
Ask anybody on the street what an outbound call centre is, and most of them will give you a similar answer. They'll typically describe a large room with rows of desks and agents wearing headsets, cold calling people.
That would have been pretty accurate ten—or even five—years ago, but the world of outbound call centres has changed a lot since then.
Today, outbound call centre agents are as likely to make their calls from their kitchen table as from a physical call centre. The very nature of these organisations, too, has evolved quickly—thanks in no small part to technological advancements.
So, we're going to help you get fully caught up.
We'll cover what "outbound call centre" truly means, including what they do and how they differ from both an outbound contact centre and an inbound call centre. Then, we'll offer some tips for running an outbound call or contact centre, plus, what to look for in software that can help you do so.
What is an outbound call centre?
An outbound call centre is essentially a business or department that employs agents whose job is to make outgoing calls.
This often means cold calls to potential customers for sales and lead generation, but can also include things like market research calls and follow-up calls to existing customers (for example, to tell them about promos or reminders).
Some call centres are exclusively outbound-focused, while others handle incoming calls, too, and combine both outbound and inbound call centre responsibilities like help desk and customer support.
Outbound call centre vs. outbound contact centre
So, what about an outbound contact centre? Is that the same thing? Technically, no, it isn't. A call centre focuses exclusively on making calls—it's in the name, right? A contact centre, meanwhile, involves agents reaching out to leads or customers via multiple channels—think live chat, SMS, and more.
In practice, you may often see the terms outbound call centre and outbound contact centre used interchangeably, but the difference is an important one to understand (not least when it comes to choosing the outbound call centre software you're going to invest in).
Some "call centre solutions", after all, are precisely that. They're equipped to let agents communicate only via phone calls. So, if you know that you need to communicate with your customers or audience through different avenues, you're better off looking for an outbound contact centre platform.
Dialpad's AI-powered sales engagement solution, for example, has a power dialler that lets sales reps and agents do high volume outreach / high velocity sales, and it also integrates with Outreach to let sales teams plan email + phone sequences:

Inbound vs. outbound call centres
Call vs. contact centre isn't the only common source of confusion when it comes to understanding outbound call centres. What about inbound Vs. outbound call centres? What's the difference between those?
Fortunately, it's quite simple. An inbound call centre is one that's designed and set up to receive calls. The outbound alternative, meanwhile, makes calls. You can get some centres that do both, but at its root, it really is that simple.
A few examples of outbound call and contact centre roles and services
Outbound call centre services are varied. Here are a few common examples (that you've probably come across) of the uses businesses have for outbound call centres:
Collections
Collections agents are maybe the most notorious type of outbound call centre agents. Their job: to call people who owe a company money and, well, get that money.
Telesales
Telesales is, as the name suggests, the selling of products or services over the phone. Outbound sales teams make calls to prospective customers, usually by cold calling or by working from a list of contacts who may have already indicated an interest in their products or services.
Telemarketing
While telesales involves selling directly to customers by telephone, telemarketing has a bit of a broader scope. Telemarketers often use phone calls to gauge interest, do market research, and maybe even appointment setting for later sales calls. (Although you could argue this last one is part of telesales. The line can be a bit blurry depending on your business or organisations are set up.)

✒️ Vetting different contact centre solutions?
This RFP checklist covers the essentials to be aware of and why they may be important for your contact centre.
3 outbound call or contact centre best practices
Whether you're running an outbound call or contact centre operation that focuses on collections, telemarketing, or sales, there are some best practices that can help your operations run as efficiently—and effectively—as possible:
1. Have clear campaign plans
One of the most common pitfalls to avoid is giving your agents or reps a script and then pushing them into the deep end. If you do this, sure, the really good agents will do fine—but those people will likely be a minority.
A good campaign plan defines your campaign's objectives, methods, and outbound call centre metrics and KPIs. It should outline who needs to do what and set a timeframe for meeting campaign milestones. And having this plan empowers all of your agents (not just the good ones) to hit their goals.
2. Use a good dialler tool
For any high-volume outbound team, skill and training are important, but it ultimately is a numbers game. And to get your reps as many at-bats as humanly possible, you need a streamlined and efficient dialling process in place.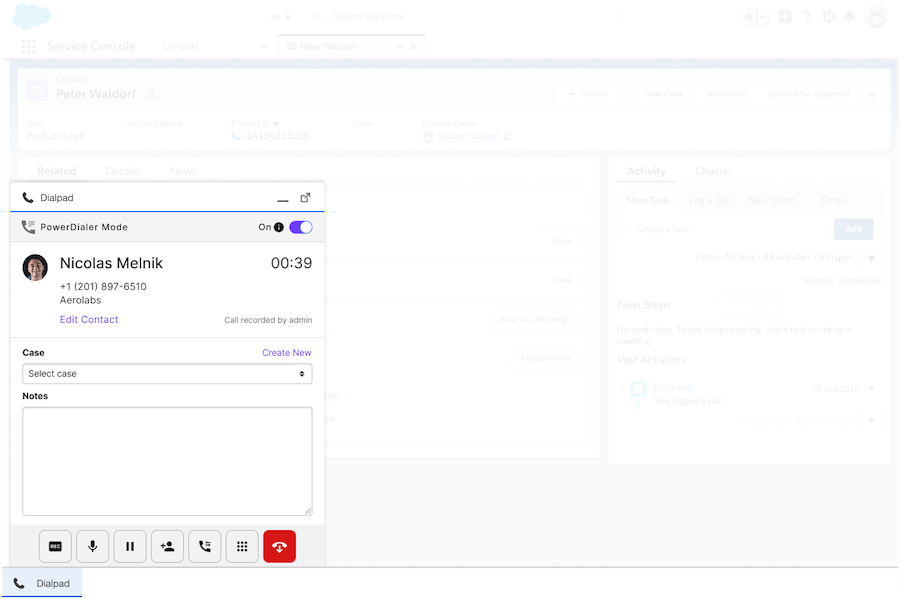 Any good outbound call centre software solution should include a power dialler. This is a feature that basically automates the process of making phone calls. (Predictive diallers are another variation of this tool.) Dialpad's power dialler feature, for example, automatically dials the next phone number on an outreach list as soon as the rep hangs up the previous call.

This removes the need for manual dialling, which can shave off valuable time that would've been spent on a very repetitive, low-value task for reps.
In the same vein, Dialpad also has a voicemail drop feature that lets reps pre-record a message that they can "drop" into a call when it hits a prospect's voicemail. This way, they don't have to spend time reciting the same message every time they hit voicemail:

Combined with automated dialling, this can give outbound reps back hours of their time every week—that could be better spent on booking meetings and actually talking to potential customers.
3. Give agents regular training
Whether your organisation works in healthcare, financial services, or real estate, outbound call centre training should be a priority—on an ongoing basis.
This will help them proactively learn about topics that your leads and prospects will likely be asking them. From industry news and updates, to new features or services that your company is rolling out, there's always new things happening in any business, and your agents should be one of the first to know in order to do effective outreach.
With Dialpad, for instance, managers can create "Custom Moments" to track how frequently certain keywords and phrases come up on calls with leads. Want to know which competitors are popular with your prospects, or which objections you should train your reps to handle? Just create a Custom Moment for those keywords, and Dialpad will track them for you:

You can then go into the analytics and scan the transcripts to get more context into those conversations.
But that's not it. Dialpad can even go one step further with Real-Time Assist (RTA) cards. Once you know which topics are tripping up your agents, you can create RTA cards with tailored notes on those topics and set them to trigger automatically on agents' screens—when those keywords are spoken on a call:
In busy outbound call or contact centre teams, one manager or supervisor is usually overseeing a large number of reps. This lets them handle training at scale, without having to personally coach each phone call!
Want a better way to run your outbound call or contact centre team?
Dialpad is designed to help high-volume outbound teams do outreach more efficiently and effectively. Book a demo to see how it can help your reps and managers, or take a self-guided interactive tour of the app on your own!
8 essential features to look for in outbound call centre software or an outbound contact centre platform
So, what should you look for in a good call or contact centre software? Here are eight features to be aware of. Not every outbound team will necessarily need every single one, but in our experience, these will likely be important for most organisations:
1. CRM integrations
Customer Relationship Management (CRM) platforms are, of course, an indispensable piece of software for almost anyone who works in a customer- or prospect-facing role.
As well as helping sales, marketing, and customer service representatives keep on top of multiple customer relationships, CRM systems often act as the single source of truth that contains all the information a company needs to provide an excellent customer experience or seamless sales process.
That's why your CRM platform should integrate with your contact or call centre software, since this allows your CRM to automatically log customer interactions like phone calls and texts, and make sure that's all recorded in that customer's profile.
For example, Dialpad integrates with CRMs like Salesforce, HubSpot, Zoho CRM, and more to embed a CTI dialler inside those tools (which means reps don't have to switch between windows to make phone calls) and auto-log those activities:


2. Voicemail drop

As we mentioned earlier, for outbound call centre reps who often make hundreds of calls in a day, having to leave a unique message for every unanswered call wastes valuable time that could be spent on an actual conversation with a prospect.
With a voicemail drop feature, reps can easily drop a prerecorded message for each unanswered call that goes to voicemail. All the agent has to do is click a button and move on to the next call. What would've taken a minute or two now takes one second.
3. Call recording playlists
Put your recorded calls to good use by creating a playlist with recordings of the very best (or very worst) calls for coaching purposes. From tough pricing questions to common customer problems, you can create specific playlists for your reps or agents to listen to at their own pace.
In Dialpad, you can create this in just a few clicks:

4. A power dialler or a click-to-dial feature

Another one we've touched on already, here.. A few seconds here and there can quickly add up, so any team making outbound calls at volume would probably benefit from a power dialler tool.

Similarly, manually entering phone numbers can waste valuable time and introduce errors into your outbound calling workflows. Because of this, the ability to make calls with just one click is another important feature that a good piece of outbound call centre software should include.
5. Local numbers / local presence
People are more likely to answer a call from a number with an area code they recognise. For this reason, giving your reps the ability to make phone calls from local numbers (sometimes called a local presence feature or package) can increase connection rates for them and get them more at-bats with prospects.
6. Call recording
Being able to record calls is a must-have for any software, whether it's for inbound or outbound teams. Why? Because call recordings are essential for both post-call analysis and training purposes.
(What's even better is if your solution has not only a call recording feature, but also a real-time transcription feature, since most people can read transcripts more quickly than listening to the actual audio.)
👉 Fun fact:
Dialpad comes with a call recording disclosure notification feature, so that you can make sure you're staying compliant while recording calls.
7. Built-in analytics and reporting

Your call or contact centre solution should also come with some sort of built-in reporting or dashboard so that your managers can effectively track the KPIs of individual agents, teams, and outbound campaigns overall.

For example, Dialpad comes with basic contact centre analytics that tell you things like call duration, how often your tracked keywords came up, and so on:

8. Real-time coaching

Even the best agents can't be expected to always know how to respond to every situation. That's where features powered by AI in sales come into their own. Whether you have a group of new hires coming in or need to train seasoned agents on new updates, features like Dialpad's RTA cards can be very helpful.
(And they can also notify agents when they're speaking too quickly too!)
Running an outbound call centre or contact centre?
If you're managing an outbound call centre or any team that does high-volume outbound communications, having the right technology or tools can help your reps punch above their weight—and more importantly, get way more done in less time (and with less effort).
Whether you choose to outsource the process or build your own operation from scratch, make sure to measure your KPIs and follow your industry's best practices to deliver successful (and compliant) outbound campaigns, while still maintaining a high level of customer satisfaction.

Smash those lead generation and sales targets
Get a personal walkthrough of how Dialpad can empower your outbound reps and supervisors.