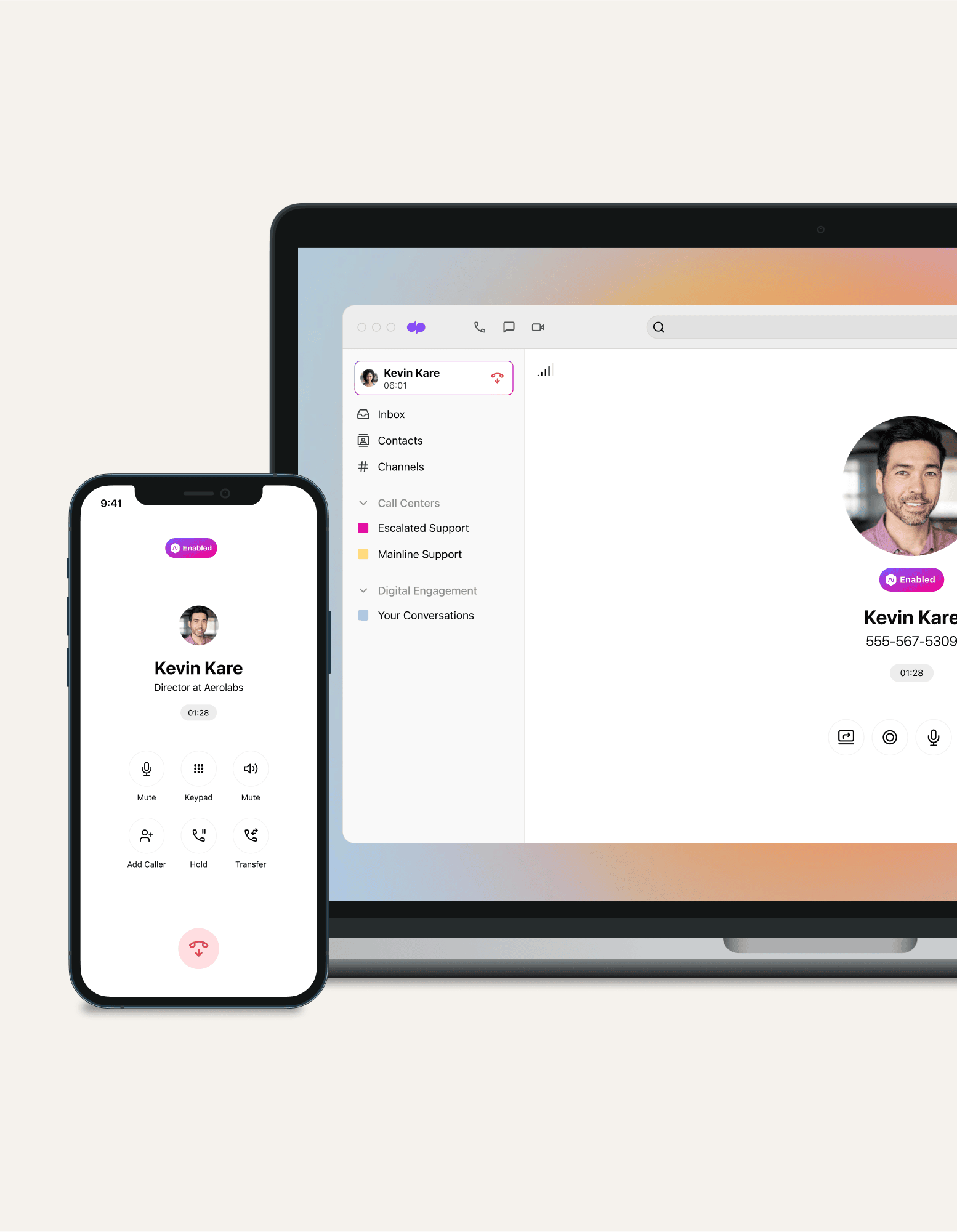 an in-depth guide
What is cloud PBX?
You might also see this referred to as a VoIP system, UCaaS, UC, cloud-hosted PBX, or hosted PBX. No matter which term you heard, if you want a flexible business phone system, you can take Dialpad for a test drive with a free trial. Get started in just minutes with a virtual business number, or take a self-guided tour of the app first!
What is cloud PBX?
Essentially, cloud PBX combines a traditional PBX (private branch exchange) phone system with VoIP (Voice over Internet Protocol) technology into one hosted solution. In other words, your regular ol' phone system is stored in a data centre (or data centres) and is usually secured and managed by your vendor.
You might have heard cloud PBX referred to as hosted PBX, virtual PBX, or simply as a hosted phone system, but they all generally mean the same thing.
Cloud PBX can be accessed via an Internet connection instead of the usual public service telephone network or PSTN. You might know these as "analog lines" . All the setup and maintenance is handled by the provider. This helps you cut down on installation and hardware costs, and allows for quick and easy deployment—while effectively freeing you from the clutches of telecom companies and expensive phone systems and handsets.
You still get all the functionalities of a traditional phone system. The only difference is you're now accessing these over the Internet, which also indirectly leads to other perks like easier maintenance, lower costs, and more flexibility and scalability. This makes cloud PBX a practical and cost-effective business communication solution, for startups and small businesses as well as larger enterprises.
Fun fact: It's often easier for smaller and medium-sized businesses to switch to a cloud PBX phone system because the upfront costs (CAPEX) are so drastically reduced. Instead, the cost is spread out over time—years in fact—as recurring user licences.

☁️ Dialpad tip:
Watch out for companies that claim to have a "cloud PBX" but are really just hosting a physical PBX in a data centre—what they don't tell you is that a lot of the advantages of a true cloud PBX system are usually removed or reduced.
How does a cloud PBX work?
In a nutshell, with cloud PBX, your business phone system is hosted in the cloud and works entirely over the Internet—no physical hardware needed. That being said, you have the option of making and receiving phone calls with IP phones, desk phones, mobile phones, or even other devices, such as desktop, laptop, and tablet PCs (thanks to softphone apps, which essentially let you make phone calls from different devices).
Long story short, all you need is an Internet connection, and you can access your cloud PBX from anywhere, on any device, at any time. At Dialpad, all of your data is securely stored and encrypted in data centres scattered across different locations.
Cloud PBX providers typically have numerous data centres to protect your services against a single failure point. This makes sure all of your voice services are working all of the time, even if one server goes down or a particular connection is lost, so that your customers and clients can reach you when they need to.
Cloud PBX providers also update the software, add new features and generally bring you improvements over time.

👀 Moving your business to remote or hybrid work?
Grab the Hybrid Work Playbook, which includes real-life case studies and breaks down all things hybrid + remote, from building and sustaining a hybrid workforce to equipping your team for success.
Why do companies use cloud PBX?
There's not just one reason for choosing cloud PBX, and some reasons are more important than others for certain companies. Some businesses with ambitious growth plans may prioritise flexibility and scalability, while others might care more about call quality and reliability.
Here are some of the main reasons companies switch to cloud PBX.

Cost efficiency
The relatively low cost of cloud PBX is often the most attractive feature for businesses. With cloud PBX, you don't have to pay large upfront expenses to purchase and set up hardware. Instead, you can pay monthly for the number of seats actually needed for the business, which can be substantially cheaper over the long run.
Cloud PBX service providers also take care of maintenance and updates, which saves you the extra expense there, as well as ensuring that all your users are working from exactly the same version of the software. This helps your IT team happy (and the cost savings will keep your Finance team happy).
Future-proofing
Cloud PBX systems combine the best of traditional phone services with a diverse range of integrations with your other tools and software. This means that your cloud PBX is scalable, and that it can flex and adjust to your business needs as they evolve—effectively future-proofing your company.
☁️ Dialpad tip:
Say you're getting a new CRM like Salesforce, or switching from an old email system to Google Workspace or Microsoft 365. A cloud PBX phone system can easily integrate with this software, sync contacts and data, and more—with minimum work on your end.
Mobility
Today's workforce is a mobile one. More people are working remotely and working on the go. Virtual PBX makes it easy to work from any device and from anywhere in the world. Who says work has to be confined to the office or your desk?
More advanced features
Compared to traditional business phone systems, cloud PBX just gives you more advanced options. Want real-time call transcriptions? What about call analytics and integrations with different apps? You can get all of that with a cloud PBX system—and often, they're included with your monthly subscription!
What you get with Dialpad
If you're looking to move on from your traditional PBX business phone system, take Dialpad's free trial for a spin. Here are just a few examples of what you'd get:
No hardware (unless you need it)
Everything runs in the cloud, so there's no hardware installation needed. No hardware also means that there's no physical maintenance or updates required, and you don't have to buy anything up front. Of course, if you're in an industry that does need desk phones, Dialpad is compatible with those too.
Cost savings
Rather than paying up front for an on-premises phone system, you can pay on a monthly or annual basis for a cloud PBX system. Typically, a cloud PBX provider will provide a flat rate for each user or device you have, and the price will only fluctuate based on how many users you have, so you're not surprised with extra fees.
For example, with Dialpad's most basic plan, you get unlimited (inbound and outbound) calling within your local country, the US, and Canada—plus call recording, call routing, auto attendant, video conferencing, custom voicemail greetings, and more. And it starts at just £12 per month.
Scalability
Easily provision—and deprovision—users with Dialpad. The cloud has an expandable amount of storage available, so there's no limit to the number of users you can add to your system. In Dialpad, user provisioning is quick and easy. You can set up a new hire almost instantly and manage your virtual phone numbers on your own and without hiring IT help:

Get s sudden burst of business? Maybe your company is moving from a few dozen calls a day to several hundred? A traditional phone system has limits on the number of calls you can handle. With a cloud PBX, this restriction is eliminated. The cloud PBX can handle any change in your business with ease, so you can focus on your customers and not "how many things my phone system has."

Flexibility
VoIP makes it possible to access your phone system and all of its controls over the Internet. And with Dialpad, you can also communicate with customers, prospects, and teammates across any device including iOS, Mac, PC, and Android. (And did we mention it's browser-based too? You can not only join calls, but also host calls and get full functionality for all your online meetings—from a web browser.)
☁️ Fun fact:
Unlike legacy business phone providers that have been around for decades, Dialpad has built its telephony network using a dual-cloud architecture that's designed specifically for excellent voice quality. Ask us about it!
Another reason a cloud PBX is more flexible is because it's able to integrate with other applications and services—an invaluable feature and benefit to working "in the cloud."

Excellent customer support
Not only does Dialpad have a thorough and extremely detailed Help Centre knowledge database that you can find answers on anytime, you also get 24/7 phone and chat support coverage on the Pro and Enterprise Plans—worldwide, not just in the US. (Don't worry, with the Standard Plan, you still get web and chat support 24/5.)
We go one step beyond and have purpose-built the entire Dialpad ecosystem with a single purpose: to make it easy for you. That's right, from our desktop app (which is table stakes) to the incredibly easy setup and administration. This means you'll be contacting Dialpad less for the simple things that you do every day.

Looking for a cloud PBX system?
Try Dialpad's unified communications platform (with a built-in phone system) for free for 14-days! Sign up for a trial in just a few minutes to get started or, take a self-guided interactive tour of the app!
9 features to look for in a cloud PBX phone system
Choosing a cloud PBX solution can be tricky if you don't know what you're looking for. Here are some features you should look out for when choosing a cloud or hosted PBX system for your business or contact centre.

1. Real-time transcriptions
Call transcriptions can be a life-saver. Not only do they help you make sure crucial details aren't missed and free your agents from having to frantically take notes during calls, they also provide you with an accurate record of what's been said on all calls. If any legal or compliance issues ever come up, you'll want to have these transcripts. (Did you know that Dialpad's real-time transcriptions are more accurate than almost all competitors out there?)

But transcriptions are just the tip of the iceberg. Now that you have real-time voice transcription, your cloud PBX must do something with it, otherwise you're left with a bunch of data that you can't use.
For example, did you forget what you said on your last call? Let's try skipping taking notes altogether and instead focus on the conversation. Dialpad's note-taking and post-call "to do list" is unique in the market.
And for contact centre supervisors, Dialpad has real-time alerts and Custom Moments. These are context-sensitive notifications and tracking based on words, phrases and even the tone or sentiment of the call. You can use these on a live call to help your team handle customer issues, and also have supervisors jump in when needed.
2. Collaboration: Video and voice
How many apps and logins do you need to communicate internally and externally? Maybe we can bring that number down to one.
Typically, businesses would pay for separate video conferencing solutions—but why do that when some enterprise-grade cloud PBX solutions are fully fledged unified communications platforms?
For example, you can not only make phone calls from Dialpad's desktop and mobile apps, but also start 1-on-1 video calls with your co-workers and have robust voice and video conferencing… All in the same app:


3. Mobile devices: iOS, Android, and tablets
If you work on the go and want to be able to use your mobile devices for business calls, this is one of those essential features. You should be able to download these apps to your devices and not only get all the features you'd get in the desktop version, but also integrate with other apps you're already using, like Salesforce.
Hey, why shouldn't remote workers get all the same benefits as office-based employees?
4. Integrations: All the things!
One thing that you won't typically find listed under traditional PBX features is integrations. Now, this doesn't matter so much if your business doesn't really use other software, but if you do, make sure you choose a cloud phone system that offers diverse (and easy-to-set-up) integrations with other software and apps.
For example, Dialpad integrates with popular business apps including Salesforce, Zendesk, Zoho CRM, Clio, OneLogin, Front, Kustomer, ServiceNow, Intercom, Miro, Hubspot, Slack, Microsoft 365, and Google Workspace... Just to name a few.
These should be easy to set up and customisable for your offices/locations/branches, users, and contact centres.
5. Auto attendant (aka. IVR, AA)
If your business gets a lot of phone calls, a virtual receptionist can help manage call flow and direct callers to the right people in order to minimise your call queues. These are sometimes also called IVR features or auto-attendants and you get this feature included in every one of Dialpad's plans.
These should also integrate tightly with your contact centre flows and give you easily accessible call centre KPIs and analytics. Look for a system that makes it easy for you to design flows and make changes. Nothing is more frustrating for your customers and team than a stale and hard-to-use menu tree on your phone system: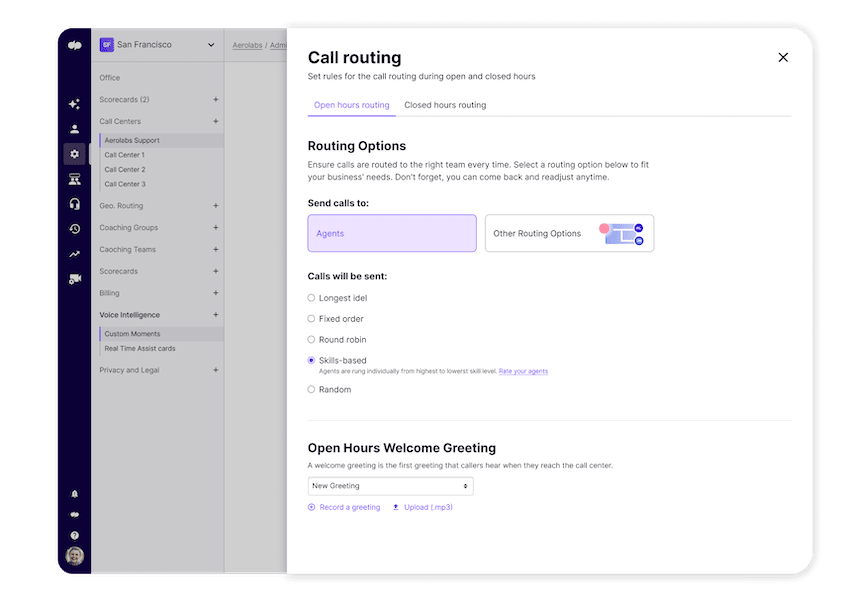 6. Custom caller ID
If you have a customer support team or outreach team that calls prospects and customers, then this is an important feature to have in a cloud PBX system. In Dialpad, for example, as you're dialling, you can choose what your caller ID shows up as:
7. Analytics: Data that makes sense
This is especially important if you work in a contact centre, but having good call reporting and analytics can give you many useful insights. You'll be able to see call volume trends and duration, the number of calls missed or answered, the volume of freephone calls, and which team members or agents are most productive in answering calls. For instance, Dialpad's heat maps show you things like call volume and how quickly your team is picking up phone calls:

8. High availability and resiliency: Voice should just work... period
One of the main advantages of choosing a cloud PBX service provider is that (depending on your provider), it can offer more reliable uptime, with minimal disruption to your service. If you're running a business, your phone lines just have to be up and running, with as little downtime as possible. Dialpad is already reliable overall—but there are two unique things about our dual-cloud architecture:
Best-in-class audio and video quality: we split the voice and video components of calls to purpose-built and streamlined data centres;

While resiliency and profoundly redundant services are leveraged in Google Cloud, which makes them nearly infinitely scalable and redundant
9. Number porting
Features and functionality aside, one of the most basic things you need is the ability to port your current business phone numbers over. If the phone system you like can't do that, then even the best cloud PBX phone solution won't be very useful. (That being said, your current phone provider also has to cooperate—if they refuse to release your phone numbers, then your new provider won't be able to complete the port and it'll be a bit of a hassle.)

Common challenges of cloud PBX (sorta… well not really, read on...)
While the advantages of VoIP cloud PBX generally outweigh the challenges that might come with it by far, we thought we should still give you a sense of possible issues to expect. This way, you can anticipate issues before they come up and have a smoother setup. Here are some of the most common challenges relating to cloud PBX telephony. The most important thing is to be aware of these, and plan around them so they don't catch you off guard.
Quality maintenance
Maintaining quality of service can be difficult, depending on where you're located and which Internet provider you're with. Dialpad has built our infrastructure network to provide the best "last mile" to you, wherever you are.
☁️ What's the "last mile?"
It's a term that refers to the handoff from the "core" Internet switches" to your office or home, and in the unified communications world, we call that "the last mile." In old times, this meant the actual last mile of wires that used to deliver phone services to your house.
If you don't have a good Internet connection, then it won't matter which cloud PBX provider you're with—you'll get jitter and packet loss and that weird "robot voice" sound on your calls.
How to solve this? Easy:
Make sure your Wi-Fi routers have enough "horsepower" to handle video and voice, and that you have enough of them. That is one of the most common issues we see.

Get a failover circuit: by leveraging multiple and redundant circuits or services like SD-Wan or failover scenarios on your office router is the surefire way to protect yourself.

Every cloud PBX provider will have Network Recommendation Guides. These are put together to make sure all your calls and video meetings look and sound great!
☁️ Dialpad tip:
Good cloud PBX providers will provide businesses with a specified service level agreement (SLA), which commits the provider to maintaining a certain baseline level of service at their end. (Dialpad, for instance, offers a 100% uptime SLA on the Enterprise plan, ensuring that downtime is eliminated so businesses can stay connected to their customers.)
Security challenges
Cyber attacks are an everyday threat for businesses, and it's essential to take steps to protect yourself (and your customers).
Because cloud PBX is connected to the Internet, it too is at risk from hackers and other online security threats. So, make sure to choose a service provider that offers robust security arrangements to protect your data and private information.
Demand that your cloud PBX provider deploy encryption of all data at rest and in transit. That means it's encrypted everywhere and anywhere, and protects you.
Dialpad takes a multipronged approach to security and call encryption—you can learn more about it through those links, or talk to us!
How to get set up with cloud PBX on Dialpad
Getting your phone system set up with Dialpad couldn't be easier. For starters, it doesn't require you to install any new hardware, and maintenance and updates are also handled by Dialpad. Here's how to get set up in a few simple steps:
Sign up for a free trial if you want to try it out first. It takes just a few minutes, and you can use your Google or Microsoft 365 account to speed it up even more.

Choose a business phone number during your signup process.

Download the desktop and mobile app to start using Dialpad on your devices.
That's it!
You can BYOD (bring your own device) and use existing devices like desk phones and mobile phones, as well as laptops and tablets.
If you want to keep your existing local, freephone, or international phone number, Dialpad's team can help you port it over.
Level up your cloud PBX with Dialpad
There are, of course, a number of factors to consider when choosing a phone solution. Pricing is the most obvious one, but there's also security, flexibility, and scalability.
Dialpad's cloud PBX system covers all of these bases, and its fast deployment means it can be set up in minutes, anywhere in the world. Add phone lines, swap numbers, and more—in real time. (There are many other business phone system providers out there, like RingCentral and so on, but many of them cannot do this.)
Dialpad's desktop and mobile apps work across PC, Mac, Android, and iOS, allowing you to make and receive calls on any device. It provides simple call transfer, so you can transfer incoming calls to other team members.
Dialpad's call forwarding also enables you to forward calls to your mobile phone, with your business number showing in caller ID.

Looking for a cloud PBX?
Maybe you need a unified communications platform instead. Sign up for a 14-day free trial in just a few minutes to get started with a virtual phone number and take Dialpad for a test drive!