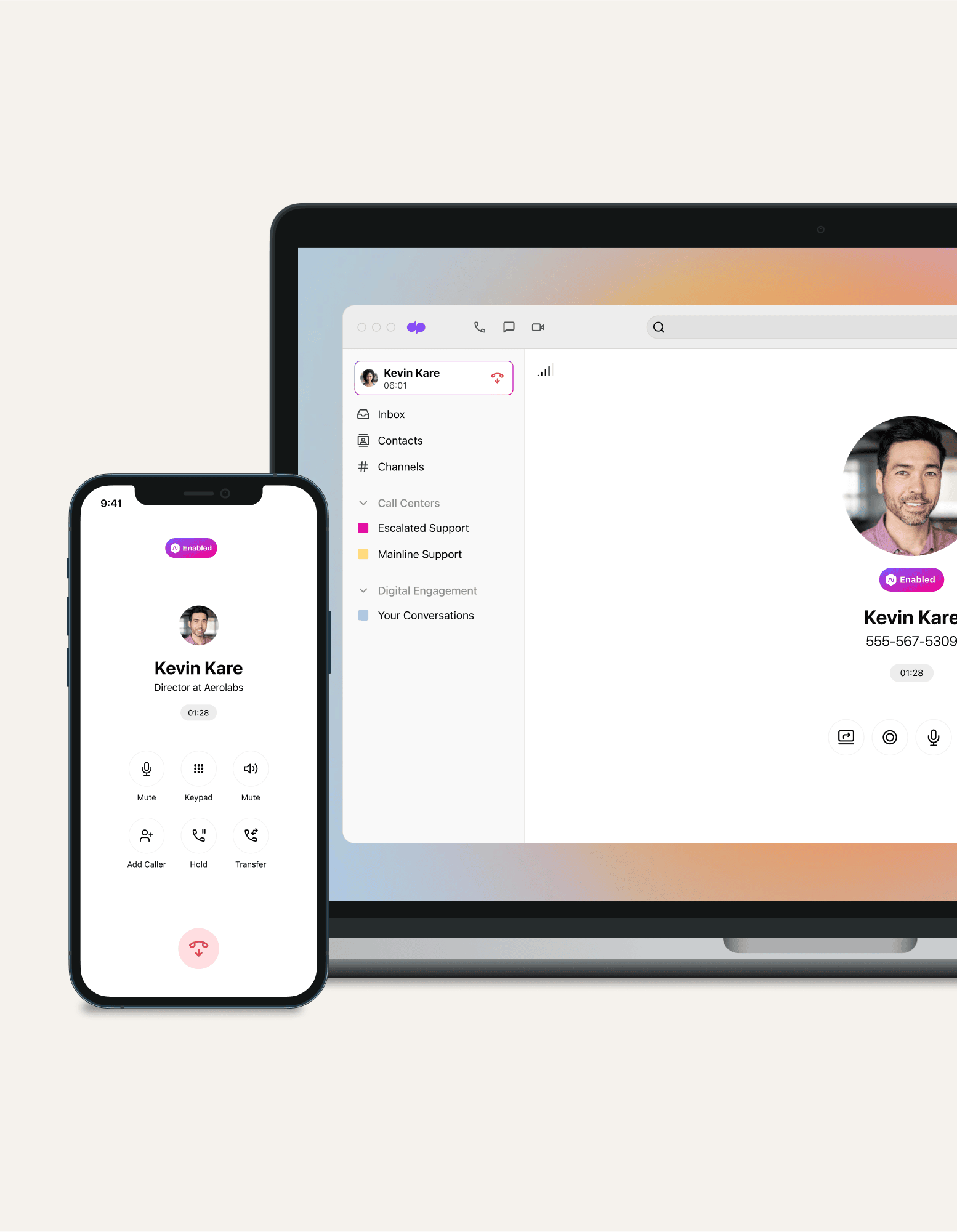 A complete guide
What is a PBX system?
If you're looking for an office phone system that's flexible and lets you not only make phone calls, but also have video meetings and send instant messages, you might be interested in a UCaaS solution instead of a PBX phone system. Book a product tour to see how easy it is to communicate with teammates and clients with Dialpad!
PBX stands for private branch exchange, which is a private telephone network used within a company or organization. More and more modern companies are opting for cloud-based PBX systems. Here's an overview of cloud PBX.
PBX (or Private Branch Exchange) systems revolutionized business telephone services back in the midcentury, allowing businesses to make calls internally between employees in the office.
Today, PBX has changed a ton—and as we'll see later, has been overtaken by new advancements (and acronyms) in telephony, namely VoIP (Voice over Internet Protocol) technology and UCaaS (Unified Communications as a Service) platforms that allow you to make phone calls over the internet.
No hardware, no landlines, no server rooms.
We'll break down these different telephony options in just a bit. But first, let's look at what PBX is, exactly.
What is a PBX phone system?
Many businesses today use software for their telecommunications. But a few decades ago, almost all of these businesses used traditional PBX, which were basically mini telephone exchanges that lived in your office. Everyone in the office would be linked via a physical handset, which enabled you to make and receive calls on the office's internal telephone network. Very analog.
Today, PBX solutions have undergone a mini-revolution of their own. You might come across "cloud PBX" or "virtual PBX" systems, which are basically PBX systems that tacked on the ability to use the internet to make calls. This technology is called VoIP (Voice over Internet Protocol).
Basic PBX systems that use VoIP technology tend to still use hardware, but this is usually owned and maintained off-site (which you'll see sometimes referred to as "hosted PBX").
We'll go into more detail later, but for now, just know that the main difference between VoIP phone systems and traditional PBX is that with VoIP, there's no need for physical equipment (unless you want it) and it's generally much less expensive and more flexible.
Oh, and you get more advanced features like data and analytics, and the ability to make phone calls from any device you want.

👀 Moving your business to remote or hybrid work?
Grab the Hybrid Work Playbook, which includes real-life case studies and breaks down all things hybrid + remote, from building and sustaining a hybrid workforce to equipping your team for success.
Different types of PBX phone systems
There are four types of PBX systems that you'll commonly come across, and each has particular strengths and weaknesses. But generally, any phone system that's built on PBX technology will be less flexible and scalable compared to VoIP and UCaaS platforms.
Traditional PBX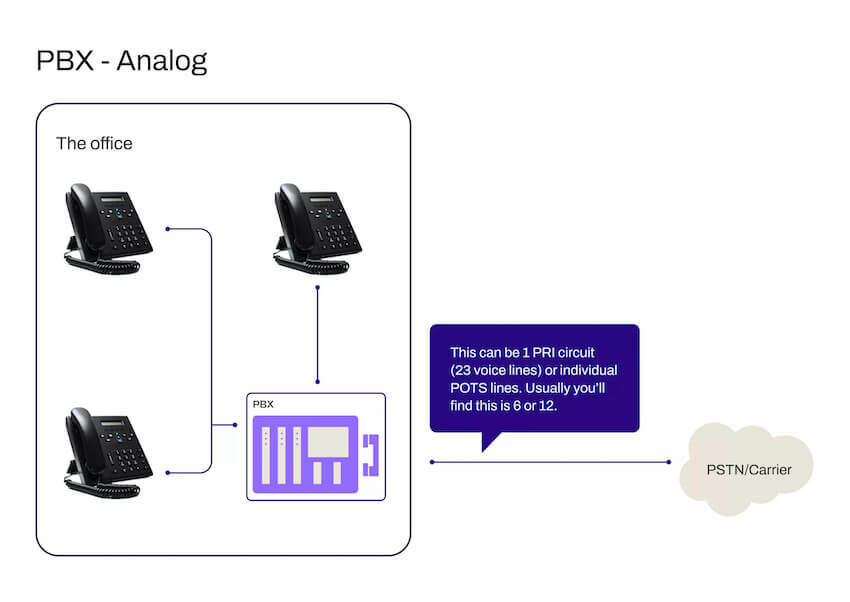 Traditional PBX provides a very basic, physical telephony service for a workforce. This phone service would allow for incoming and outgoing calls, plus calls between staff members.
Business leaders would have to pay expensive upfront costs for new equipment and hardware, as well as telephony experts to wire everything in correctly.
You'd also need a specialised room in your office to house all the gear, and if you needed to expand, that meant putting your business on hold, getting the experts in, and transferring everything to a bigger room. There's a reason why traditional PBX isn't a popular business choice anymore.
IP PBX
The internet revolution took PBX to the next level, linking office-networked phones to a PSTN (public switched telephone network).
IP (internet protocol) PBX systems gave businesses greater flexibility by connecting phone numbers over the internet, potentially allowing employees to dial in remotely, as well as providing additional features such as messaging and video conference calls.
IP PBX systems use a process called SIP trunking (session initiation protocol). SIP is an application layer that enables you to run a phone service over your office network and connect phone systems over the Internet.
Even though it's a little more flexible compared to traditional PBX, IP PBX still requires a significant amount of up-front costs and technicians to manage your IP phones.
Virtual PBX
Unlike an IP PBX or hosted PBX, a virtual PBX isn't a complete phone system. In fact, it's just a part of a hosted system.
It's basically an automated answering and call routing service, which was invented to handle incoming calls for the likes of contact centres.
Given the advancement of UCaaS technology—which incorporates virtual PBX as just one of many functions within its software—this isn't very useful, even for very small businesses. There are other better, more versatile options.
Adding even basic functionality (like the ability to make outgoing calls) would result in extra costs, as you'd need to use an additional service such as a hosted PBX.
Hosted PBX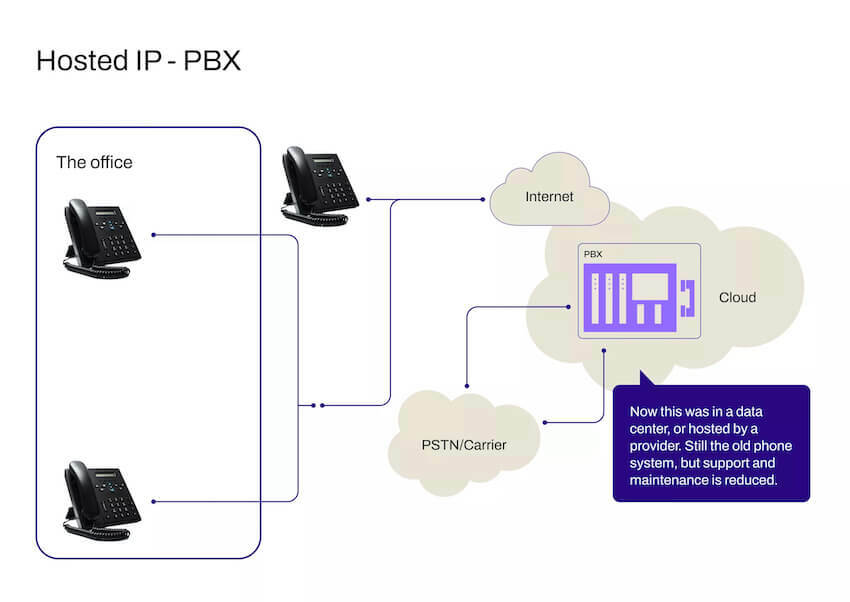 Hosted PBX is similar to IP PBX but takes a lot of the work off your plate. Your hosted PBX provider will take care of things like software and features like conferencing and call forwarding.
Unlike virtual PBX, hosted PBX is a complete phone solution, with equipment hosted off-site and IP technology that's used to make and receive calls over the Internet.
👉 Dialpad tip:
Although hosted PBX services are often sold as being "cloud-based," this phrase is slightly misleading. You'll need less physical in-office equipment for sure, but it's not a truly cloud-based solution.
No matter which PBX option you look at, though, you're still missing out on benefits that you'd get with a unified communications or UCaaS platform. Not all hosted or IP PBX providers will have a business calling app that you can use on your cell phone and computer to make phone calls:
And most providers don't have built-in analytics and reporting—which, if your business has a contact centre, will be very important. With Dialpad, for instance, you'll have access to metrics like ongoing call length, agent availability, call waiting times, and agent speed to answer, just to name a few:
5 signs you need to upgrade your PBX system
If you're using a PBX system right now and experiencing any of these things, it's probably time to think about phasing out PBX and moving to a more robust cloud communications platform.
1. Your costs are adding up
It's not just the initial price tag that makes IP PBX and hosted PBX systems more expensive. There are (many) other things too. Want to add more phone lines or new users? Need to hire employees in other countries, or talk to customers and clients internationally?
A UCaaS platform lets you do all these things on your own in your online account—with fewer IT resources needed to do these minor day-to-day admin tasks: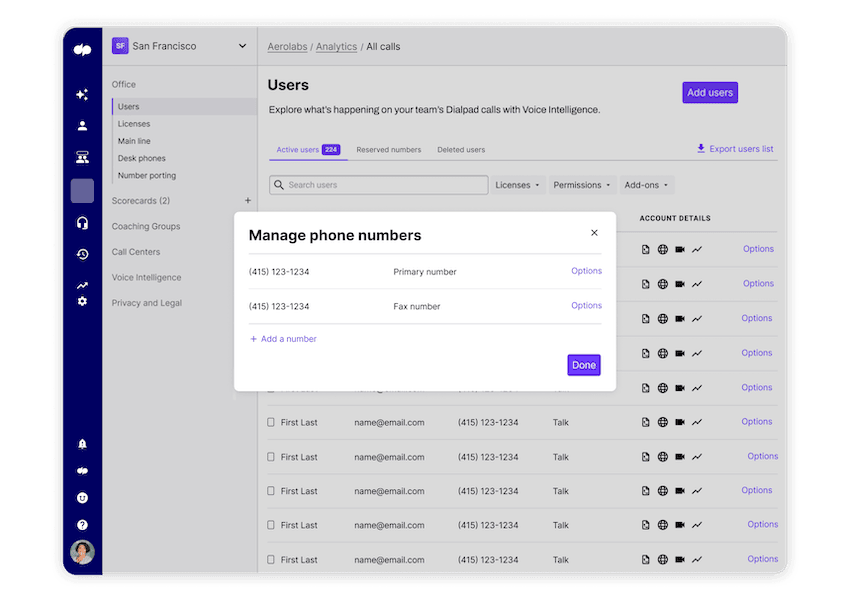 Genuinely cloud-based, UCaaS solutions are the most cost-effective of all these phone systems, since they work using software only and usually charge a monthly fee.
When shopping around for your PBX provider, it's also worth considering the additional costs you're currently paying for your other software.
For example, you may be paying for dedicated video conferencing software, and a call recording tool, and a file sharing or virtual whiteboard solution.
With UCaaS, you can get a whole range of communication channels and collaboration tools in the same platform—and one simple monthly invoice. For example, Dialpad not only lets you talk, message, and meet in the same app, it also integrates with other software like CRMs (customer relationship management systems):

Looking for a PBX phone system?
Why not try a unified communications platform that gives you more than just phone calls? Sign up for a free trial to take Dialpad for a test drive! It takes just a few minutes to get started with a virtual business number. Or, take a self-guided interactive tour of the app first!
2. You and your team are struggling to work remotely
With UCaaS platforms, you can work from literally anywhere that you have an Internet connection. No need to provision hardware or equipment, no need to ship out phones.
All you need to get started is to sign up for an account with the UCaaS provider and download the app if you want.
For example, with Dialpad, you can sign up with your Google Workspace or Microsoft 365 account and get set up with a new phone number in literally minutes. (Try it for free with a 14-day trial here.)
3. You're unable to get call analytics and real-time data
This might be more for businesses that have contact centre or call centre agents, but having real-time data that shows you how many calls your business is taking and how long customers are spending on hold can be huge for providing a good customer experience.
With PBX systems, getting access to data is often complicated and often you have to jump through lots of hoops to request and actually get that information from your provider.
With cloud-based platforms like Dialpad, though, all you need to do is log into your account and you have all those analytics right at your fingertips:

4. You can't integrate your phone system with other software you're using
If your team is already using other software like CRMs and ticketing tools, then you might find it difficult to have a PBX service provider that integrates with all of those apps.
UCaaS platforms often have robust app marketplaces or integration galleries that show you all the other tools they can sync up with to reduce manual data entry for agents and other mployees. For example, Dialpad integrates with tools like Salesforce, HubSpot, and more to give you phone calling capabilities—right inside those apps:

And if you're using some kind of obscure software that's essential to your organisation, you can build custom APIs (application programming interface) to hook it up to Dialpad too.
5. You want to scale and expand globally
If you have big plans for your business to grow, especially in other countries, then scalability is a big advantage that UCaaS has over PBX phone systems.
For one, you don't need to ship out new phones or build out new infrastructure all around the world—all your new hires need is a computer and phone, and they can make calls over the Internet.
In fact, you can see out how ClassPass spun up new offices and phone numbers in "five minutes" using Dialpad. Can't do that with PBX.

Phone features that PBX systems may not always have
If you're still considering a physical, on-premises system, take note that many don't come with certain phone features that you may have expected to be built in. (Or they'll charge you extra for them.) Always double check the pricing to make sure that the phone system has what you need. Here are a few features to be aware of.
Desktop and mobile app
If you want to be able to make business calls from your mobile phone (with your business' caller ID) or click to call someone from your computer, you'll likely want a phone system that has a softphone app. Most PBX providers don't have this, while it comes included with almost all UCaaS providers.
The ability to keep your number
This is something that you can probably do with PBX systems as well, but it's probably much easier to do on your own with UCaaS. In fact, you can do it in your Dialpad account in just a few clicks.

Auto-attendant or IVR
An auto-attendant or IVR is like a virtual receptionist. Basically, it does the job of a switchboard operator by answering incoming calls with a call menu before routing callers to the right person or department.
One neat thing about Dialpad's analytics is that it shows you which of your IVR menu options are actually being used—and which aren't—so that you can continuously optimise these options for your callers and help them route themselves to the right person efficiently:

Call recording
This is one to look out for—many PBX (and UCaaS!) providers charge extra for call recording or limit you on how many recordings you can store, so make sure to read the fine print. (Dialpad has unlimited call recordings even in the most basic phone plan.)
And beyond call recordings, Dialpad takes this a step further by transcribing your calls—in real time—with its artificial intelligence, Dialpad Ai:
Custom voicemail greetings
This is another thing that surprisingly, many PBX systems don't have—or if they do, they make it, shall we say, more difficult than it needs to be. With Dialpad, you can upload or record custom voicemail greetings, plus Dialpad Ai can transcribe your voicemail messages so that you can read through them (which comes in handy on those days when you're stuck in meetings and can't listen to each voicemail):
Call routing
If your business takes a lot of calls on a daily basis, then you'll need a good call routing service. Many PBX systems are quite limited when it comes to easily customisable and flexible call routing. It can be a pretty involved process just to set up basic routing, so make sure you do a test run to see how it works first.
With Dialpad, you have a range of call routing options that you can set up with a click or two. For example, you can set your router to send calls to the agent who's been idle the longest, or to your most-experienced agents:

Don't buy a PBX system without checking out UCaaS first
As you're shopping around, don't just look at the initial price tag. Consider other "expenses" like implementation costs or monthly fees, the cost of expansion, and the time you'll need to spend on training.
Note that with both traditional PBX and IP or hosted PBX, you'll always have equipment costs and maintenance fees. On the other hand, most cloud-based software is hardware-free—you can start with a basic package with a monthly fee, then upgrade as your business grows.
Ultimately, a PBX is a cost-centre, meaning you'll need to budget (pretty far) in advance and pay fees whenever something unexpected occurs or you need to upgrade. Even upgrades can result in downtime.
If you want a remote-friendly and cost-effective phone system, then UCaaS might be a better option. Either way, the best way to find out what's best for your business is to take the free trials for a spin.
Need a phone system that's more flexible and adaptable than PBX?
Dialpad gives you not only phone calls, but also video meetings, instant and SMS messaging, and more—all in one unified communications platform. Book a demo to see how it works, or take a self-guided interactive tour of the app on your own!
What's PABX? Is it the same as PBX?
Give PBX a good Googling, and you'll likely see the initials "PABX" pop up. PABX stands for "private automated branch exchange," and it's like a PBX, but it comes with automation. A PABX is a telephone line operating on a private network, independent of the PSTN. No phone provider is involved, and companies usually own all the equipment.
Hosted PABXs differ slightly, as a provider normally has ownership over the offsite equipment used. Unlike a basic PBX, a PABX can automate calls. That means greater efficiencies regarding connections and making it easier to add functions like routing, call forwarding, and voicemail.
What's PSTN and what does it have to do with PBX?