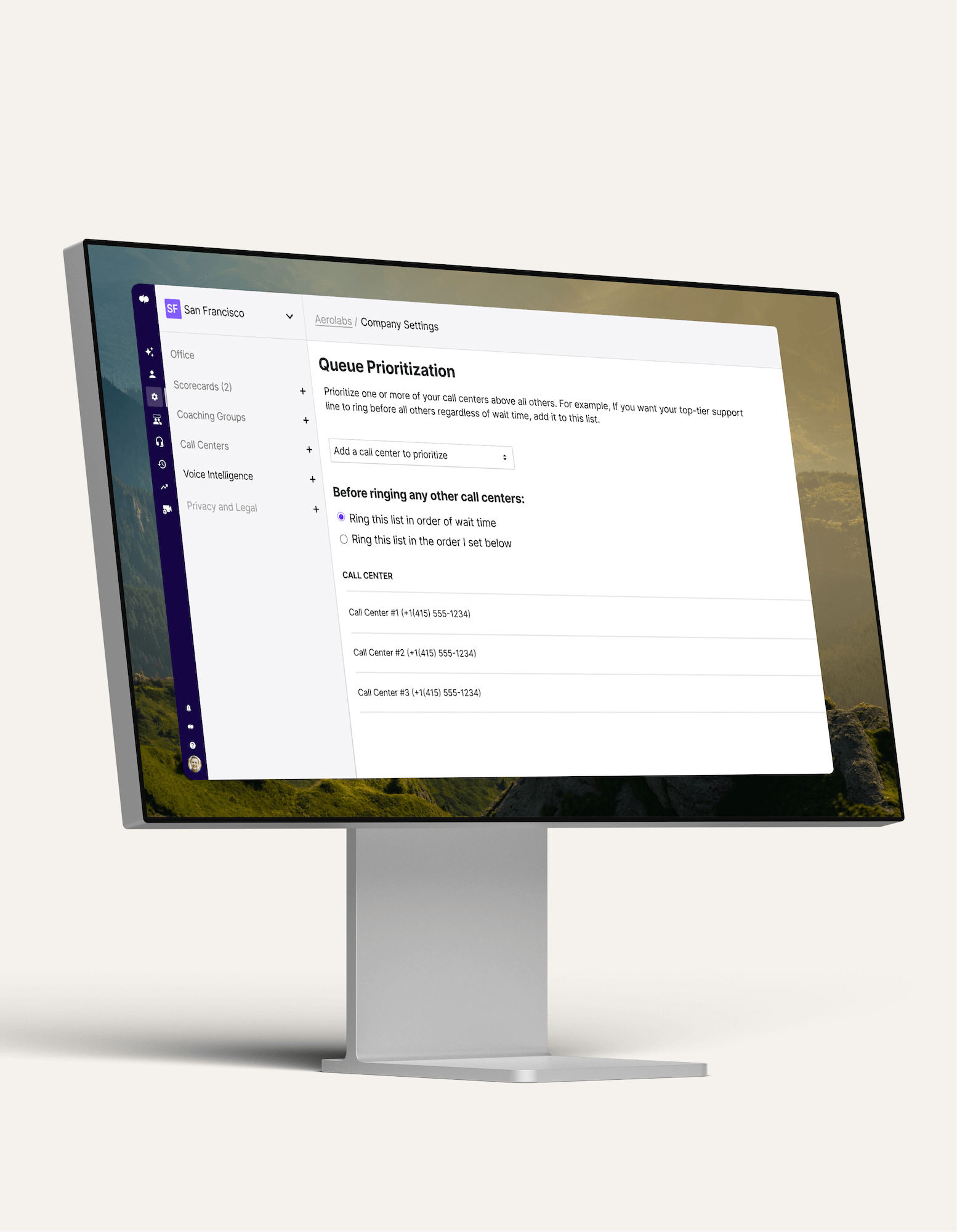 Call queue
When your team is busy with incoming calls, a call queue helps to organise and distribute these inbound calls to reduce customer wait time and improve efficiency. See how it works with a product tour!
What is a call queue?
A call queue is a system that organises and distributes inbound calls in a contact centre or phone system. The average person has probably never used it, but it's important for call centres that experience a high volume of diverse calls in a short amount of time.
This is especially true if your business has just one phone number listed for customers to get in touch through.
The aim of using a call queue is to reduce wait times. If you have an auto attendant system, it can handle inbound calls and place them in the call queue according to set priorities.
In Dialpad Ai Contact Centre, for example, a contact centre manager can see all the calls in a queue right from their dashboard:


How do call queue systems work?
Think about the last time you called a contact centre. Was there an agent available to take the call right away? No? How long did you have to wait?
Typically, a caller gets placed on hold while entering the call queue. When they're at the front of the line, they'll be transferred to the next available agent.
While callers are on hold, it helps if you can give them an estimated wait time. It's basic, but effective—and reduces the chances that someone will hang up.

Call queue features (and more) in Dialpad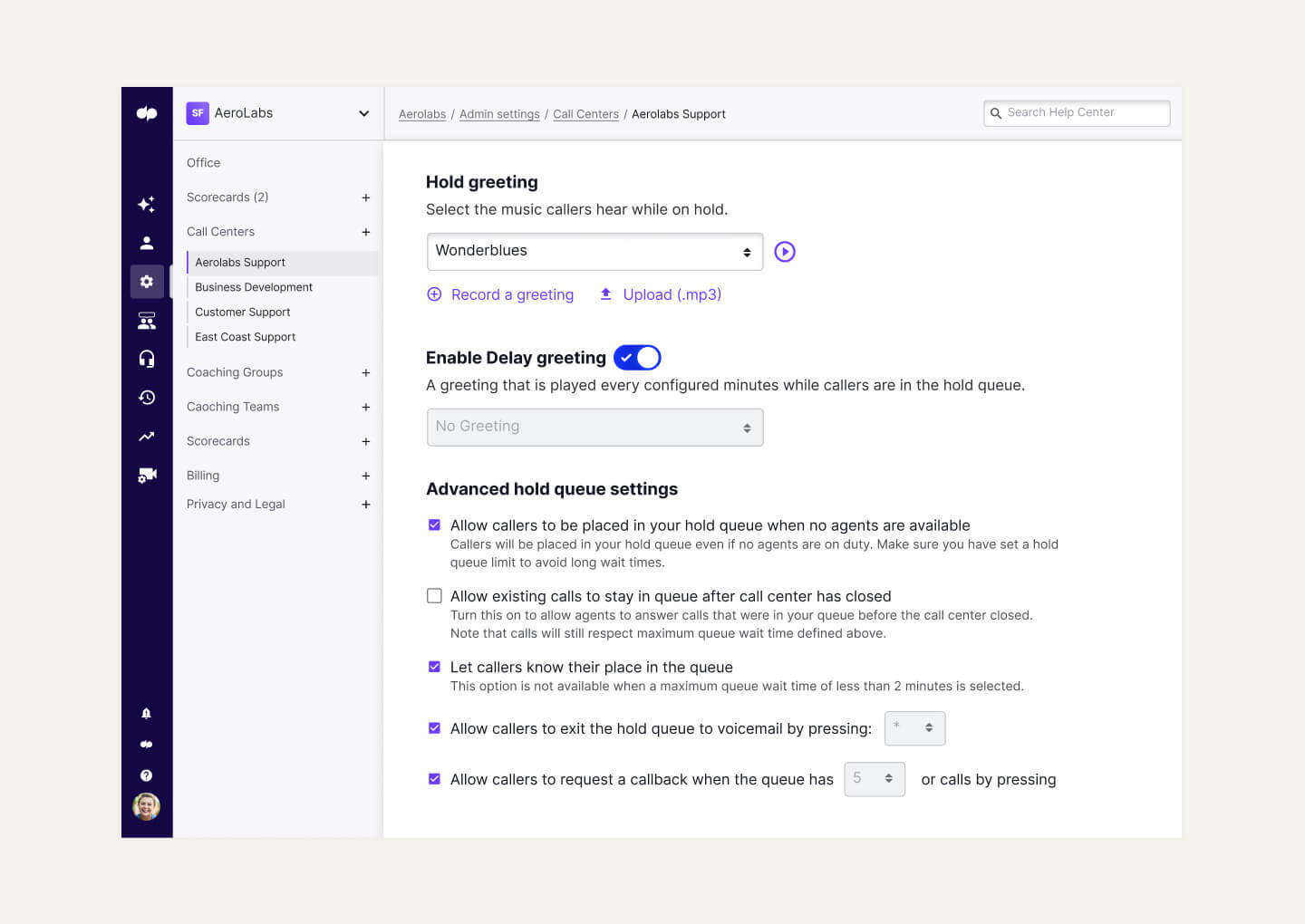 In-queue callback
Don't make your callers wait on-hold forever. Give them a callback option—it's easy to set up right in your settings.
Create VIP queues
By default, calls in a queue get picked up in order of who called first—the caller who's been waiting the longest should be next in line. But what about emergency queues (like someone calling about a lost or stolen credit card)? In Dialpad, you can adjust the settings to make sure certain call queues get prioritised for pick-up first.
Custom queue greetings
Upload an audio file, choose from a library of already-recorded messages, or record your own custom greeting. You can also upload custom hold music!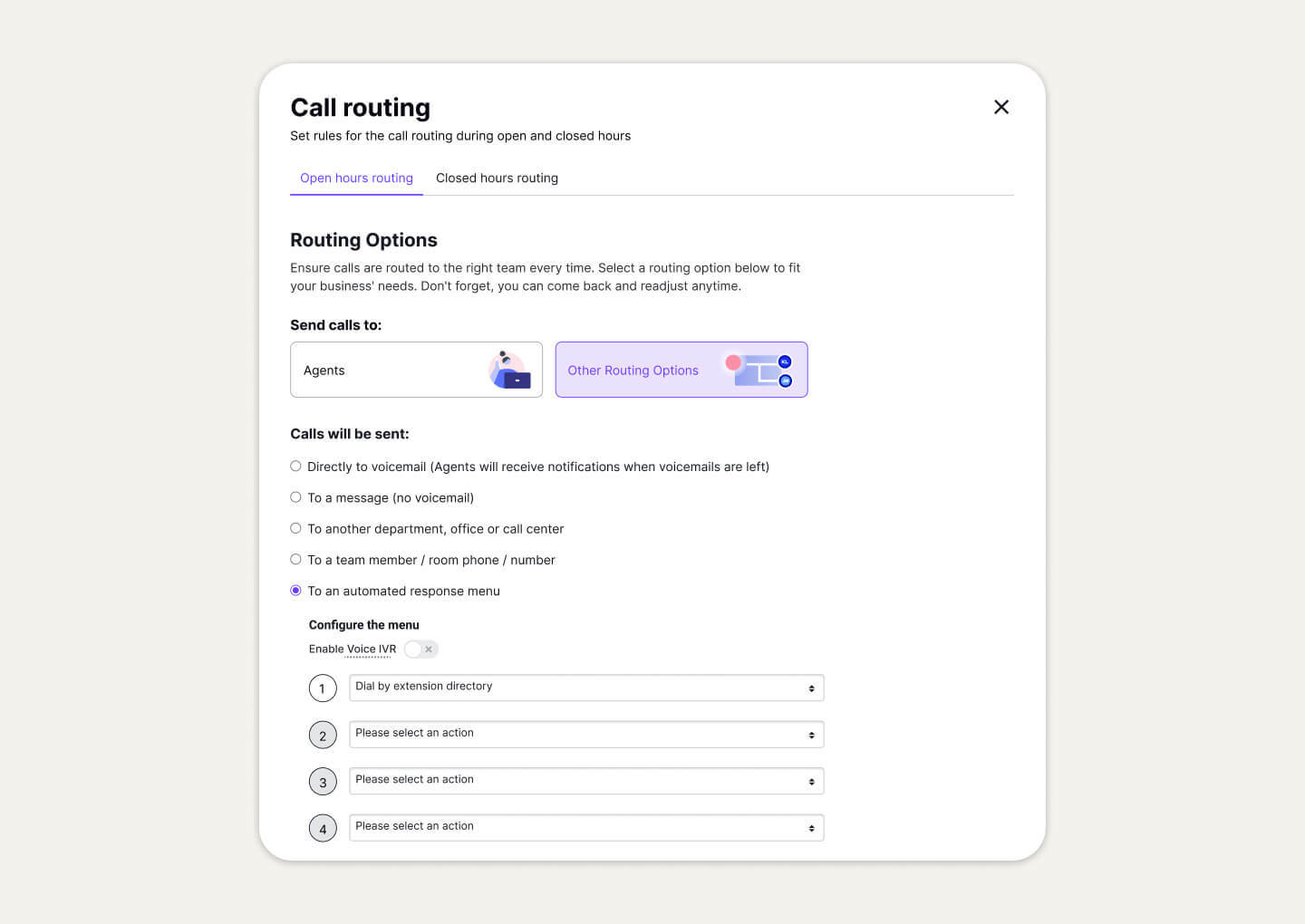 Versatile call routing
Choose between several options for routing calls to the next available agent. In Dialpad, you can easily customise your IVR menu and route to the call centre agent who's been idle the longest, or even to another department or voicemail. Streamline your call flow and empower callers to find answers on their own and route themselves to the right department—even after business-hours.
Easy phone number setup
With Dialpad, you can sign up for an account in minutes to get set up with a local business phone number, international, and even freephone numbers.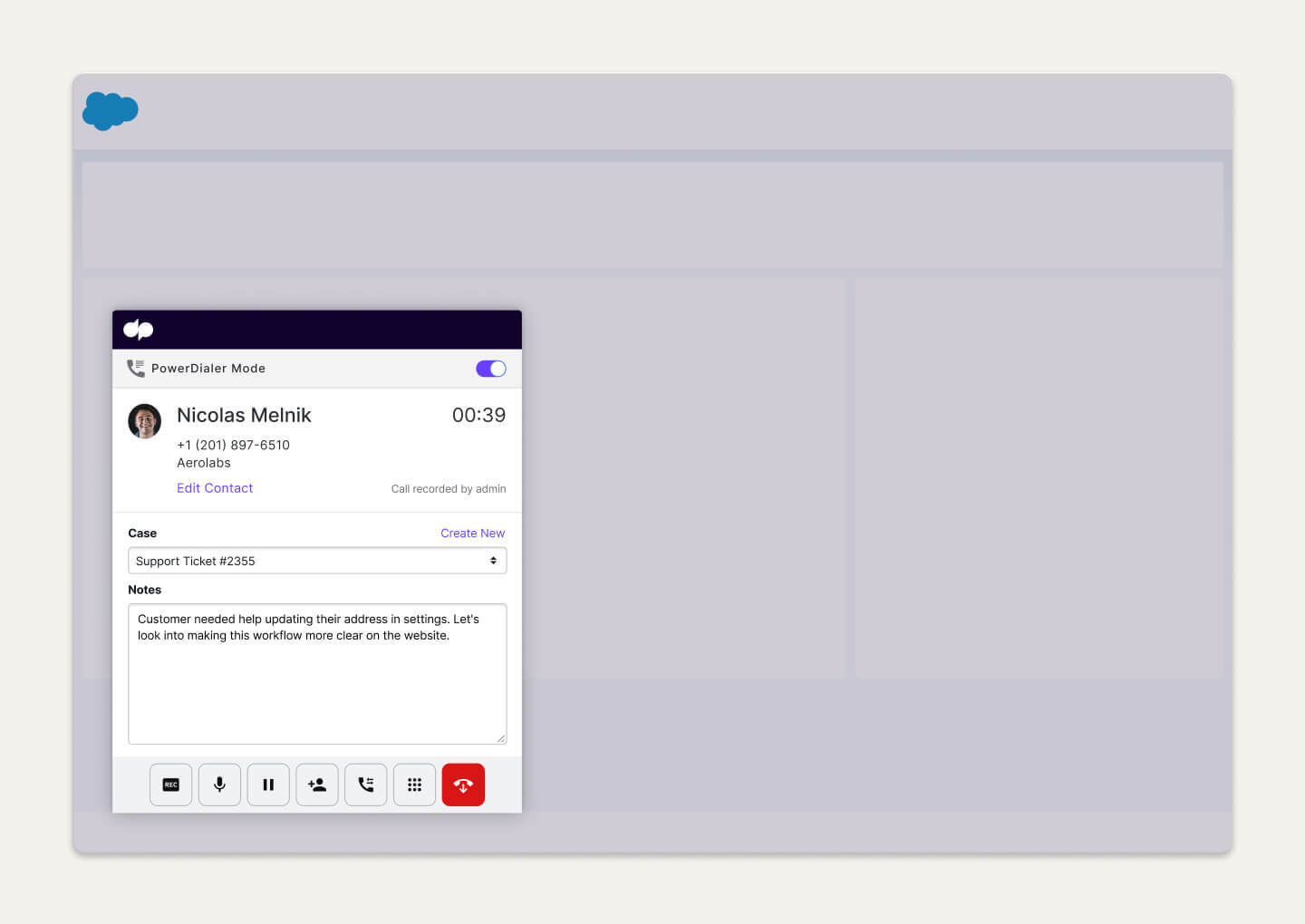 CRM integrations
Dialpad Ai Contact Centre integrates with tools like HubSpot, Salesforce, and Microsoft Teams to log calls and record activities automatically. Using a homegrown CRM? Dialpad's open API lets you create custom integrations too.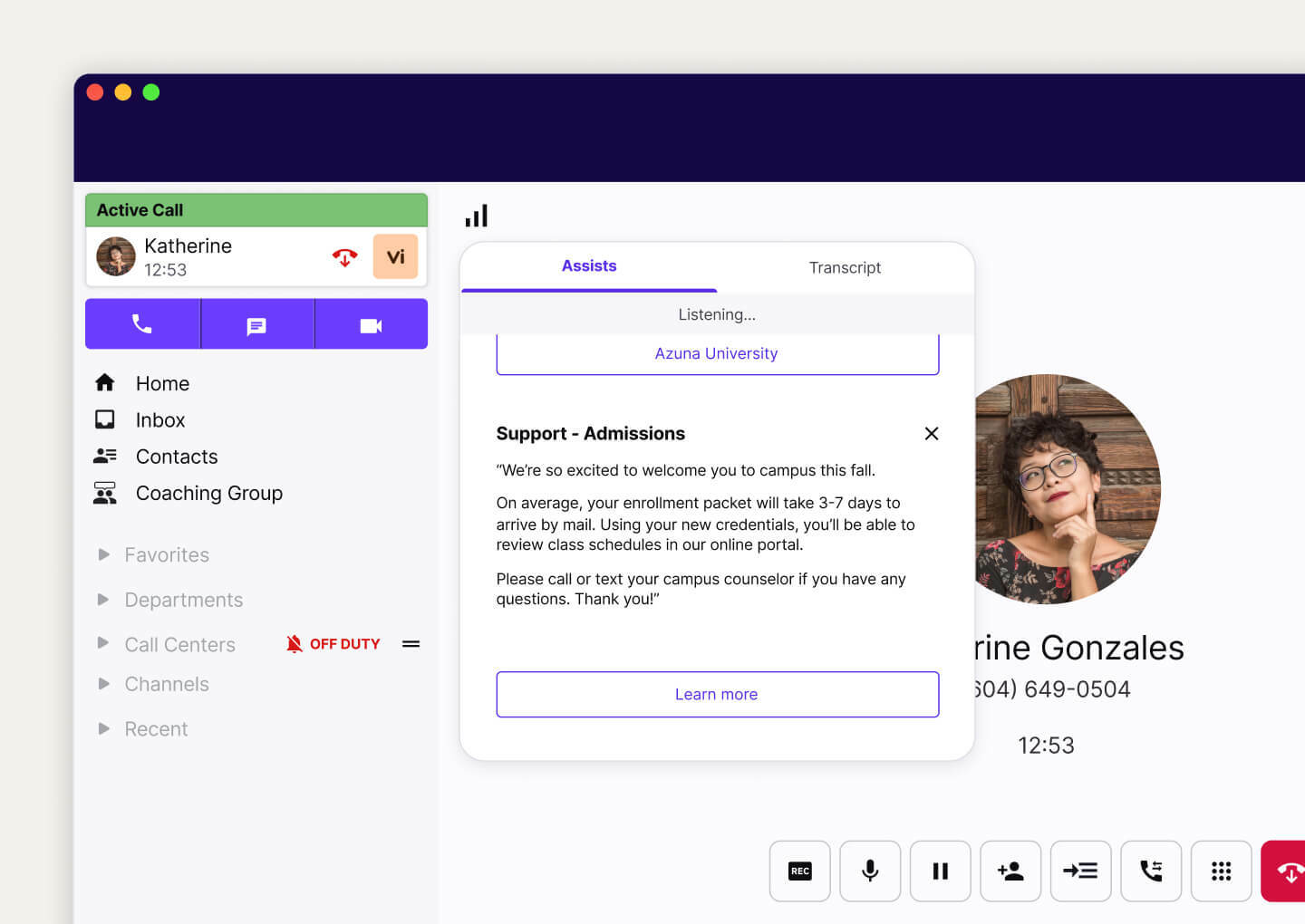 Real-time coaching, at scale
Dialpad's unique artificial intelligence technology, Dialpad Ai, not only provides real-time transcriptions for every call, it can also do live sentiment analysis, which allows supervisors to oversee multiple active calls at once. Plus, empower agents to resolve issues effectively on the first call with Real-time Assist (RTA) cards that pop up on when certain keywords (like "refunds" or competitor names) come up on a call.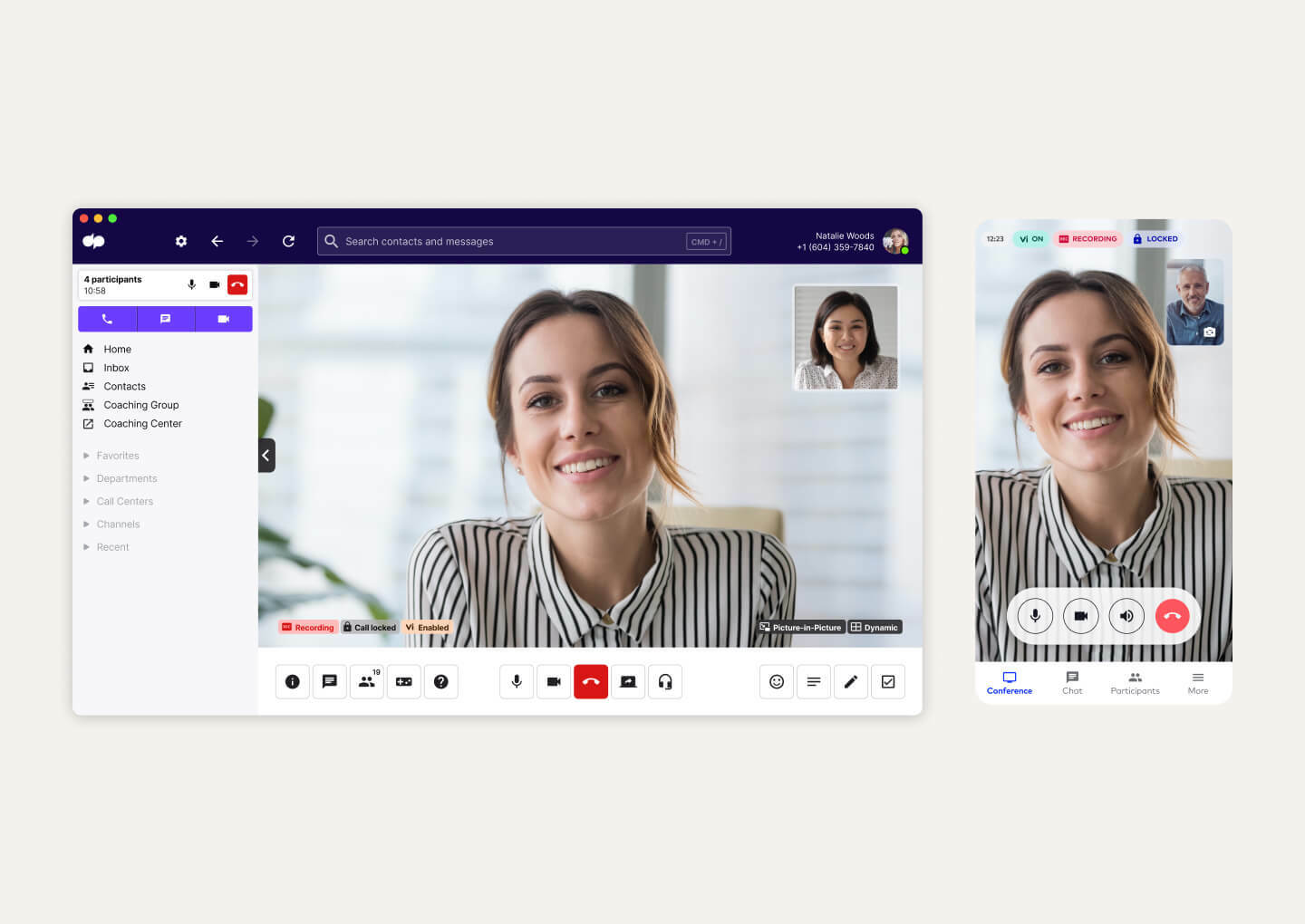 Desktop and mobile app
With Dialpad, agents and supervisors can work from anywhere using the beautifully designed app (which also allows agents to choose what number to display on their caller ID).
Built-in reporting
Need to track your KPIs? Understand how effective your call queuing strategy is and continuously optimise it with heat maps that show you metrics like call volume patterns and how long it's taking your agents to pick up calls. And, when service levels start dipping, Dialpad will notify supervisors with an alert so they can take quick action to resolve th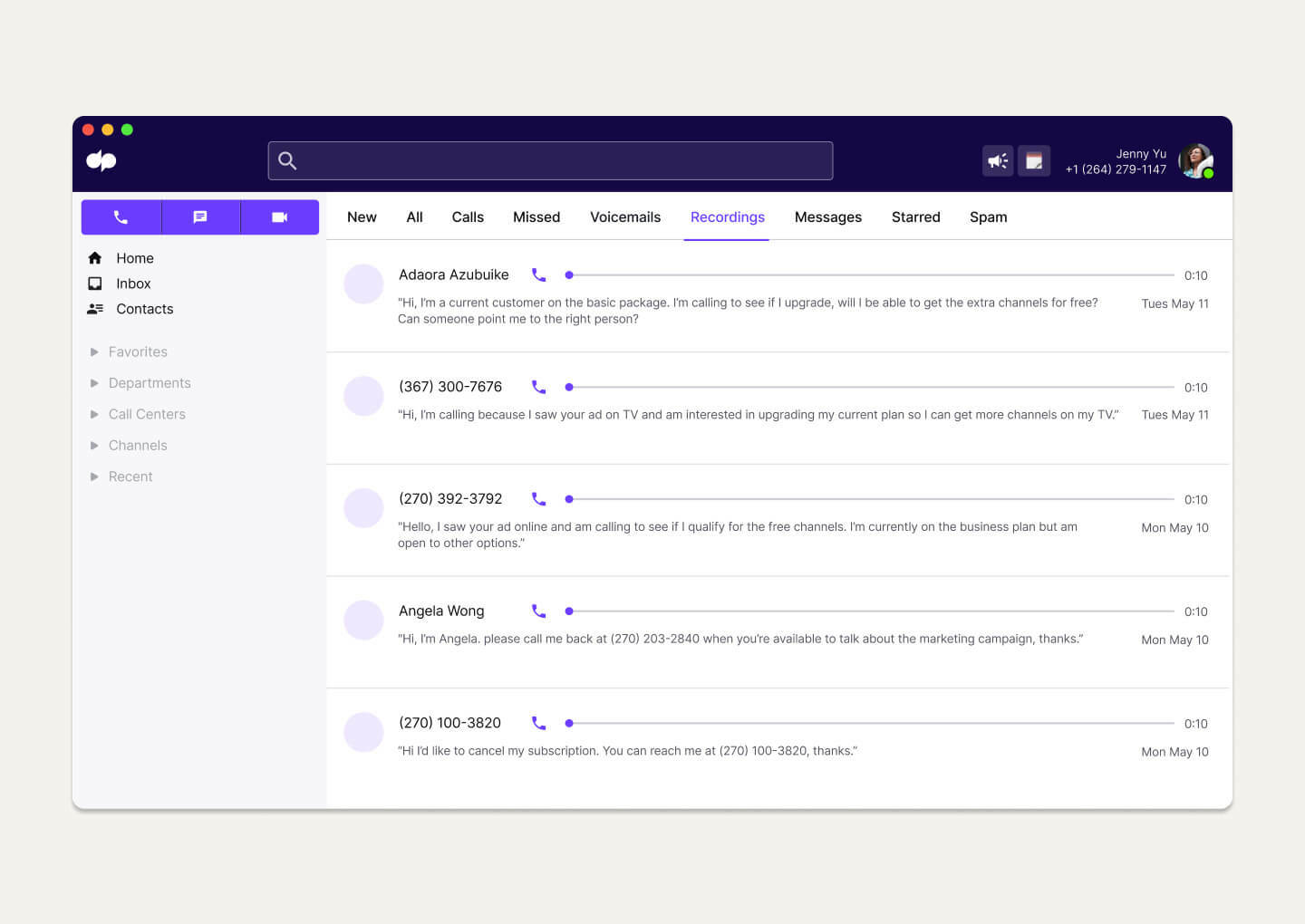 Call recording
Want to keep a log of your calls? Dialpad allows recording phone calls in one-click (along with screen capture) to help with training improvements and call quality management. See all your recordings, right in the app.
Want to provide a better customer experience using call queues?
Book a personal walkthrough of Dialpad or take a self-guided interactive tour of the app on your own first!
"
The notifications I receive go straight to my phone to let me know how many agents are available and how many callers are waiting in the queue, and if someone has been waiting over five minutes to get through to the agent. It also lets me know if the amount of calls coming in has dropped a certain percentage compared to how many should be answered within a certain time. It just keeps me aware of what's going on day-to-day.
"
Dionne Humphrey
Customer Support Operations Manager at CareRev
How to configure and customise call queue management in Dialpad
Let's look at how you can configure and customise call queue management, using Dialpad as an example.
Set your business hours
Dialpad lets you set business hours for your Main Line, Departments, and Contact Centres. This will also let it know when and how to handle incoming calls.
To set business hours, you'll need admin permissions. If you're an administrator, then you can do this from the app, which works across iOS, Android, PC, Mac, and on web browsers too—just log in on dialpad.com/uk.
Navigate to "Admin Settings"

Select "Business Hours & Call Handling"

Click on "Business Hours" and select "Edit Hours"

Here, you can set opening and closing hours for agents to receive calls. This will be your first period of availability.

If you want to split hours or set another period of availability, select "Add Hours."
👉 Dialpad tip:
Some contact centres focus heavily on first call resolution rates, but this can be risky. For example, is the quality of the call more important, or is it more important to resolve an issue (even if the answer isn't the best one) on the first call?
Set call routing rules
Call routing is an important bridge between customers and your business. First, you'll need to choose how you want calls routed to agents. Then, add rules for other routing options.
Dialpad Ai Contact Centre gives you tons of flexibility in how to customise your call queue management via an interactive voice response (IVR) menu and routing rules.
For routing calls to agents, Dialpad gives you several options:

Longest idle - Rings whoever has been idle the longest

Fixed order - Rings based on the same fixed order

Round robin - Rings based on a rotating mixed order

Skills-based - Rings based on highest to lowest skill rank

Random - Rings sequentially based on the list generated at random
From your web browser or app:
Navigate to Admin Settings > Call Centres > Business Hours & Call Handling > Call Routing and select "Edit Call Routing"

Pick a routing option for routing calls to agents

Pick how long a call will ring before defaulting to a second option such as hold queue
Non-agent routing options include:
Directly to voicemail

To a message

To another Department or Call Centre

To a team member/room phone/number

To an automated response menu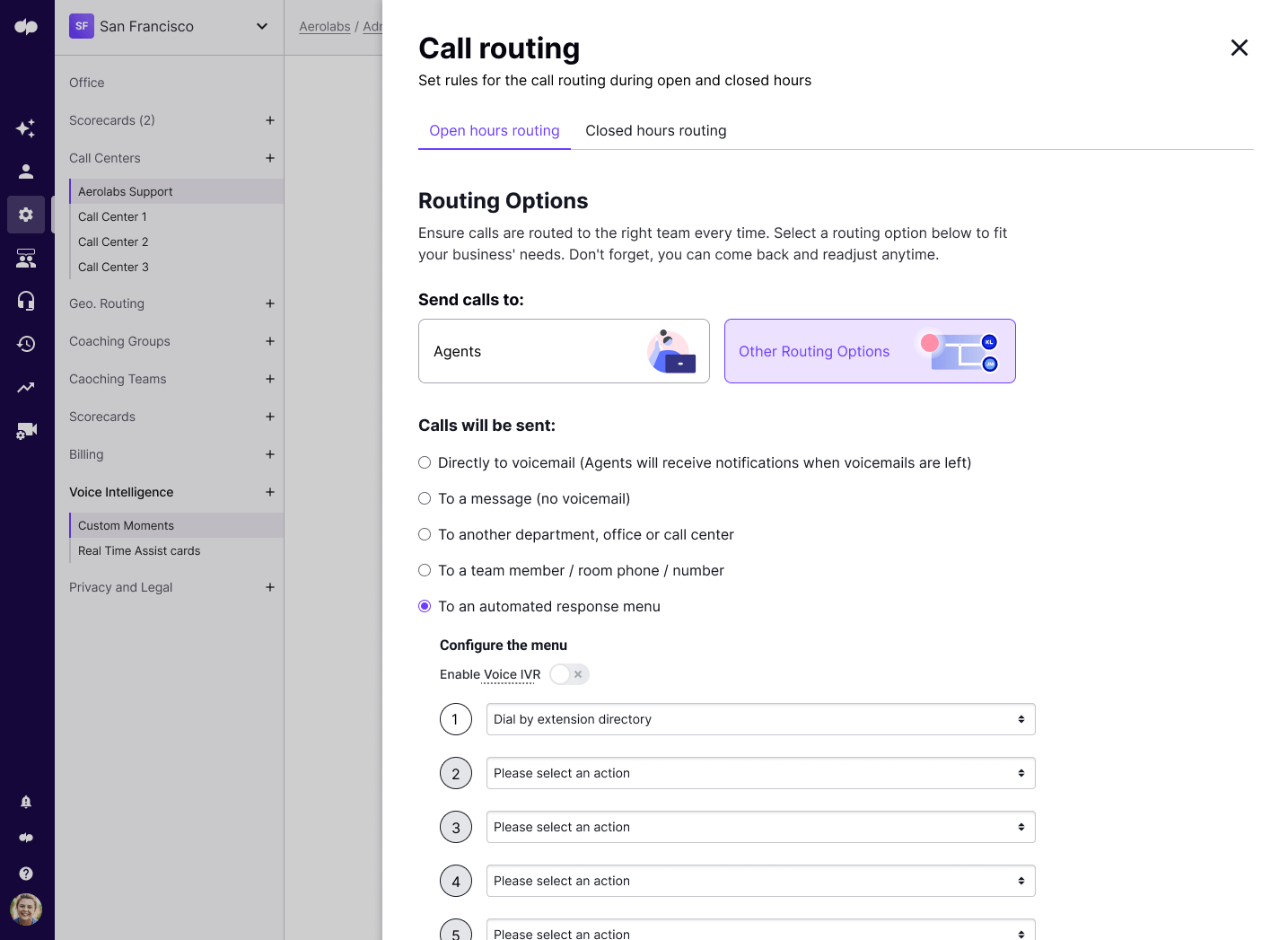 Configure your hold queue settings
The hold queue is a busy call centre's first line of defence.
As we mentioned earlier, keeping customers informed about their wait times and other options is key to preventing call abandonment (and unhappy customers).

To create a hold queue, navigate to "Call Routing."

Next, from "Edit Routing," highlight "Hold Queue" and select "Enable the Hold Queue."

You can then further customise the Hold Queue from the same page.
With Dialpad you can:
Set the maximum number of people in the queue (Dialpad supports up to 50 callers in a queue at any given time)

Set the maximum amount of queue wait time (Dialpad supports up to 300 minutes of wait time in a queue at any given time)

Select the hold greeting and hold music

Let callers know their place in the queue

Allow callers to exit the hold queue to voicemail

Allow callers to request a callback
👉 Dialpad tip:
One simple way to improve your customer experience is to set up voicemail and callback options. Callers are busy and can't spend all day on-hold. Why let them just hang up when you can give them a more convenient option?
Set up a callback
What if a caller doesn't wait to wait on hold? (Maybe they're on a work break or maybe they have other things to attend to.)
Instead of having those customers hang up and abandon the phone call because the wait was too long, you can let them request the call centre agent to call them back.
From your Dialpad account:
Navigate to Admin Settings > Call Centres > Business Hours & Call Routing > Normal Business Hours > Edit Details.

Scroll to Hold Queue > Advanced hold queue settings and select "Allow callers to request a callback when the queue has [number of calls] or more calls by pressing [button on dialler]"
If you have in-queue callback enabled, your caller will hear a message offering them a callback. If they choose that option, they'll hear a confirmation message.
The caller's position in the queue is held. When it's their turn, Dialpad will call them back. From there, the caller can either connect to an agent or cancel the request.
Ready to start using call queues?
Can your call centre route calls to the best people for the job? If you're not sure about the answer, then a call centre queue management system might be the solution, especially if your business manages one or more contact centres.
Not only will you give your customers a better call experience, your contact centre or call centres will also be able to handle larger call volumes—while resolving phone calls more efficiently.
Dialpad's unified communications platform gives you not only a robust business phone system, but also video meetings, SMS and instant messaging, and more—all in one place.
Want to try call queuing with Dialpad Ai Contact Centre?
Book a product tour and we can walk you through how it can work for your organisation!