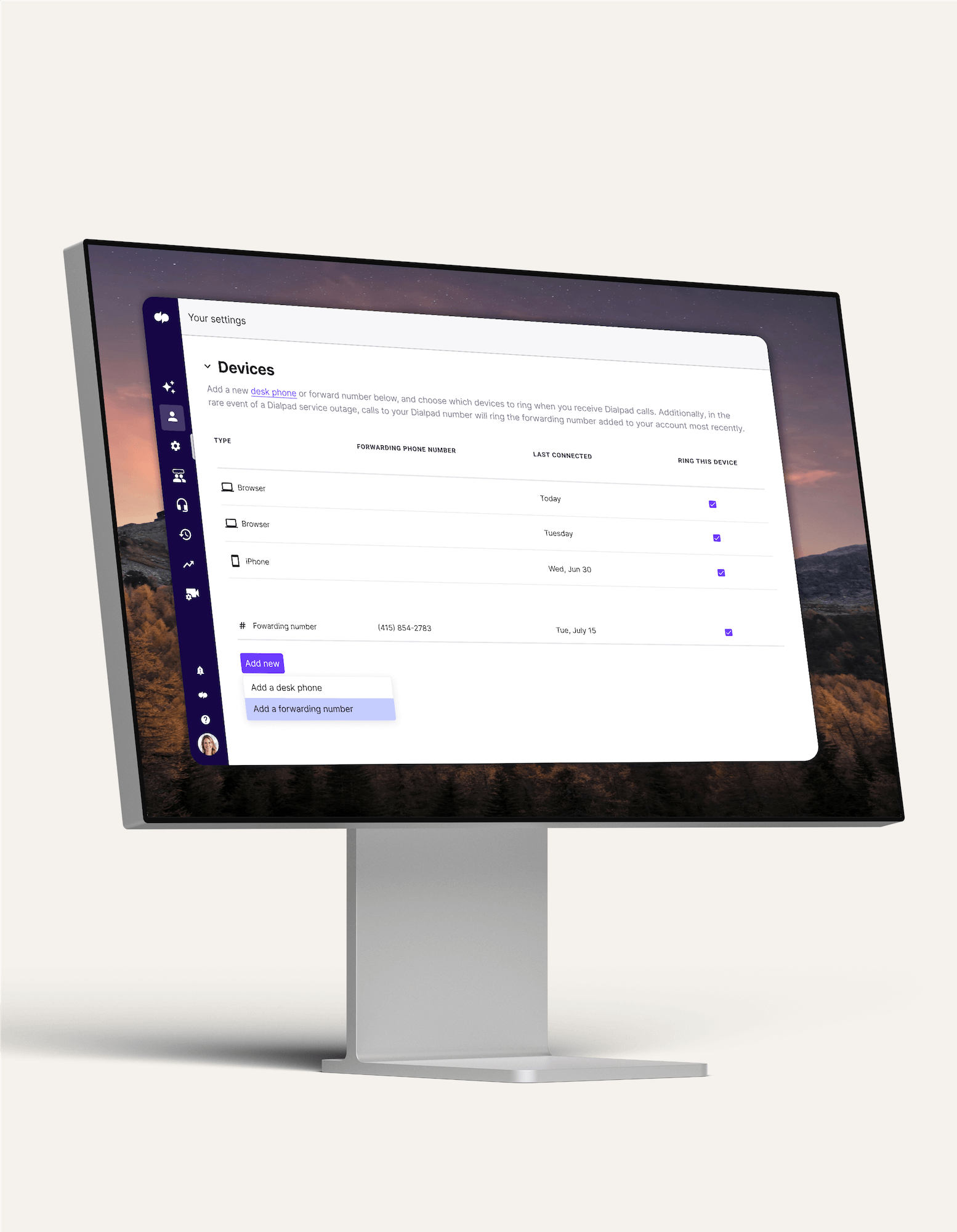 work from anywhere
Virtual PBX
If you're wondering which phone system to opt for, you're not alone. Moving away from old-school, on-premises PBX systems and towards more flexible and convenient virtual phone systems, or even Unified Communications as a Service (UCaaS) platforms, could be the way to go for your company. See how Dialpad works with a product demo!
If you're a small (or large) business owner considering going down the virtual PBX phone system route, your main priorities are likely to be versatility, affordability and ease of use.
Could virtual PBX be for you? Or would a UCaaS platform be more appropriate? We'll dive into what virtual PBX is and hopefully help you to decide.
What is virtual PBX?
Virtual PBX (Private Branch Exchange) is sometimes also called cloud PBX, and is an evolution from traditional PBX platforms.
While those traditional platforms rely predominantly on switchboards, physical hardware and landlines, virtual PBX is internet-based and hosted via the cloud. The latter, therefore, is a more flexible option.
How virtual PBX works
Virtual PBX software, unlike traditional PBX, sends data via the internet in digital form.
Virtual Private Branch Exchange relies on various technologies like Voice over Internet Protocol and cloud software in order to offer similar functions to the more traditional PBX telephone systems without relying on analogue data transferred via landlines.
Today, things have moved on even further from these virtual phone systems. Have you heard of UCaaS—Unified Communications as a Service—platforms? Unlike cloud PBX and simple VoIP phone systems, UCaaS allows you to communicate in various ways, including by instant message, text and video conferencing, alongside phone calls.
You can also enjoy more advanced versions of typical business phone features, such as auto attendant or Interactive Voice Response (IVR).
The differences between "virtual", "traditional" and "hosted" PBX
Virtual PBX vs. traditional PBX
While both virtual PBX and traditional PBX let businesses route and manage calls, there's one key difference. Virtual systems are cloud hosted and transfer or make calls using an internet connection, while traditional PBX requires the use of on-premises hardware and landlines.
In an age of remote working and distributed teams around the globe, the virtual alternative is immeasurably beneficial to meet the business needs of both small businesses and larger companies.
Virtual PBX vs. IP PBX
IP PBX phone systems were the first step towards creating phone systems that worked over the internet. They came after traditional, analogue PBX systems and before virtual PBX systems. In other words, IP PBX systems are the step between traditional and virtual PBX.
Virtual PBX vs. hosted PBX
While people sometimes use the terms "virtual PBX" and "hosted PBX" interchangeably, they're not the same thing. What the latter actually means is that your phone system is being managed by a third party service provider in a location outside of your own business premises. That doesn't necessarily mean it's cloud-hosted or "virtual".
With hosted PBX, the third-party vendor usually has their own data centres and is able to provide everything you need, such as software, hardware, security, maintenance and any necessary upgrades.
However, hosted PBX providers are not all made equal. They will not all offer a desktop or mobile app that is compatible with your office devices. A lot of them will also not be able to offer contact centre services and may charge you extra for any call recordings. So, if you're likely to need any of these features frequently in your business, you may be better off going with a UCaaS platform.
Startups and small businesses looking for a cost-effective and flexible solution could just go for a virtual PBX service which is not entirely hosted. In other words, they can keep on using their on-premises phone system whilst also upgrading the call handling, answering and routing system aspects to a virtual PBX in order to be able to enjoy those advanced features.
Benefits that virtual PBX services (or, better still, UCaaS) will bring to your business
These next generation telephone systems aren't just for large, multinational enterprises—there are plenty of benefits associated with using a virtual PBX system for small businesses too. Let's take a closer look at how PBX services (or, even better, a UCaaS platform) can take your business communications to the next level, no matter your company's size.
No additional hardware is needed to set it up
Traditional PBX systems require that you spend money on things like hardware, leasing phone lines and perhaps even bringing in an IT team to handle any maintenance problems or upgrades required. Cloud-based UCaaS platforms or hosted PBX providers, meanwhile, save you a tonne of money. Why? Because no hardware is required on your part for the system to run.
Additionally, you can choose between a monthly or annual subscription plan, any maintenance or upgrades are conducted virtually by the provider and you can increase or decrease your usage depending on the season or your staffing needs.
More flexibility for the growth of your business globally
A good UCaaS platform system provider should also allow you to easily add and remove users. This scalability means that you can introduce and manage new team members via your dashboard online, so as your business grows, your platform grows with you. For example, here's what it looks like when you're adding new users and new phone numbers using Dialpad's intuitive online dashboard: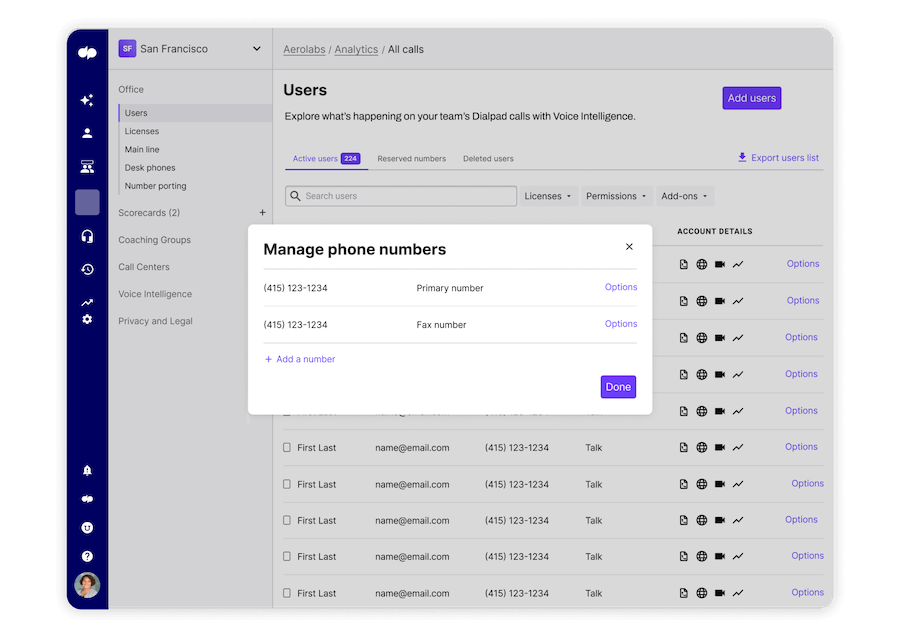 Virtual PBX solutions also use VoIP technology, which means that you can have incoming and outbound calls via your mobile phone (on both Android and iOS devices), desk phone, or your computer—which gives you even more flexibility.
Easier management of business communications
Being able to use virtual PBX over different devices means that you are more accessible and able to communicate more easily with your stakeholders, both external and internal.
The fact that you can also integrate your virtual PBX with other existing tools also makes it easier to access data across different platforms and have clearer and more efficient business communications.
Integrations with popular tools (and the tools you're already using)
Good virtual PBX systems—and especially, UCaaS solutions—can integrate easily with many types of software such as project management and CRM apps like Salesforce and HubSpot. This can automate data entry and other repetitive tasks, and using Dialpad's Salesforce integration as an example, agents can make calls from directly inside their CRM, with activities being automatically logged:


Features that make UCaaS solutions better than traditional or virtual PBX
Let's dive into some of the more specific features that make UCaaS platforms stand out from the crowd of traditional and virtual PBX platforms.
Call recording
Most phone systems tend to have this feature, whether with traditional or virtual PBX. However, what they might lack is sufficient storage space for those calls and an intuitive user interface.
Dialpad offers unlimited call recordings, so you'll never miss the chance to glean important insights from calls and meetings.
Customisable voicemail greetings
All PBX systems and UCaaS platforms should have this as a feature. Updating your voicemail greetings every time we enter a new season or approach a special time of the year (think, Christmas and Halloween), as well as accessing and hearing your voicemails, should be a piece of cake.
This is where a UCaaS platform can make things much easier and less time-consuming. With Dialpad, there's even a visual voicemail feature, which transcribes your voicemails in real time so that even if you're in back-to-back meetings and don't have time to listen to the message, you can still read it: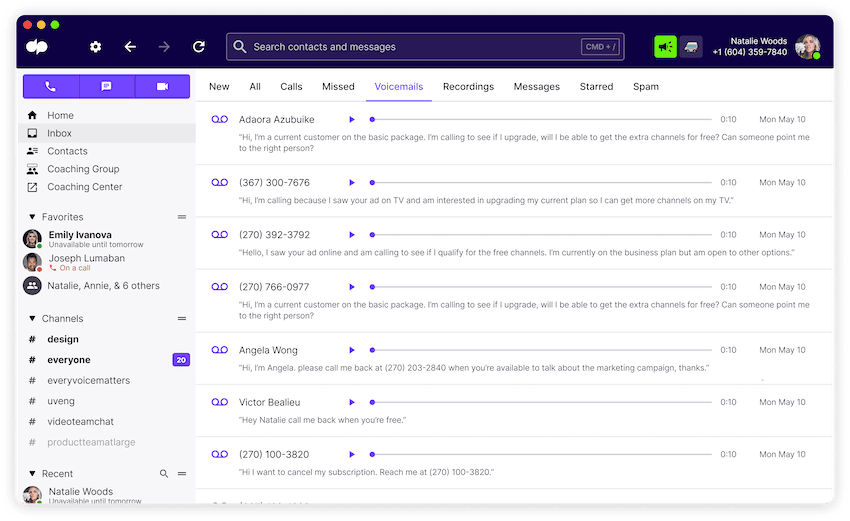 Call forwarding
Have you noticed that a lot of call forwarding features can be over-complicated and tricky to use? One minute you're trying to forward a call to your colleague, the next you realise that an important customer is no longer on the phone at all.
A UCaaS platform should let you easily set up and change your call forwarding settings. With Dialpad, for example, you can add up to five call forwarding numbers to your system and make any changes whenever you feel like it via your dashboard. No unnecessary complications.
Auto attendant
Why should you handle multiple calls about simple subjects like opening hours when you can have an auto attendant do it for you?
UCaaS platforms should come with an auto attendant feature that can provide basic information and answers to callers, and can also route calls to the right department for you.
Call queue
Call queuing allows larger companies with call centre teams to handle large volumes of calls with ease. If you get more incoming calls than you have available agents, queuing places your callers into a queue to be directed to an agent when one becomes available. You can thus deal with call spikes without affecting the customer experience.
You need more than just a virtual PBX for your business in the UK to grow
While virtual PBX has a lot more to offer than traditional PBX, a successful business in the UK today that uses other communication channels may be better off using a UCaaS platform. This way, they can have phone calls, video meetings, and SMS/MMS + team messaging, all in a single platform.
Not only is it more cost-effective, it's also easier to administer from an IT perspective.

Thinking about a virtual PBX?
Dialpad gives you more than just a business phone system. Make phone calls, have video meetings, send instant messages, and more—all from one easy-to-use app. Sign up for a 14-day free trial to try it out yourself. It takes just a few minutes, and you'll even be set up with a virtual phone number. Or, take a self-guided interactive tour of the app!
What's the difference between an on-premises system and a virtual PBX?
Virtual PBXs are cloud-hosted using off-site servers which belong to your telecommunications provider. On-premises PBX systems, on the other hand, rely on hardware and infrastructure at your own workplace.
How can I set up a phone system?
What equipment is compatible with virtual PBX?
What is a virtual PBX system?
Do you need a PBX, a VoIP-based solution, or a UCaaS platform?