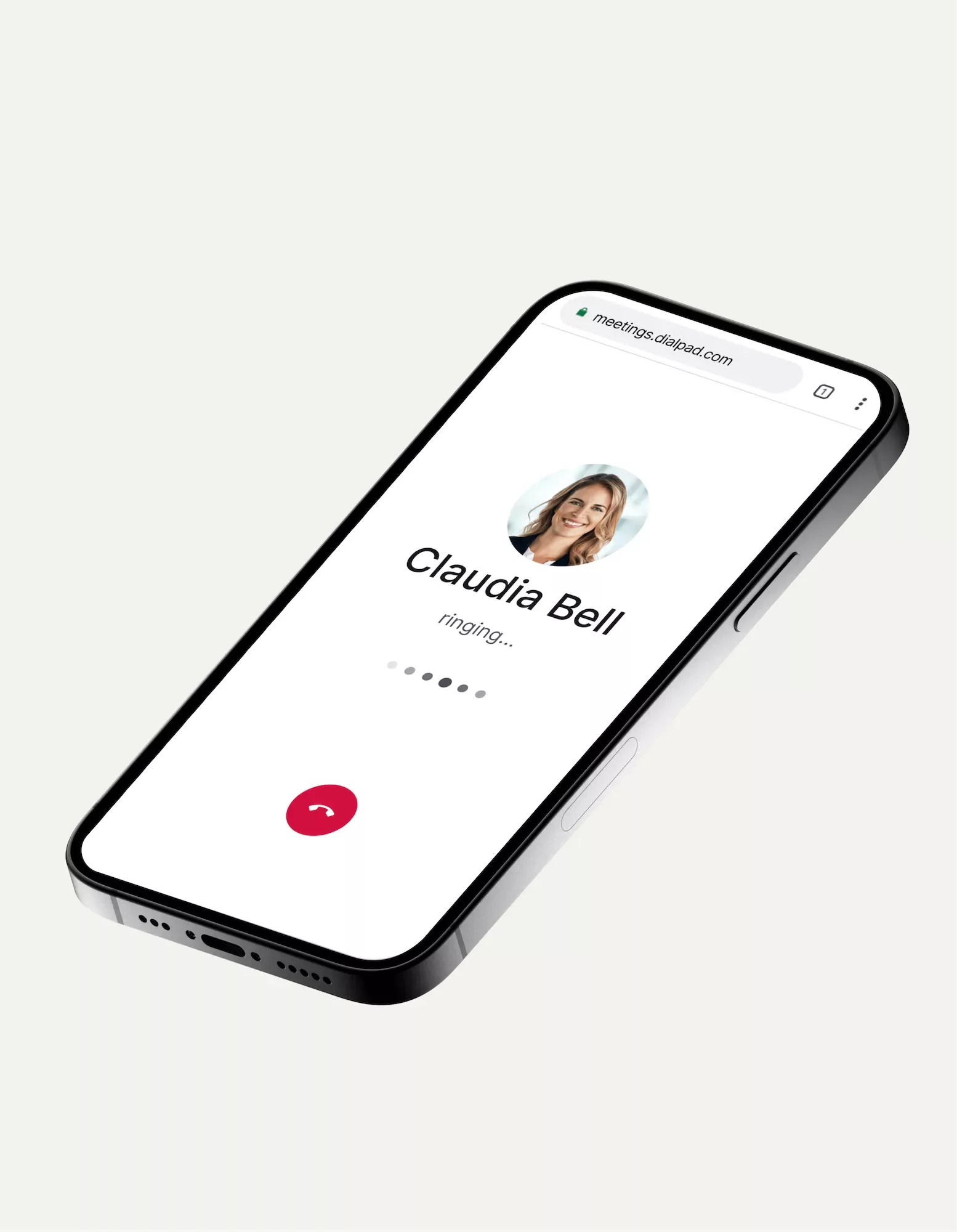 a guide
Hosted PBX
You may have heard terms like PBX, hosted PBX, virtual PBX, UCaaS, and VoIP being bandied about. What are the differences between all these types of phone systems? Keep reading to find out. Or, get a walkthrough of Dialpad's communications platform, which lets you make phone calls from anywhere, on any device.
What is PBX?
The word "private" in PBX, or Private Branch Exchange, refers to the fact that internal telephony systems were privately owned by individual organisations rather than the public telephony network. Soon, this pretty convoluted and labour-intensive way to do things was replaced by automatic call switching, which allowed more advanced features such as on-hold music and call recordings.
Technological advancements didn't stop there. Since the 1990s, traditional, on-premises PBX systems started to evolve and integrate new technology such as VoIP and cloud solutions.
Hosted PBX—as the name suggests—is hosted by a PBX service provider and is becoming a popular alternative to an on-premises PBX. Let's dive in and contrast and compare the two solutions in more detail.
Hosted PBX vs. traditional PBX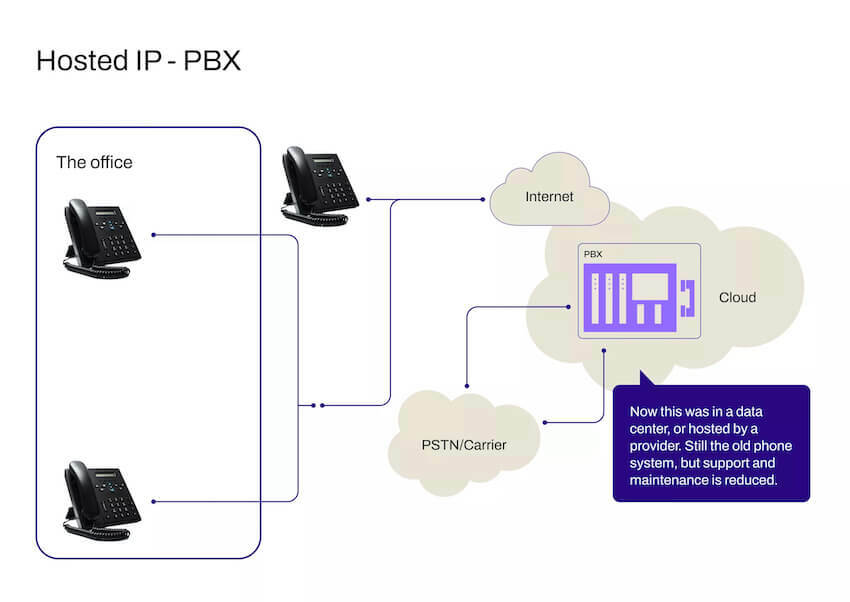 So, what are some of the main differences between traditional and hosted PBX systems? And, is one better than the other?
At the moment, some big businesses still use traditional PBX, where the PBX is kept on the business's premises. Calls are handled via your run-of-the-mill phone company. The initial investment to have an on-premises PBX installed can be expensive, but if your company has its own IT department, then you have the backup and support you need to keep your hardware ticking along.
However, if you don't have your own IT support team, then you would need a technician to update the system and configure software, which could add to the cost.
Traditional, on-premises PBX also has a single point of failure, which means that if your PBX system goes awry, then your business may end up not being able to make or receive any calls at all until it's up and running again. With hosted PBX solutions, on the other hand, there are safeguards and backups in place.
A hosted PBX solution is a cloud-based system where your provider is responsible for housing the system, as well as maintaining and updating the servers that run it.
This takes a lot of the work off your shoulders. Hosted PBX services also offer lower initial setup costs, so if your business needs to change offices, the hosted PBX can come with you without much hassle.
With more people working remotely these days, having a hosted or cloud PBX means that communication systems are set up for people outside of the office. Hosted PBX also has the huge bonus of being able to form part of a unified communications solution with features such as SMS, call routing, CRM and other app integrations, data analytics and more.
How exactly does hosted PBX work?
There are three main ingredients to getting your hosted PBX up and running. These consist of a VoIP system, the internet and a hosted PBX provider.
The three basic components of a hosted PBX phone system
1. VoIP phone
Hosted PBX systems require end points where voice signals are sent from and received—that's what a VoIP phone system (Voice over Internet Protocol system) does.
It functions by converting analogue voice signals into digital signals with the use of packet-switching technology. Digital signals are sent as data packets via your broadband connection, which allows telephony services over the internet.
2. Hosted PBX provider
Your hosted PBX provider hosts the PBX system. This means that all equipment is stored in data centres which the provider manages, as well as being responsible for all maintenance and upgrades.
The service provider's job is to ensure that you have efficient, reliable and secure phone services.
3. Internet connection
Finally, you'll need an internet connection—you can just use the one you already have, no need to install a phone line or anything like that.
That's it! That's all you need to get started.
What you gain from using cloud-hosted PBX systems (and why UCaaS is an even better alternative)
Hosted PBX is a stronger option than its traditional counterpart since it's more flexible, often more affordable and useful in remote working situations. An even stronger option, though, is UCaaS and we'll get into the reasons why here.
You can connect from anywhere in the world
Hosted PBX systems and UCaaS tools alike allow you and your colleagues to connect from anywhere in the world. You can do so using your mobile phone, VoIP phone, laptop or desktop PC. This is great news for companies looking to continue or expand remote working options.
Your colleagues could work from home or take a trip to the Maldives (or perhaps just Cornwall) whenever they like and just use the same office number via their device of choice. Any calls can be routed to their devices from their desk phones.
You can also connect virtual and freephone numbers to your hosted PBX which makes it easier for customers to get in touch with you. But with UCaaS, all you need is an internet connection and you're reachable. For example, Dialpad's desktop and mobile app lets you make phone calls with just a few clicks:


More integrations with popular tools
If you're considering moving to hosted PBX, you probably don't want a huge amount of upheaval and to disrupt your entire system. The good news is that cloud-hosted PBX systems are often quicker and easy to set up than the traditional alternative.
UCaaS solutions, though, take ease and continuity to a new level. UCaaS platforms integrate all business communication in a single place. That means VoIP services, IM chats, video and texts are all usable from the same platform. This makes it easier for your staff to handle customer interactions and improve customer service.
What's more, the software-based nature of UCaaS solutions makes integrations with your other favourite business tools a cinch.
Take Dialpad, for example. It natively integrates with CRMs like Salesforce and HubSpot, productivity-boosting tools like Miro, and many more besides. Even if there isn't already a native integration, too, open APIs mean you can easily create one:


Scalability and adaptability
Your business is likely to expand and adapt over time, which calls for a system that can move with the changes or scale up in line with operational developments. If you rely solely on on-premises PBX systems, you might end up having more resources than you need during quieter periods, which will add unnecessary operational and maintenance costs.
Cloud/ or hosted PBX systems, on the other hand, are somewhat more easily scaled up or down to meet your requirements as your needs fluctuate. It's UCaaS, though, that's a much more dynamic and intuitive system with less waste and more efficiency.
A UCaaS platform is almost infinitely scalable—all you need is an internet connection and nothing else. New users can be added with a few clicks, and no new hardware being shipped around the world at all. For instance, with Dialpad, you can add new users or phone numbers right from your online dashboard:


If you need to start small, you can do so without compromising the future growth of your company. This is equally important for businesses that experience frequent demand fluctuations. You can add and remove users or features as and when you need them.
More advanced features
With hosted PBX, you're not limited to your existing phone features or those of your on-site traditional PBX. Instead, you get access to a number of call management features, such as call transfer and voicemail.
A fully VoIP-based phone system, meanwhile, introduces further features like call recording, real-time transcription, IVR, call forwarding, call queue and auto attendant features to name just a few. These are typically available via a web portal which is updated automatically as existing features are improved and new features are added:


UCaaS platforms contain a hosted phone system with all those features, but also offer users text-based communication options, video conference calls and easy call transfer options. From the customer's perspective this allows a seamless experience and it's easier for staff to stay connected with each other and their customers via any platform they choose, too.
How industries are getting the best out of cloud communications with UCaaS
UCaaS has already helped companies in all sorts of industries, so we're going to delve into some examples here:
Healthcare
Medical communication is now more often being conducted largely online and more and more GP practices are offering over-the-phone and virtual appointments, which means UCaaS platforms are being used more and more in healthcare.
With these UCaaS systems, GPs and other healthcare professionals can communicate internally and with patients through high-quality video conferencing, messaging and calling—all from a single app or platform. Communication is an often-cited challenge in the healthcare system and UCaaS platforms can go a long way to providing a solution.
Finance
Financial services businesses can also enjoy the many benefits of UCaaS systems and the great features they offer. With many finance companies working across borders on a global scale, the adaptability and scalability offered by hosted PBX and UCaaS solutions can facilitate the work that they do, with a high level of security.
Security is a pretty high priority for any institution, but financial ones in particular. Good UCaaS service providers take a multi-layered approach to ensure data is secure and the systems can also be configured to comply with applicable financial and data protection regulations.
Hospitality
Good communication is vital in hospitality where customer service is the top priority. Travel agents, hotel chains and recreation providers can benefit hugely from a centralised UCaaS platform as it helps to provide a coherent and consistent experience for every customer.
For instance, with a UCaaS service, customers can more easily contact travel agents, hotels or recreation businesses through a choice of channels, whether it be for bookings or information services. Calls also don't need to be managed from one location, which is particularly helpful in the travel sector where agents are often based all over the world.

📚 Further reading:
See how Firefly Health (which has call centre teams), moved their communications to the cloud and maintained incredible service levels (answering calls in 40 seconds or less) using Dialpad's UCaaS and contact centre platform.
Education
Excellent communication underpins all aspects of education, whether in the classroom or on an administrative level. A UCaaS system supports effective communication in schools, colleges and universities, whether facilitating online classes or admission processes.
In addition, having a centralised communications platform enables teachers, professors and other education professionals to share information easily with fellow staff members, students, their guardians and other stakeholders.
Property
The property sector is a fast-moving business. One minute you're putting up an ad for a 4-bedroom house with a one acre garden on Rightmove, the next you're wading through dozens of requests for viewings and occasionally offers from people who haven't even seen the property!
A centralised UCaaS system, which brings all communication to one system and integrates with all of your other tools, can help you to navigate the chorus of vying hopefuls with less stress. You can also offer virtual viewings for people who—for whatever reason—can't visit the property in person.
For example, Dialpad's contact centre platform (which is integrated right into its PBX calling features) has an artificial intelligence-powered feature that automatically pops up Real-Time Assist cards to help agents handle real estate questions:
Legal
If you work in the legal world, you probably have to process piles of paperwork and juggle a lot of incoming calls, texts and emails. With a centralised system, all the information that comes in can be more easily compiled without accidentally ignoring any clients or missing calls.
This greatly improves the customer experience and reduces the risk of missing time-sensitive legal information for your clients.
Retail
Retail entails a lot of communication with a variety of stakeholders, including suppliers and customers. Being contactable is vital for keeping customers happy and adhering to legal requirements, such as offering refunds and accepting returns in a timely fashion.
Centralising all your communications can help you to see when a customer has already contacted your business via phone or email, and ensures they're getting the best possible customer experience.
Why your UK business needs more than just a hosted PBX system
A hosted PBX system is great—it takes the pressure off your IT team by using a provider to handle everything from updating software to storage and fixing bugs.
These systems are useful for large, complex organisations and there are plenty of benefits associated with using a virtual PBX system for small businesses and startups, too.
However, a UCaaS platform takes business communications one step further—its many advanced features make it that much more convenient, intuitive and easy to use in any communications context.
Cost savings are another big advantage of UCaaS since you don't need any new hardware for this kind of telephony system.
Looking for a hosted PBX phone system?
Dialpad gives you not only phone calls, but also video conferencing, instant / SMS messaging, and more—all in one easy-to-use platform. Sign up for a free 14-day trial to get set up with a virtual business number or, take a self-guided interactive tour of the app first!
What does PBX stand for in telecoms?
PBX stands for Private Branch Exchange, and is a business phone system that allows users to route and manage calls.
What is the difference between hosted PBX and SIP?
What is the difference between hosted PBX and VoIP?
What is the difference between cloud PBX and VoIP?
How much does hosted PBX cost?