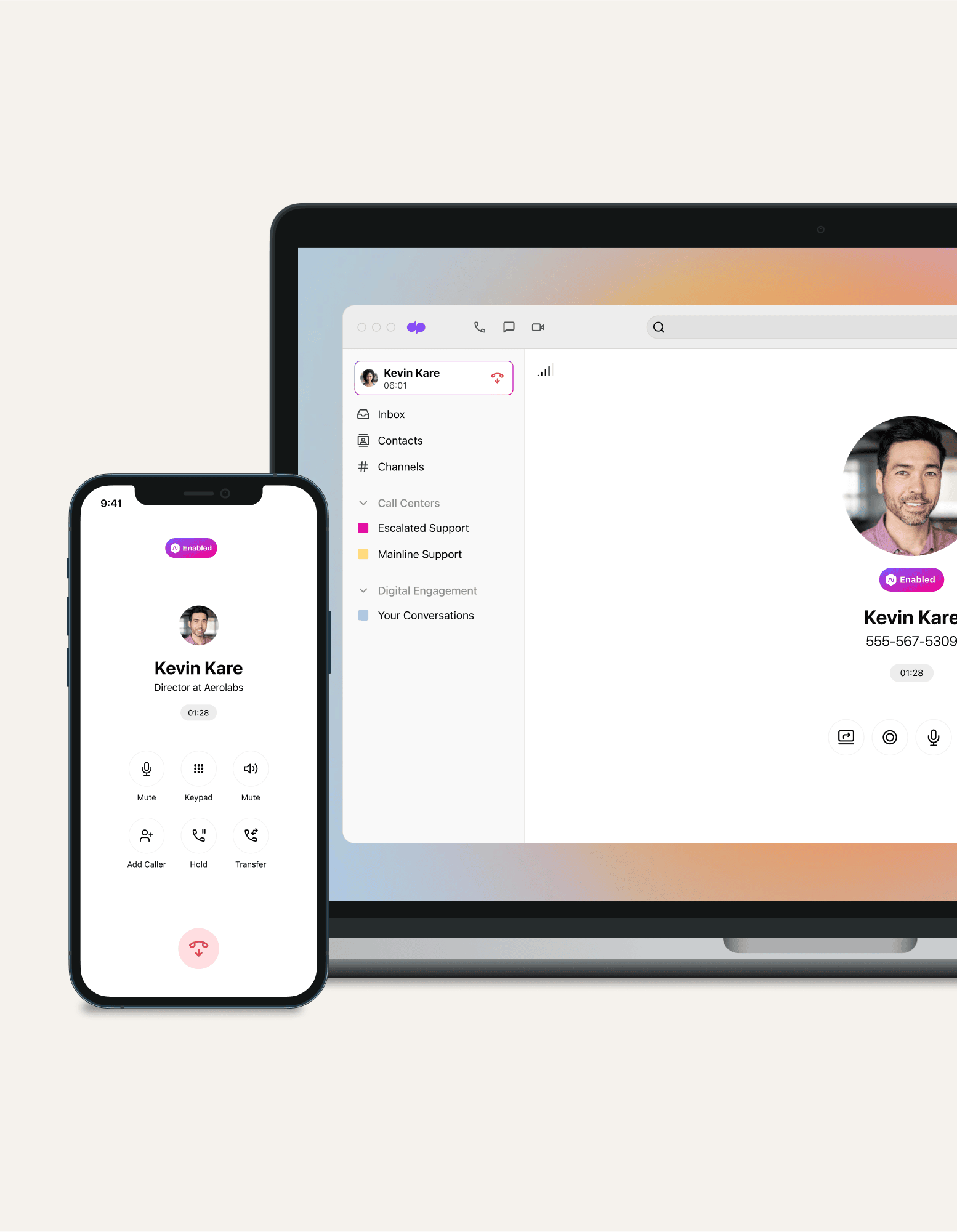 Business phone systems in Vancouver
Looking for business phone plans in Vancouver, but want something more flexible than traditional phone systems? With Dialpad, you can sign up in literally minutes and start making calls, having video meetings, and sending SMS/MMS + team messages, all from a single app. Try it for free—you'll even get set up with a virtual phone number when you start a 14-day trial!

Sign up for a free 14-day trial!
Not just your typical business phone
If you're running a business in Vancouver and need to upgrade your phone system, check out Dialpad's unified communications platform. It comes with...


Enterprise-grade security
Compliance is essential for businesses, especially in industries like finance, law, and healthcare. That's why Dialpad helps you comply with SOC2® Type II, GDPR, ISO standards, and more. Dialpad also has robust in-app security and encryption. No matter the device or where you're using it, it helps you make sure your important business data is safe.

Unique dual-cloud architecture
Traditionally, enterprise communication happened through expensive on-premises phone systems. Dialpad's unique dual-cloud architecture means we can offer superior call quality, connectivity, and reliability across the globe. It's also the reason we can guarantee 100% uptime SLA for all our Enterprise plan customers!
Integrations with CRMs and your favourite tools
With Dialpad, you can integrate all your business communication channels—including voice, messaging, video, and online fax—with your CRM or other apps you're already using, like Salesforce, Azure, Google Workspace, and Okta.

Desktop and mobile app
Dialpad's desktop and mobile apps work on a range of devices, including Mac, PC, iOS, Android, and even tablets. You can also access Dialpad on Google Chrome, which means if you've having an online conference with a client, you can just send them the meeting link and they'll be able to join on their browser. No need to download any apps.

Crystal clear calls, worldwide
Dialpad's dual-cloud architecture and global voice network are specifically designed to give you HD business communications around the world. And because it has dedicated global data centres and is built on the Google Cloud Platform, Dialpad can provide unparalleled reliability, with the flexibility to scale quickly as your business grows.

Choose your caller ID
With Dialpad, you can easily keep your personal phone number private, even when you're working from your own cell phone. Or maybe your head office is in Vancouver, but you have customers in Toronto who'd more likely answer a call from a local area code. With Dialpad, you can choose which caller ID to display (like a local phone number, your department number, or hide your caller ID entirely).

Visual voicemail
Dialpad's visual voicemail transcribes your voicemails automatically—in real time. That means that even if you're in a long meeting and can't step out to listen to a message that you were expecting, you can easily read it on your phone or in Dialpad's desktop or mobile app. (You can also forward your voicemails to a team chat with a colleague!)

Easy call routing
Dialpad's auto attendant and call routing features help you manage incoming calls by automatically directing them to the right person or department. Want to route calls based on agent skills or who's been idle longest? You can do that too. Plus, record custom greetings and update your auto attendant's business hours, right from your online dashboard. (Dialpad's built-in analytics also tell you which IVR (Interactive Voice Response) menu options are being used most—and least—frequently by your callers so you can continuously improve that experience!

The best phone system in Vancouver... Isn't a phone system
Not only does Dialpad's fully unified platform give you all the communication channels you need in one place, it also has 24/7 customer support on live chat and phone, worldwide for the Pro and Enterprise plans. (Or, visit our Help Centre where you'll find FAQs and other handy resources.) Try it now with a 14-day free trial or take a self-guided tour of the app!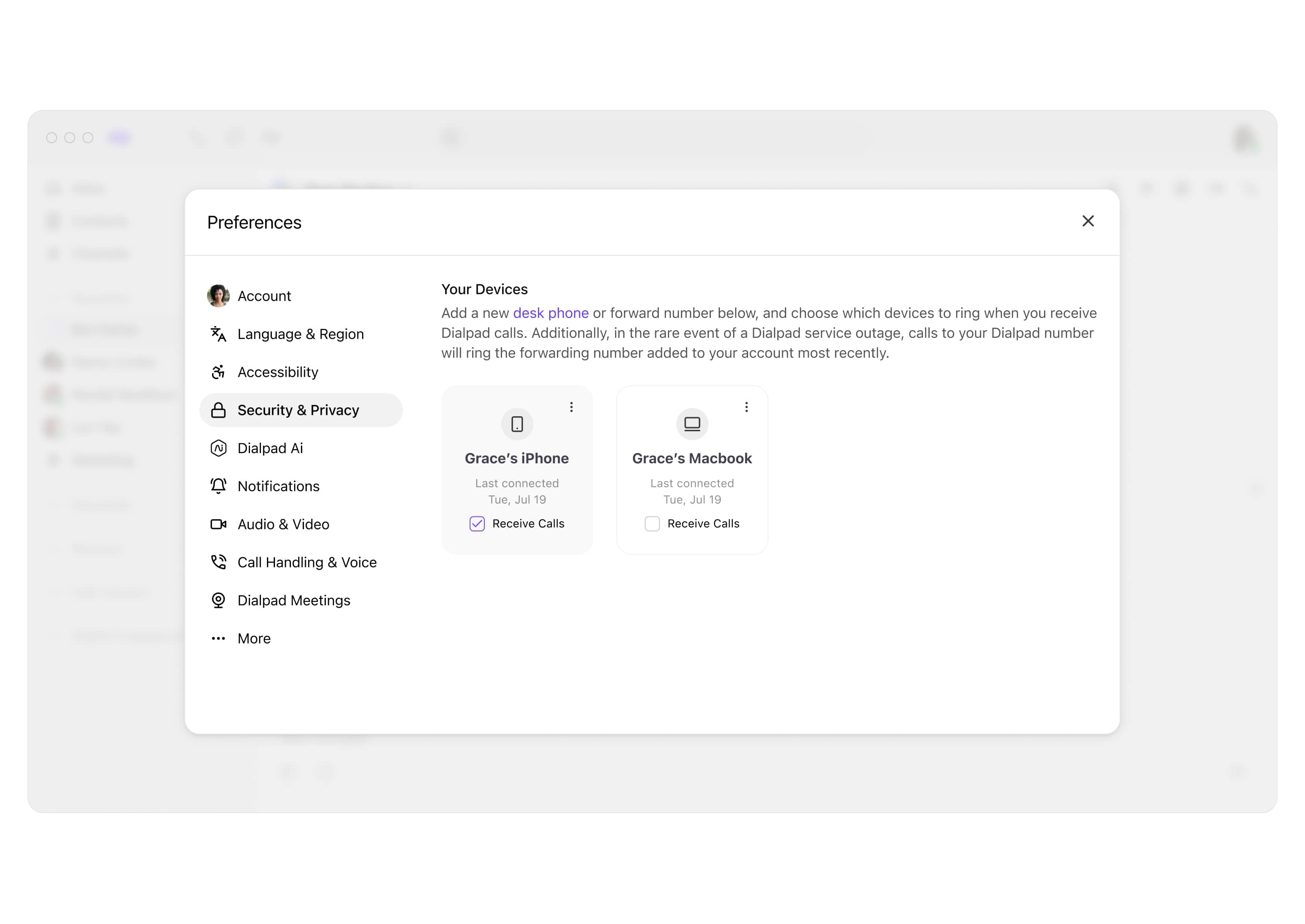 Flexible call forwarding
Need to step away from your desk? You can with Dialpad's versatile call forwarding, which lets you park, transfer, and forward calls to up to five phone numbers. Set up call forwarding in minutes and transfer calls to your cell phone, colleague, voicemail—whoever you want.

Real-time transcriptions
Dialpad Ai, our proprietary artificial intelligence feature, can transcribe your calls and video conferences—in real time. It even automatically emails all the participants a summary with the transcript, call recording, and action items after the call!
Built-in call analytics
Want to know if you're missing customer call opportunities or making callers wait on hold? Dialpad comes with built-in call analytics and reporting features that show you metrics like call volume patterns, average speed to answer, average call length, and more.
Integrations with your favourite tools
From Google Workspace to Microsoft 365, to CRMs like Salesforce and HubSpot, Dialpad integrates with a variety of popular software to automate repetitive tasks. For example, its CRM integrations embed Dialpad's dialer inside the CRM so that sales reps and support agents can make phone calls from right inside Zoho CRM or HubSpot. And if you want to build a custom integration, you can do that too with the APIs!

Robust security
Dialpad comes with enterprise-grade security, including in-meeting security controls that let you mute and remove participants. SOC2Ⓡ Type II compliance comes as standard to protect your business and customer data—and we also help our customers maintain GDPR and HIPAA compliance.
Looking for the best business phone system in Vancouver?
Maybe a unified communications platform would be a more cost-effective and versatile option!
Unlike typical VoIP phone (Voice over IP) and cloud-based business phone system providers, Dialpad also comes with other communication channels like video conferencing and team messaging. And if you have a contact centre or support team, Dialpad has a fully integrated CCaaS (Contact Centre as a Service) platform that lets them handle external customer communications—including social media messages, digital channels like WhatsApp, and live chat messages—all from the same desktop or mobile app.
Plus, even the most basic pricing plan comes with 24/5 customer support with human agents over live chat, and just one level up unlocks 24/7 customer support on the phone too.
Want to see why the best business phone system in Vancouver isn't a phone system? Get set up with a virtual phone number in minutes, just by trying Dialpad out with a free trial!

Try Dialpad's unified communications platform now!
Get telephony, video meetings, screen sharing, integrations, and more in a single platform. Sign up for a free trial to get set up with a virtual business number in minutes, or take a self-guided interactive tour of the app!
FAQs about business phone systems in Vancouver
What is the best phone system in Vancouver for businesses?
We may be a bit biased, but Dialpad's unified communication solution truly has unparalleled voice quality, support, and features for Vancouver businesses. Even the most affordable $20/month plan comes with Google + Microsoft 365 integrations, unlimited calling in Canada and the US, HD quality audio and video from any device, and more—all the UCaaS features you need in one comprehensive package.
How much does a business phone system cost?
What are the different types of business phone systems?