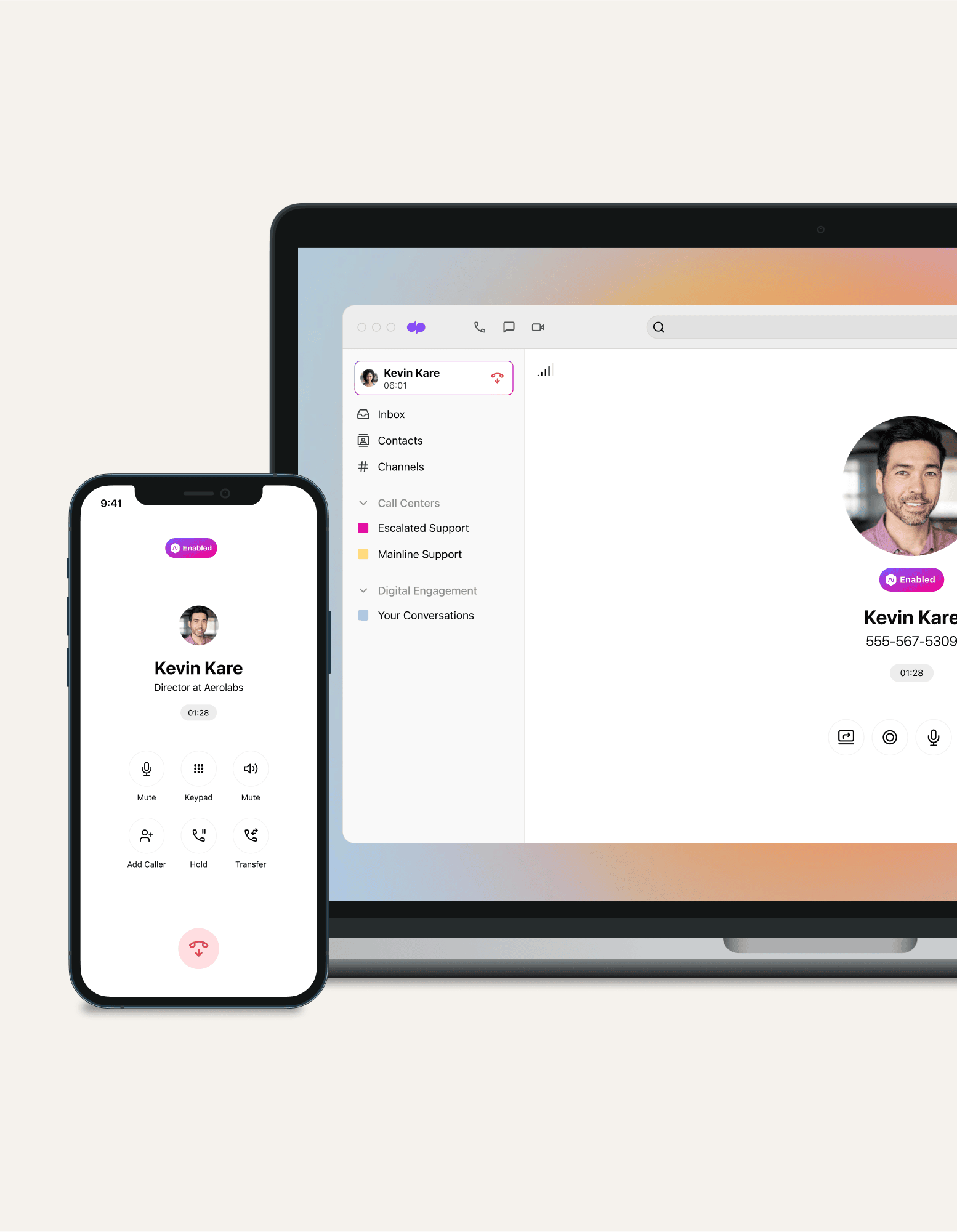 FLEXIBLE + SCALABLE
More than a business phone
Dialpad isn't just an ordinary business phone. It gives you video meetings, SMS/MMS + team messages, and of course, phone calls—all from one beautiful app. Sign up for a 14-day free trial to get started with a virtual number and try it out!
Get better communications with the right service provider
It used to be that a business phone system or dedicated telephony system for offices would just let you make calls. That was it.
Not anymore. Today, a good phone for business lets you communicate through other channels, too, like video calling and video conferencing–all in real-time.
A really good communication system for business will even let you do things like set up call forwarding, update your voicemail greeting, choose hold music, and more—in just a few clicks on your online dashboard, without having to bug your IT team.

Not just an office phone system

Truly unified communications
Phone calls, instant messaging, and SMS/MMS messaging, all in one place. Dialpad has both a desktop app and mobile app (and works on browsers too). Whichever business communication channel you prefer, you can do it all right from Dialpad without having to switch between different tabs.
Looking for a
phone system?
How about a fully unified communications platform? Book a personal walkthrough to see how Dialpad can work for your company or, take a self-guided interactive tour of the app!

Safe and secure
From personally identifiable information to actual phone calls, Dialpad ensures that your data is encrypted and secure no matter where you are and what device you're using. There are also intuitive in-meeting security controls and APIs that allow for automatic pausing of call recordings for added security.
Browse Dialpad's plans:
USD $
USD $
CAD $
EUR €
GBP £
NZD $
AUD $
JPY ¥
Find the right plan for you
The benefits of a good business phone
It gives your remote team more flexibility
Because online business phones use VoIP (Voice over Internet Protocol) technology to facilitate calls, it's much easier to work remotely. You don't need traditional telephone lines or hardware, or even an office with server closets. It gives you a fully virtual workspace for a remote or hybrid team. It's almost impossible to get this commercially with conventional phone services.
With a cloud phone system, you're not tied to a physical office or time zone either. Your team can take business calls anywhere, on any device, whether it's a laptop, tablet, or an iOS or Android smartphone. (Which can lead to less commuting, better work-life balance, and improved employee retention.)
You can also recruit the best talent globally, since VoIP systems have no geographical limitations. Remote teams can collaborate with each other virtually, with all tools and data housed in one central system.

It streamlines your business processes with automations and integrations
One big benefit of virtual phone systems and unified communications platforms is that they usually come with integrations that automate repetitive tasks like data entry.
Then there are features that are automations in and of themselves, like call transfer features, predictive diallers, and smart call routing (where incoming calls are directed to the right person without someone manually transferring calls).
Most commercial-grade phones come with auto attendants and IVR menus, which are helpful because they let your callers resolve basic queries themselves, which lets your team focus on more complex questions.
Not all VoIP providers have built-in dashboards that let you easily analyze calls and customer feedback, so if this is important to you, make sure to check for it during your free trial.
Dialpad, for example, does have all these things—and one thing that won't show up on pricing pages and checklists is how easy it is to use. Plus, you can host or join conference calls from a web browser, and even "flipping" calls from a computer to a mobile device:


You can't do that with a traditional office phone or cordless phone! On top of that, you get native integrations with everything from Microsoft 365 to Google Workspace to Salesforce.
It reduces the cost of phones for your team
Internet phone systems are more affordable than on-premises phone solutions for a few reasons, but mainly because there's no hardware to install or maintain—that's taken care of by your provider, while you pay for the software on a monthly or annual subscription.
You don't even need a special IP phone, since you can turn your computer into a softphone (or use analog desk phones with a VoIP adapter). As well as making remote work possible, VoIP technology also makes it easier to have a BYOD culture, which may be more cost-effective for some companies.
Dialpad, for example, gives you unlimited calling in Canada and the US, along with support for toll-free numbers an all the unified communications and artificial intelligence features mentioned above.
Dialpad: Not just a phone system
A phone system for business helps you improve communication, productivity, and customer satisfaction. Dialpad provides truly unified communications, with advanced features all in one place—including call waiting, caller ID, and built-in Ai technology.
It's flexible and scalable, allowing you to add (or remove) users whenever you need to. Factor in the top-notch security, 100% uptime, and transparent pricing, and you have the whole package.
The top phone system (isn't a phone system)
Sign up for a 14-day free trial to try Dialpad now! It takes just a few minutes (even faster if you sign up with your Google or Microsoft 365 account) and you'll be set up with a virtual business phone number too.
FAQs about business phone systems
How do I use my existing phone number with Dialpad?
Bringing your existing phone number with you when you make the switch to Dialpad is easy! In fact, there's a specific service we provide exactly for this purpose.
It's called number porting, and sometimes also local number portability (LNP).
All you've got to do to start the LNP process is get in touch with your old provider and ask them if they'd be alright with you keeping your number. Then you can just let Dialpad know, and Dialpad will activate your number. The process usually takes under a week.
While that's happening, you can keep using the number as you had been before. That means your customers can keep calling you on the number they've always used, which spares them confusion and saves you money.

How do I set up a phone system for my home business?