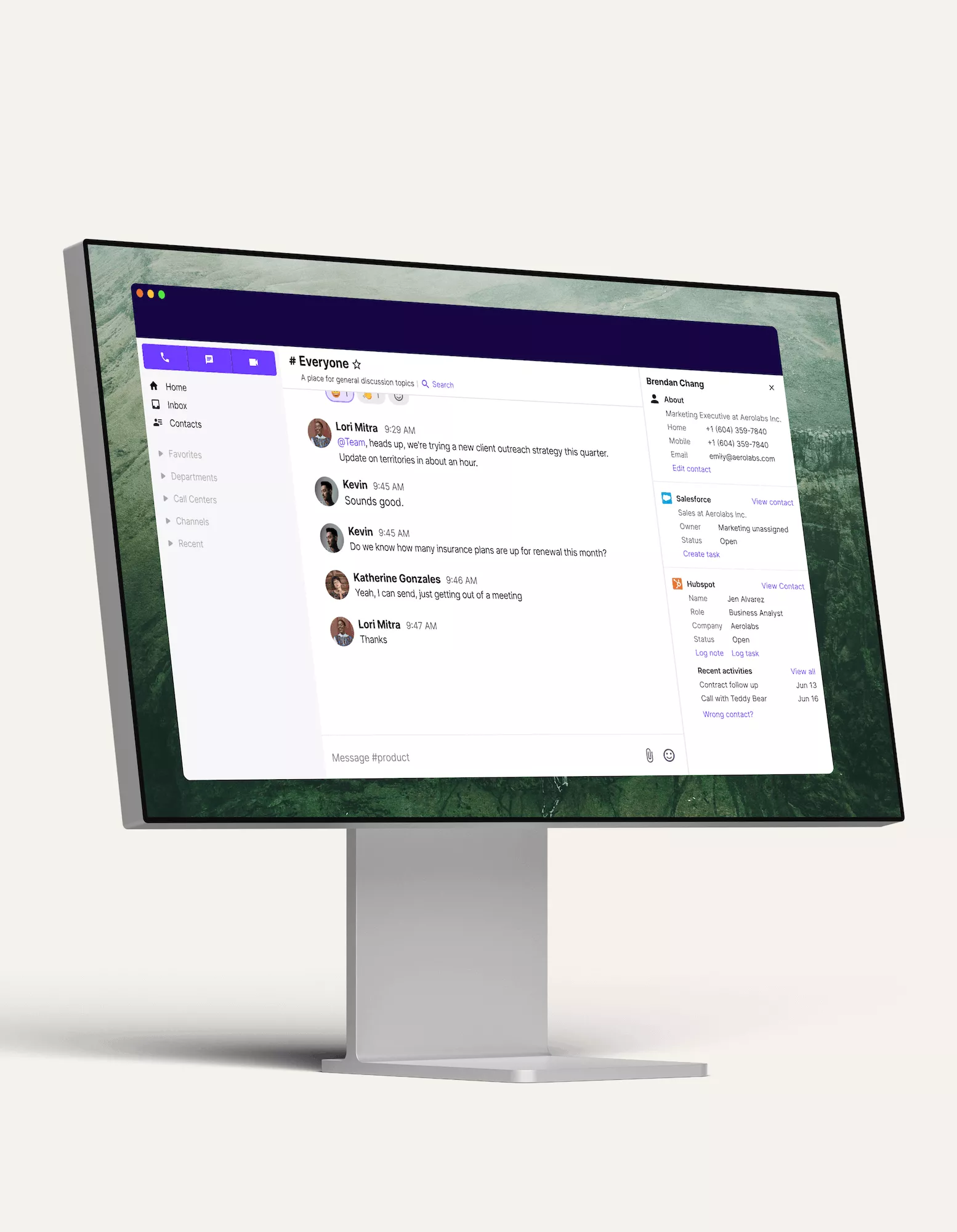 VoIP phone service
With Dialpad, you don't just get a VoIP phone service. It comes with video conferencing, messaging, contact centre functionality, and more—all in a single beautiful app. Sign up for a free trial to get set up with a virtual phone number and try it out!
Sign up for a free 14-day trial!
There are many business VoIP services and VoIP phone systems out there. How can you choose the right one? If you text and do video meetings as well, then you might need a unified communications platform.

What is a VoIP phone service?
If you're up to speed with the terminology, feel free to jump ahead. If you need to know the basics of VoIP, keep reading.
VoIP stands for Voice over Internet Protocol. It's the technology that lets you make and receive phone calls over the Internet instead of a traditional phone network.
VoIP phone services are offered by dedicated hosted VoIP providers or unified communications platforms like Dialpad. In the latter case, VoIP services are built in as a part of a cloud-based unified communications (UCaaS) platform, which you can use to manage all your phone calls and other communications centrally on different devices. As well as being significantly cheaper than landlines, VoIP lets you connect from anywhere via mobile devices or desktops with a high-speed Internet connection.
Voice over IP also gives you advanced features that aren't always possible with a standard telephone service—such as call recording, caller ID, real-time transcriptions, easily customizable voicemail greetings, and more.

How does a VoIP phone system work?
VoIP is a broad term for telephony technologies that enable voice calls over the Internet instead of using ordinary phone lines.
Think of your voice as an analog signal. VoIP converts this into a digital format (called a "packet") that can be transmitted over an IP network. An IP or Internet protocol address is what computers use to communicate with one another on the Internet.
Once the call is connected, VoIP converts the packets back into analog signals so they can be received by the phone of the person you've called (if you want to get technical, the analogue signals are encoded and decoded using software called a codec).
VoIP services (and more) that you get Dialpad's UCaaS platform

HD call quality
With a global voice network and unique split cloud architecture, Dialpad is designed to give businesses and organisations excellent call quality, all around the world.

Truly unified communications
With Dialpad, you can make phone calls, sure. But you can also send an instant message to your group thread, ping an SMS to someone who doesn't have the Dialpad app, and yes, even do video conferencing and screen sharing—all from the desktop or mobile app. Not only that, you get unlimited calling in Canada and the US, even on the most basic plan.

Voicemail transcriptions
Want to change your voicemail greeting? Easy. Upload a clip or record a greeting right in Dialpad, and change it in a few minutes. Dialpad also has visual voicemail, which transcribes your voicemails so you can read them⁠—handy when you're in meetings all day and can't listen to the audio.

Call recording
Having calls with customers or prospects where you discuss deals or other important details? Call recordings can come in handy, especially in the event of a dispute, and can also give new sales or customer support employees examples of what to do. You get unlimited call recordings and real-time transcription as standard with any Dialpad plan!

Call forwarding
If a customer rings your business number while you're away from your desk, you can set up call forwarding with a maximum of five phone numbers. Send those calls to your mobile phone, a colleague, or a completely different department—and never give out your personal phone number again.

Call routing
This one's especially useful for contact or call centres or companies with multiple departments, but any business that gets lots of incoming calls could use an intuitive call routing feature. With Dialpad, you can set up an auto attendant with call routing rules based on options like agent availability or skill level.
More than just a business VoIP service
If you're looking for a robust unified communications platform that lets you talk, message, and meet using one convenient app, give Dialpad's free trial a try. Signup takes just a few minutes and you'll be set up with a virtual phone number. Or, get a walkthrough of the product with our team!
Just a few benefits of choosing Dialpad for your VoIP phone service
Quick and easy deployment
Once you decide to switch to VoIP, you need to get up and running with minimum disruption. Dialpad gives you a smooth transition and makes it simple to add users and understand all the features. We also offer robust support and training (along with a detailed online Help Centre) to help everyone onboard quickly.
Number porting: Use your existing number
If you don't want to make clients and customers remember a new VoIP phone number, why not bring your existing phone numbers from your current phone service provider?
With Dialpad, you can port existing numbers and freephone numbers to the VoIP platform with no interruption in service.
Contact centre functionality, fully integrated
Chances are, your business needs to communicate effectively both internally and with customers. So, why would you want your contact centre and customer support comms to be separate from your internal communication channels?
Dialpad Ai Contact Centre is fully integrated with your other channels and enterprise VoIP services. That means your agents and supervisors can use all the cutting-edge contact centre features and drop a quick message to a colleague or start a team video call, all from the same platform.

Browse the pricing plans
USD $
USD $
CAD $
EUR €
GBP £
NZD $
AUD $
JPY ¥
Find the right plan for you
Looking for a business VoIP phone service?
Dialpad can give you much more than just phone calls. Sign up for a 14-day free trial to see how you can make calls, have video meetings, send instant + SMS messages, and more! Or, take a self-guided interactive tour of the app first!