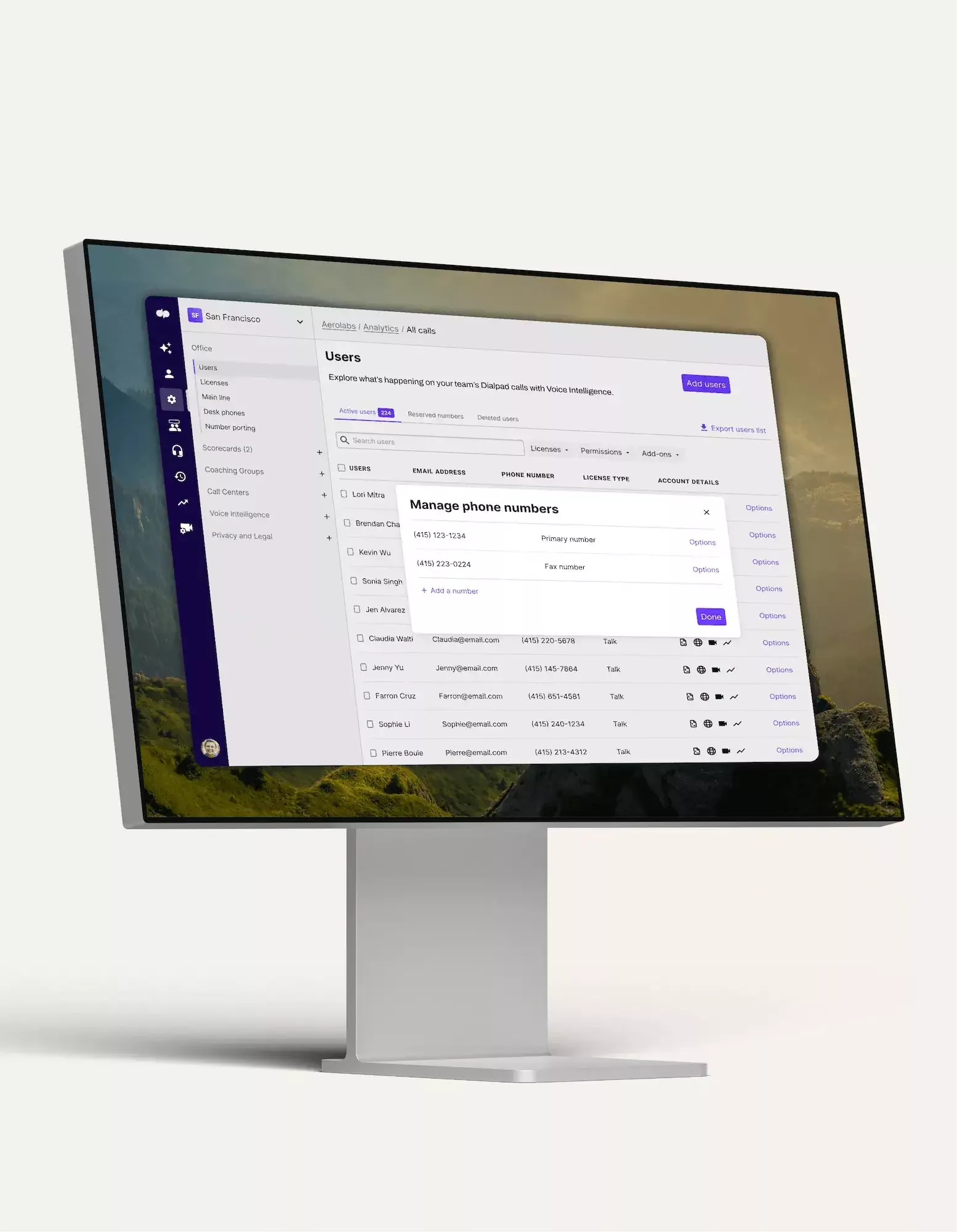 DESIGNED FOR BUSINESSES
VoIP phone in Canada
Are you a Canadian business owner looking for the best VoIP phone provider? If you're upgrading your business communications, you might want a VoIP (Voice over Internet Protocol) phone system that lets Canadian businesses work from anywhere. Try Dialpad for free! It takes just a few minutes to sign up, and you'll be set up with a virtual phone number too.

Sign up for a free 14-day trial!
What is a VoIP phone system?
A VoIP phone (sometimes called an internet phone) system works by using IP technology to transmit phone calls. VoIP phone systems use packets of data that are routed across broadband connections instead of audio signals traveling over traditional landlines. All you need is an internet connection to make and receive calls.
VoIP technology enables businesses to make and receive stable and high-quality calls from any device. They also often include features such as call forwarding, call routing, and cheap international calling. (Not all VoIP features are always available with a standard telephone service.)
Dialpad is more than just a VoIP phone service. It's a unified communications solution that incorporates VoIP calling and a wide range of other communication channels, like video conferencing and messaging, on one platform. That lets your business manage all your phone calls and communications from a single app.
VoIP phone features—and a lot more
Don't just pay for a VoIP service provider. Try a unified communications platform to get more functionality at a comparable price.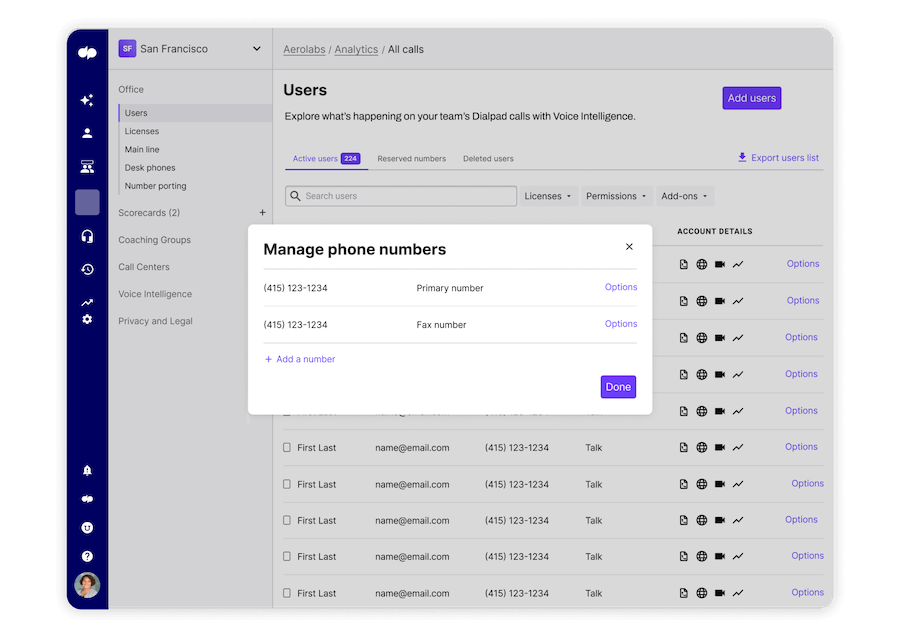 No hardware
Worried about purchasing a new headset for every call centre agent or about installing and maintaining expensive hardware? With VoIP phone solutions like Dialpad, you don't need to be. VoIP solutions are fully software based, and the responsibility for maintaining them falls exclusively on your VoIP service provider.
Robust security
Enterprise-level solutions require enterprise-level security, which is why Dialpad has robust security features to protect your data and help you maintain compliance with GDPR and HIPAA for if you have EU-based or US-based clients in healthcare.
Crystal clear video and voice call quality
Dialpad's unique split cloud architecture and global voice network are designed to give you HD VoIP calls around the world.

All the VoIP phone system features your business needs—and more
Dialpad isn't just a business phone VoIP solution. It's a fully unified business communications platform that comes with every communication channel (internal and external) that you need.


HD call quality
Dialpad's global voice network is designed to deliver HD calling so that your business can make high-quality calls from anywhere, with less background noise and clearer audio.
Plays nice with every device
Use Dialpad's desktop and mobile app across any device, from PC to Mac to Android to iPhone. Don't want to download an app to your computer or mobile phone? No problem. Dialpad works on web browsers too.
All your communication channels in one place
Make phone calls, have video meetings, send instant + SMS/MMS messages, and more from Dialpad's intuitively designed app.
Looking for a
VoIP phone provider in Canada?
Dialpad doesn't just give you phone calling functionality. It's a versatile, truly unified communications platform that lets you manage all your communication channels in one place. See how it works with a demo, or take a self-guided interactive tour to play with the app!
Voicemail transcriptions
The unique thing about Dialpad is its artificial intelligence, Dialpad Ai. Not only does it do real-time transcriptions for calls, it's also a voicemail transcription service. Best of all? This visual voicemail feature is built right into Dialpad unified communications platform. No add-ons, no extra fees. In back-to-back meetings all day and can't listen to your messages? Read the voicemail transcription instead.

Unlimited call recordings
With Dialpad, you get unlimited call recording on even the least expensive pricing plan. From customer support training to sales rep coaching, call recordings are some of the most important sources of insight you have. Just start recording with a tap or click from your call screen!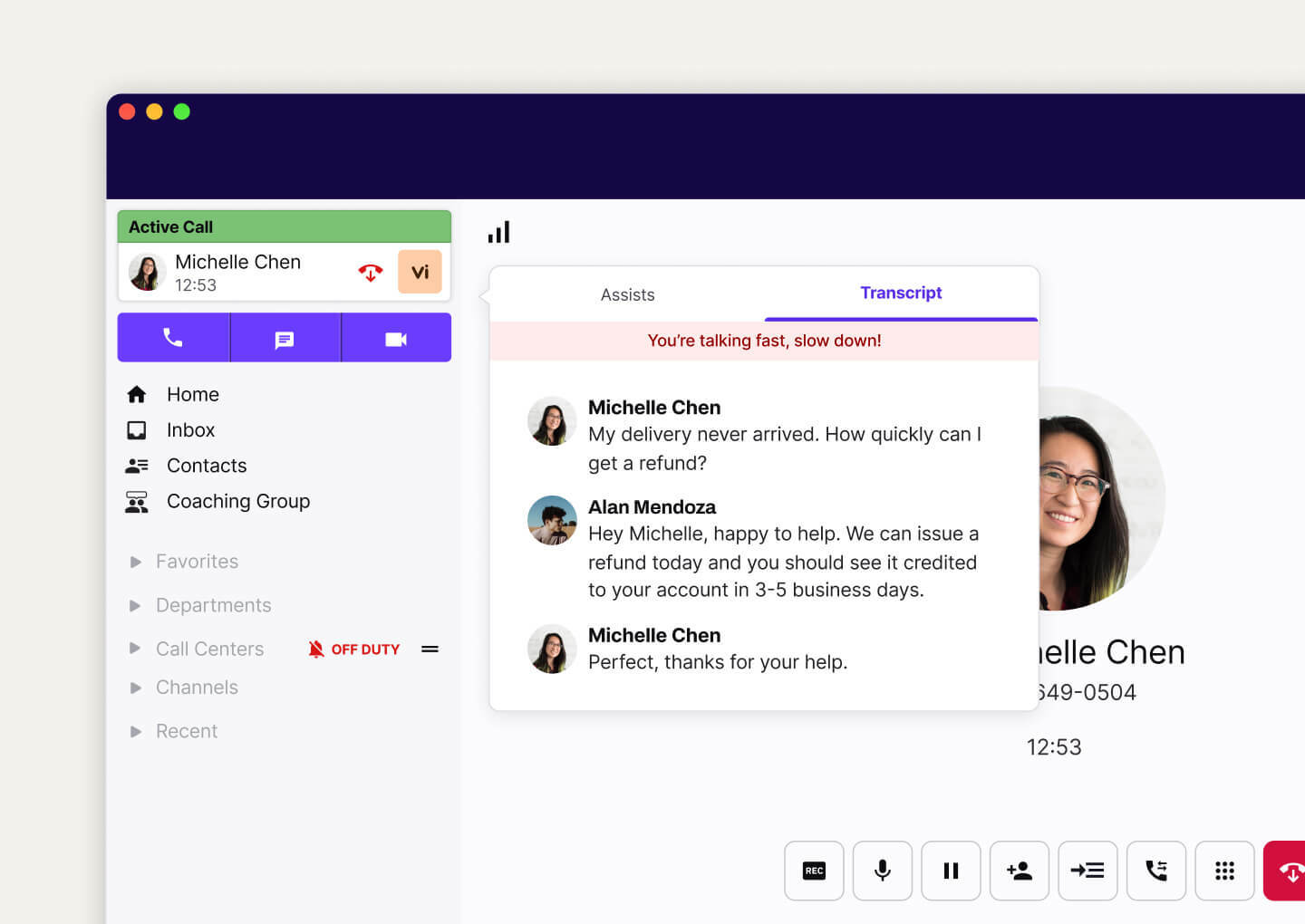 A fully integrated contact centre
If you're running a contact centre or customer support team, and need a hosted contact centre platform... Dialpad also has a fully integrated CCaaS product. This lets contact centre agents communicate with each other via video meetings, messaging, and voice calls using the same app and interface they're using to connect with customers. The result: less context-switching, more streamlined workflows, and a more cost-effective tech stack.
The advantages of a good VoIP phone for businesses
Dialpad is a versatile unified communications platform that comes with a built-in VoIP phone system that's loved by Canadian businesses. Here are just a few of the benefits.
It gives you a ton of functionality—without additional fees
With Dialpad, your business gets advanced features at no additional cost. You don't get charged extra for things like unlimited video conferencing, a desktop and mobile app, call recordings, Google Workspace and Microsoft 365 integrations, built-in AI, and more.

It helps businesses provide a better customer experience with an integrated contact centre platform
If your business handles large volumes of inbound phone calls, a VoIP-based phone system is important, but a good contact centre platform is even better. Advanced VoIP systems can give you more call management features like custom call routing, real-time call monitoring, and even call pops for agents—without needing to bolt on extra software.
Dialpad also integrates with a wide range of CRMs to give your agents all the relevant customer information during calls and help them resolve issues and close deals more quickly—without having to toggle back and forth between your CRM and phone system.
The result: shorter call waiting times and quicker first call resolutions.
It helps future-proof your business
VoIP phone systems have a huge advantage over standard PBX business phone services. They're much more mobile and flexible. Don't have a physical office? You can take work calls from your cell phone with a VoIP system. Want to hire in another region or country? You can get those new employees set up with a phone system in minutes without having to send them any hardware or equipment.

Upgrade your business with the best VoIP phone system
A VoIP phone system is an essential part of a modern business's infrastructure. VoIP technology allows you to maximize flexibility and let team members work from any location, without the need for hardwired phone systems. It also lets you provide better customer service—no matter where your agents are located.
With Dialpad, you can route calls intelligently, answer your customers' questions faster, and access valuable business data analytics that will lift your organization to the next level.
The best VoIP phone service in Canada is within your reach, and even better, it comes as part of a comprehensive UCaaS solution. Try it now for free!

Not just a VoIP phone system
Need a unified communications platform that can help you streamline all your channels (and monthly subscription fees) into one easy solution? Try Dialpad for free and see how easy it is to get set up! Or, take an interactive tour of the app!
Are VoIP services better than landlines?
Yes! Traditional landline-based solutions and PBX phone systems are generally more expensive than VoIP, offer less flexibility and security, and don't include as many innovative features to help your business.
Implementing a VoIP-based phone system means that there's no need for physical phone lines or costly hardware, and your team members can use their own devices if you choose.
Other cost savings with VoIP include cheaper (and free!) calls, as calls are placed over the internet just using connected devices, a DSL connection, and a router. Bear in mind that you'll need a good internet service for a VoIP system to work as intended, and it's useful to run an internet speed test to check that your connection is fast enough.
If your business collaborates with global companies, you'll experience much lower communications costs with VoIP. Dialpad, for example, offers free VoIP calling throughout Canada and the US on even the most basic plan.
VoIP services are much more scalable than landlines, and it's simple to add and remove users in-house when your business scales up or down. With Dialpad's subscription-based pricing, for instance, you can easily add new team members or remove them with a few clicks from your online dashboard.

How much does a VoIP phone cost in Canada?
What should I consider when choosing a VoIP phone provider in Canada?