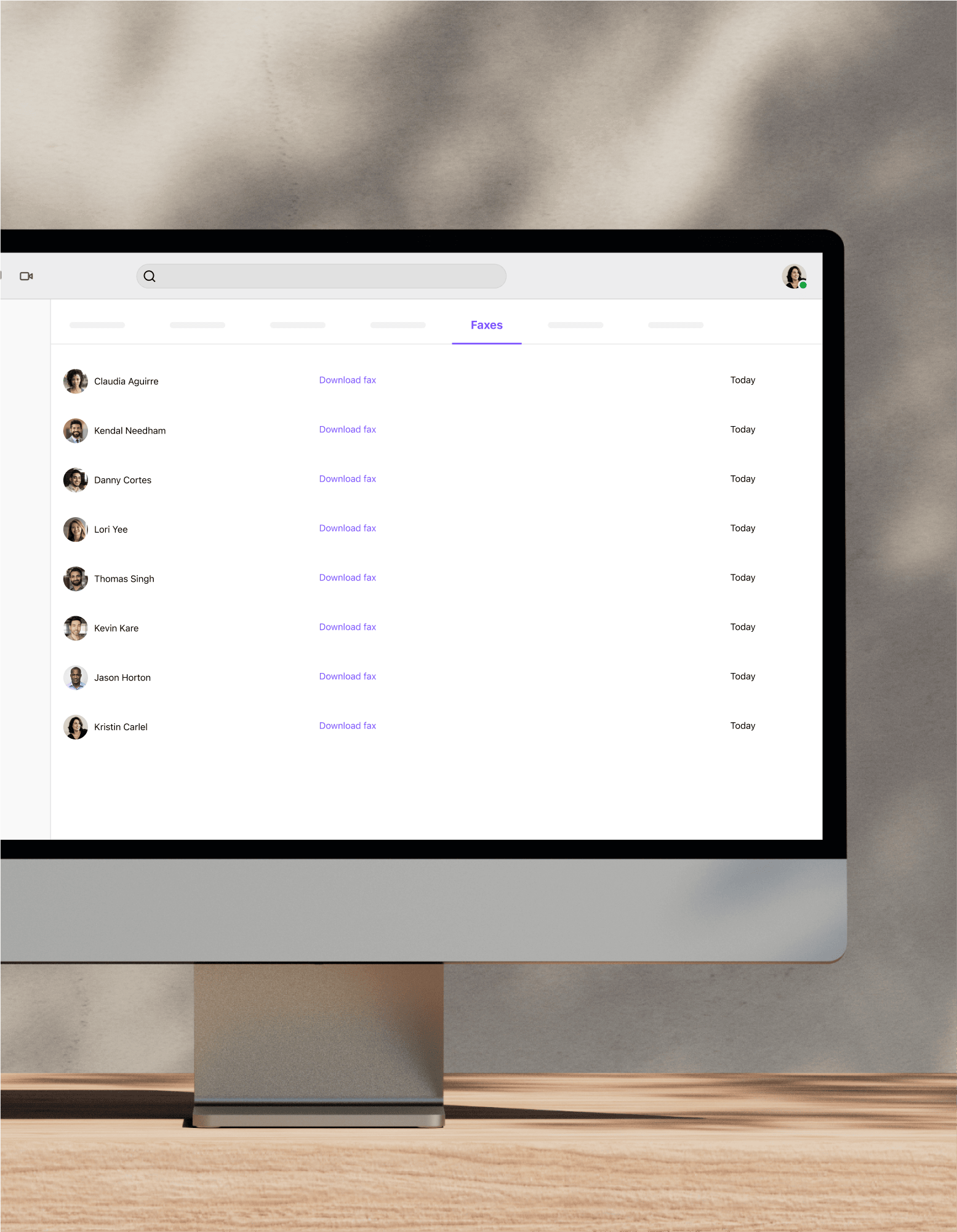 Online fax in Canada
With an online fax solution, you can send and receive documents without a clunky fax machine. It's designed for modern business needs, and if you're running a business in healthcare or law in Canada, you might need an online fax platform. Learn how to get started with online faxing or try Dialpad's unified communications platform, which comes with online faxing, for free!

Sign up for a free 14-day trial!
What is online faxing?
Online faxing is sometimes also called fax over IP or internet fax. It describes the process of faxing documents to others using the internet. Unlike traditional faxing, you don't use any hardware except the device that's accessing your online fax account.
In other words, online faxing eliminates the need to own a physical fax machine. You can use online faxing to send documents to anyone in the world. It's a service that's fully compatible with international fax (though you can just as easily fax to local Canadian addresses).
Since online fax isn't hardware-dependent, you can basically fax from any device by using a desktop or mobile app to send faxes from your cell phone, tablet, or a desktop computer in the office.

Not your typical online fax service
Looking for the best online fax services in Canada? With a unified communications platform like Dialpad, you can fax and do a lot more:


All your communication channels in one place
With Dialpad, you can not only send online faxes, but also make phone calls, have video meetings, send instant + SMS/MMS messages, and more—all from the desktop or mobile app.

Cloud storage
Not a lot of fax services in Canada will let you store as many PDF files as you need. With Dialpad, you get unlimited call recordings and can store your faxes in cloud storage.
Easy setup
Dialpad is quick and easy to set up. You don't need to install hardware, because everything is cloud-based, and what's even better is that it's fully compatible with PC, Mac, Android, and iOS devices. Add a fax line with just a few clicks—no landlines needed.
Integrations with your favourite tools
Incorporate your favourite tools into your communications hub. Dialpad integrates with a wide range of business apps like Google Workspace, Microsoft 365, Zendesk, Salesforce, and more.

Robust security and compliance
Dialpad has a wide range of security features, from in-meeting security controls to compliance with GDPR and HIPAA. It's a key reason why we have customers in a range of regulated industries like healthcare, law, and education.
Try Dialpad's unified communications platform for free
Sign up for a free 14-day trial of Dialpad—it takes just a few minutes and you'll be set up with a virtual phone number too. Or, get a personal walkthrough of the product!
How Dialpad's fax service works in Canada (and around the world)
Next, let's have a quick look at how Dialpad's fax service works.
Sending and receiving
Managing your incoming and outgoing faxes is simple. Since they're all processed via virtual fax, you can send or receive faxes online from, say, your computer. Just choose your recipient and select the file if you're sending, or click on your notification when you receive an incoming fax:


Adding and removing fax numbers
You can easily add or remove fax numbers from your Dialpad account. Removing them is as simple as clicking on the number and selecting "remove", while adding them only takes about three clicks from the Admin Settings area of your portal.
Looking for an efficient online faxing service in Canada?
Say goodbye to sending important documents as email attachments and bulky fax machines.

Whether you're looking for a fax to email service in Canada, a highly modern fax over IP service for global communications, Dialpad has you covered.
Between our flexible pricing plans and the wide variety of business communications features, Dialpad gives you a robust platform beyond just an online faxing service. Try it out with a 14-day free trial!
Do I need an external fax machine?
No, you'll never need a physical fax machine when you use Dialpad. You can start sending faxes using just the internet and your computer without needing to set up any hardware.

Which lines can I fax documents from?
Can I port in an existing fax number?