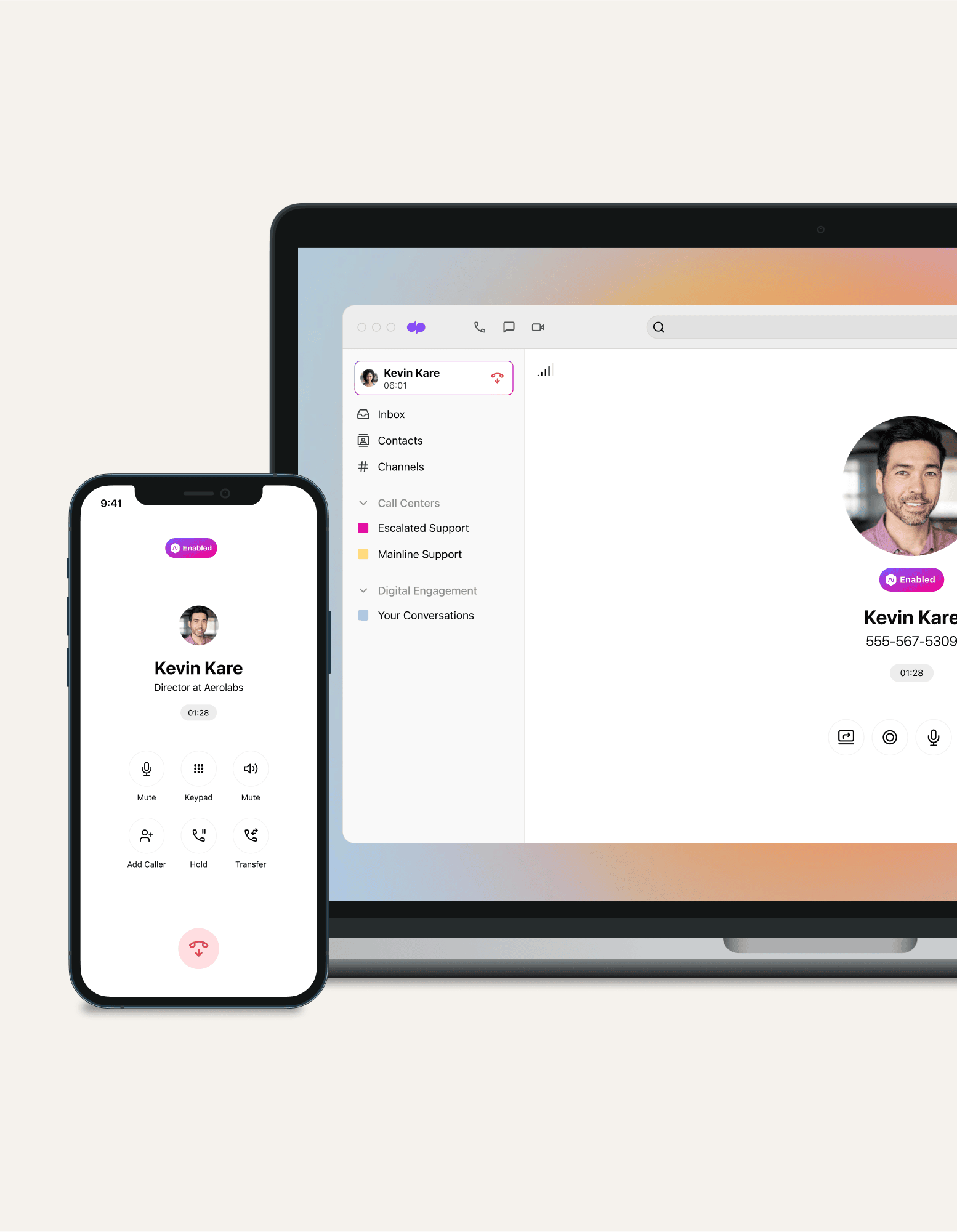 A primer
What is VoIP?
What should businesses look for in VoIP providers? What "fine print" should you pay attention to? Get the answers below. Or, if you're looking for a VoIP solution, why not sign up for a free trial of Dialpad to see it in action? It takes just a few minutes, and you'll be set up with a virtual phone number too.
Sign up for a free 14-day trial!
What is VoIP?
VoIP stands for Voice over Internet Protocol (sometimes referred to as "Internet telephony," "Voice over IP," or "IP telephony"). Enterprise VoIP technology allows voice signals to be transmitted over the Internet rather than how traditional telephone systems did it, through landlines.
Instead of working off the Public Switched Telephone Network (PSTN) and using landlines, all VoIP requires is a broadband connection. You know how when phone lines go down, an entire city or state might experience an outage? That doesn't happen with VoIP.
And instead of being limited to a physical deskphone (which was the case with old-school "Private Branch Exchange" or PBX phone systems), you'll be able to make calls from any Internet-enabled device including smartphones, computers, headsets, and modern Internet-enabled desk phones.
VoIP phone numbers work like traditional phone numbers too, except they're usually much easier to acquire and set up since everything is done over the Internet.
How does VoIP work?
It's pretty simple. You usually sign up for a monthly or annual plan with a VoIP provider, who will also give you a virtual phone number. Using this number (and provided you have sufficient bandwidth), you'll be able to make phone calls and even send SMS/MMS text messages from an Internet-enabled device.
With Dialpad as your VoIP phone system, for example, you can do this directly via the Dialpad app or a web browser. (No downloads needed!)


A little on the behind-the-scenes stuff: While the actual experience of making a phone call doesn't change much, VoIP technology is very different from analog phone technology. Traditional or regular phone networks use copper wires to transport voice signals over the PSTN. But with VoIP, there's not a single wire in sight.
VoIP technology converts analog voice signals into teeny-tiny digital data packets. These packets are then transmitted using real-time protocol (RTP) over the Internet via a local area network (LAN) or wide area network (WAN). Signals reach the recipient and are decoded in real-time. With a super-fast Wi-Fi or Ethernet connection, you can have crisp and clear Internet calls around the world.

👉 Fun fact:
Dialpad's unique dual cloud architecture and global voice network are designed to give you excellent call quality, from almost anywhere in the world.
Here's a quick rundown of the process:
In your Local Area Network, your phone connects to your switch or router (LAN).

Your IP phone instructs your phone service provider to call the other party when you dial a phone number.

Calls are established and data packets are exchanged between your IP phone and your VoIP service.

Those digital signals are converted back into audible sound by your VoIP phone.
👀 Thinking of moving your organization to hybrid work?
Grab the Hybrid Work Playbook, which includes real-life case studies and breaks down all things hybrid + remote, from building and sustaining a hybrid workforce to equipping your team for success.

What equipment do you need to make VoIP calls?
You can start making VoIP calls from any Internet-enabled device connected to a network. But if you don't want to make calls just from your smartphone or laptop, there are other options.
VoIP phone system
First of all, you'll need a VoIP phone system or cloud phone system. A traditional, fully on-premises telephone system won't work—this is a specific type of business phone system that lets you make voice calls over the Internet. There are many providers out there, Dialpad being one of them!
The main things to look for here are how easy the system is to use and admin. For example, if you're hiring and need to set up new employees, can you do that yourself, or do you need to contact the customer support team and wait hours (or days) for them to make those changes?
With Dialpad, you can do that yourself in minutes, right from your online dashboard:


👉 A quick note:
Even though we're talking about "VoIP phone systems" here, today many of these communications platforms have evolved into "UCaaS" (Unified Communications as a Service) platforms. What that means is that beyond just phone calls, these solutions give you other communication channels too, like video conferencing, instant messaging, and more. Dialpad, for example, is a UCaaS platform. Almost all of them have a VoIP phone system built in (which is how they let you make phone calls)—but if your business does use those other channels on a daily basis, it's generally cheaper (and makes life easier on your employees) to use a UCaaS platform as opposed to just a phone system.
Computers, mobile phones, and other network-ready devices
The most common way that people use VoIP is on their mobile, network-ready devices like laptops, tablets, and cell phones. It's easy to make VoIP calls from a personal mobile device—all you have to do is download your vendor's softphone app and away you go. You'll be able to make and take calls from just about anywhere.
The Dialpad desktop and mobile app works across iOS, Android, Windows, PC, and web browsers—check out the nifty Chrome extension, which lets you click-to-call directly from any contact card in Gmail using Dialpad.
VoIP phones / IP phones
Not every business wants to, or can, do away with physical desk phones completely. Luckily, with VoIP, you can still use office phones alongside your computers and mobile devices.
VoIP phones and IP phones are physical office phones that are compatible with your VoIP phone system—they work the usual way and have all the regular desk phone functionality, and let you make voice calls over your office network via a Wi-Fi connection or ethernet cable.
Features to look for in a VoIP phone system
VoIP providers like Dialpad offer additional features that will help you manage both your inbound and outbound calling capabilities.
Call forwarding
Most businesses like the idea of never missing an incoming call again. So, call forwarding is one of the most important features that a good business phone system should have.
The good news: Most of them do have it.
The not-so-good news: They're not always easy to use.
Like making changes to your user accounts and managing phone numbers, sometimes VoIP providers can make it pretty time-consuming or difficult (or both) to do simple things like adding a call forwarding number.
So, always check out how the feature works when you're getting demos or trying free trials.
With Dialpad, for example, you can add up to five call forwarding numbers—right from your online dashboard, in minutes:


Call routing
This is another feature that most business VoIP solutions have—but isn't always designed well.
Similar to call forwarding, one of the most important things to look for here is how easy it is to change your call routing options. Again, using Dialpad as an example, you or your team's admin should be able to easily change those IVR menu options yourself without having to reach out to your telephone service provider's support team. Here's how it looks in Dialpad, for instance:

Having intuitive, easy-to-use call routing is essential because if your callers can route themselves to the right person or department without your team getting involved, your employees can focus their time on other (more valuable) tasks.
Customizable caller ID
If you and your employees want to be able to work from home (or from anywhere, really)—and don't want to carry around two phones—then this is another useful feature to have.
For example, if you're making a voice call or sending a text from the Dialpad app, you can choose which number and name to display on caller ID: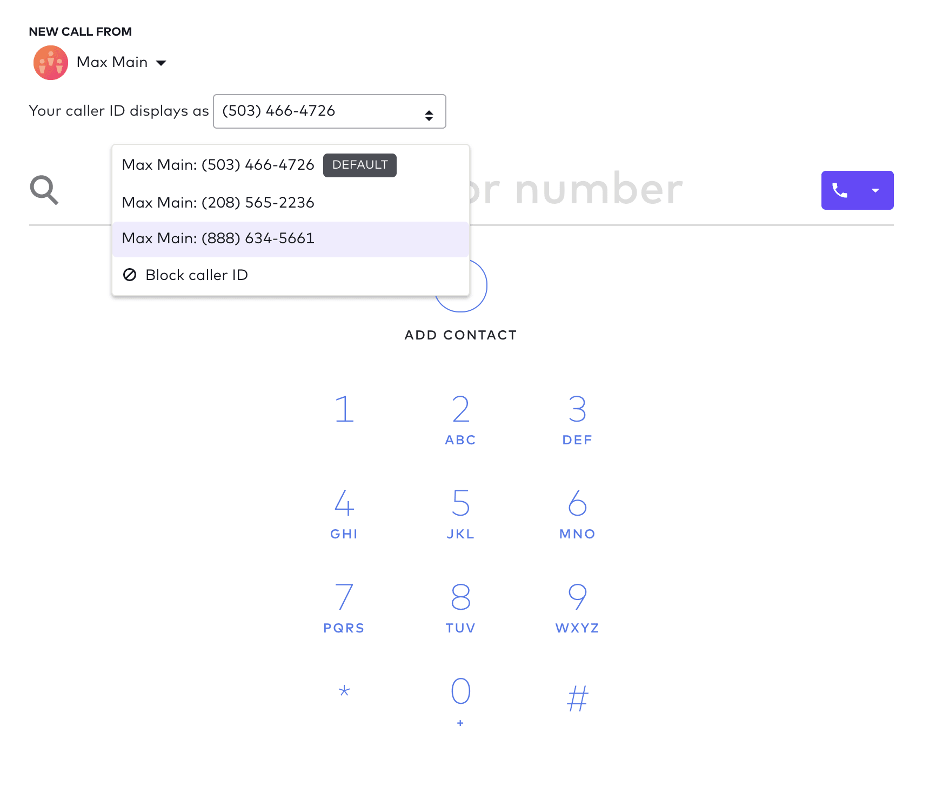 A desktop and mobile app
This is a must-have. Any VoIP or UCaaS provider should have a well-designed desktop or mobile app. You need that to be able to make phone calls and send messages while you're on the go.
Built-in AI
Okay. This one is not a must-have like some of the other items on this list, but it can be very useful for certain businesses and organizations. For example, if you have a lot of customer calls or just a contact centre team, it might be useful to have transcriptions of your phone calls for training purposes (or just for your own records).
Or, your contact centre agents might find it helpful to have notes that pop up in real time when customers ask tricky questions. AI can help with both of these things.
Dialpad Ai, for instance, can transcribe calls and even voicemail messages—in real time (more accurately than almost all competitors out there!):

Not only that, it can pop up RTA (Real-time Assist) cards for agents with those tailored notes that we mentioned above, live as customers are asking those tricky questions!
Again, not every business may need this, but for many teams, the conversations they're having every day are actually a gold mine of insights and learnings. AI can be useful in helping you gather and use those insights.
Truly unified communications
We mentioned this briefly above, but today, good VoIP phone systems don't just do phone calls—they should be able to have a wider range of functionality.
The thing is, when you consolidate video conferencing, voice calls, conference calls, and instant messaging into a unified communications platform, there are two big benefits.
One: It's cheaper and the billing is easier to manage because you're paying for one tool on a monthly or annual basis, not five or ten.
Two: It's easier for your team of employees to manage and learn how to use one tool as opposed to having a huge tech stack (that doesn't always integrate well together). It can save you a lot of time—and time is money, right?

More than a VoIP phone system
With Dialpad, you don't just get a business phone system. You get a robust communications platform that lets you work from anywhere. Have video meetings, send instant messages, send texts, and more—all from the intuitive desktop and mobile app. Sign up for a free 14-day trial to try it out! It takes just a few minutes. Or, take a self-guided interactive tour of the app!
The benefits of switching from on-prem to VoIP
From small businesses to global organizations, more and more companies are making the move to VoIP telephony. If any of these benefits speak to you, then it might be time for your organization to consider it too.
It's almost always cheaper
One reason that so many businesses choose to switch to VoIP is pricing. VoIP is extremely cost-effective because for one, you won't need to install or maintain any internal hardware. That's a lot of money that you don't have to spend on expensive equipment and professional service support.
Traditionally, many organizations using old-school business phone systems or on-premises alternatives end up having to hire dedicated IT staff to manage the complex infrastructure and ensure uptime.
When you switch to hosted VoIP, you hand over all those hardware and maintenance costs to your service provider. In exchange, you'll only be required to pay the monthly or annual subscription fee.
And with VoIP, all internal communications can take place over the Internet, which means your employees can work from anywhere. Many businesses find that they can reduce (or even eradicate completely) their physical premises, reducing even more expenses in the process.

Compared to traditional phone systems, VoIP and UCaaS platforms are easier to install and configure
Installation processes for traditional phone systems can be lengthy and technical. But with some VoIP services, getting set up is quick and easy. Whether you need to add new users or phone lines, it can all be done in minutes.
All you need is a high-speed Internet connection or Ethernet. Your VoIP service provider should handle the rest.
(See how LeadSigma got set up on their new phone system in the span of a coffee break.)
Should you consider VoIP for your business? 3 quick questions to ask
Thinking about switching to a VoIP or unified communications platform for your business, but still not sure? Here are some key things to consider.

1. Is the ISDN switch-off occurring in your country?
Gradually, more and more telecom and phone companies around the world are transitioning towards an ISDN switch-off. This essentially means that traditional telecommunications networks are all being replaced with IP networks.
If you live or work in an area going through an ISDN switch-off, then you'll want to start setting up your VoIP infrastructure as soon as possible. That way you can get up and running with your new telephony system without causing any unnecessary delays or disruption to business.
2. Do you have staff who work (or want to work) from home?
More and more employees are looking for flexible and hybrid working options. If you've already got some staff working from home, or plan to introduce flexible-working in the near future, then you'll need a communications system that supports this kind of working environment.
VoIP technology lets you do exactly this. All your employees need is Internet access from a good Internet service provider.

📚 Further reading:
See how TED (yes, the organization behind TED-talks) switched from an on-premises PBX phone system to a cloud-based platform that empowers its employees to work from anywhere.
3. Is your current analog system meeting your needs?
And finally, the last important question. After all, it's possible that an analog system is still working fine and not causing any issue—in which case you may not need to switch to VoIP yet. But even if that's the case, you should still think ahead and plan for the near future. If you plan to expand the business or hire in other areas in the next few years, a VoIP phone system is probably going to be a more flexible (and cost-effective) option.
Just something to think about.
6 tips for choosing the best VoIP provider or UCaaS platform for your business
Okay, you've decided that you want to move to a VoIP or UCaaS solution (or even just switch VoIP providers). Here are some things to keep in mind as you're shopping.
1. Will you need professional services?
Many small and even mid-sized businesses may not need this, but if you have a very complicated telephone system right now, or if you're a large enterprise, then you might want to check if your potential service provider offers affordable professional services.
Dialpad customers, for example, have access to a professional services team to help throughout the implementation with everything including tailored plans, network evaluations, customized training, design and configuration guidance, and go-live support.
2. Total cost of ownership
This is a big one. Not all VoIP plans are good value for money. There are many cheap and even "free" plans—and we put free in quotation marks because when a plan is free, it almost always charges you for every little thing as an add-on. Bottom line: Make sure to check the fine print and that there are no hidden costs before choosing a VoIP provider.
(Again, Dialpad's least expensive plan includes unlimited calling in Canada and the US—in addition to all your fundamental phone system features like call forwarding, voicemail, call routing, and more. All at just $20 per user per month.)
3. Choose a plan that matches your calling patterns
Make sure the plan you pick matches your business' calling patterns. For example, if you make a lot of long-distance or international calls, you'll want a plan with good international calling rates. If you don't make a lot of phone calls regularly and would rather be on a pay-per-minute VoIP plan, then hey, Dialpad might actually not be the best option for you because we don't have that—our plans all feature unlimited calling.
4. What is their customer support like?
This is very important to remember—not every VoIP provider has customer support. Many only offer support for an additional fee, and many also offer US-only support.
So, again, check the fine print and make sure that your provider includes customer support for free. (In our opinion, this is how it should be.)
As an example, Dialpad offers 24/5 web and chat support worldwide on the most basic Standard plan, and if you go one level up to the Pro plan, that opens up 24/7 and phone support. And no matter which plan you're on, you'll always have access to the thorough and detailed online Help Centre.
5. Proven uptime reliability
Make sure that your service provider can guarantee an acceptable amount of uptime. Remember, maintenance and service quality is their responsibility, so they should hold themselves accountable. As an example, Dialpad guarantees 100% uptime for Enterprise customers.
6. Are other businesses or organizations using them?
Look for a VoIP vendor that is tried and tested by other reputable companies in your industry. A good vendor should have case studies or customer stories online. And if you're in a regulated industry like healthcare, law, or insurance, then don't skip this step because if there aren't any other businesses in your industry using that VoIP provider successfully, then unfortunately it doesn't bode well for you either.

Looking for a business VoIP provider?
From telephone calls to video conferencing to instant messaging and more, Dialpad lets you consolidate all your communication channels into one intuitive desktop and mobile app. Try it with a free 14-day trial! Signup takes just a few minutes (even faster with your Google or Microsoft 365 account) and you'll be set up with a virtual business number too.