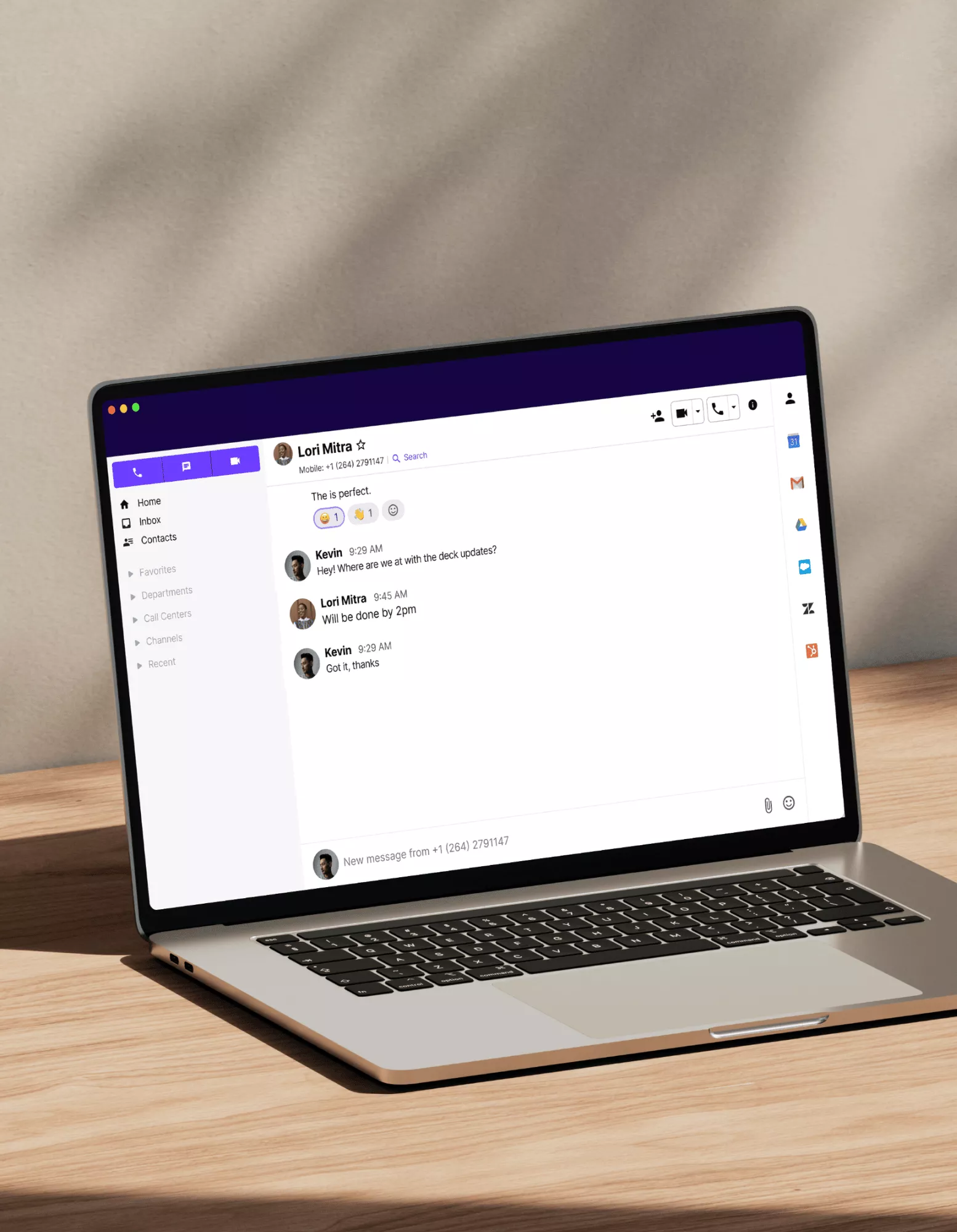 VoIP SMS for Canadian businesses
Looking for a VoIP-based business phone system that lets you set up SMS messaging in Canada too? Why not give Dialpad's unified communications platform a try? Just download the Dialpad app (or use your web browser!), sign up for a plan, and start sending and receiving SMS + MMS messages and team messages, making phone calls, and having video meetings over an internet connection. Try it for free!

Sign up for a free 14-day trial!
What is VoIP texting?
VoIP stands for Voice over Internet Protocol, a technology that lets you receive incoming calls and take outgoing calls over the internet. But today, SMS messaging can happen online through VoIP technology too.
How does VoIP SMS work?
Just like with VoIP phone calls, VoIP SMS messages are sent over the internet. To the recipient, there's absolutely no noticeable difference compared to normal SMS texting from a cell phone. The big benefit here is for the sender—you now have the flexibility to send SMS texts from any internet-capable device, like your computer, tablet, and yes, your cell phone too.
Dialpad: More than just business texting
Dialpad's cloud unified communication platform doesn't just come with business text messaging. It also gives you...


Easy SMS/MMS from any device
A good VoIP business phone service lets you send SMS and MMS messages over the internet. A great one, like Dialpad, makes it easy to do this on your desktop or mobile app, across Android, iOS, PC, and Mac. You can even log into Dialpad on a web browser and send SMS/MMS messages without having to download any apps!

Set up in minutes
It's really easy to get set up with Dialpad. In minutes, you can download the app to your chosen device or log in on a web browser, and start sending and receiving SMS messages. That's it! You can also add new phone numbers, create ring groups, and set your business hours, right from Dialpad's online dashboard.

Keep your phone number
Dialpad lets you keep your existing business phone number when you're moving away from your existing phone or VoIP service. To port your personal or business number over from your current service provider, just submit the request from your online dashboard and our team will help you get it done with minimum interruption in service. (Your current provider does have to cooperate with releasing those phone numbers, but that's the only potential holdup.)

Choose your caller ID
You can also choose which caller ID to display when you're making phone calls or sending SMS messages from your personal mobile phone, which helps you protect your personal phone number. Just choose which caller ID you want to show in the drop-down menu from your keypad screen. (This is especially useful for small business owners who may want to send business messages from home or on the road.)

Integrations with your favourite tools
Dialpad offers seamless integrations with most popular business software and tools. Whether it's Google Workspace or Microsoft 365, Zendesk or Salesforce, you'll find an automation with other software your business is already using. Want to build your own custom integration? You can do that too with Dialpad's APIs.


Built-in AI
Dialpad Ai helps to streamline day-to-day business tasks in real-time. From transcribing your calls and meetings in real time, to the automation that emails attendees a post-meeting recap, to helping contact centre agents understand what customers are calling about the most, Dialpad's built-in AI technology is designed to help both office workers and customer-facing teams be more productive.
Get more than just VoIP SMS with Dialpad
With plans starting at just $20 per user per month, even the least expensive plan gives you unlimited calling in Canada and the US. (Not to mention all the other advanced phone functionality.) Try it for free or, take a self-guided tour to play with Dialpad on your own first!
Advantages of Dialpad's VoIP texting vs traditional phone-to-phone SMS
Using Dialpad's VoIP SMS service for your business in Canada has some clear advantages over the traditional phone-to-phone SMS way.
It lets you send text messages from devices other than your cell phone
The Dialpad app makes it easy for you to send text messages and also team messages to large groups of recipients, from your computer, tablet, or cell phone.
Whether it's inviting your employees to the annual Christmas party in Toronto or arranging the next board meeting in the office, using Dialpad means you won't have to call or message everyone individually. Just send a team message in one of your messaging threads, or text your coworkers from the desktop or mobile app.

It gives you access to other communication channels too
With Dialpad, you don't just get VoIP texting. You can also make a phone call, send a team message to a group chat, and even have video meetings, all from the same app where you send SMS messages from.

There are also other unique features designed to make sales and support teams' lives easier and improve the customer experience. There's a power dialer that helps automate outbound calls for high-volume sales teams, a call routing and auto-attendant feature, intuitive call centre IVR, and more—all built to help your business streamline everyday workflows.

It's cost-effective
One of the best things about Dialpad's unified communications platform (which essentially has a built-in business VoIP service) is how budget-friendly it is. The Standard plan is only $20 a month when paid annually, while the Pro plan is $30 a month. Even the least expensive plan comes with unlimited calling in Canada and the US, along with real-time transcription, unlimited call recordings, multi-level auto attendant, and more.
Compared to traditional phone line and SMS service rate costs, this is much more cost-effective. (Most VoIP services charge similarly, but make sure to check the fine print. Some VoIP providers still charge by the text like traditional telecom companies.)
Get started with VoIP SMS in Canada!
Is it time to think bigger than a business phone system or a virtual phone number?
If your Canadian business needs to not just make phone calls, but also send SMS/MMS messages in a cost-effective way, with a robust and versatile communications platform, why not check out Dialpad? It's not just the best VoIP provider that's easy to set up and use, it can also help you consolidate all your communications apps and tools into a single platform. Try it now!

"
Dialpad's texting feature is really good. And it's important because I've got clients coming in who don't even use email because it's not relevant—but they text all the time. So texting is critical, along with voice, because that's how people communicate.
"
Wade Coye
Owner and Attorney, Coye Law Firm
Need to send texts and instant messages in Canada?
With Dialpad, you can send SMS + MMS messages and instant messages, all from the same app. Sign up for a 14-day free trial with your Google or Microsoft 365 account, and you'll be set up with a phone number in just a few minutes. Or, take a self-guided interactive tour of the app first!