Back to Blog
How to port your phone number in Canada in 9 easy steps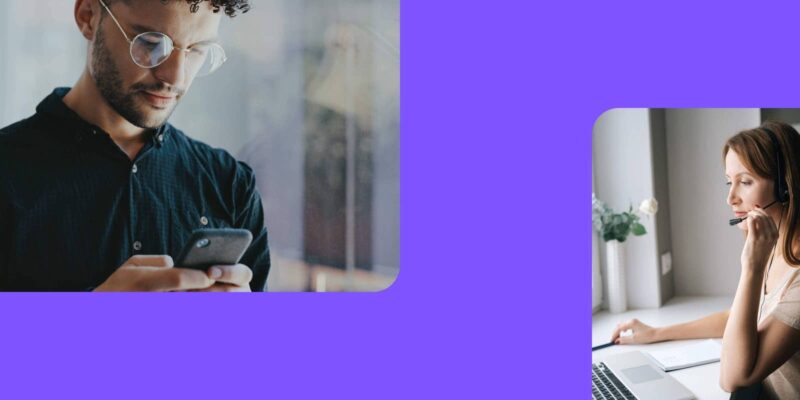 Wondering how to port a phone number in Canada? In this guide, we'll walk you through how to do it in nine easy steps and learn the ins and outs of number porting along the way.
As a business, your phone number is an important part of your brand—especially if you've chosen a memorable toll-free or vanity number. But what if you decide to change your service provider? How can you keep the phone number that your customers recognize?
What does it mean to port a number?
Porting a number simply means to transfer a phone number from one service provider to another. You might do this because you've found a better deal with a different provider, or because you're switching over to a VoIP phone system.
Porting enables your business to hold onto its existing phone number(s) after the switch, which makes life easier for everyone. You won't have the hassle of informing all your contacts that you've got a new phone number, and you won't have to amend your marketing material, website, and signage to reflect the change.
It's possible to port business landlines, mobile numbers, virtual phone numbers, or toll-free numbers in just a few steps—and if your new service provider is worth their salt, they'll make the transition so smooth that you'll experience no disruption whatsoever.
Local porting vs. toll-free porting
Most service providers will let you port both local and toll-free phone numbers, but there are some differences in how the process works.
It's usually faster to deal with local numbers. For example, when you sign up with Dialpad, requests for local ports can take as little as three to five business days to complete. Company admins can initiate a port of their local number straight from the Dialpad portal.
Toll-free ports take a little longer; between five and 10 business days with Dialpad. That's because you need to fill out a Letter of Authorisation (LOA) and submit it to your new carrier to initiate the request.
As part of the approval process, the NANP (North American Numbering Plan) regulator will transfer control of the number to the new telecom provider or its RespOrg (a company that maintains the registration of toll-free numbers).
In both cases, your number will continue to work during the number porting process (as long as you don't try to cancel it with your old provider—canceled numbers cannot be ported).
Types of phone numbers that can be ported
Technically, most phone numbers can be ported. Your existing service provider can't prevent you from doing a number transfer. It's your right, guaranteed in the Canadian Wireless Code of Conduct posted by the Canadian Radio-television and Telecommunications (CRTC).
This applies even if you're currently in a contract, although your provider may still charge you early cancellation fees or collect any debt you might owe. Always check your contract before porting your number.
Landline numbers
A concept called Local Number Portability (LNP) enables you to move your landline from one phone provider to another within the same local service area. This is usually a free service, as long as you're at the end of your contract.
If you only want to transfer a single landline number, this is called category A porting. Multiple porting of landlines, extensions, and local numbers is called a category C port (complex porting). If you're dealing with a home phone, you'd need category A, but most businesses will require category C.
Mobile numbers
Porting mobile numbers is usually somewhat faster than porting landlines, and is typically free. You might see it called MNP (Mobile Number Portability) in other countries, but in Canada, it's called Wireless Number Portability (WNP).
If your business only uses mobile phones, just advise your new carrier that you wish to keep your existing cell number when you sign up for a new cell phone plan. You'll get a new SIM card, so make sure you backup any contacts, text messages, or voicemails that were stored on your old SIM.
Prepaid numbers
Porting a prepaid number works in just the same way as porting a regular landline number. You'll definitely want to keep numbers that you've paid for already, especially when you chose them to be recognizable and memorable—such as vanity numbers containing the name of your business.
How to port a phone number in 9 easy steps
Now you know a little more about number porting, it's about time I showed you how to transfer a phone number. Don't worry—with Dialpad, it's easier than you think!
1. Find a good service provider
There are a lot of phone service providers out there, so make sure you choose one that offers reliable call quality, plenty of advanced features, top-notch security, and great customer service—all at the right price.
Many businesses are going with VoIP (Voice over Internet Protocol) providers, which will give you cheaper calls as well as the benefits of a cloud-based system with unified communications. For example, Dialpad is a UCaaS (Unified Communications as a Service) platform that lets you not only make phone calls, but also have video meetings and send SMS/MMS + instant messages—all from the beautiful desktop and mobile app:


Not only that, it also comes with your business phone system must-haves, like call routing and call forwarding. With Dialpad, you can choose up to five alternative numbers­—including cell phones—and have your calls diverted when you can't pick up:
2. Collect your essential account information
The process of porting will be undertaken by your new provider, rather than the current one. They'll need to carry out some checks first, such as customer authorisation (CA) and an identity check to make sure you are the rights-of-use holder.
Required details typically include your full name, the associated service address, account number and PIN (for mobiles), and the list of the numbers you want to port. You might also need to submit a copy of your bill from your current provider.

👉 Dialpad tip:
It's a good idea to request a Customer Service Record (CSR) from your current carrier, as this should include all the relevant information.
3. Sign up for your new plan
Once you've gathered all the information ready for your new provider, you can sign up for your new plan. This is usually pretty simple—with Dialpad, for instance, you can sign up on the website and enter your details to set up an account. If you want more information first, or you'd rather deal with a human, you can get in touch with the sales team to start the ball rolling.
Remember not to cancel your old number just yet—until the port is complete, your phone service is still handled by your existing service provider.
4. Confirm your port request and start the transfer process
In order for porting to take place, you need to make a transfer request. As I discussed earlier in the post, you can usually do this online for local numbers, but you'll need a letter of authorization to port a toll-free number.
The new provider will forward the request to your old carrier, who must either accept or reject it within two business days and issue a port number request validation. Your new carrier will inform you if there are any problems or delays in the process.
5. Batch numbers
Your business may have multiple office locations, each with its own number—or you might be using different extensions for every department or member or staff. In which case, you'll need to transfer all of them over to the new carrier.
It wouldn't make sense to submit a separate port request for each individual one, so Dialpad allows admins to "batch" up to 5,000 local numbers. Just type or paste them into the required form and separate them by commas.
6. Enter your account information and number assignment
Using Dialpad as an example, the system will show you a drop-down menu for you to enter your account information for each number you want to port. You'll then be able to assign each number to an individual team member or a shared line, such as a department.
7. Select day and time
Although the porting process shouldn't cause your business any real disruption, you might still have a preferred day or time when you'd like the transfer to happen.
In Dialpad, admins can select a suitable slot, and Dialpad will endeavour to honour it. However, because the port has to be confirmed by the previous carrier, the completion date can't be guaranteed. Remember that ports cannot be scheduled for holidays.
8. Check the port status
As we mentioned earlier, porting doesn't take place instantly, but your new provider should keep you up to date with its status.
In Dialpad, once you've successfully submitted your port, you'll see a green success bar under "Completed Ports". If there is a problem with the request, Dialpad will alert your admins via email, and will also display a red banner within your Porting screen, showing you the steps required to correct the issue.
9. Make sure everything is wrapped up with your old provider
In most cases, the process of porting your telephone number will automatically cancel your existing service, and your new carrier will let you know when the port is complete.
However, it's still good practice to contact your old phone provider just to confirm that everything has been handled at their end. That way, you can take care of any remaining fees or other loose ends.
Port your phone number in Canada now with Dialpad
Now, you should have a pretty good idea of how to port your phone number in Canada. If you have any more questions, there's an FAQ section below with more information. You could also get in touch with our team, and we can tell you more about our porting process and how to port over your phone numbers to Dialpad for free.
Not only is it easy to sign up and port your number to Dialpad, but you also get a fully unified communications platform with advanced features. Alongside VoIP voice calls, video conferencing, business SMS, team messaging, and an integrated contact centre, Dialpad gives you AI-powered features such as intelligent routing, visual voicemail, and real-time transcription too. Try it for free!

Get a personal walkthrough of how Dialpad works
Book a demo with an expert from our team, or take a self-guided interactive tour of the app on your own!
Porting phone number FAQs
Can I port in a Google Voice number?
Yes, you can. However, there are a few things to be aware of with this process.
Before requesting a port for your Google Voice number, you'll first need to unlock it through your Google account. You may also be asked for the business address of your current provider (in this case, Google Voice). If you want to port a Google Voice number from an organization using Google Workspace (formerly G Suite), you can find instructions via Google Support.

Where can I assign local numbers vs. toll-free numbers?
Can I port in an existing fax number?
Can I port out my fax number?
How much does porting cost?
Can I port a number before getting a Dialpad account?
Should I cancel my current service before making a port request?
Do I have to keep my Dialpad number after my port?