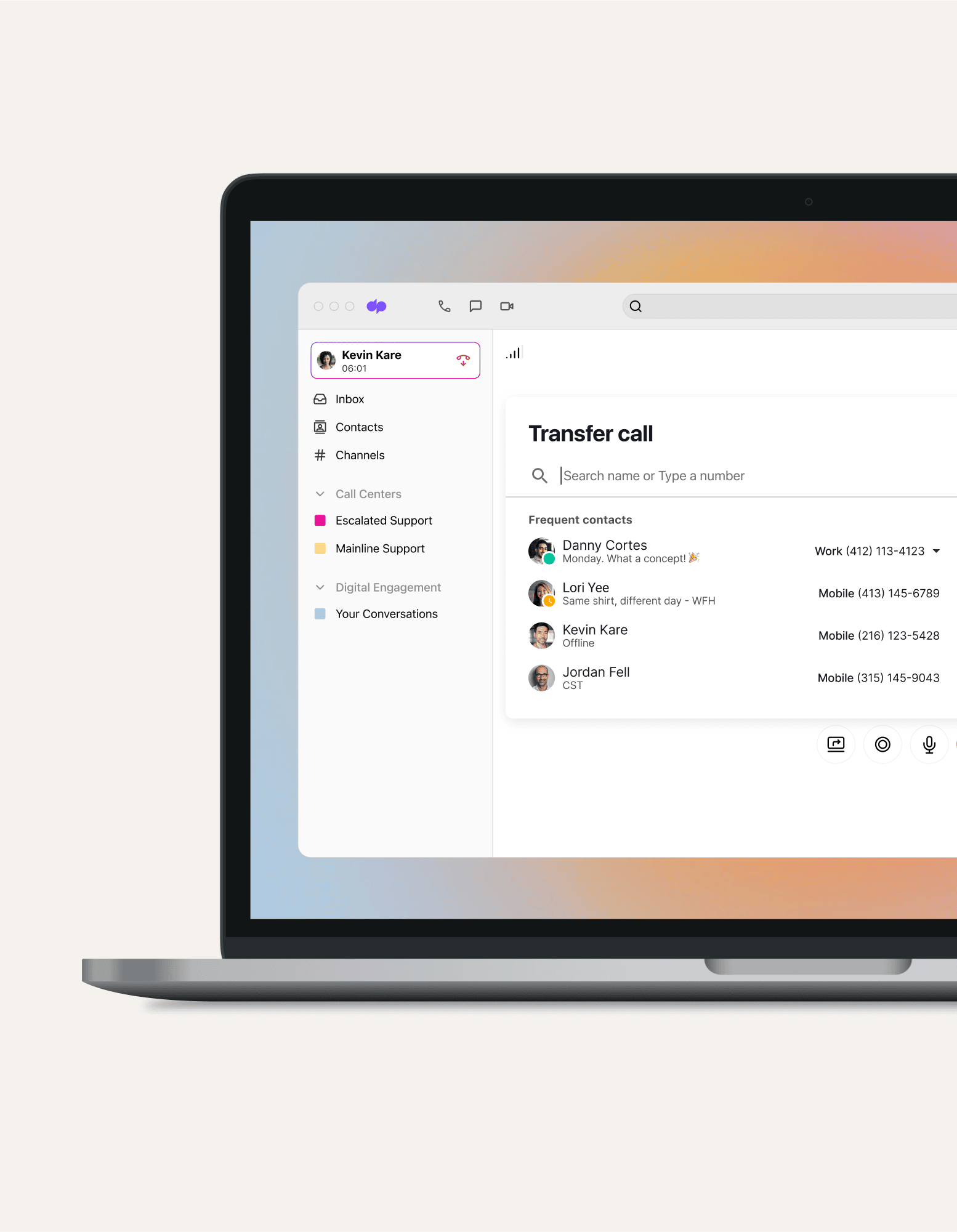 easy to use + scalable
The top business VoIP system
Need a robust and versatile business VoIP solution? If you're still using a traditional PBX phone system + PSTN landlines, it may be time to switch to a unified communications platform that gives you phone calls, team messaging, video meetings, and more—all in one beautiful app. Like Dialpad, for instance. Try it for free with a 14-day free trial!
What is business VoIP?
VoIP, otherwise known as Voice Over IP or Voice over Internet Protocol, is the technology that lets you have voice calls over the Internet—without the need for a traditional phone network.
"Business VoIP" refers to—you guessed it—VoIP being used in the specific context of business and work.
Some folks are experimenting with using VoIP systems at home too, which can be cheaper than having a traditional phone line—but the really impactful benefits and cost-savings become apparent when it's a business using VoIP.
Requiring only a stable internet connection, VoIP essentially converts an analogue signal (like your voice) into a digital signal that's sent over Wi-Fi (or increasingly, a 5G network)—which ultimately means a company can make phone calls with customers, prospects, and teammates all around the world at a much cheaper rate.
Long story short, VoIP is a secure and flexible alternative that's ideal for small businesses and large global organisations—pretty much companies of any size.

👀 Moving your business to remote or hybrid work?
Grab the Hybrid Work Playbook, which includes real-life case studies and breaks down all things hybrid + remote, from building and sustaining a hybrid workforce to equipping your team for success.
4 reasons to go with a business VoIP phone or unified communications solution
Business VoIP phones are becoming an increasingly popular choice for business communications. If you're on the fence about making the switch from a traditional phone system to a business VoIP phone service, here are a few benefits of doing that:
1. Cost savings (both from one-time purchases and recurring expenses)
VoIP and virtual phone services tend to offer cheaper calls than traditional landlines. Rather than paying per minute or paying high charges for international calls, all calls are made using your Internet connection. For example, ClassPass' two-person IT team was tasked with managing offices and setting up new hires around the world with international numbers—see how they did it.

VoIP phone systems are cheaper in other ways, too. You won't need to pay for expensive hardware installations or technical support when things go wrong. Everything is ready-to-use for you and your staff, and with the best providers you'll even get 24/7 customer support.
2. Communications become more accessible—without being less secure
Gone are the days of being tied to your desk by your corded desk phone. With VoIP phone services, you can make calls from your computer, tablet, or mobile phone—while displaying your business number and shielding your personal number. Here's how it looks in Dialpad: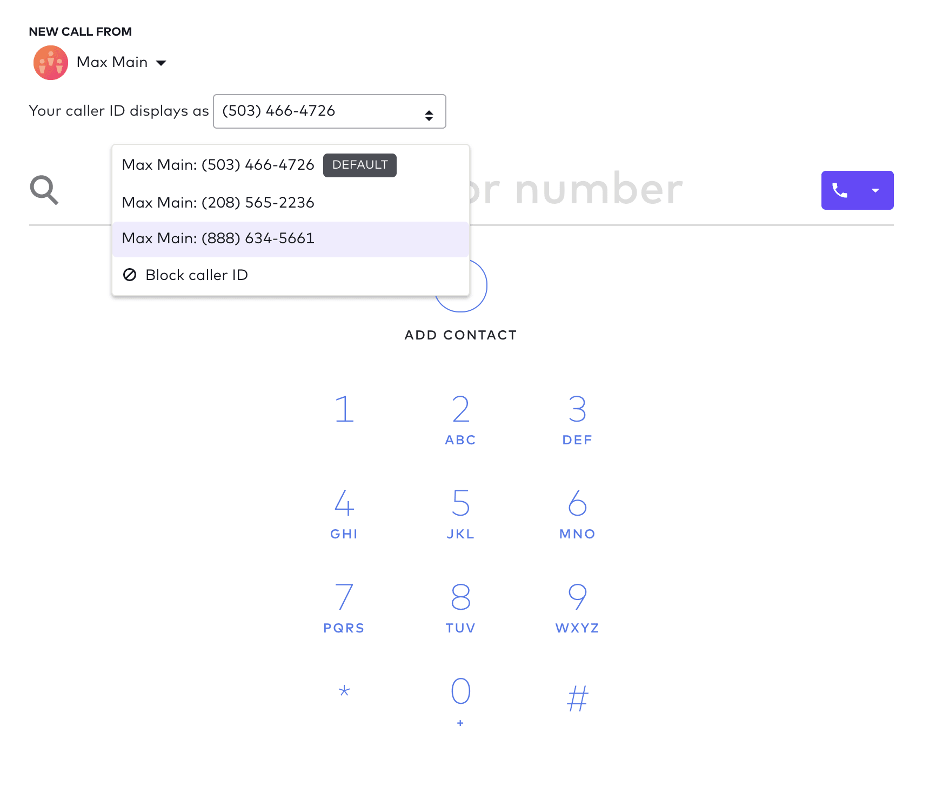 That means whether your remote customer service team is handling queues of calls or your sales reps are on the go, they can work from anywhere.
Switching to VoIP doesn't mean sacrificing quality or security either. All calls made with Dialpad have HD voice quality and call encryption, so you can be confident that calls made by both on-premises or remote employees are always secure.
3. A much easier way to scale, onboard, and train
In the past, scaling your business communications required you to fork over money for buying and installing additional phone lines and phones for your growing staff. And if you had seasonal fluctuations (say, you had to hire a lot more people over the winter holidays, and then had to scale back down after the busy season was over), making those changes was extremely difficult—sometimes, even impossible, because once you add all that server closet space and equipment, how can you rip it back out?
With VoIP, scaling up or down is super easy—need to add or remove contact centre agents or users from Dialpad? Just go to your online dashboard and manage your employees' phone numbers and accounts right from there: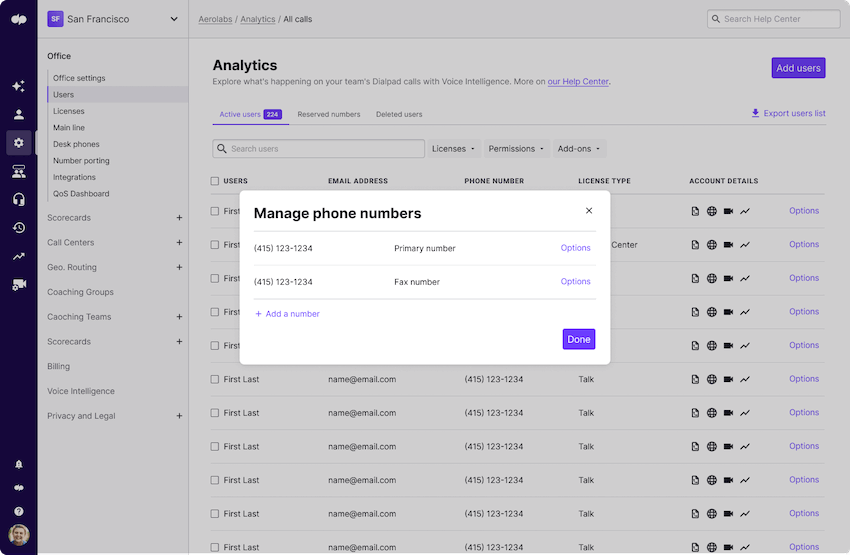 4. Features are customisable for every team
Different teams need different features in their communications solutions. Support teams probably need robust call routing features, while a Marketing team might just need to message internal teammates and have video meetings. A good business VoIP phone service should have flexible and customisable features.
With Dialpad, for instance, the basic plan comes with all your essentials included for free:

How does business hosted VoIP work?
Because business hosted VoIP doesn't require a landline or traditional PBX business phone system to work, and can be run entirely in the cloud, you don't have to constantly buy new software or do manual upgrades. (Although you can still use a desk phone if you want, since many VoIP business phone services are compatible with both mobile phones and desk phones.)
You need the bandwidth, of course, in order to get high-quality, crystal-clear phone calls no matter where you are—and this is actually one of the most overlooked keys to business VoIP. If you don't have a good Internet connection, then your call quality might suffer. (And it has nothing to do with your provider!)
One of the biggest advantages of a VoIP phone service is that it gives you a range of advanced features beyond just making calls, like call waiting, call recording, real-time transcriptions, analytics for how often your business is getting calls from customers, on-hold times, and more (which we'll get to in just a bit).

Traditional landlines vs. making calls over the Internet with business VoIP
If you're making the decision between having a phone system on traditional landlines or going with business VoIP, here are some of the biggest differences between the two to be aware of:
Technology and operation
While traditional landlines allow you to place calls via physical copper wires and networks all over the world, VoIP only requires a stable Internet connection to receive and make calls.

👉 Dialpad tip:
If you're looking to bring your remote or hybrid team together virtually, then VoIP is in most cases the better alternative to a traditional PBX phone system. (It's easier to set up and takes less time to set up.)
Cost
Since VoIP phone systems are entirely cloud-based, setup and maintenance costs are much lower. You don't need that big investment up front on hardware (or any hardware at all), and most traditional landlines require regular upkeep from skilled technicians (which is costly).
VoIP, on the other hand, requires no manual setup and most providers do all the hard technical work for you anyway for free or at a much lower cost.
Pricing is also a lot more flexible and you're usually not roped into a fixed-term contract, meaning you can easily scale up or down as your business grows.

Extra features and upgrades
One of the biggest differences between VoIP and traditional phone systems lies in the features available. Compared to traditional business phone systems, VoIP can offer a range of advanced features (depending on your service provider) that you can spin up and add to your subscription plan in minutes instead of having to wait for your contract to renew or for a team to come in and update your system.
How to know if your company is a good fit for business VoIP
Of course, we're not going to say that business VoIP is the best fit for every single company. But if any of these things sound familiar, it would probably be a good option to look into:
You have employees working remotely or a global/remote/hybrid team
If your team is working remotely or you have an international team, going with a VoIP solution lets you hire and onboard employees from pretty much anywhere in the world. Quickly. You'll never need to worry about location—since VoIP only needs the Internet to place calls, your team can work from wherever they want.
And if you make lots of long-distance calls, which would usually be costly with a traditional landline system, you'll end up reducing costs significantly with VoIP too.
You want to be as cost-efficient as possible
If you're still using a traditional landline, you might want to think again. Even if you're not going to make use of all the extra VoIP features, you'd still be able to save a significant amount of money by switching to a cloud-based phone system. (No physical hardware, more flexible pricing plans, and no fees on setups, maintenance, or upgrades.)

👉 Dialpad tip:
With Dialpad's pricing plans, you can choose the one that fits your business and growth goals and pay only for what you need. (And all of them come with unlimited calling within your home country, the US, and Canada.)
You want flexibility in your communications
If you thought VoIP technology was just for phone systems, think again! If your business also needs conference call services, channels like SMS and instant messaging, and faxing, then you'll be happy to know that many unified communications platforms will allow you to communicate with anyone through all these channels in addition to phone calls.
For example, with Dialpad, you can message, meet, and call customers, prospects, and teammates—all from the same app.
(And if your business needs a contact centre platform, you'll be able to manage all of that in the app too.)
With so many tools and software being used today, one of the best things you can do (for either yourself or your team) is to streamline things where you can. Instead of having one app for making business calls and another for video meetings, and yet another for instant messaging—try to find versatile solutions that can do multiple things well.

More than just a business VoIP phone system
If you need to have video conferences and send instant + SMS/MMS messages to teammates and clients regularly, book a product tour of Dialpad to see how it can work for your business. Or, take a self-guided interactive tour of the app!
Buyer's guide to choosing a VoIP provider: Essential features that the best business VoIP solutions should include
Some factors you'll want to consider when choosing the best business VoIP provider include the usual things like budget and monthly/recurring costs, uptime and customer reviews (this will help give you insight into what other businesses' experiences were like with the software), and access to customer service (do they have 24/7 customer support?)... But there's more to it than that.
Here's a quick breakdown of essential business VoIP features to look for and be aware of:
Number porting—keep your existing number
One of the most important things is of course being able to switch between service providers without changing your business phone number.
Porting is generally pretty easy when you're switching to VoIP. With Dialpad, you can port existing phone numbers and freephone numbers from your current phone service over to our VoIP platform. This will let your business and employees keep their phone numbers, even if you change phone provider or location.
And ultimately, it means your customers and prospects don't have to update their contact lists or address books with your new business number, which is a hassle for them.

👉 Dialpad tip:
Generally, any delays in the porting process is a result of your existing phone provider refusing to release the phone numbers or not allowing the port to happen in a timely manner. If they hold up this step of the process, your new business VoIP provider can't really do much about it, which is unfortunate. Make sure your team is aware of this as you're preparing to port your numbers!
Access through mobile and desktop apps
Don't want to have to provision hardware and equipment to all your employees? A business VoIP solution lets you adopt a BYOD (bring your own device) policy because it generally comes with a mobile and desktop app.
Dialpad, for example, has apps that work across iOS, Android, PC, and Mac: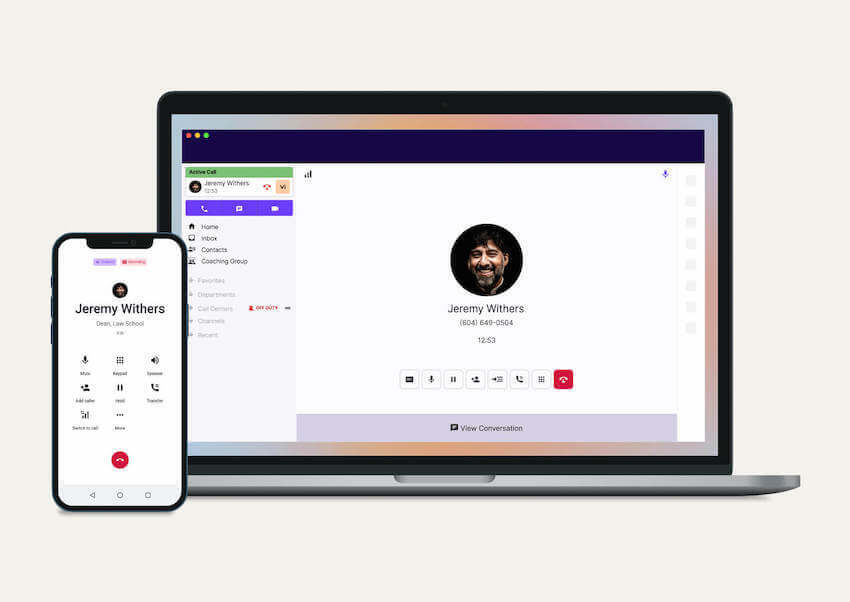 (It even works on web browsers so your prospects and clients don't have to download an app to get on a video call with you!)
Whether you and your team prefer to work on your computers or want the flexibility of taking calls on your mobile devices, Dialpad is flexible enough to allow you to work from anywhere.
Call recording and queuing
If you have a customer support team or contact centre, then one simple way to improve customer relationships is to use the insights that are in your customer conversations! (Dialpad has free unlimited call recordings.)
Combine this with call queuing and your centre will be equipped with all the tools needed to keep customers happy. A staple in most contact centres, call queuing features allow you to make sure all calls are distributed to the right department efficiently (which can help increase customer satisfaction).
Call forwarding to mobile
If you want to be able to work flexibly, then you probably need some type of call forwarding feature that lets you forward incoming calls to multiple numbers—this is essential for minimising missed calls (and unhappy customers).
With Dialpad, you'll be armed with built-in functionality like call forwarding, call routing, and automatic call transfer, so you and your team can be more accessible to customers and even take care of after-hours calls. Need to add a forwarding number? You can do it yourself right in your account: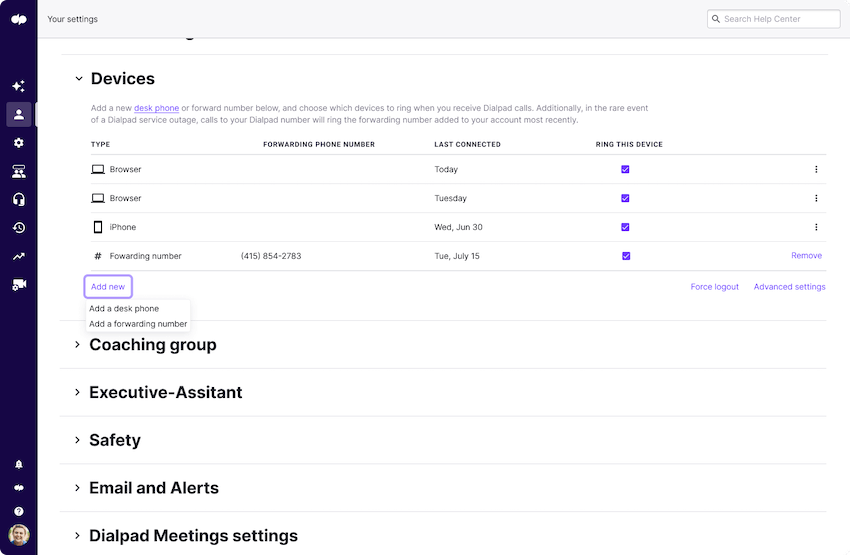 Cost
We're guessing that one of the big reasons why most business owners want to move on from old on-premises telephone systems is the cost.
But that doesn't mean that VoIP will always be cheaper. Always check the fine print for whatever provider you're considering. Do they include call recordings for free? Do they say that their calls are "free" (but charge you by the minute for outbound calls)? Do they say anything about setup fees on their website?
(Make sure you're not getting short-changed—because some enterprise VoIP providers will do that.)
Call quality
As we mentioned earlier, call quality is often dependent on your Internet connection. Your Internet provider has to be solid, but you should also have a unified communications platform that is designed for crystal-clear calls and high quality audio.
Customisable caller ID
Most people aren't going to pick up the phone if they see a random number in the caller ID. That's why it's useful to have a customisable caller ID feature so that you and customer-facing teams especially can choose what name or phone number to display. In Dialpad, you can easily choose the caller ID you want to show up from a drop down as you make a phone call.
Business text messaging (SMS)
More and more businesses are discovering that prospects and clients may be more responsive through SMS or texting than through phone calls.
With some business VoIP providers, you can reach out in the channel that works best for your audience. In Dialpad, for instance, you can send SMS messages right in the same app that you use to make phone calls and video calls: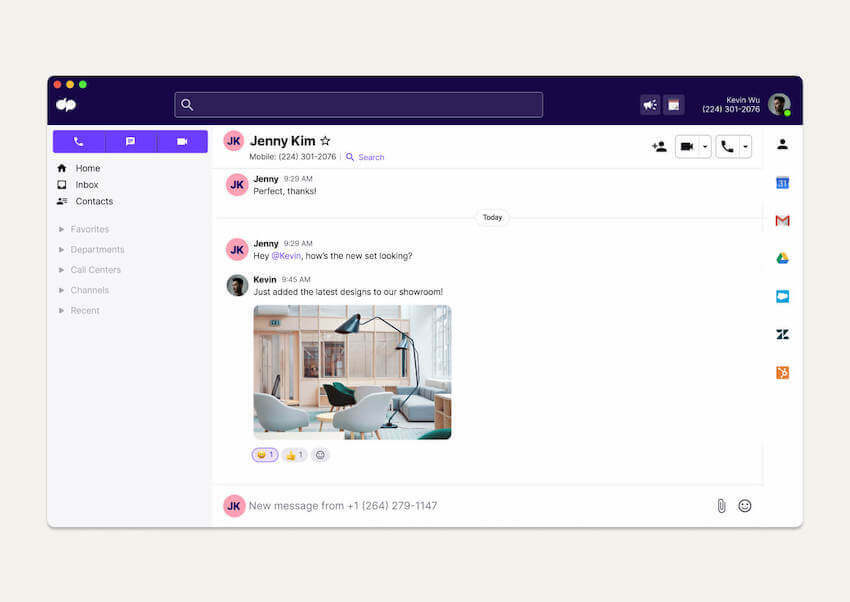 Scalability
How easy is it to scale and grow your business? Can you add new employees or agents yourself? What about adding a call forwarding number? Is the admin portal easy to use and access online? A good business VoIP platform should make this easy to do for both small businesses and global organisations. (With Dialpad, for instance, you can do all of this in seconds, just by logging into your online account.)
Voicemail
Some VoIP providers will charge you extra for voicemail, so if you need this feature, make sure it's included. Dialpad's most inexpensive plan comes with custom voicemail greetings, and also visual voicemail (which transcribes your voicemails and lets you read them instead of having to listen to them—comes in handy if you're in meetings all day).

Integrations
This one is only if your business is using lots of other software and apps—and if it is, integrations will be a big consideration. For most businesses, a CRM integration is a must because it'll allow you to automatically log phone calls to CRMs like HubSpot and Salesforce: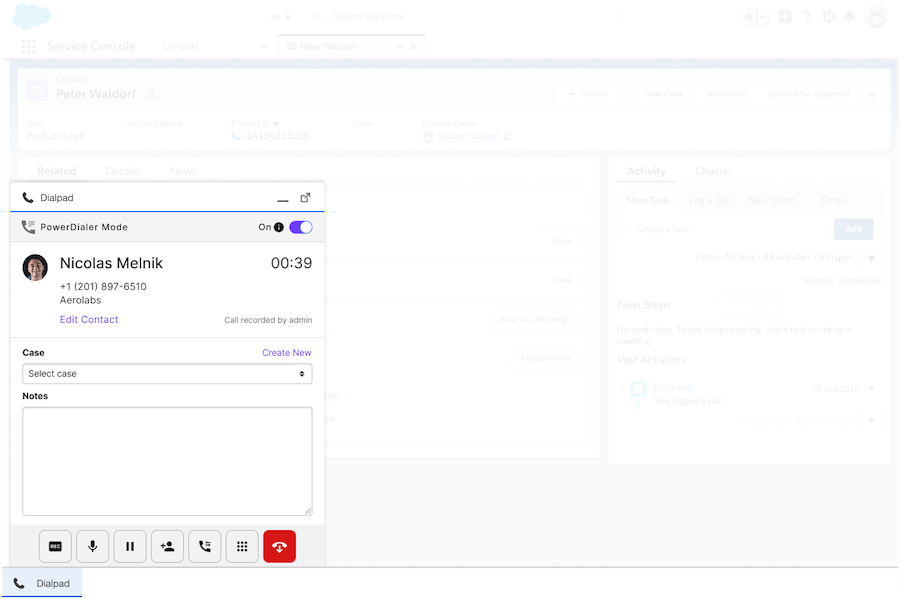 And if you're using more niche tools that don't have many native integrations, you should choose a communications platform with an open API so that you can build your own integrations.

Need a business VoIP solution? Try Dialpad for free
If you need a range of communication channels including SMS/MMS and video conferencing, then you should check out Dialpad. Sign up for a 14-day free trial to see how Dialpad works! It takes just a few minutes (even faster if you sign up with your Google or Microsoft 365 account), and you'll get set up with a virtual phone number too.
How can businesses use VoIP?
You might think that VoIP is just for making day-to-day phone calls or replacing desk phones with mobile apps, but did you know that businesses can use VoIP technology to, say, power their contact centres and call centres too?
For larger organisations or companies that have contact centres that take inbound calls from customers, VoIP can be a flexible and remote-friendly communications solution. (You can have your agents work from home instead of setting up a physical contact centre office.)

Is VoIP good for small businesses?
Is it easy to set up a small business VoIP phone system?
When should I invest in business VoIP services?