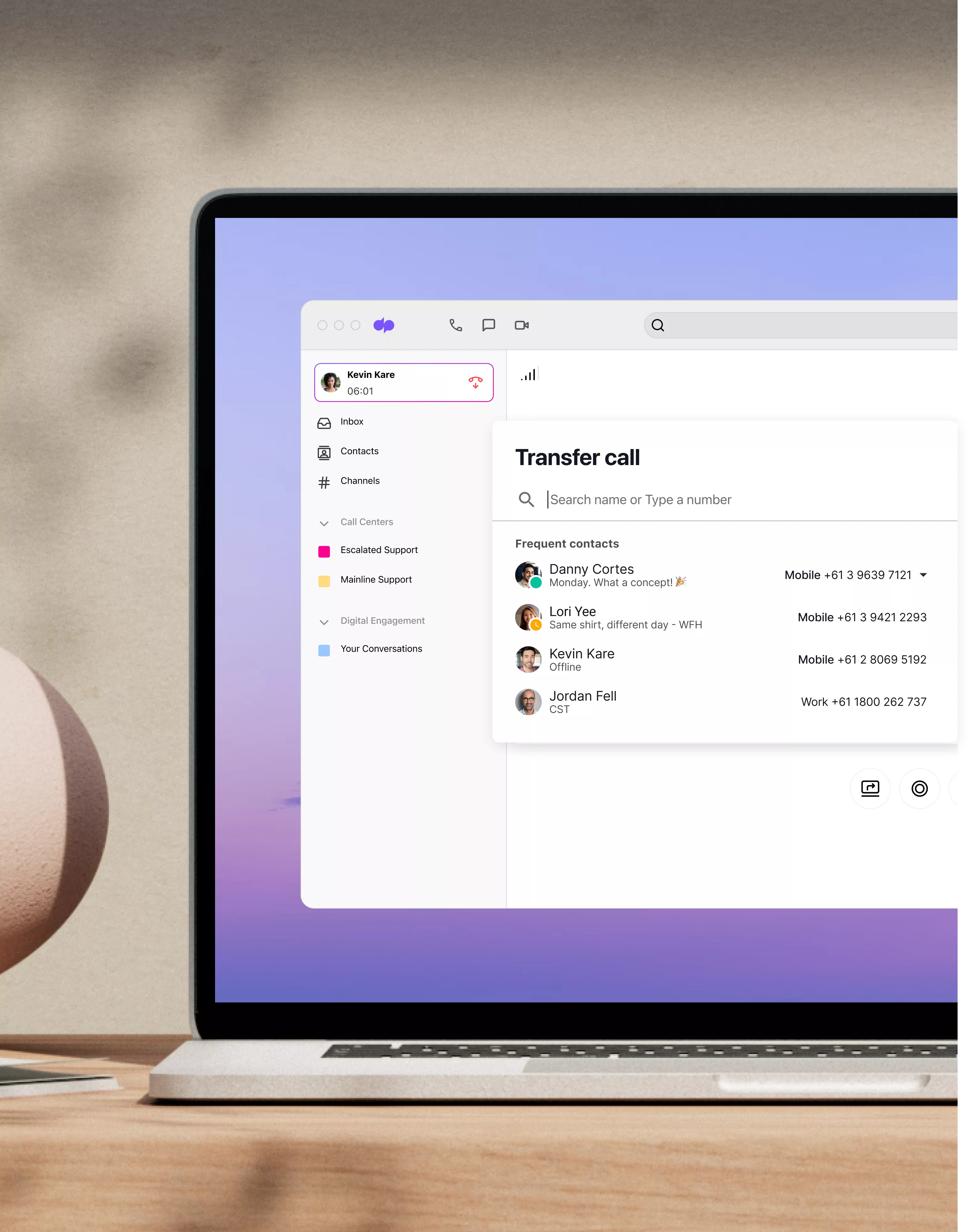 International calling
There was a time when international calling was an obstacle for many businesses because of the complicated equipment required or the prohibitive cost of international minutes. Dialpad makes these issues a thing of the past, with low international rates and unified communications in a single app. Try it with a free trial! Signup takes just a few minutes and you'll be set up with a virtual phone number too.
Sign up for a 14-day free trial!
Making businesses look like global enterprises with international calls
Even the smallest of businesses can operate on a global scale with Dialpad. Whether you're employing remote workers in South Africa, using suppliers in Thailand, or contacting clients in Cyprus, international calls keep your business running smoothly.
International calling with Dialpad puts the whole world just a phone call away. And that's not all. You can conduct video meetings, too, giving your international collaborations that extra personal touch.
How to make international calls from the UK
Making an international call from the United Kingdom is easy—you just need to add a few extra digits alongside the contact number for the person you want to speak to. Just open up Dialpad's desktop or mobile app and tap the phone icon to pull up the number pad. Here, you'll have the option to select which caller ID to display when you make your call:


The first step is to dial "00". This is the international dialling code for the UK. Using it signals that you're about to make a call to another country.
Next, you input the country code for the territory you're contacting. For example, the country code for the US is 1, so if you were placing a call to a US number, you'd dial "00 1".
If you're dialling a landline, input the area code followed by the telephone number. If you're calling a mobile phone, you don't need to worry about an area code. Just input the mobile number you're trying to reach.
It's even easier to place international calls through Dialpad. Firstly, enable international calling in the Admin Settings section of your account.
To place an international call from the Dialpad desktop app, simply type "+" followed by the country code and telephone number. If you were calling Nigeria, for example, you'd dial "+234" and then the number you wish to reach.
From the mobile app, you can long press "0" in the dialler to enter "+", then add the country code and number. For example, to call Norway, you'd long press "0" until the "+" appeared, then dial 47, followed by the phone number.
If you're using Dialpad on a desk phone, dial "01" followed by the country code and telephone number you wish to call.
Get international calls from the UK—and much more

High-quality international calls
Enjoy crisp and clear international calls with Dialpad. Using advanced VoIP (Voice over Internet Protocol) technologies like WebRTC and Opus codec, Dialpad lets you have crystal-clear, truly HD voice calls whether you're calling Mexico or Malaysia from Manchester or Middlesex.


Truly unified communications
Dialpad's leading VoIP and telephony technology is just one part of its unified cloud communications platform. Have video meetings and send instant/SMS messages—all from the same app you use to make phone calls.

Advanced call features
Dialpad's international calling app includes all the free calling features you need built into it. That extends to standard features like the hold function, call forwarding, and call recording and also more advanced features like call analytics.

No need for new equipment
You can use the Dialpad app on your computer, mobile device, and even web browser. That means your offices and contact centre teams don't need new telephony equipment or hardware to get started.
See how these companies excelled with cost-effective international calling from Dialpad
Dialpad has helped many companies take their businesses global with a combination of cheap international calling and useful features like call recording. Here are just a few testimonials from those who've tried (and loved) Dialpad:
Dathic
Dathic provides an AI-powered data platform to brands and retailers across North, South, and Central America. The international status of its clients means it needs a communications solution that provides high-quality international calls at a low cost, as using personal phones isn't a viable option. It found the answer in Dialpad.
A centralised phone system means the whole team at Dathic can now communicate with clients in different countries, without the need for numerous phone lines or excessive charges.
Voice and video calls are all unified in one easy-to-use platform, with the added benefit of features like call monitoring, advanced call analytics, and Dialpad's very own artificial intelligence.
Jungle Disk
Jungle Disk, a provider of online backup software and data security, was looking for a communications platform that would help it boost productivity. Enter Dialpad.
Jungle Disk found our intuitively designed desktop and mobile apps for Android and Apple iPhones provided all the features they needed to take their productivity to the next level.
Now, Jungle Disk uses Dialpad across its sales and customer phone lines, where features like voice transcription and call transfer help to provide top-notch customer service.
As a company that needs to be able to reach customers internationally to offer support and make sales, it's important for Jungle Disk to be able to provide high-quality international phone calls, which is why it relies on Dialpad.
Xero
Xero partners with over 16,000 bookkeeping firms and works with over a million small business subscribers across the globe. As it expanded and took on new customers around the world, it needed a reliable, cost-effective communications partner that could easily scale with it.
Dialpad provides Xero with just that, facilitating high-quality communication between Xero's 1,400 employees, who work in 17 different offices across four continents. Teams can stay in touch over the phone, via conference call on their iPad, or through instant messaging. All they need is a Wi-Fi connection.
The company's sales hub, based in Singapore, can even make use of local calling numbers through Dialpad, giving sales agents extra credibility when contacting leads elsewhere.
Acquia
Software as a Service (SaaS) provider Acquia has support and sales teams around the world. This means it needs a communications platform like Dialpad, which provides great call quality and allows it to eliminate the risk of dropped calls.
Dialpad's cloud-native, unified communications platform scales seamlessly across the entire organisation, regardless of where employees are working. The fact that our onboarding process is so easy, despite costing only a third of what they paid their previous provider, doesn't hurt either.

Get started with international calling
Need to do lots of international calling for work? Book a product demo of Dialpad to see how easy it is to use it for making phone calls, having video conferences, and more! Or, take a self-guided tour to play around with the app on your own first.
FAQs about international calling
What is an international call?
An international call is a telephone call made between different countries. International calls are processed by international gateway exchanges (switches).
When do international calling rates apply?
When are call credits used?
What countries can I call for free?
How do I get an international calling number?
What countries can I call from my Dialpad account?
How do I figure out the costs of wired vs. wireless calling?
What are Dialpad's rates per country?
What codes do I need to be aware of for international calling?