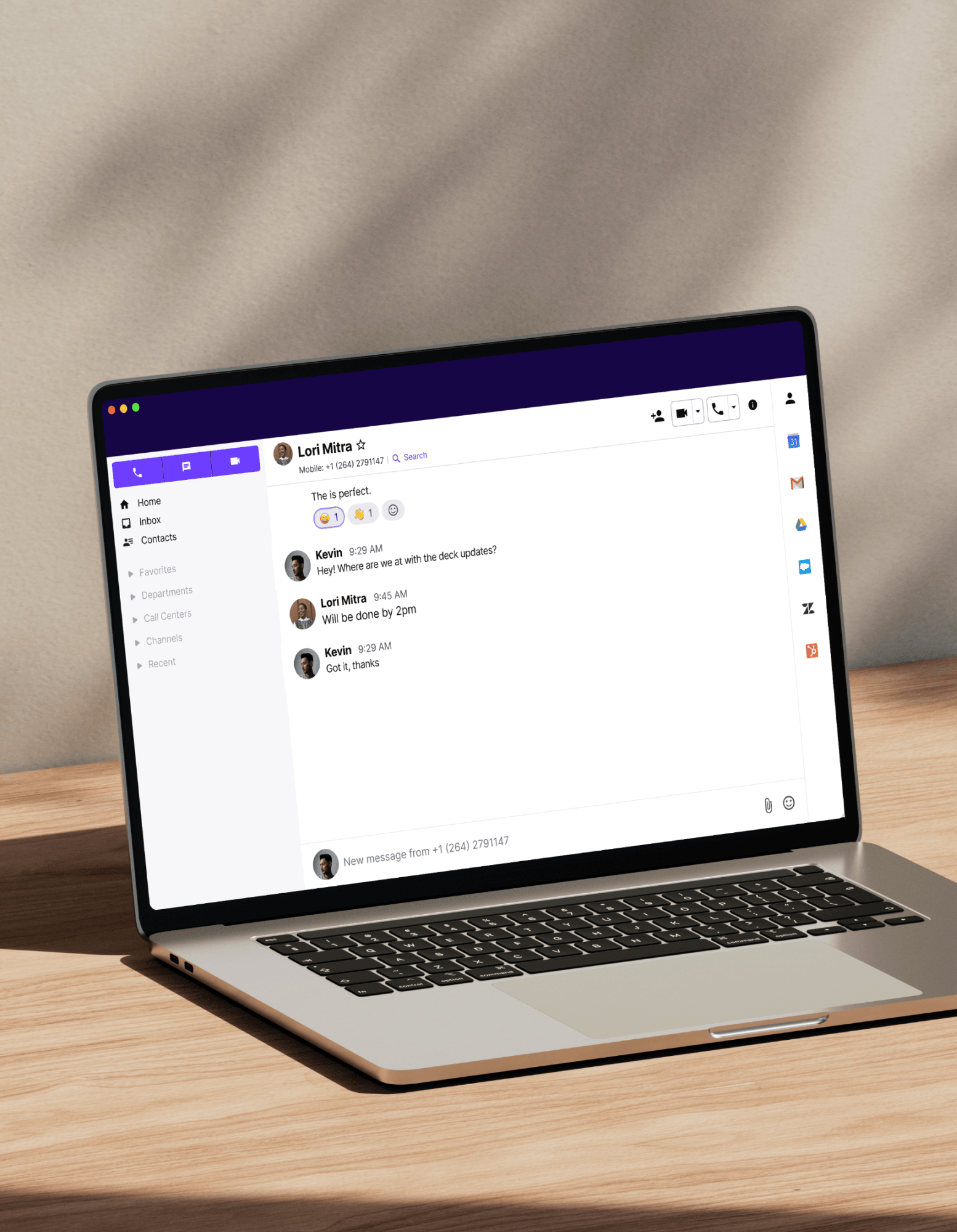 Business text messaging service
A business text messaging service gives you a quick and easy option for communicating with both customers and colleagues. And it's even more useful as part of a unified communications platform, like Dialpad, with instant team messaging, phone calls, and video meetings alongside SMS and MMS messages. Try it free with a 14-day trial! It takes just a few minutes to sign up and you'll be set up with a virtual phone number.
Sign up for a free 14-day trial!
How does a business text messaging service work?
A business text messaging service enables you to send and receive messages to and from mobile phones. SMS covers text-only messaging, while MMS messages are for multimedia, like images and videos.
The technology uses radio waves to send signals between phones via phone towers or control channels. As you travel around within different geographical areas, your phone communicates with different towers. The messaging service formats the message so that it can travel to and from the towers and be received by the recipient's phone.
An online text messaging service (which you'd get with unified communications and business phone providers) sends messages over the internet, but you'd still need phone numbers—unlike with instant messaging or team messaging.
More than just a business texting service

All your communication channels in one place
Texting isn't the only way we talk to our colleagues. What if you want to have a phone call or video meeting? Or maybe you just want to send a team message to your project group. Dialpad lets you do it all in one beautiful app.

Device-agnostic meeting reminders
What if you want to send your client a link to your video meeting—but they're wary about downloading the app? No problem. Dialpad lets you send them a text message with the meeting link so they can join from their web browser.

Easy set-up
Get set up in literally minutes. With Dialpad, you can add phone numbers, create ring groups, and set your business hours, right in your online account in real-time.

Fully integrated UCaaS + CCaaS
If you have a customer support, sales, or other contact centre team, you might need a cloud contact centre platform that lets you handle those high volumes of calls. Dialpad's contact centre product is fully integrated into its phone system. One login, one account, one user experience.

Custom caller ID
Make work calls from your personal mobile—while shielding your personal phone number. When you send business SMS messages or make phone calls from the Dialpad app, you can choose which caller ID to display.
Integrations with your favourite tools
From Google Workspace to Microsoft 365, to CRMs like Salesforce, HubSpot, and Zendesk, Dialpad integrates with a wide range of business software. For example, the Salesforce integration automatically logs your phone calls and text messages.
The benefits of using text messaging services for business
You might associate texting with millennials having an informal chat, but it has become a popular and effective method for business communications. As long as you keep it professional, SMS is ideal for sharing information with colleagues and customers.
Accessible and direct communication with customers
Text messaging is instantly accessible—most people will look at a message on their phone, even if they don't check their emails regularly or pick up the phone to callers. Recipients can read text messages wherever they are, with the information imparted quickly and concisely.
With 55% of Brits saying they'd prefer to receive a text instead of a phone call, business text messaging services are an ideal communication channel for reaching out to existing and potential customers. You'll save money and time by sending texts instead of calling each customer.
With a bulk text messaging service, you can send out appointment reminders, delivery notifications, and after-sales follow-ups or set up auto-replies for simple queries. As well as customer support, text messaging enables SMS marketing campaigns and regular updates for subscribers.
Advanced automated messages for internal operations
Business text messaging is also great for internal use. As well as making it easy to ping a quick question or response to a colleague, SMS automation enables you to send out information like meeting reminders and appointment confirmations without having to manually type each message.
Just as it does for customer communication, bulk SMS text messaging helps you reach a wide audience simultaneously. Business owners and managers can use it to send out company announcements, such as welcoming a new team member or asking staff to submit expenses and invoices before a bank holiday.
All you need is a contact list of intended recipients and a customisable message template. However, for either internal or external use, it's important not to bombard people with text messages.

Increased response rate
Most people check their phones multiple times each day, so the chances of them reading your text messages are high. And because sending texts is so quick and easy, they're also much more likely to respond than they would to an email, phone call, or voicemail.
This means you can have real-time text conversations, whether you're swapping information with a colleague or asking a customer for feedback. Plus, with the details in writing, you've both got a record of what was sent—which also serves as a reminder to do whatever was being requested.
Get more than just a business text messaging service from Dialpad
As a small business, you might be looking for a completely free UK text messaging service. But wouldn't it be better to have SMS and MMS messaging built into a wider communications system? That's exactly what Dialpad gives you. Video meetings, VoIP phone calls through a virtual phone system, instant and group messaging, integrations, and a contact centre—all in one app.
It's easy to set up and user-friendly, and it comes with advanced functionality, such as smart call routing, auto-attendant, and live transcription.

Get more than just business text messaging with Dialpad
With plans starting at just £12 per user per month, even the least expensive plan gives you unlimited calling in your country, the US, and Canada. (Not to mention all the other advanced phone functionality.) Book a product demo, or take a self-guided interactive tour of the app first!
FAQs about text messaging services
Can you do business text messaging from a computer?
Yes, you can send texts from Dialpad's desktop app. Sometimes it's just more convenient to use a computer for texting, especially if you're already at your desk during working hours. (If you're sending a lot of texts to teammates or clients, it's also faster to type them on an actual keyboard—it's easier to see what you're writing.)
What are the advantages and disadvantages of text messaging for business?
How do I set up a text messaging service?