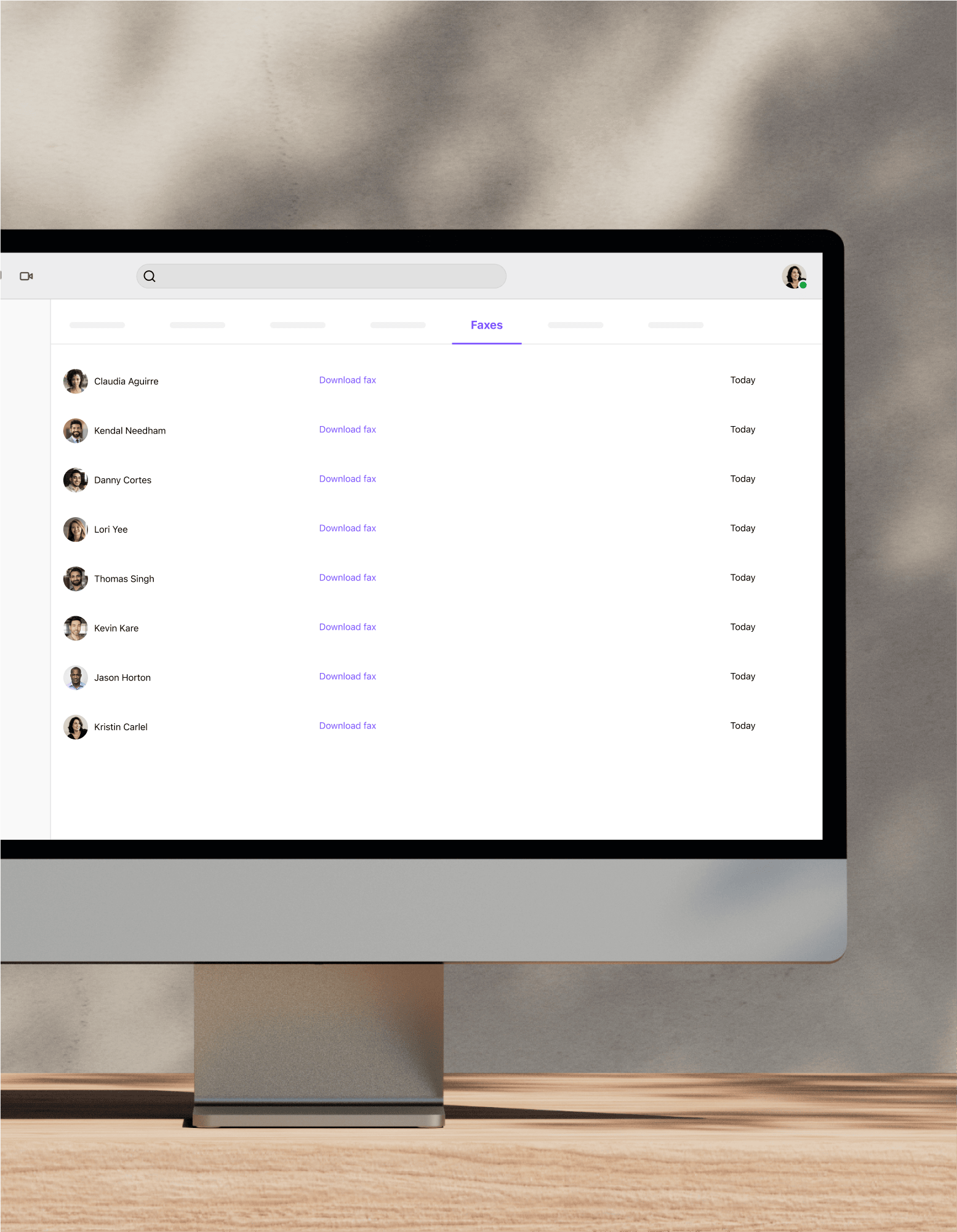 Virtual fax
If you work in an industry like healthcare or finance, but don't want to be stuck with physical fax machines—virtual fax could be the answer. With Dialpad, you can send and receive faxes from a desktop or mobile app. Sign up for a trial of Dialpad's unified communications platform to get set up with a business phone number try it out!
Sign up for a 14-day free trial!
What is virtual fax?
Essentially, virtual fax (sometimes also called eFax) lets you send and receive documents over the Internet. Typically, you need an Internet connection and a cloud-based fax service provider or a unified communications platform that has virtual fax functionality.
With virtual fax, you can send large files or sensitive information over the Internet. You can also open your inbound faxes right in your email inbox and read them on your desktop or mobile device—no more bulky fax machines.
How it works
Traditionally, a fax was sent via the phone line to and from a physical fax machine. A fax machine would scan a document and transmit it through the PSTN (Public Switched Telephone Network), and finally the receiving fax machine would print the document and send confirmation back to the outgoing fax machine.
Using virtual fax is easy with Dialpad. All you need is your computer.
Virtual fax with Dialpad
Easy to set up
Since internet faxes require no equipment or phone lines, all you need is a license, phone number, and plan from Dialpad. Add more virtual fax lines to your online account in just a few clicks. Don't need them anymore? You can remove them just as easily. Can't do that with traditional phone lines.

Easy on your wallet
Whether you work at a small business or global enterprise, online faxing is much more budget-friendly than traditional faxing. There are fewer overhead expenses since you don't need to buy physical fax machines (that require ink, fax cover sheets, and regular maintenance). With Dialpad, you get a unified communications platform with all paid plans.
Reduce your carbon footprint
Time and money aren't the only things you're saving with virtual faxes. You're also saving the planet since you're using less paper and less ink. (Thanks, cloud storage.)

Way more convenient
One of the biggest benefits of having a virtual fax service is, of course, the convenience. Send and receive faxes using just an Internet connection—no landlines needed.
👉 Did you know?
Dialpad plays nice with different file types. Word documents, PowerPoints, PDFs, JPEGs, PNGs, you name it. You can fax all those electronically through Dialpad.
Try virtual fax for free with Dialpad
Take Dialpad's virtual fax feature for a spin with a 14-day trial. It takes just a few minutes to get set up with a virtual number, or take a self-guided interactive tour of the app first!
"
Everyone in the accounting department gets the same fax number, so if an important document comes in, everyone gets a copy. There's no need to email it around... And Dialpad saves it too, so we can look back in a month and see the document that was faxed to us.
"
Kelly Winstrom
Director of IT at Andy Mohr Automotive Group
👉 Fun fact:
Did you know that with toll-free fax numbers, you can give vendors and clients a free way to send you faxes? Yep, toll-free numbers aren't just for phone calls—they allow you to send and receive faxes to and from those numbers without incurring any of the usual faxing fees too.
How virtual fax works in Dialpad
Purchasing a fax license
Before you can use virtual fax, you need a fax license. Once you have a license, you (or the admin) can add fax lines to shared lines or individual team members.

Go to your dashboard and go to your "Admin Settings" then "Billing"

Click "Buy Licenses" then enter the number of fax licenses you need and click "Next"

Review your purchase and then select "Confirm Purchase"
Sending a fax
Click "Send a Fax" in your Dialpad dashboard. You'll be able to either add an existing recipient or add a fax number by manually typing it in.

To add the file you want to fax, click "Upload a File" and choose the file you want to fax from your computer. Dialpad supports most common file types up to 10MB.

Once you select the fax, it'll automatically be sent. You'll also be able to see a record of sending the fax in that conversation thread. (If you want, you can then download it to Google Drive or Dropbox to share with teammates.)
Want to get started with virtual fax?
Sign up for a free trial to try it out for yourself. All you need is your Google or Office 365 account. Or, book a demo with our team!
Do I need an external fax machine?
Nope! Dialpad's virtual fax feature doesn't require a physical machine—just your computer. The documents that you're faxing do have to be in digital format to send, so you may have to scan them before sending.
What file types does virtual fax support?
How long does it take to send a virtual fax?
Which lines can I fax documents from?
Can I send virtual faxes to traditional fax machines? Can traditional fax machines send traditional faxes to me?
Can I use virtual fax on my iPhone or Android phone?
Where can I learn more about Dialpad virtual fax?