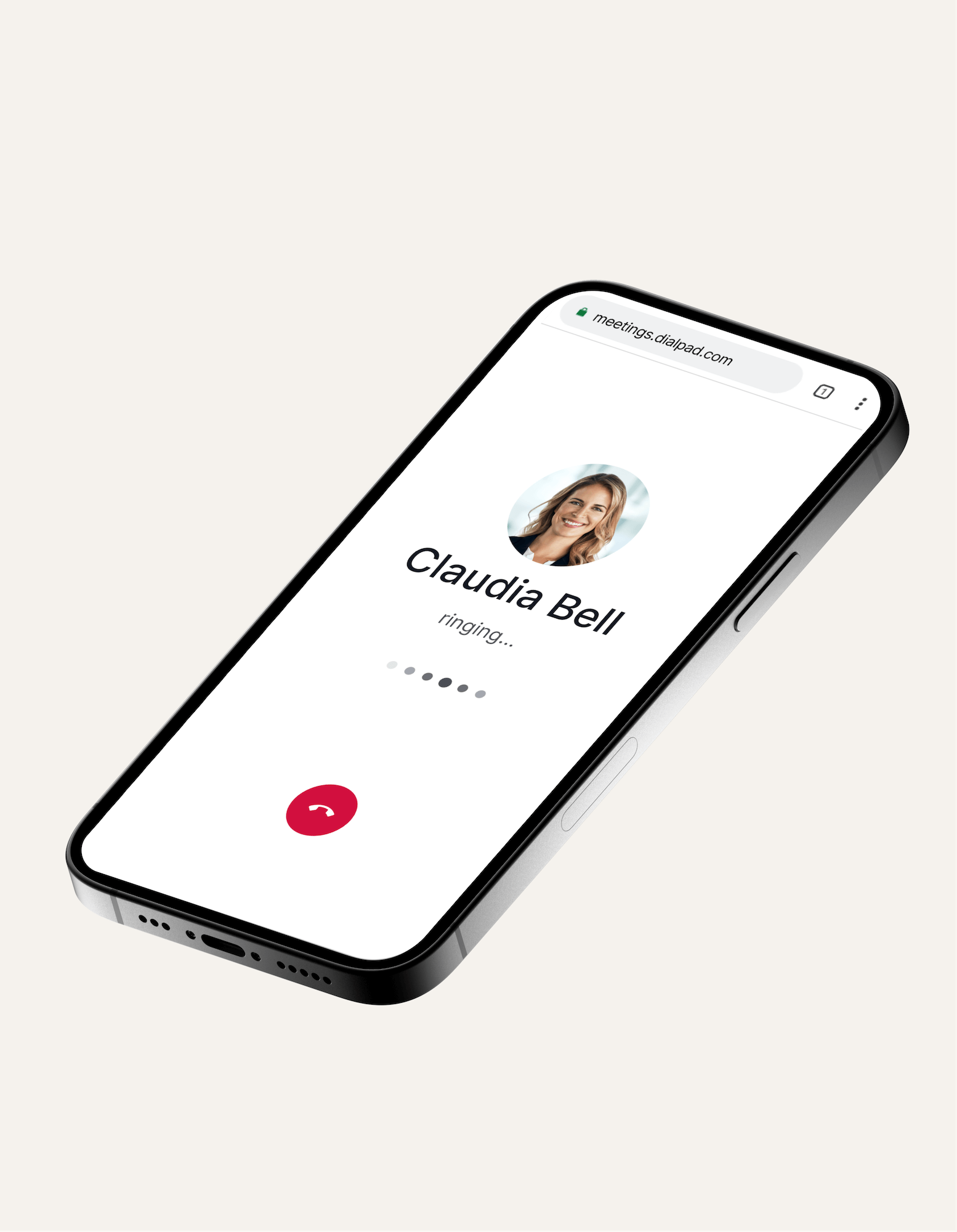 Hosted VoIP
Looking for a flexible communication platform that allows you and your team to make phone calls, send instant SMS/MMS messages, and have video conference calls without needing desk phones or hardware? Book a product tour and see just how easy it is with Dialpad.
What is hosted VoIP for businesses and how does it work?
VoIP, an acronym for Voice over Internet Protocol, is a mode of telephony technology where voice signals are transmitted over the internet as opposed to the copper wires used in traditional telephony.

Hosted VoIP phone systems are administered by vendors (it's hosted by them) who maintain all the servers and hardware in their own data centres. All you need is a reliable Internet connection to make phone calls, usually through your VoIP solution's desktop or mobile app on your computer or mobile phone.
What about a hosted PBX system? How does that work?
A virtual PBX or hosted PBX (Private Branch Exchange) is a slightly more evolved business phone system than traditional PBX systems.
Even though the technology is located off-site (meaning you don't need server closets or office space for all the hardware), hosted PBX doesn't give you the same freedom and advantages as a true cloud phone system that can make calls entirely over the Internet. With hosted PBX systems, all calls, signalling, and features are still handled through an IP-PBX server—it's just hosted at your provider's location.
Many office workers are already familiar with on-premises PBX (aka, traditional PBX) phone systems which require on-premises hardware.

👀 Thinking of hybrid work?
Grab the Hybrid Work Playbook, which includes real-life case studies and breaks down all things hybrid + remote, from building and sustaining a hybrid workforce to equipping your team for success.
Hosted VoIP solutions vs. on-premises VoIP (vs UCaaS)
VoIP systems tend to come in two categories: hosted VoIP solutions and on premises alternatives.
On-premises VoIP systems
On-premise systems are hardwired physical telephony setups that have to be located in your business premises (usually in a server room). You'll need skilled IT staff to set up, configure, administer to, and maintain this system.
Hosted VoIP systems
A hosted VoIP system is different in that it doesn't require any physical hardware. Everything is handled by your hosted VoIP service provider, who'll administer the system from a remote location and be responsible for all service updates and maintenance. This is typically a much more small-business-friendly option.
Long story short: Hosted VoIP solutions generally cost much less than traditional phones using PSTN (Public Switched Telephone Network) landlines, and are also much more flexible and scalable.

UCaaS
And just to keep things interesting, if your business is considering a hosted VoIP solution, we'd actually suggest checking out a UCaaS or Unified Communications as a Service solution. If hosted VoIP is the next evolution of on-premises PBX phone systems, then you can think of UCaaS as an even more modern alternative.
Like VoIP phone systems, UCaaS platforms let you make phone calls over the Internet—but unlike VoIP systems, UCaaS platforms let you do lots of other things too, like have video meetings and send instant or SMS/MMS messages from the same app. If it helps, you can think of UCaaS solutions as super-robust communications platforms that have built-in VoIP phone systems along with tons of other features. Dialpad is a great example of this:


👉 Did you know:
After going through a period of hyper growth, investment startup Betterment wanted to build a more connected company. They chose a hosted VoIP solution that let them answer phone calls, have video meetings, and send SMS/MMS messages from the same app—and even saved over $1,000 a month with a unified communications platform instead of a bunch of disparate tools.

The most common reasons why companies switch to hosted VoIP phone systems and UCaaS solutions
Always on: It makes sure your business stays up and running
With hosted VoIP for business, your vendor is responsible for delivering consistent service. When things go wrong they'll have backup so that your systems don't experience excessive downtime. For example, Dialpad guarantees 100% (not 99.999%, which is the norm) uptime for Enterprise plan customers.
Less equipment: It eliminates the need for expensive on-site equipment and installation
One of the biggest benefits of business hosted VoIP solutions is that it doesn't involve a ton of expensive and time-consuming equipment installation. Because everything is hosted off-site, there's no real initial capital investment needed to start using VoIP telephony. Instead, you'll just pay a monthly or annual fee to your service provider and start using it on your computer and/or cell phone.
Low maintenance: Your VoIP provider handles all of it
And not only is there zero physical equipment (unless you want to have desk phones), you'll also get to hand over all of your maintenance responsibilities to your VoIP vendor! Of course, the important thing here is to make sure your provider has excellent customer support.
Growth: VoIP is built to scale with your business
Another advantage of VoIP solutions: they're much more scalable than on-premises alternatives. That means if you want to add-on more phone numbers, or add lots of new users because you're scaling up (or even scaling down because of seasonality), you can do that easily. With Dialpad, you can do that in just a few minutes, right in your online dashboard:


More than a hosted VoIP solution
With Dialpad, you can make phone calls, send SMS/MMS messages, have video meetings, and more—no hardware needed, right from your computer or mobile phone. Get a personal walkthrough with a demo, or take a self-guided interactive tour of the app!
Essential features to look for in a business hosted VoIP solution or UCaaS platform
There's a huge range of VoIP services out there—here's a rough shopping list of the features that most businesses would need:
Call queues / auto attendant / call routing
Look for a VoIP solution that has well-designed call queue and call routing features. This is incredibly useful—especially when you're dealing with a lot of incoming calls on a daily basis.
Specifically, you'll want something that lets you set up your auto attendant and call queues easily on your own (without contacting a third party support team). This way, your incoming calls can essentially distribute themselves to the right person and reduce the workload for your staff. (This is especially useful for contact centre teams.)
With Dialpad, you can even set up in-queue callbacks so that callers can choose to get a call back later instead of waiting on hold:


Built-in call analytics
If your business receives lots of phone calls, then another must-have feature for any VoIP system is call analytics. You'll want to be able to access real-time metrics that can help you make more informed business decisions, like missed and abandoned calls:
For contact centre teams, Dialpad's analytics can go one step further with contact centre analytics, including metrics like call volume patterns and average speed to answer. Can't get that with a desk phone.

Video and audio conferencing
With so many people now working from remote locations, audio and video conferencing features have become a mainstay for many offices. Make sure that your VoIP solution provides both conference calls and video conferencing features across desktop and mobile devices. Again, this is an example of a feature that you won't necessarily get with hosted VoIP services—but that comes standard with UCaaS.
Voicemail transcription
Beyond just being able to customise your voicemail greeting right in your online dashboard, Dialpad also has a "visual voicemail" feature, which essentially transcribes your voicemail messages in real time. Great for checking messages when you're unable to pick up the phone (and for archiving for future reference).
We mentioned that video conferencing is one of those features that typically comes built-in with UCaaS solutions, but voicemail transcription is not! Make sure to check the fine print if this is something you're interested in.


Long-distance phone numbers
If you have offices or customers around the world, then you need international calling. (Although in most cases, having a global phone number is good to have if you have ambitious growth plans.) Calling overseas on a landline can be costly, and one of the other big advantages of VoIP is that it's much more affordable.
With Dialpad, for example, you can get international business phone numbers for almost every country in the world in a few clicks. Dialpad-to-Dialpad communications are always free.
A softphone app

Again, this doesn't come with hosted VoIP solutions, generally, so if you want to be able to make phone calls and send messages from your computer and cell phone, then you'll want to consider a UCaaS solution like Dialpad. The app works across computers and mobile phones (PC, Mac, Android, iPhone, Microsoft, iOS, you name it):

🔎 Further reading:
Did you know: TED (yes, that TED) was looking for a modern telephony system to replace their previous on-site PBX telecom provider. Now, they've gotten rid of desk phones, and their employees can work from anywhere using Dialpad's softphone app.
Call recording

For most businesses, call recordings are essential, not only as a detailed record of customer interactions, but also to help train different teams and gather insights. Most business VoIP providers charge for call recording as an add-on, so again, check the fine print if you want to be able to record customer calls for training or compliance. Fun fact: Dialpad offers call recording and cloud storage at no extra charge.

Call forwarding
Last but not least, call forwarding is essential for most businesses. With Dialpad, you can forward calls to five different phone numbers—forward to your mobile phone, a colleague's phone line, another landline, whatever you prefer.
Both UCaaS and hosted VoIP solutions should come with this basic feature, and the main difference to check here is how easy it is to make changes to your call forwarding numbers. With Dialpad, for example, you can add and change numbers right in—you guessed it—your online dashboard:


Ready to upgrade to a hosted VoIP solution? You may want to check out UCaaS instead
If your business is thinking about switching to a hosted VoIP service, but may need other communication channels too, like messaging and video conferencing, then UCaaS might actually be a more versatile and cost-effective option.

Looking for a hosted VoIP provider? Why not see if UCaaS might be a more robust solution for your business?
If you'd like to talk, message, and meet—all from one beautifully designed app—book a demo to see how easy Dialpad is to set up and use, or take a self-guided interactive tour of the app on your own!