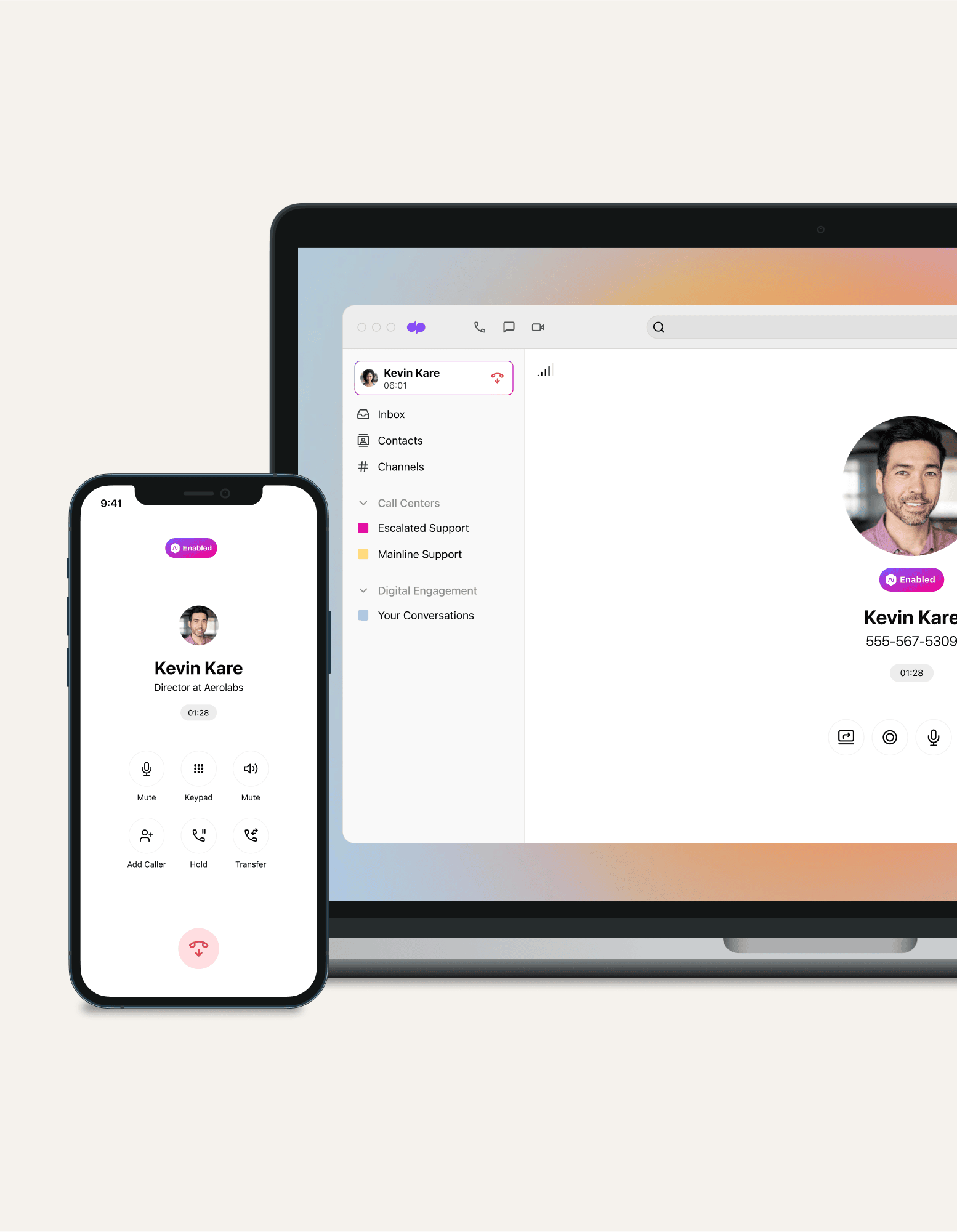 DESIGNED FOR BUSINESSES
VoIP phone systems
VoIP technology brings voice and video calls over the internet, and many businesses are realising that they needn't rely on traditional phone systems to handle their most valuable interactions; customer service, support, and sales. With Dialpad, you get phone calls, video conferencing, and SMS/MMS + team messaging—all in one app. Try it free with a 14-day trial. It takes just a few minutes to get started with a virtual phone number!

What are VoIP phone systems?
So what is VoIP? And what can it do for companies that want to work from anywhere?
Voice over Internet Protocol (VoIP) phone systems let you make phone calls over the internet, instead of relying on traditional phonelines. Your voice is broken up into data packets and sent on its way, online.
When it comes to business phone systems VoIP makes calls cheaper and more reliable. There's no need to buy specialised handsets unless you really want them, so there are potentially zero hardware costs. They're also more flexible—you can communicate seamlessly across phones, desktops, tablets, or whatever device suits you at any given moment.
Small business VoIP phone systems can make setup cheap and agile, and larger companies can get much more detailed analytics. By running your calls through a digital channel, you can link them up with software that can help you work more effectively.
All the benefits of VoIP phone systems for business (and a whole lot more)

Truly unified communications
Unified communications (UC) integrates voice, video, messaging, and collaboration into one platform, eliminating the need for multiple, disconnected applications. That means faster decision-making, increased productivity, and improved collaboration in your team. It's also an excellent experience for your customers, who don't have to repeat themselves.

Any time, anywhere, any device
These days, the best small business phone systems have to be built for a remote world. Virtual phone numbers turn any device into a business phone, meaning your team can make and receive calls with their office number no matter where they are. It's a lifesaver for remote and hybrid teams, who don't need to keep several numbers on hand for each member of staff.

Top call quality
Customer support can be tricky: One bad experience might lose you business, and a poor phone line could make or break a call. Dialpad boasts unique dual-cloud architecture and a global voice network to guarantee HD VoIP calls all around the world.
Think Dialpad's just a
VoIP phone system?
Dialpad doesn't just give you phone calls. It's a versatile, truly unified communications platform that lets you manage all your everyday communication channels in one place. Book a walkthrough to see how easy it is to use, or take a self-guided interactive tour of the app on your own!

Unlimited calling in Australia or New Zealand
Whether setting up a contact centre or just running meetings, all of Dialpad's pricing plans get you free unlimited calls across Australia or New Zealand. Those aren't just phone calls—the plan includes unlimited video calls, visual voicemail, conference calls and recordings, and unlimited meetings across all devices.
Call recording
The best sales and support teams know that call recording is essential. With Dialpad, you get unlimited call recording on even our least expensive pricing plan. Crystal-clear audio quality is easy to listen back to. But if you don't have the time, our automatic transcripts have got you covered.

Built-in analytics
Dialpad's built-in analytics help you derive actionable insights. Seeing missed calls, abandonment rates, and response times makes it easy to discern where your team is succeeding or underperforming. And understanding what customers are responding to will help you plan marketing and sales campaigns more effectively.
Integrations with leading CRMs and other apps
You're not getting the most out of your phone system if it's not seamlessly integrated with all the other apps you rely on every day. With Dialpad's integrations, your sales team can make calls from inside their chosen CRM and support agents have all relevant details at their fingertips. Integrations with industry-specific apps, too, can help all kinds of businesses boost their productivity.
Don't just settle for a VoIP phone system
Hosted phone systems help to bring business phones into the remote-work world. Sure, VoIP calls are more convenient than relying on landline phones, but a unified communications platform takes things further, integrating your phone calls into the rest of your digital communications stack.
Virtual phone numbers, built-in analytics, and integrations give your team everything they need in one app. Try Dialpad for free to get a hands-on look at its IVR features, easy setup, and unified communication channels!

Not just a VoIP phone system
Need a unified communications platform that can help you streamline all your channels (and monthly subscription fees) into one easy solution? Try Dialpad for free and see how easy it is to get set up!
Frequently asked questions about VoIP phone systems
What's the difference between PBX, VoIP, and UCaaS?
There are several differences when it comes to VoIP vs PBX.

Private Branch Exchange (PBX) is the traditional system businesses used to route calls to the right colleague. This requires phone lines, handsets, and expensive configurations to install in the office.
VoIP is the term for the technology used to make calls over the internet. It's how schools teach classes online, GPs have video calls with patients, and how you stay in touch with friends and family over FaceTime.
Sometimes "VoIP" can also be used as shorthand for a cloud-based VoIP phone system. That's a software solution that allows businesses to make online calls.

Do all VoIP phone systems incorporate other channels?
What are the main benefits of VoIP-based phone systems?