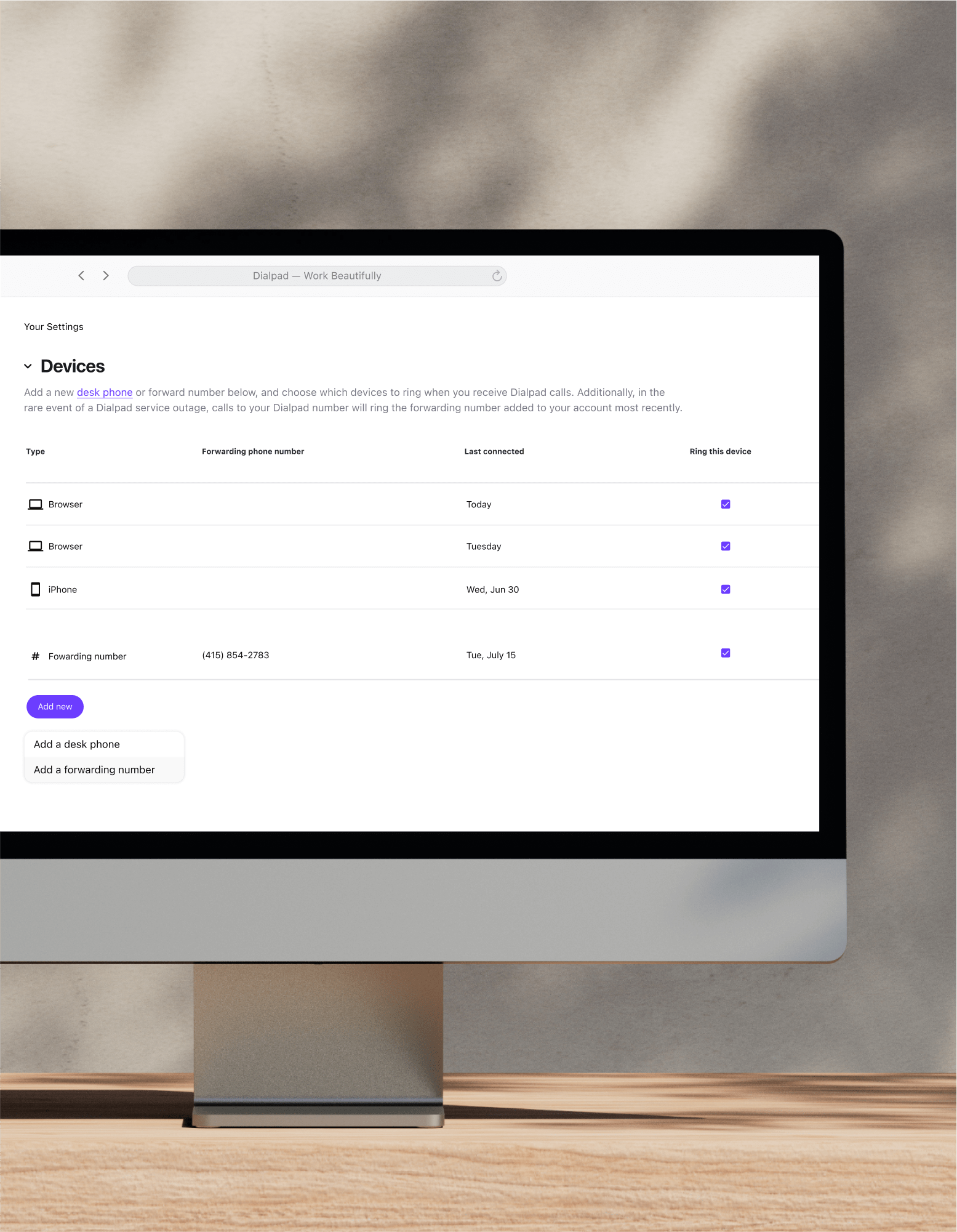 Call forwarding service
Improve your business's availability by forwarding business calls to colleagues, different departments, or even your mobile phone. With Dialpad, you can automatically forward incoming calls to a maximum of five external phone numbers—and never miss a call again. Try it now!
Sign up for a 14-day free trial!
Missed calls can be annoying—for both the caller and receiver. But it can be even more annoying if you're a customer who's been on hold for ages and then ends up not getting your call answered or being connected to the wrong person or department.
And don't get us started on the bad hold music.
Every missed call to your business phone number could be a missed opportunity for a customer to connect with you—and that missed opportunity could mean lost revenue when the caller decides to try another business instead of yours.
So how can you save that situation? With a call forwarding service, of course.
What is a call forwarding service and how does it work?
Call forwarding is just a call management feature that lets you route unanswered calls to another number. (It's kind of like an automatic call transfer.)
If you're on vacation, you can set up automatic rerouting so any calls to your number go to someone else.
Good VoIP phone services and communications platforms should come with a call forwarding service included. Here's how it looks in Dialpad:

Call forwarding with Dialpad
Before, a "missed call" would go to voicemail, which could lead to a ping pong scenario where both parties were constantly reaching voicemail instead of the other person. With Dialpad's call forwarding service, you'll never have to put your customers through that again.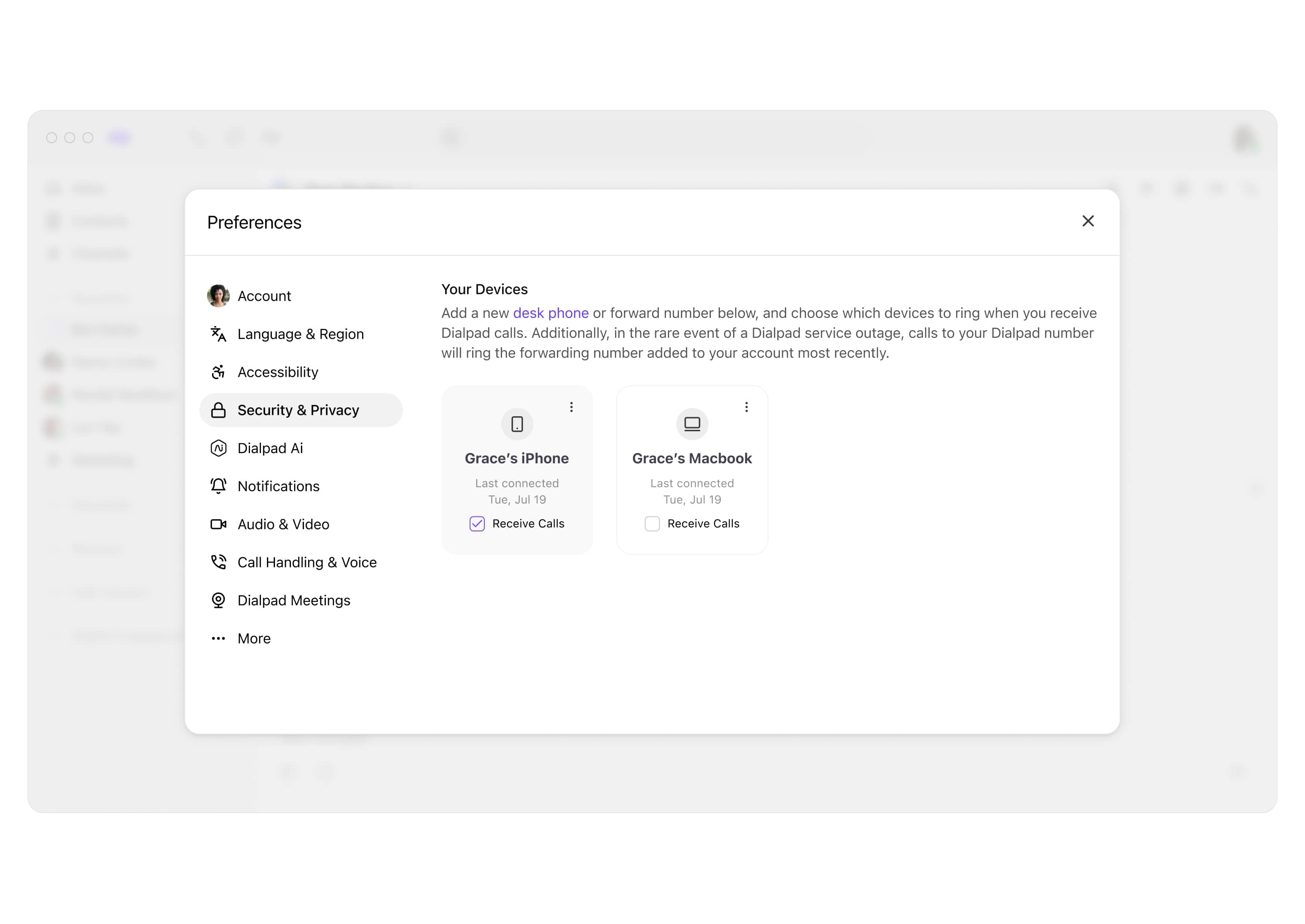 Easy setup
Add call forwarding numbers in just a few clicks to forward any business call that you receive at your Dialpad number. You can direct it to a maximum of five external telephone numbers, landline numbers, or mobile phone numbers. Like everything else in Dialpad, it's easy to do on your own—no IT help needed.

Gives small business a big presence
Let's say you're located in Sydney but you do lots of business in other cities. Why not use a virtual phone number with a local area code to receive forwarded calls and make your business look more "local?"

Better after-hours coverage
There's always a time of day when employees need to stop working and don't want to be answering calls. Or, you might have a team that doesn't work the usual 9-to-5 (for example, repairs or tech support). With Dialpad, you can set it up so that calls are forwarded to any rotating staff on duty outside your normal business hours.

Voicemail forwarding
That's right, you can forward voicemail messages to other people too. And with Dialpad's visual voicemail feature, you can read your voicemails instead of having to listen to them.

Custom call routing
With Dialpad, you can make sure customers get to speak to a human as quickly as possible with call routing options tailored to how your teams are set up. For example, you can use an auto attendant or IVR (Interactive Voice Response) to deflect calls and allow callers to find answers on their own without needing to be forwarded to someone.
Built-in call metrics
For busy contact centres and call centres, Dialpad comes with built-in analytics to help supervisors assess the performance of their routing and call forwarding system. Track metrics like missed calls, abandoned calls, call duration, and more.

Super flexible
Spikes in inbound calls can happen for a number of reasons, from seasonal fluctuations to other events entirely out of your control. If you can see when these volume spikes happen, you can plan your inbound call or call forwarding strategy more effectively. For example, Dialpad has a call volume heat map that shows when you're receiving the most calls.

Call recording
Record any call or meeting with a simple click. Dialpad's built-in artificial intelligence technology, Dialpad Ai, also provides transcriptions—in real time!

Desktop and mobile app
Dialpad's app works across iOS, Android, PC, and Mac. Make outbound calls, receive calls, send SMS messages, start video meetings, and more—all in one app.
How to set up call forwarding with Dialpad
Let's look at some of those features in detail to see how easy it can be to set up a call forwarding service:

If you have a Dialpad number, you can set it up to forward calls to a maximum of five external call forwarding numbers. (You can forward to a mobile phone, a landline number if you have poor mobile coverage, a colleague, or even another team.)

You can toggle between the assigned numbers to choose which ones will receive forwarded calls. For example, you could set a home landline number as the primary number for forwarding if you're working remotely. It's also easy to add new phone numbers if your forwarding choices change later.

You can also choose what shows up on the caller ID for the person who ends up receiving the call—the original caller's number or the Dialpad number that received this call and is forwarding it.
Want to try an easy-to-use call forwarding service?
Sign up for a 14-day free trial to get started with a virtual phone number, or take a self-guided interactive tour of the app first!