Back to Blog
SIP vs. VoIP: Which is the right communication solution for your business?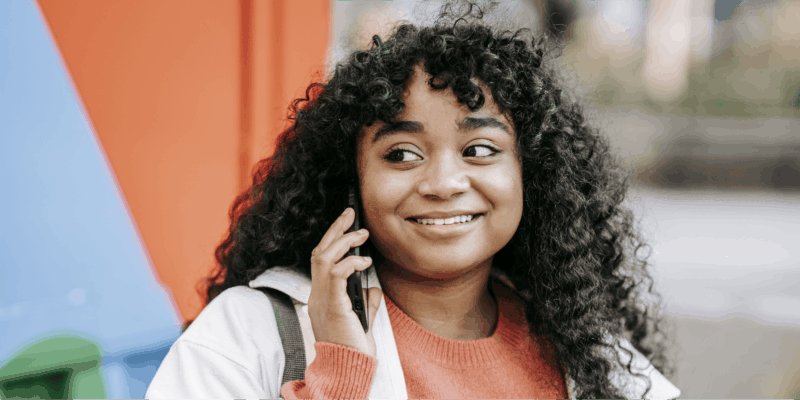 SIP is an acronym for "Session Initiation Protocol" and VoIP is another one for "Voice over Internet Protocol."
Confused already? Don't be. If you've ever wondered what SIP and VoIP are and how to choose the right option for your business communications, I'll walk you through the benefits and shortcomings of each and some objective recommendations depending on your business needs. First, the big question.
SIP vs. VoIP: Which is the best for your business phone system?
If you're looking to overhaul your business telecommunications systems, there are generally two options on the table:

SIP trunking, which uses your existing telephone system and the SIP protocol

Hosted VoIP technology, which uses a popular protocol like SIP
So, how do you decide between the two? They even sound the same. Let's first look at the basics and a few pros and cons.

Key differences between VoIP and SIP
How does VoIP work?
VoIP is a technology that allows calls to be made over the internet, bypassing the traditional landlines. A VoIP service provider manages the technology that converts voice communications into a digital signal and sends it over the internet to anywhere in the world.
It's important to know that VoIP needs to use a protocol like SIP in order to function.

📕 What does that mean?
"Protocol" is just a fancy term for sending and receiving data between two endpoints (like a phone or a tablet) and making sure it shows up with all the info needed to send that data.

VoIP uses SIP to deliver other communications services to support internal and external communication such as instant messaging, video calls, and more—all vital to businesses in these times of increased remote working.
In a nutshell, VoIP is the engine and the SIP is the gas that makes it run.
How does SIP trunking work?
SIP trunking also uses the SIP protocols. A SIP provider uses a SIP trunk, which is like a virtual analog telephone line, to connect your existing PBX (Private Branch Exchange) telephone system to the internet so you can make and receive multiple calls. What's great about SIP trunking is that it can grow or shrink in size to account for more or fewer concurrent phone calls.
Traditional PSTN (Public Switched Telephone Network) circuits had a fixed ceiling. If your circuit had 24 concurrent calls, that was it. Call #25 would just get a busy signal.
As SIP trunking services use the SIP protocol over the internet or a dedicated circuit, it can also transfer multimedia data to facilitate video conferencing and other messaging services.
So, to recap: VoIP is a technology that allows calls and other multimedia to run over the internet and generally uses the SIP protocol. SIP trunking also uses the SIP protocol and creates a virtual link (SIP trunk) between your business's PBX telephone system and the telephone network (PSTN) to achieve similar results to VoIP.
What are the pros and cons of using SIP trunking vs. VoIP?
If you're a fan of a good pro/con list, this breakdown will help you decide which option is a better fit for your situation.
Pros of VoIP
VoIP is "a way to deliver voice over the internet," and is a term that's often used to describe getting your phone service from a provider without having to buy or install equipment in your office (except desk phones of course).

Cost-efficiency
VoIP-based services can save your business a lot of money. If you sign up for a SIP trunk system, you often need to invest a lot of money—unless you already have that pricey equipment. What's more, you'll need a qualified professional to set it all up and maintain it—all costs that add up over time.
With a VoIP solution, you don't pay these high upfront costs—just your monthly subscription. Your VoIP pricing can include local and toll-free phone numbers and international calls, and updates to the software are usually pushed out regularly and at no extra cost.
Scalability
As your business grows, you'll need to add phone lines for new employees. Adding lines can be expensive with an on-site landline setup. With a VoIP phone system, you can add lines virtually through your administrative portal in a matter of minutes.
For example, with Dialpad, it's incredibly easy to add a new user. Just search for the person you want to add from your company directory and click "add" in your online dashboard. Here's what that looks like:


Work from anywhere
Functionality and mobility are pretty limited with a traditional desk phone. When you leave your desk, you leave your phone behind. VoIP communications are changing all that.
When you subscribe to a VoIP provider, your team members are able to work from anywhere. Once they have their phone number, they can just download their provider's business phone app or log in on a web browser using their computer or mobile device—from wherever they happen to be.
Quality by design (call and audio)
Some people think VoIP call quality is subpar, but they'd actually be mistaken. As long as you have a reliable broadband internet connection, you'll have access to remarkably clear audio and video.
For example, Dialpad is backed up by worldwide dedicated data centres and runs on the Google Cloud Platform, so you can count on reliable uptime and unbeatable audio.
Its unique dual cloud architecture design is also unique in the field, and allows us to leverage any server in any data centre for any call.
All your communication channels in one place: Voice calls, contact centre, and more
Signing up for a traditional phone line or even a PBX provides you with telephone lines and little else. But when you sign up with a VoIP provider, you have the opportunity to get a lot more in a single package.
Take Dialpad, for example; when you sign up for a plan, you don't just get access to voice calling, you also get communication channels like instant messaging, video chat, and even the ability to set up a virtual call centre—in a truly unified system that supports internal and external business communication in one package:

Security and encryption
While communication sessions via the internet may seem insecure, it's actually the opposite. VoIP telecommunications are incredibly secure because VoIP providers can use advanced security features and powerful encryption tools not available to analog phones. Additionally, they can guarantee that all data is encrypted in transit and at rest. This includes all other aspects of your system including user data, chats, analytics, etc…
Cons of VoIP
Recurring costs
VoIP subscriptions don't always include all the features you need, and certain changes may incur additional costs, like adding more local numbers or toll-free numbers. When you're choosing your VoIP service, make sure all the features you want are included in your monthly paid plan and that there aren't any hidden fees.
Dependence on "network"
Network issues can be a problem for VoIP services—even a little latency and jitter can drive you mad.
But these problems often stem from the network, not the VoIP provider. Stable internet circuits are ubiquitous today and nearly any company can afford business class connectivity. But before signing up for a VoIP service, you should still make sure you have access to enough bandwidth and consider dedicating a specific channel to handle your communication needs.
One useful thing Dialpad can do is let you seamlessly flip a call to your mobile phone with the mobile app, which means that you'd never miss a call, even if your office had an outage.


Pros of SIP trunking
Flexibility
SIP trunks are easy to adapt to your needs, especially if you already have a phone system installed. You can add and change as many handsets on your telephony system whether your team is based in Chicago or China. What's more, it lets you keep your business phone number if you relocate.
Customisable
SIP trunks give you more control over the type of features that are used across the business. You can disable features you don't need and request upgrades to suit your immediate needs. Again, a SIP trunk just delivers voice to your phone system, so the dependency is on the hardware and software you have.
Can accommodate multiple users
If you're running a large company over different sites, SIP trunking can accommodate multiple telephone numbers in any location. Each SIP trunk is a virtual version of a traditional telephone line and contains several channels, which can be extended as required. Essentially, it allows you to use a central PBX and disperse these lines to your company campus or facilities.
Cons of SIP trunking
Requires dedicated PBX and telecom engineers
Unfortunately, SIP trunking requires dedicated engineers for the setup and ongoing maintenance. This means added costs for your business, like routing equipment and other PBX hardware: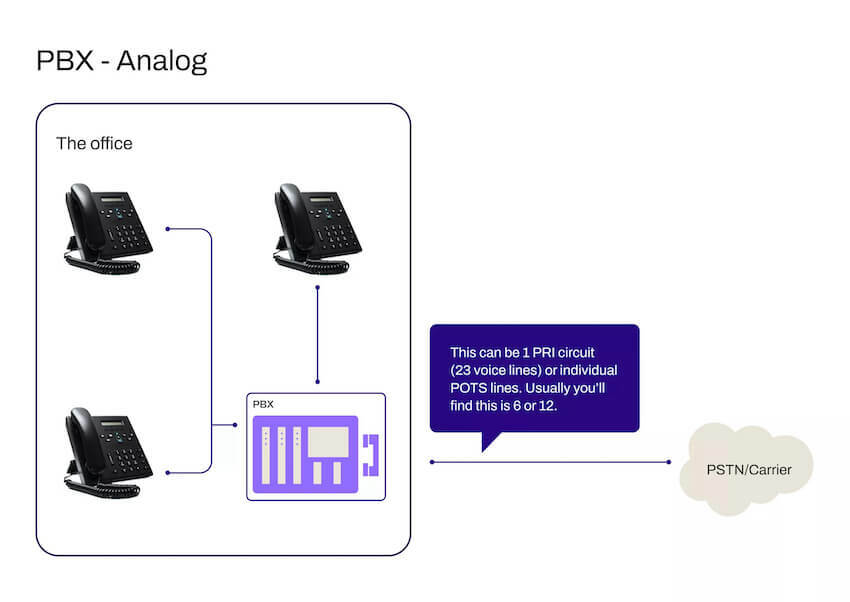 Harder to use
In addition to the trickier setup process, a system based on SIP trunking can also be harder to use. Employees will need to be set up with specific devices and trained on new processes, which can eat into valuable company time and frustrate your employees.

Not call recording and transcription-friendly
When you commit to an onsite setup, whether it's a PBX, IP PBX, PRI lines (Primary Rate Interface), or something else, you're committing to a large investment.
Unfortunately, these setups don't have important advanced features like call recording and voice transcription, which give your business valuable insight into your customers and business practices. Typically with SIP, you'll need to pay for additional licensing and even hardware to support this. These tools.
On the other hand, with something like Dialpad, you get call recording and transcription included with every paid plan, along with other useful functionality like visual voicemail. This is essentially a voicemail transcription feature that transcribes your messages—in real time—so you can save time by reading them instead of having to listen to each one:


Troublesome troubleshooting
As you may have guessed, it won't be an easy fix when something goes wrong with your PBX or SIP trunk setup. You'll most likely need to call in specialists or invest in an IT team that can handle issues when they arise.
Not always efficient for SMS
Communicating with your customers via voice calls and SMS is more critical than ever. With SIP trunks, more than likely you won't have any business text messaging at all. One big reason is because SIP trunking technology isn't always efficient at sending and receiving SMS messages. While it can support SMS, elaborate workarounds and additional services are often required to make sure your SMS messages are sent and received smoothly.
In fact, there are entire Reddit threads dedicated to resolving SIP trunking and SMS issues—not a great sign if you just want something easy to set up and use.
Most companies use a proprietary service to get dedicated SMS, and that creates its own problem with yet another vendor to manage and integrate.
Limited integrations
Although SIP trunking technology plays well with other protocols, it has limited integrations when it comes to applications and programs. For example, a few big names in IP telephony no longer use it in their multimedia communications.
Time to implement a VoIP system for your business?
Whether you're looking to upgrade your IP phone setup or just wondering "What is VoIP"? or "What are SIP and SIP trunking?", you hopefully have a clearer understanding of each and why a VoIP system—or better still, a VoIP-based unified communications platform—might be a better fit for certain businesses.
Most companies are interested in saving time and money while getting the most bang for your buck—and that's something that Dialpad is designed to help you do.
As a unified communications platform, it gives you much more than just a phone service—you get SMS/MMS and instant messaging, video calls, a contact centre, and more—all in a single, intuitively designed app. Why not try it out for free?

SIP vs VoIP: Put the debate to rest
If you're looking for a remote work-friendly communications platform that gives you calling, messaging, and video meetings in one place, sign up for a free trial of Dialpad now to try it out. Or, take a self-guided interactive tour to play with the app on your own first!