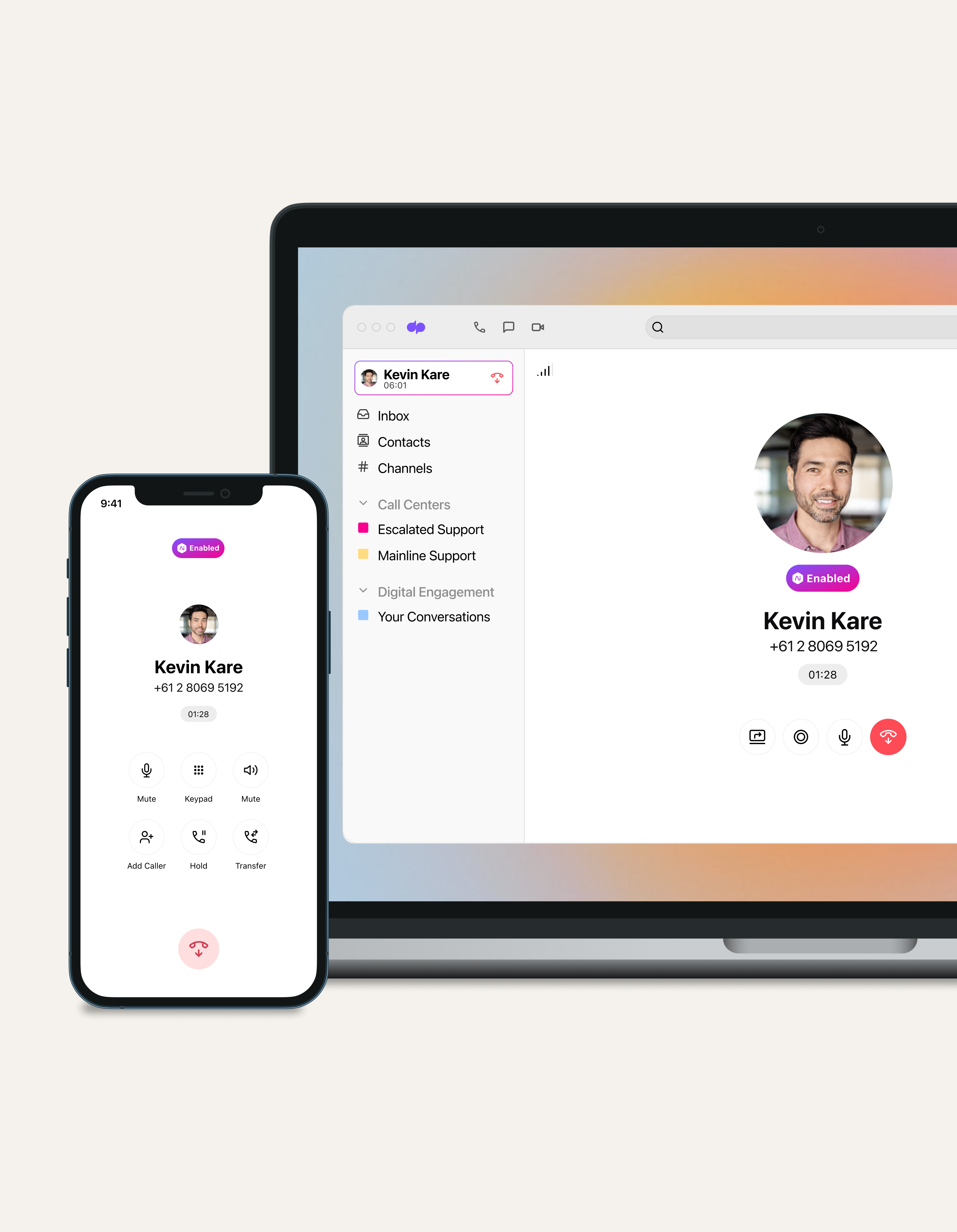 Voice call
Dialpad gives businesses industry-leading voice calling using modern VoIP technology that's designed to give you crystal-clear business calls. Try it free! It takes just a few minutes and you'll get:
A reliable, HD global voice network
Phone calls, video meetings, and SMS/MMS messaging from one app
Support for porting over existing numbers
Sign up for a free 14-day trial!
Get more than a voice call app and phone system

Unlimited calling
Dialpad's plans start at only $20 per user, per month, and give you unlimited voice calling in Australia, the US, and Canada, along with competitive international long distance rates.

Real-time transcription
Dialpad's unique AI is built by our own team, and can transcribe your calls and meetings—in real-time—meaning there's no need to take minutes ever again. Beyond voice transcription, it also lets you search for keywords and phrases in the transcript, and Dialpad Ai can even track how often keywords and phrases (like your competitors' or features' names) show up on customer calls.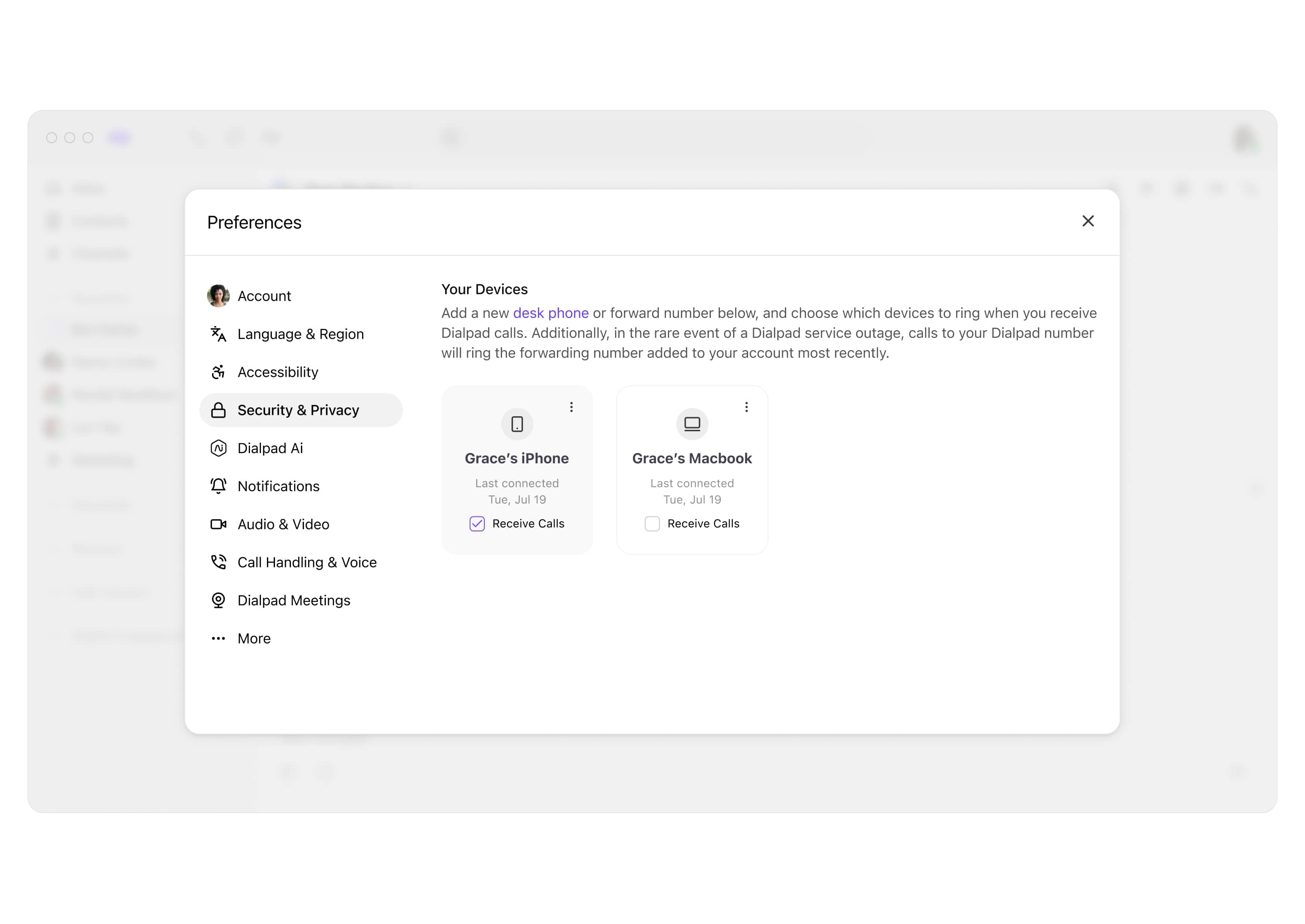 Call forwarding
Forward calls to your cell phone, your colleague, another department, or a landline. With Dialpad, you can have up to five call forwarding numbers set up.

Easy call routing
If your business gets incoming calls from clients or prospects on a regular basis, you need a good call routing feature in your phone system. With Dialpad, you can customise your routing options in just a few minutes, right in your online dashboard.
Integrations with your favourite tools
Get the best business phone features right inside other tools you're already using, like CRMs and ticketing software. There's Google Workspace, Microsoft 365, Salesforce, Okta, and more—and you can even build custom integrations with Dialpad's APIs.
Get unlimited phone calls with Dialpad
Sign up for a 14-day free trial to take Dialpad for a test drive! It takes just a few minutes to get set up with a virtual business number. Or, take a self-guided interactive tour of the app first!
A better voice call experience with Dialpad
Call recording
The ability to record phone calls is incredibly useful—it helps you detect communication pitfalls that could be impacting customer satisfaction. With Dialpad, you can discover how to record a phone call and listen to voice recordings right from the Dialpad app, or download recordings to listen to whenever you want.
Automated post-call summaries
The best business voice calling solutions offer more than just basic calling functionalities. With Dialpad, you get built-in AI features like the post-call summary, which automatically captures important information from your calls and emails them to the attendees. Not many business phones can do that!
A fully integrated contact centre
If you need it, Dialpad has a contact centre platform that's 100% integrated with its phone system. That means one consistent user interface, one login experience, one account. Unlike many other providers, Dialpad isn't reselling third-party software—which is why we've been able to build the same easy-to-use, intuitive experience into Dialpad Ai Contact Centre!

App and browser compatibility
Not all your clients and prospects will want to download an app to join your calls. That's why Dialpad is fully supported on PC and Apple computers, iOS, and Android. Make voice calls from your web browser and desktop and mobile apps!

Robust security
All phone systems need to be secure, but in a business setting, this takes on a whole new level of importance. A good VoIP provider should undergo regular security audits and be fully compliant. Dialpad offers single-sign-on capabilities, access management integrations, automated user provisioning, and in-meeting security settings like the ability to remove unwanted guests, mute participants, and more.

Low long-distance call rates
Need to make frequent calls overseas? Then you'll want affordable long distance call rates. Not only does Dialpad let you make unlimited calls in Australia, the United States, and Canada for free, our international call rates are also some of the lowest around.
Advantages of voice calls in modern businesses
More time-efficient than email chains
A modern VoIP system allows you to reach the right person anywhere in the business in seconds—a much more efficient communication method than playing email tag.
Important work issues can take hours or even days to resolve when communication is carried out over email or text messages, whereas voice calls facilitate rapid information flow between parties.
With Dialpad, you can start a quick voice call from internal message threads and reach who you need to speak to instantly. Moreover, you get access to built-in audio rooms to drop into anytime for rapid team collaboration.
Improves productivity
Phoning another team member enables you to move specific tasks along more productively. Dialpad provides call features like call recording so that you can capture, share, and record voice conversations for quick reference later on, too.
Provides an effective means of internal communication across the board
Seamless voice call communication can ensure that everyone in your organisation can reach out for information and get quick answers. Voice calls in the workplace are perhaps the most direct way to communicate or resolve a problem.
Moreover, choosing voice calls over other methods of communication removes the potential for misconceptions or misunderstandings. Hearing the other user's voice enables you to detect thoughts and emotions—something you don't get with email communications.
Start making voice calls online with Dialpad
Making voice calls online couldn't be simpler with Dialpad.
Dialpad's flexible and agile technology allows you to operate across multiple locations—all you need is an internet connection.
Dialpad's business voice calling solution gives your company a range of features that you can use to enhance the calling experience for your employees and customers alike.
Sign up for a free 14-day trial to get a virtual phone number for your business and conduct video conference calls, explore innovative telephony features like custom caller ID and use click-to-call to make a voice call online in a flash.
You can add click-to-call to any web page to make it easy for your customers to get in touch. Dialpad's click-to-call also integrates seamlessly with your organisation's CRM to empower your customer service representatives with customer records for vital contextual information.

Try Dialpad's unified communications platform for free
It's not just a phone system. Sign up for a 14-day trial to see how easy it is to make phone calls, have video meetings, and more with Dialpad. Or, get a demo with our team!
What is a voice call?
Communication via a voice call simply means talking to someone using a handset, speakers, or headphones without cameras.
Traditionally, voice calls were made through a wired landline phone that plugged into a wall outlet. Of course, voice calls can also be made through a mobile phone—in which case the phone connects via cellular signal to the phone company's network.
One of the most modern routes to initiating a voice call is using VoIP technology. If you're making a free online voice call through a computer, you'll need a robust unified communications platform like Dialpad to ensure crystal-clear call quality.
Another alternative is making a voice call using a video chat service with users that also have the relevant accounts.

How do I start a voice call over the internet?
What is the difference between a voice call and a video call?
What is the difference between a voice call and a voicemail?
Is it secure to make a voice call with Dialpad?