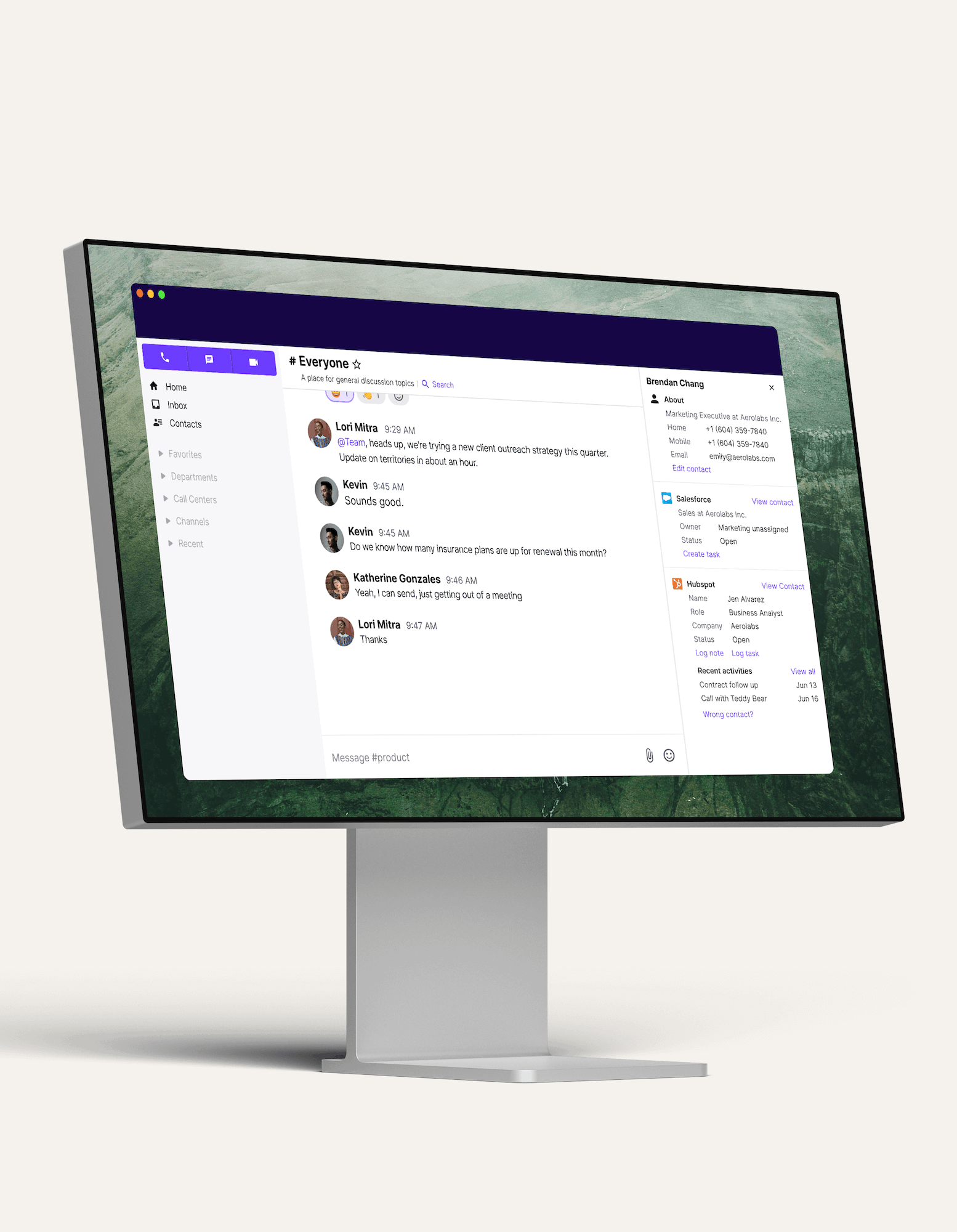 Business text messaging
Want to send instant messages, both internally to colleagues and externally to clients and partners? With Dialpad, you can SMS + MMS text messages and instant team messages—all from the same beautiful desktop or mobile app. Sign up for a free 14-day trial to try it for yourself!
All your business communications, in one place
Whether you're a C-level executive building a vision for your organization or a customer support agent trying to resolve a technical issue, you need some form of real-time communication.

And with business text messaging from Dialpad, your team can have a robust, versatile communications platform that lets you communicate through not only SMS and MMS (multimedia image, sound, and video) text messaging, but also phone calls, video meetings, and more.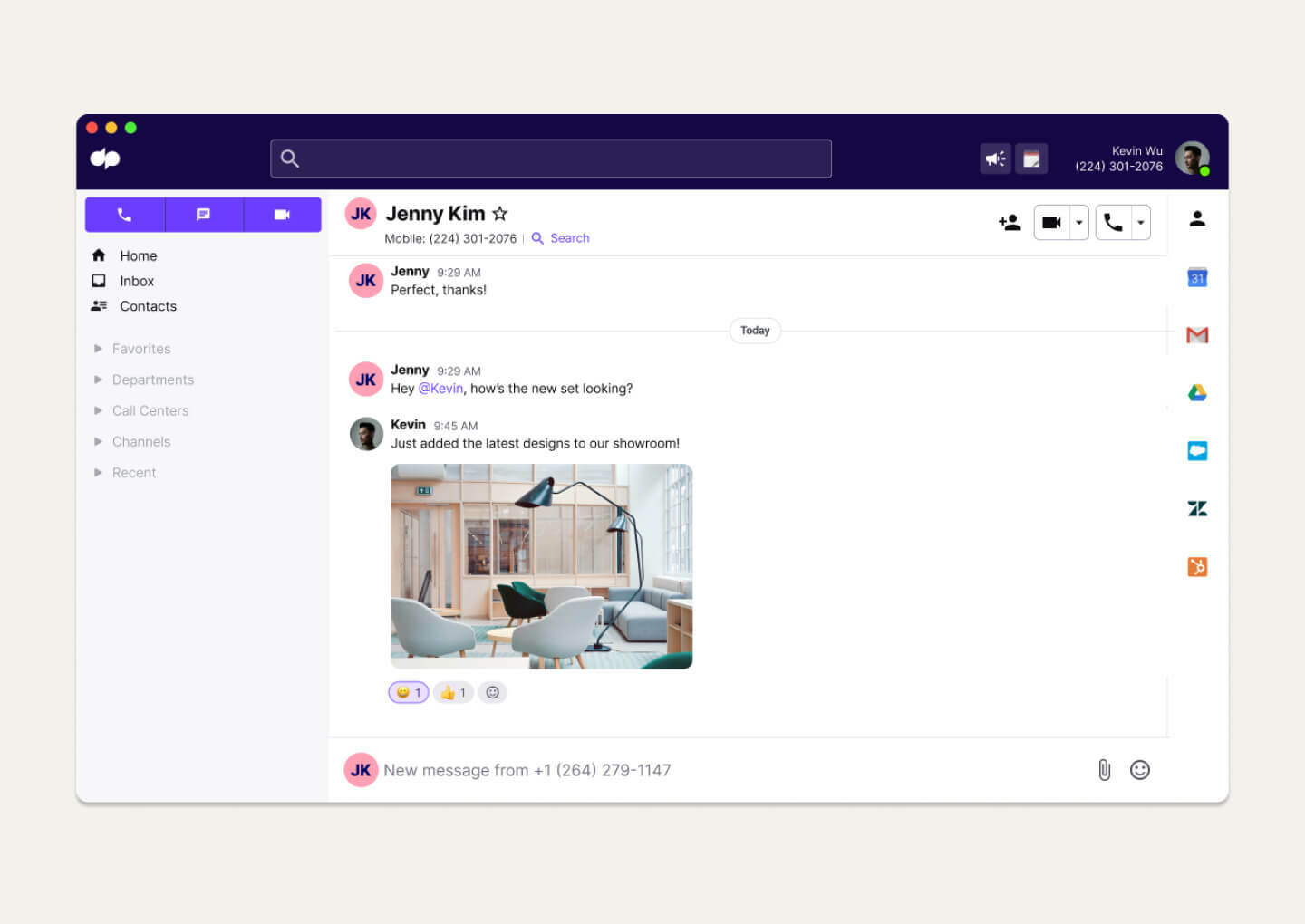 Truly unified communications
Dialpad isn't just a phone system. It's a UCaaS (unified communications as a service) platform with a phone system built in, which means you get SMS/MMS and instant messaging, video conferencing, and other advanced features—all in the same app.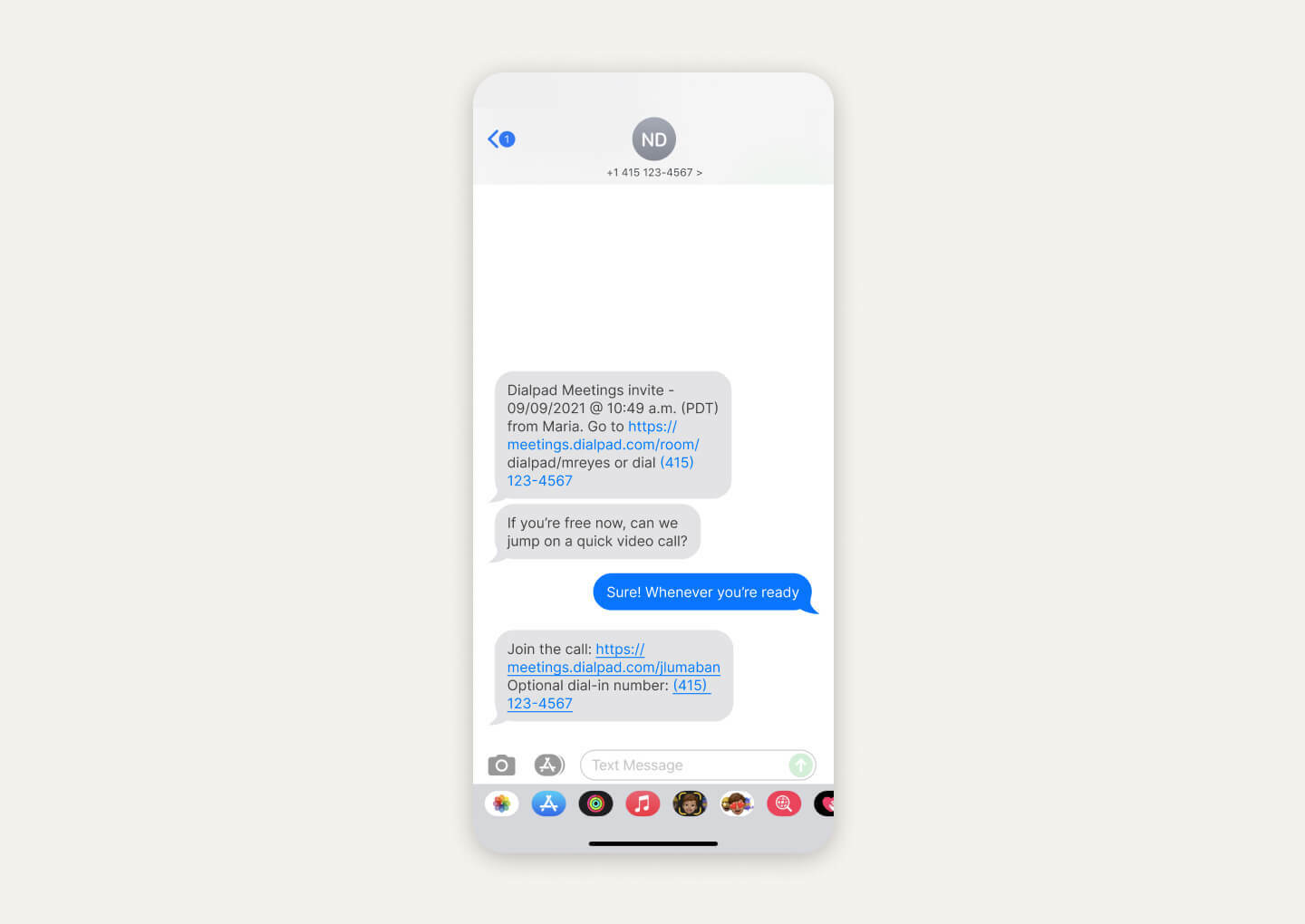 Device-agnostic meeting reminders
What if you want to send your client a link to your video meeting—but they're iffy about downloading the app? No problem. Dialpad lets you send them a text message with the meeting link so they can join from their web browser.
Set up in minutes
Get set up in literally minutes. With Dialpad, you can add phone numbers, create ring groups, and set your business hours, right in your online account in real-time.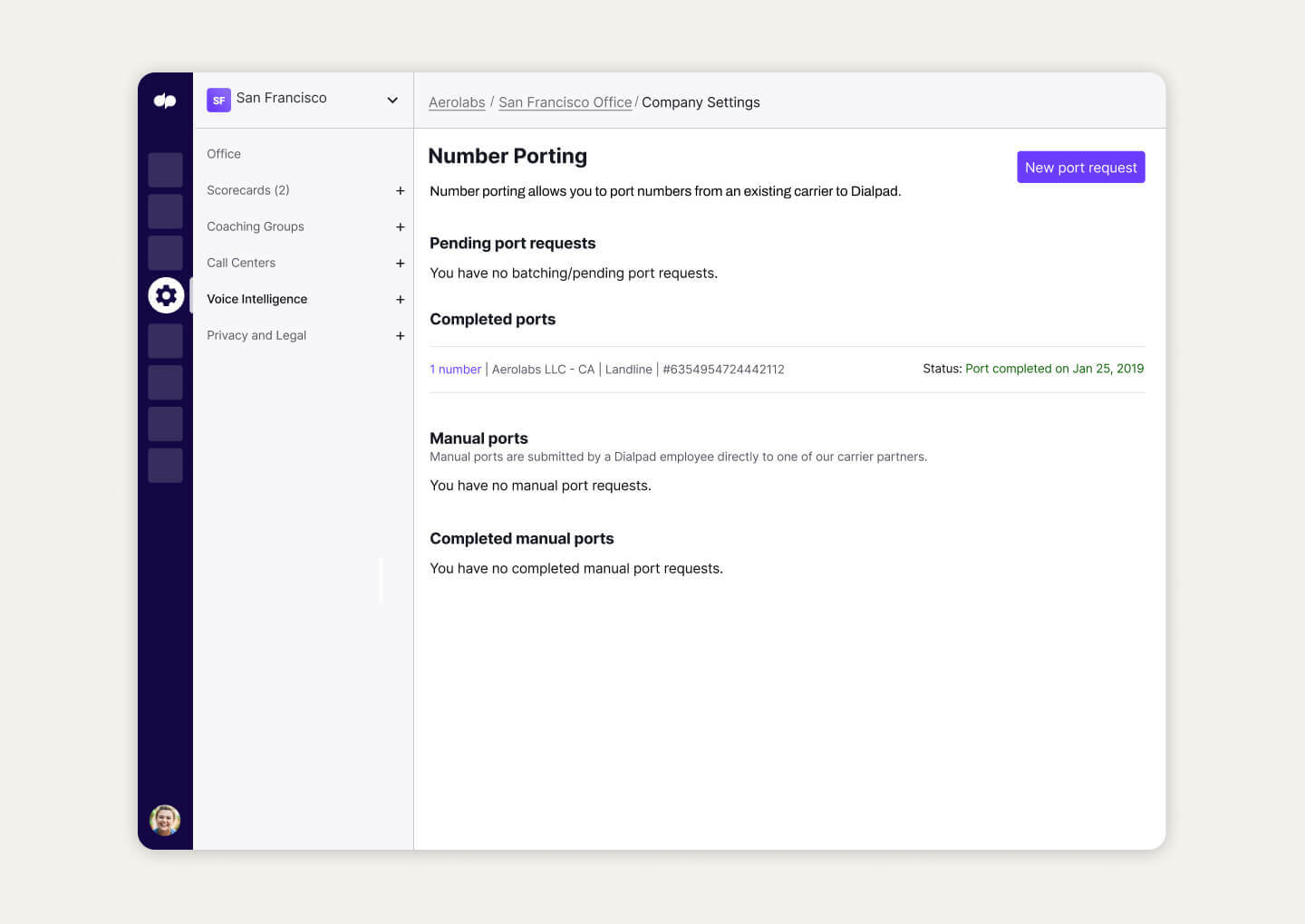 Keep your business number
Want to port your existing business phone numbers to Dialpad? We can help. Porting a local phone number in the United States is free, and your phone number will remain active while porting takes place.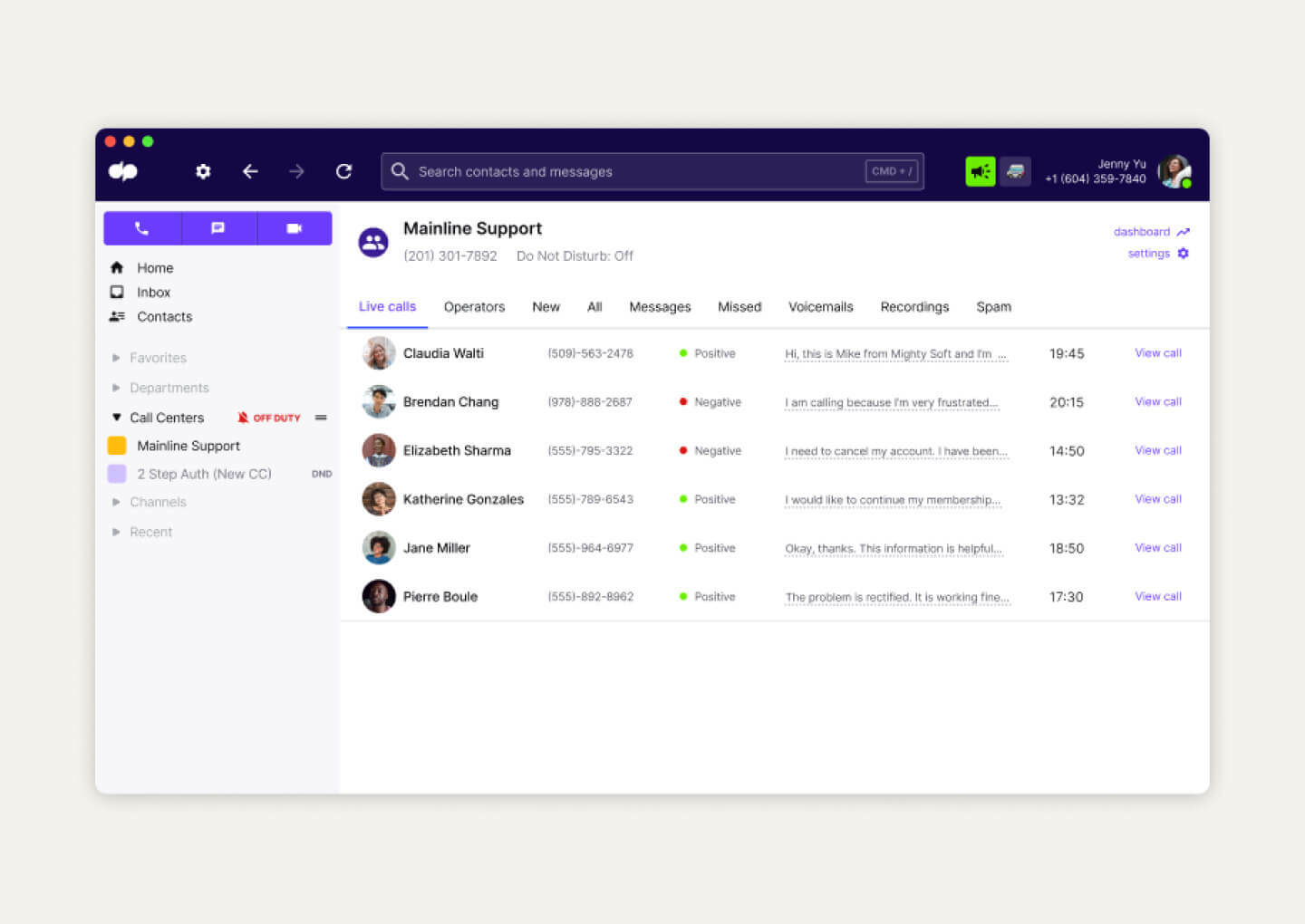 Fully integrated UCaaS + CCaaS
If you have a customer support, sales, or other contact center team, you might need a cloud contact center platform that lets you handle those high volumes of calls. Dialpad's contact center product is fully integrated into its phone system. One login, one account, one user experience. Book a product tour to check it out!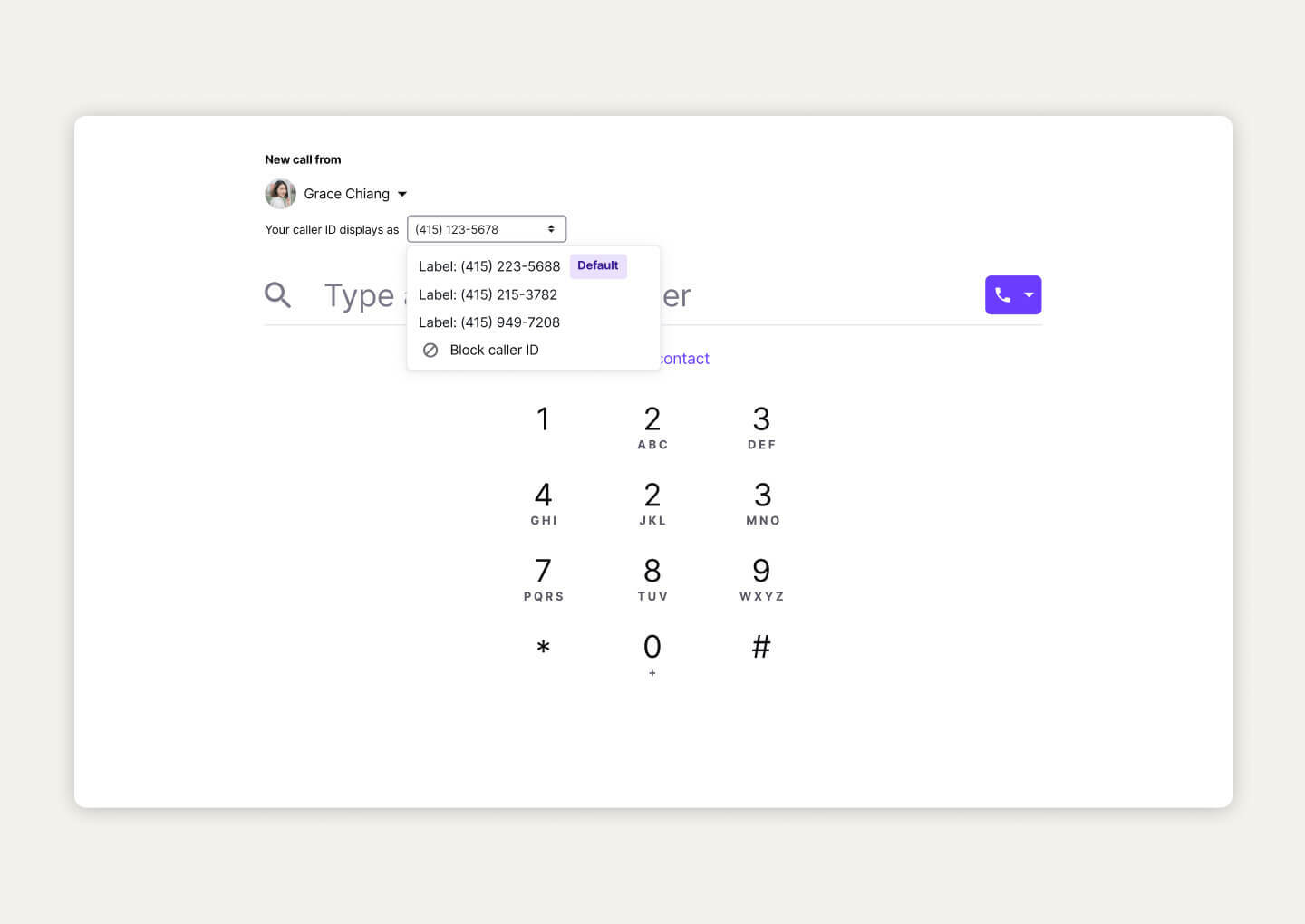 Customize your caller ID
Make work calls from your personal cell phone—while shielding your personal phone number. When you send texts or make phone calls from the Dialpad app, you can choose which caller ID to display.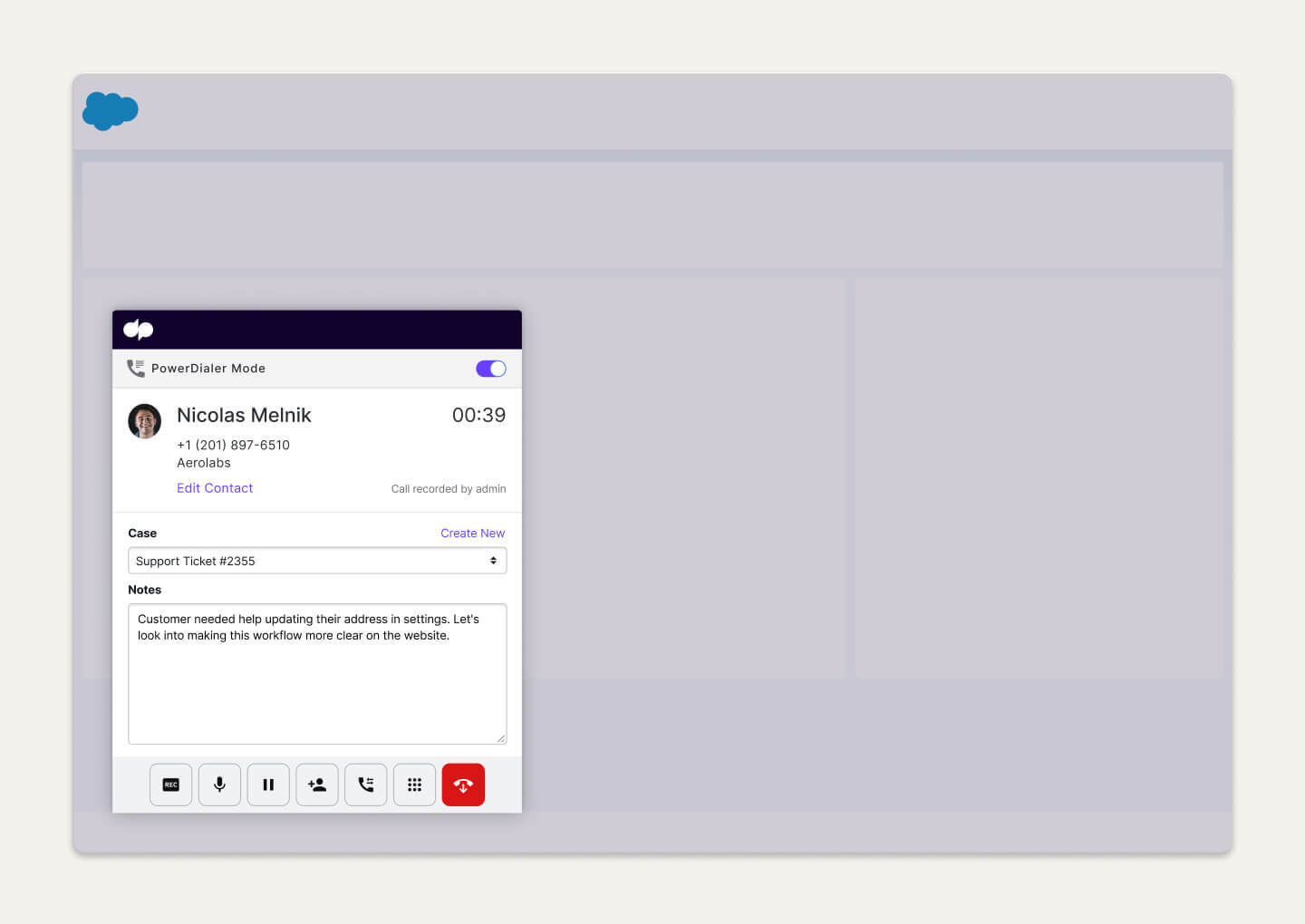 Integrations with tools you're already using
From Google Workspace to Microsoft 365, to Salesforce and Zendesk, Dialpad integrates with a wide range of business software. For example, the Salesforce integration automatically logs your phone calls and text messages.
Get more than just business text messaging with Dialpad
With plans starting at just $15 per user per month, even the least expensive plan gives you unlimited calling in your country, the US, and Canada—and unlimited SMS/MMS messaging in the US and Canada. (Not to mention all the other advanced phone functionality.) Book a product tour to see how easy Dialpad is to use!
Is it acceptable to use text messaging for business?
You might think of texting as an informal means of communication, more suited to chatting with friends than to business. But that's not the case anymore. SMS business text messaging is a thing now, and it has many applications for both internal and external communications with teammates and clients.
For one thing, it saves time. Need to ask a colleague a quick question? Don't type a lengthy email—just send them a text. It's also super-convenient for reaching customers or clients who prefer texting. Today, you've got lots of text messaging business opportunities, like using texting to respond quickly to simple questions, ask for feedback, and send delivery updates or appointment reminders.
And the best thing is, SMS text messaging for business can be done on your personal cell phone—while protecting your personal number if you're using an app like Dialpad's.
Using text messaging services for business: 5 case studies
1. Parkway Solutions
Parkway Solutions is an accounting firm that helps small and medium sized business with payroll, and to stay in touch with clients, they use a unified communications platform. Specifically, Dialpad, which gives them not only a VoIP phone system, but also video meetings and SMS/MMS text messaging—all from an app on their laptops or cell phones.
Instead of paying for a separate business text messaging service, they get all their communication channels in one convenient place (and in one convenient monthly invoice). And beyond just texting clients, they've found another clever way to use texting:
"
We've actually done something quite unique with Dialpad, and it has to do with multi-factor authentication. Dialpad was one of the only solutions that's a VoIP system that also has text messaging. So we set up a special phone number in Dialpad (which cost basically nothing) that became our security line for multi-factor authentication.
"
Matthew Fulton
Chief Technology Officer, Parkway Solutions
2. Coye Law Firm
Coye Law Firm practices in multiple states and has employees working around the country. Their founder, Wade, also enjoys working from southern France for a good chunk of the year—which means a remote-friendly communications platform is a must. His clients often prefer texting over voice calls, and wouldn't even think of using email­. Because of this, Wade knew that he needed a business text messaging platform built into whatever software he ended up choosing for the firm.
"
Dialpad's texting feature is really good. And it's important because I've got clients coming in who don't even use email because it's not relevant—but they text all the time. So texting is critical, along with voice, because that's how people communicate.
"
Wade Coye
Owner and Attorney, Coye Law Firm
3. Riders Share

Riders Share is the "Airbnb of motorcycles," and with a small team, even their CEO, Guillermo, gets involved with customer support regularly.
Their customers do like texting—but why pay for a separate business text messaging app when you could get that feature right in your unified communications platform?
"
Customers are so impressed when we're on a call and I message them the website link they need—usually before they're even done asking the question! And if I have a missed phone call, I can text them right back.
"
Guillermo Cornejo
CEO, Riders Share
External business text messaging
When you need to quickly communicate with customers, clients, and vendors, a phone call doesn't always work. More and more, business text messaging is the way to go because people are just more responsive with texting.

Internal business text messaging
Sometimes, all you need is a quick answer or a small detail from a coworker. Instead of interrupting them with an email or a shouting across the room, why not just send them a text message from the Dialpad app?

Dialpad also supports group messaging (with both internal and external participants), making it easy to collaborate without starting a long and impossible-to-follow email chain. You can even see all your messages and text conversations—both team messages and SMS/MMS messages—in one convenient place.
Business text messaging options

Beyond just business text messaging, there are a few other useful things you can do with Dialpad:
Search chat history: Trying to remember that one little detail or part of a text-based conversation you had with someone? With Dialpad, you can quickly search your conversation history with them.
Archive a chat: Sometimes, you just want (or need) to clean up a conversation. You can do that in Dialpad by archiving it.
Copy a message: Quickly copy and past messages—including any multimedia content inside them—to share with teammates or clients with just a few clicks.
Delete a chat: Delete a single comment—or a whole chat—completely.
Need to send texts and instant messages at work?
With Dialpad, you can send SMS + MMS messages and instant messages, all from the same app. Sign up for a 14-day free trial with your Google or Microsoft 365 account, and you'll be set up with a phone number in just a few minutes.
FAQs about business text messaging
Is business text messaging free in Dialpad?
Yes, it's free to send business text messages to anyone in the United States and Canada using Dialpad.
Which business messaging formats does Dialpad support?
How do I send business text messages with Dialpad?
Does business text messaging work on all devices?
Which of my devices will receive business text messages?
What's the difference between SMS and MMS messaging?
Can I send business text messages to external non-Dialpad numbers or phone numbers outside of my organization?
Can I send group messages?
Is there a limit to the number of people I can message?
Can I send messages from my main company number or department number?