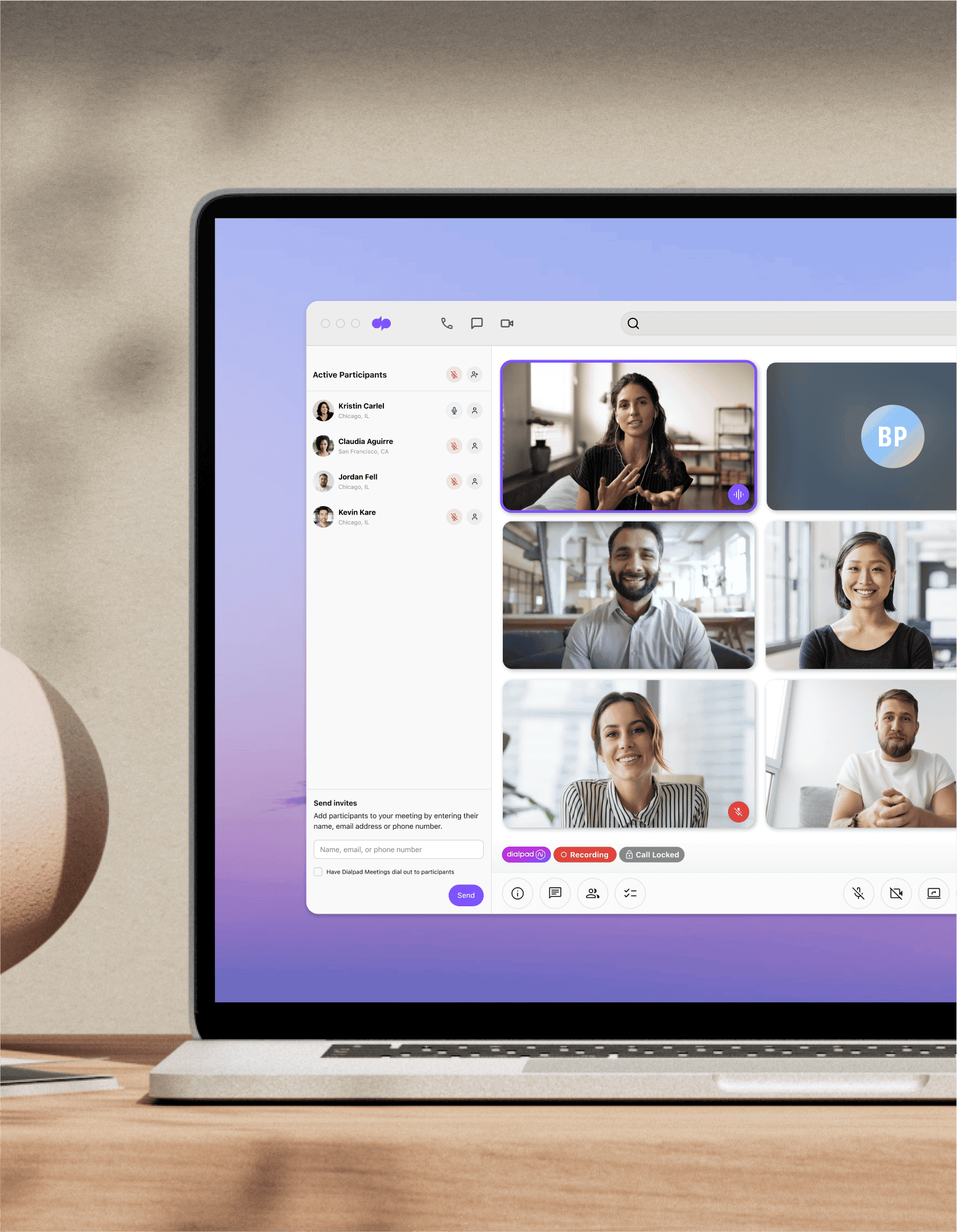 A modern enterprise communication solution
Every business needs some form of communication tool, but enterprises need more than just a business phone system. See how Dialpad's unified communications solution gives you an entire enterprise ecosystem in a single platform!
Excellent call quality around the world
100% platform uptime, infinite scalability
Truly integrated UCaaS + CCaaS
What is enterprise communication?
Enterprise communication is a bit different from your usual business communications in that it comprises a lot more than a typical business communications solution.
Most people think of VoIP phone systems, or even unified communications platforms—and while both of these are key parts of enterprise communications, they must be able to be deployed on a much larger, global scale.
For example, a good enterprise communication solution should be able to easily support thousands, not hundreds, of company employees and help the organization stay compliant.
A robust and advanced enterprise communication solution

Truly unified communications
Dialpad isn't just a business phone system. It's a UCaaS (Unified Communications as a Service) platform that streamlines all your phone calls, video conferencing, SMS/MMS + instant messaging, screen sharing, and more—into one intuitive app. Meet face to face with colleagues, customers, and prospects from anywhere, anytime.
An integrated contact centre
Do you have a contact centre team? Whether you're supporting customer experience, sales, or other types of agents, Dialpad Ai Contact Centre is fully integrated with its UCaaS user experience, meaning your supervisors and agents can message each other, handle customer calls, and more without toggling back and forth between different tools.

Robust security
Dialpad has a range of in-meeting security controls, like the ability for the host to remove unwanted guests, admit attendees from a virtual waiting room, mute participants, and more. Just a few reasons why a range of enterprises and organizations across regulated industries like insurance and healthcare are using Dialpad!


24/7 customer support
Whether it's 3am or you're on the other side of the world, Dialpad offers 24/7 live chat and phone support worldwide for all Pro and Enterprise plan customers. Not only that, but you can also search our extensive online Help Centre anytime to find answers to frequently asked questions.
Does your enterprise need a robust communications platform?
See why organizations like WeWork, Xero, and RE/MAX are using Dialpad to manage phone calls, instant + SMS/MMS messaging, video conferencing, and more—in one intuitively designed platform. Or, take a self-guided tour of the app!
Desktop and mobile app
Dialpad works across desktop and mobile devices including PC, Mac, iOS, and Android. And yes, even the contact centre platform works on mobile. It's also fully browser-based, which means you can both host and join video calls in a web browser—which is particularly convenient for clients and prospects who don't want to download an app to join your meeting.
Integrations with the tools you already use
A good collaboration solution should integrate with your favourite tools. From Salesforce to Okta to Microsoft 365 and Google Workspace, Dialpad integrates with a wide range of popular enterprise systems to give your organization the automations and real-time analytics you need to make data-driven decisions. Want a custom integration? Build your own with APIs! Learn more about Dialpad's APIs here.

Built-in AI
One of the most unique things about Dialpad is its proprietary AI, Dialpad Ai. Not only does it transcribe voice calls—in real time, more accurately than almost all leading competitors—it can also do other things, like automatically pop up Real-time Assist cards for contact centre agents to help them talk through tricky questions with customers!


Caller ID
With Dialpad, you can make calls and send text messages from your cell phone—while shielding your personal phone number. Just choose the caller ID you want to display from the dropdown before you make the call!

Visual voicemail
If you're in a meeting or just can't get to the phone, Dialpad's visual voicemail feature transcribes your voicemail messages so that you can read them instead of listening to each one. It's much more convenient, and helps you make sure you don't miss an important business phone call or message.

Call recording
Whether you want to automatically record all of your calls or manually record a specific call, Dialpad lets record, save, share, and play call recordings, right from the app. This comes in handy when you've forgotten an important detail or need to make a staff onboarding playlist!

Easy call routing
Set up and make changes to your call routing in minutes, right from your online dashboard. No need to contact a support team, no need to wait for hours or days for changes to be implemented.
Looking for a secure + versatile enterprise communications solution?
Dialpad empowers organizations to handle all their business communications from one intuitive, easy-to-administer platform. Book a demo to see how it works, or take a self-guided tour of the app on your own!
Why global organizations choose Dialpad for their enterprise communication solutions
There are so many enterprise communication systems out there. Why Dialpad? Great question.
Dialpad makes it easy to scale
Whether you're hiring or expanding to new countries (or both), being able to set up new hires with their communications tool quickly is essential.
With Dialpad, this workflow is very simple for IT teams and admins. Need to add new agents or manage phone numbers? Just log into your account online and do that from your dashboard:

With traditional phone systems, it can take days or even weeks to get new employees something as basic as a phone number. Not with Dialpad. Take ClassPass, for example, which has over 400 employees around the world—and only a two-person IT team. Randy, their IT Manager, can set up new hires in minutes. (Not many enterprise phone systems can do that!)
"
Now that it's all softphone-based, it's five minutes and done to set up a new hire. Grab a number and go. And to set up new offices, within a week we're good to go for a whole brand new location.
"
Randy Tanenhaus
IT Manager at ClassPass
High-quality calls, all around the world
With a unique dual cloud architecture and global voice network, Dialpad is designed to provide clear, crisp phone calls around the world. And unlike legacy telephony providers, it can do this with a much higher level of efficiency, needing fewer data centres to provide the same—or in many cases, better—quality of calls.
A fully integrated UCaaS + CCaaS solution
Instead of paying multiple bills to multiple vendors, Dialpad's platform brings all of your organization's communication technologies into one ecosystem.
No whitelabelling, no reselling. Whereas many established service providers or enterprise communication solutions have either a UCaaS or CCaaS platform and add the other piece via a reselling agreement with another software provider, Dialpad has built both its UCaaS and CCaaS solutions in house.
That means one login, one account, and one cohesive user interface for all agents, supervisors, and employees.

FAQs about enterprise communication solutions
What is "enterprise collaboration?"
Enterprise collaboration essentially describes the systems and business processes used by large global organizations to enable efficient internal and external communication. Today, this typically takes hybrid and remote work into account, meaning collaboration should have no location or device restrictions. That means that having a good enterprise communication solution for things like video conferencing, VoIP calls, and so on is essential.
What are the main things to look for in an enterprise communications solution?
What security considerations should enterprises keep in mind when choosing a communications platform?