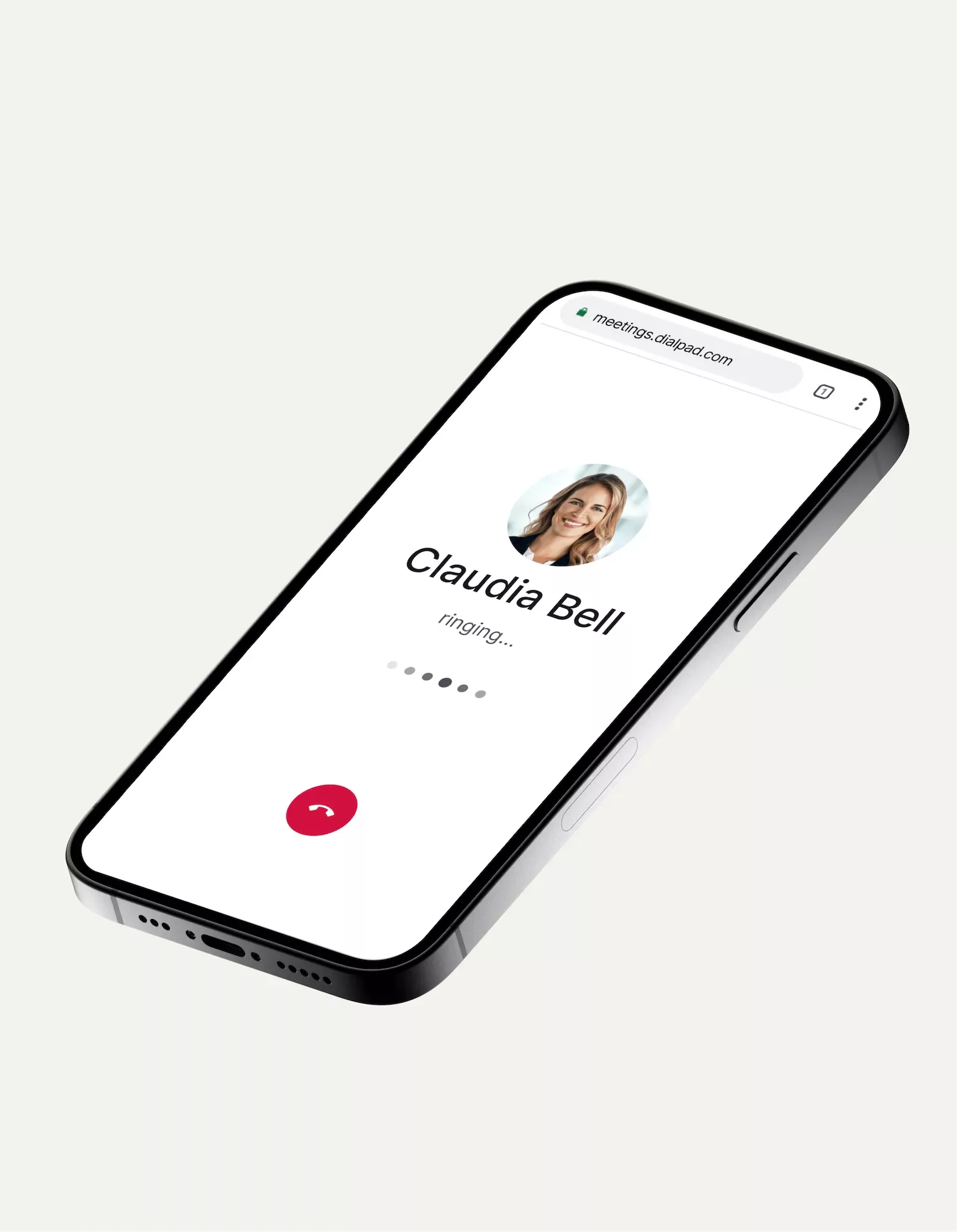 Caller ID
How often do you decline a call because you don't know who's calling? Using Dialpad's customizable caller ID feature, you can make business calls from your personal mobile phone—while displaying your company number instead of exposing your personal phone number. See how it works with a free trial of Dialpad's unified communications platform!
Sign up for a 14-day free trial!
People aren't picking up their mobile phones for scammers and robocalls posing as unknown numbers—you wouldn't either, right? Dialpad's caller ID gives the person you're calling all the info they need, like your company and what department you're calling from.

Custom caller ID with Dialpad

Easy one-click changes
In Dialpad's app, you can toggle between different phone numbers with just a click or two. Use your own personal number, your sales department's number, or any other business number that's hooked up to Dialpad—or block your caller ID display for one-off calls.
Set up in minutes
Want to add new users, manage your virtual phone number, or port phone numbers? You can do all that easily in literally minutes, right in your online dashboard.

Desktop and mobile app
With Dialpad, you can make outbound calls from both desktop and mobile apps, which work across iOS, Android, Mac, and PC.

+604, 416, 902, you name it
Dialpad's caller ID services are especially useful for sales teams that do lots of phone outreach. With local presence dialing bundles, you can make sure that sales reps are calling from recognizable area codes, which tends to boost their chances of getting a pickup.
How caller ID supports business operations and initiatives
Dialpad's caller ID feature is available at the Main Company Number, Department, and Individual levels.
When a user places a phone call, identifiers, including the caller's company or department name and the phone number, are sent to the recipient and displayed on their call display or screen as the call arrives.
Spam calls and telemarketers are often listed as unknown or blocked calls. Caller ID identifies these calls so you can screen them or send them to voicemail.
Incoming call from customer service
While people won't answer a call or text message from an unfamiliar phone number and area code, they will answer a customer service call from a company they know. Dialpad's Caller ID feature allows you to provide the people you're calling with important information like company name or department information before they answer the phone.
Caller ID admin features
Whether you have a small business phone system or a hyper-advanced enterprise phone system, it should give you flexible administrator options for caller ID. With Dialpad, for instance, administrators can easily enable caller ID permissions to specific teams and users, allowing them to make calls from different numbers, depending on the reason for the call or who they're calling—all from the online dashboard.

👉 Dialpad tip:
You can always opt to dial *67 before your recipient's # to block your caller ID or *87 to unblock it.
Get started with custom caller ID
With Dialpad, you're not just getting a business phone system. You get a communications platform (with built-in messaging and video meetings)—and every plan comes with the ability to customize your caller ID. Try it with a 14-day free trial, or take a self-guided interactive tour of the app first!