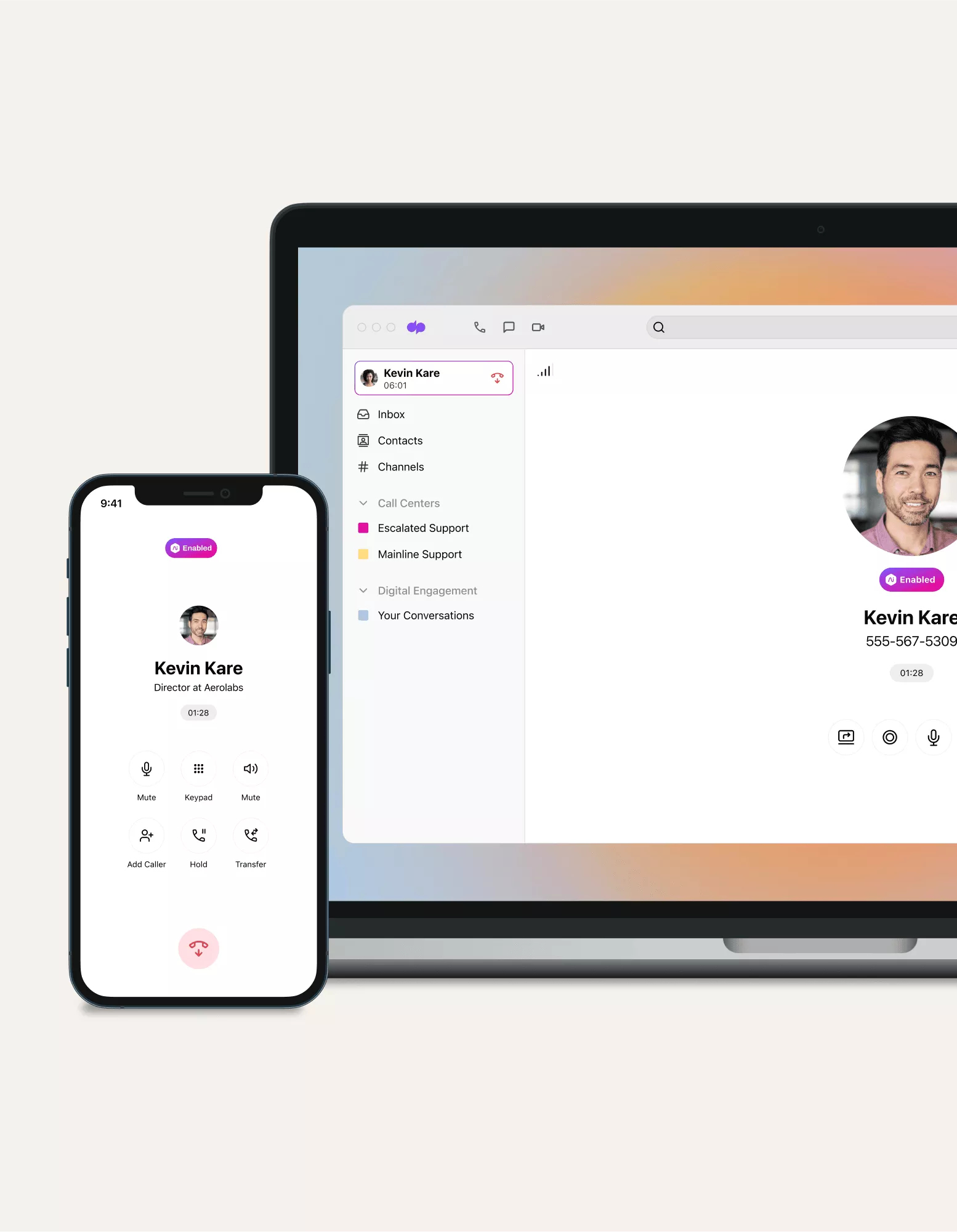 International calling in Canada
Need international calling? With Dialpad, calling long distance (and locally) from Canada couldn't be easier. Just sign up for a plan, download the app, and start making calls over the internet. Try it now for free to get set up with a virtual business number!
Sign up for a 14-day free trial!
How to start an international call from anywhere in Canada
When you use a traditional landline, international calling from Canada can be complicated (and expensive). That's not the case with Dialpad.
Dialpad seamlessly connects you to people anywhere in the world, no matter their country code. Just open your app or log in on a web browser, and start a call within seconds. It's as easy to call Venezuela, Denmark, or Hong Kong as it is to call a Canadian number.
You don't even need any new equipment or hardware to get started, since Dialpad works across computers, tablets, and mobile phones.

The best international calling app in Canada
Need to make lots of international calls for work? Dialpad gives businesses international calling capabilities to virtually any location in the world, from New Zealand to the United Kingdom, at some of the lowest minute rates around. And on top of that, Dialpad comes with...


International phone number
It's easy to make long distance calls and add international numbers to your Dialpad account for a whole host of nations. That means you easily spin up offices around the world from Spain to Peru if you want to expand from Canada.

HD quality international calls
The VoIP (Voice over Internet Protocol) phone system built into Dialpad's UCaaS platform gives you crisp, clear audio for all international calls. From Mexico to Malaysia, you can rely on crystal clear sound and a secure connection—and sharp visuals if you need video calls, too.

Advanced call features
Whether you're calling a mobile number or a landline, Dialpad has all the built-in features you need including call transfers and call forwarding, team messaging, and conference call services.

Truly unified communications
With Dialpad's fully unified cloud communications platform, you can have video meetings, send messages, and make phone calls in a single app. And you can do this anywhere in the world. Norway, Puerto Rico, the US Virgin Islands—if they're connected to the cloud, you can call them or call from them!
Enable your business to call internationally from Canada with ease
Using Dialpad, you can easily and affordably make phone calls from Canada to anywhere in the world. But there's a lot more to Dialpad than just phone calls.
On a single platform, you can make phone calls, send messages, hold video meetings, access useful call analytics, and a whole lot more. Try it now!

Start calling internationally from Canada in minutes
Unlike a landline phone system, Dialpad is a software-based tool that works on desktop and mobile app too. This means you can use it on any device to make international calls just as easily on your mobile device while on the go as you can in the office. Try it for free or take a self-guided interactive tour of the app first!
FAQs about international calling in Canada
How do I make an international call from Canada?
It's easy to make an international call from Canada with Dialpad. No matter where you're calling from—Thailand, Luxembourg, Taiwan, wherever—just select the number on your Dialpad app and you'll get a clear, secure connection in seconds. Global conferences are a breeze, too. You can simply send a meeting invite to any international contact you like. Or, for larger meetings, it's also simple to set up a conference bridge.
Do you need to dial 011 to call Canada from the USA?
How can I make free international calls without Wi-Fi?
What codes do I need to know for international calling?
Can I make an international call on my cell phone?