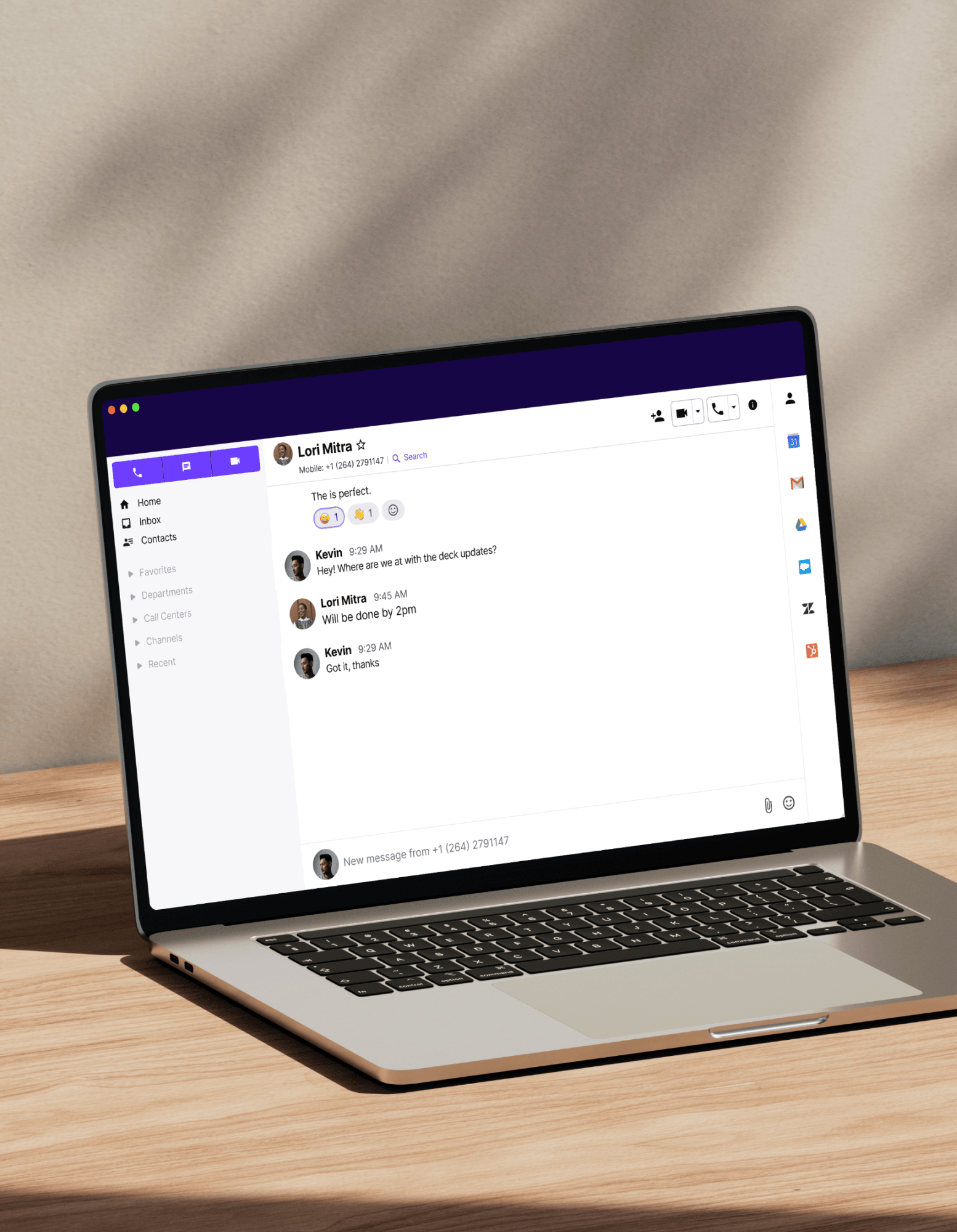 A2P messaging
Texting is one of the best ways to get more responses when you're communicating with clients and prospects. Need a communications platform that lets you do that? Book a product tour to see how Dialpad can work for your business!
Application-to-person messaging is becoming a popular way for businesses to communicate with customers, clients, and employees—and for good reason. SMS or MMS text messaging tends to get much better response rates. (According to Gartner, "SMS open and response rates [are] as high as 98% and 45%, respectively — in contrast to corresponding figures of 20% and 6% for email.")
Whether you're a business owner thinking of new ways to contact potential clients en masse or a marketer interested in sending SMS marketing messages for your next campaign, this guide will cover everything you need to know, from how A2P messaging works to creative use case ideas.
What is application-to-person (A2P) messaging?
Application-to-person messaging, or A2P messaging, is when a business sends automated SMS or MMS messages to a person or a group of people. It's sometimes called business text messaging, business SMS, or enterprise SMS.
What is the difference between A2P and P2P messaging?
A2P messaging is different from traditional person-to-person messaging, also known as peer-to-peer messaging or P2P messaging. Basically, A2P messaging is when a software application sends automated messages to a person, such as a customer, client, or employee. P2P messaging on the other hand, is sent between people and is not automated.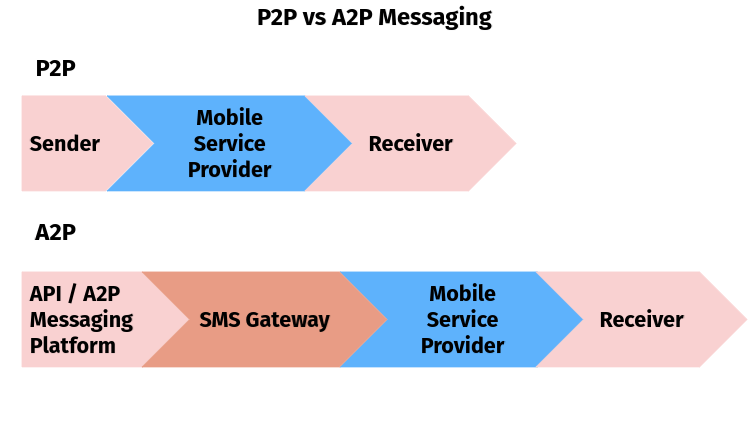 You may be wondering—how does A2P messaging work? And how does this differ exactly from P2P messaging? Does a business have to use A2P messaging?
How it works
P2P messages are two-way SMS texts, and they're sent directly via the mobile service provider.
A2P messages, however, are often sent via an application, such as a dedicated A2P messaging platform or software application, which routes the message to an SMS gateway. This then passes the message to the mobile service provider, who sends it to the receiving mobile user.
Think of P2P messaging as the type of communication that takes place between you and your family, friends, or colleagues on your mobile phones. A2P messaging is the texts you receive from businesses, such as confirmations, appointment reminders, and marketing messages.
A2P messages are also more professional than P2P messages. You're more likely to trust a message from your bank or a retailer if the sender is named as such or using a work phone number.
👉 Further reading:
See how ACI Jet communicates with customers via work phone numbers rather than their personal numbers.
Ways to conduct A2P messaging
There's a range of reasons why your business may want to use A2P messaging. Before we dive into its typical uses, let's cover the main ways A2P messages are sent and their functionalities.
10-digit long codes (10DLC)
In the US, all phone numbers have a 10DLC—a 10 digit long code, better known simply as your phone number. 10DLCs can be used for A2P messaging too.
Businesses that use 10DLC for A2P messaging will need to register for A2P use with their carrier. You can also get a trust score from a third-party registry that'll affect your throughput, which is the deliverability of your texts or the number of messages you can successfully send per second.
These rules were put in place to prevent consumers from being spammed with A2P messages.
Despite these obstacles, 10DLC SMS A2P messaging is a relatively inexpensive option for many organisations, especially local businesses. With 10DLC A2P messaging, you can keep your business phone number, and the number is two-way, so customers can reply to your texts and call you on the number they receive your messages from.
Fun fact: Dialpad's business communications platform lets you send SMS and MMS messages to clients or prospects, right from the desktop or mobile app:


Toll-free numbers (TFN)
Toll-free numbers or TFNs work similarly to 10DLC A2P SMS messages. Your business can register for a TFN quickly and cheaply and send A2P messages from it without the longer vetting process required for sending 10DLC A2P messages.
TFNs are free to call, which makes them better for non-local businesses. TFN A2P messages can handle medium-volume message broadcasts and are great if you want a cost-effective, more professional phone number from which to message your prospects or clients.
Dialpad makes it super simple to add a toll-free number. Just log into your account and go to "Add a number" in your settings. No IT help needed.

👉 Fun fact:
Shortcodes are no longer being issued, but they're commonly used to support large-volume broadcasts and are well-suited to larger businesses and for marketing campaigns. (Shortcodes are also the most expensive option for A2P SMS messaging.)
Most common uses of A2P SMS messaging
Now that you understand how A2P messaging works and its functionalities, it's time to look at typical use cases so you can figure out how your business might leverage A2P messaging.
Two-factor authentication
A2P SMS messages are often used for two-factor authentication (2FA). This is when a one-time password is sent via SMS for you to input when logging into certain accounts, such as your online banking or email.

Dialpad is compatible with many 2FA services, like SAASPASS and OneLogin, that can be linked to your Dialpad account so that you can sign in easily and securely on your phone.
🔎 Further reading:
If, like Betterment, your business handles sensitive data, such as financial information, you may want your staff to perform 2FA when logging into certain databases or servers. A2P SMS messaging can send a code to your phone number for you to input before you can access anything.
Confirmation messages
A2P messaging is also used for sending confirmation messages to customers. These SMS messages are often automated and are triggered by your behavior, such as when you make a purchase or book an appointment.
Purchases
When online shopping, you may receive a purchase confirmation via text in addition to your email confirmation. This text could include helpful details such as your order number and acts as an extra layer of security in case someone makes a purchase using your account without your knowledge.
Appointments
Appointment confirmations and reminders are common uses for A2P SMS messages too. Your clinic might send you a confirmation of a doctor's appointment when you book it and send you a reminder the day before to ensure you note down your appointment date and time and show up on the day.
Businesses that deal with customers who might prefer to use text messaging over email, like Coye Law Firm, may want to use A2P SMS messaging to send clients confirmations and reminders when they have an appointment.
Reservations
Just as your clinic might send you confirmations about when your next appointment is, the hospitality industry has really caught on to using A2P messaging to send reservation confirmations. These text messages include useful information, such as the time and the date of the reservation, the number of people you've booked for, and the location of the restaurant.
Reminders
Of course, healthcare providers and restaurants can use A2P messages for not just confirmations, but also reminders. Automated messages sent the day before or day of an appointment or reservation are a great way to make sure your customers or clients remember to show up.

In fact, even post secondary institutions can use text messaging to communicate better with students (possibly the biggest mobile device users in the world) and keep them engaged. That's what Blue Cliff College did!

Tracking notifications
The days of waiting around for packages with no idea when they'll arrive are over. Now, we can get real-time shipping updates when we purchase something online. A2P SMS messages can be sent to customers via shipping providers or retailers to keep them in the loop.
Suspicious activity
Many of us are concerned about cybersecurity. A2P messages are now a helpful way for service providers to alert customers when suspicious activity happens on their accounts.
If your business lets customers create accounts containing sensitive information, implementing A2P telecom for suspicious account activity could prevent cybercrime and increase customers' trust in you.
Announcements and promos
A2P messaging is popular for SMS marketing as it can be used to send bulk messages to subscribers who have opted-in. Marketers can announce events, sales, and company updates via text.
With 95% of text messages being read and responded to within three minutes, it's no surprise marketers are opting for SMS campaigns.
Product and service offers
Marketers also find A2P messages instrumental for communicating offers to customers and clients. As A2P often uses an API to send automated messages, it can be used to send customers triggered A2P messages such as birthday discounts or even abandoned cart notifications.
Improve your customer engagement with A2P messaging
Beyond the one-way use cases for A2P messaging listed above, many businesses use A2P messaging as a two-way service as part of their customer relationship management strategies.
Via A2P messaging, your business can interact with clients and prospects over text message, provide real-time customer support, and engage on a widely used channel.
And using Dialpad, you can communicate with not only clients and prospects, but teammates too, via both P2P and A2P messaging. With all the integrations and features you need, you can send text messages from your professional work number using the Dialpad app or any browser. All these capabilities make Dialpad one of the most cost-effective ways to send A2P messages.

Need a way to do A2P messaging?
Book a demo of Dialpad to see how it can work for you, or take a self-guided interactive tour of the app on your own!