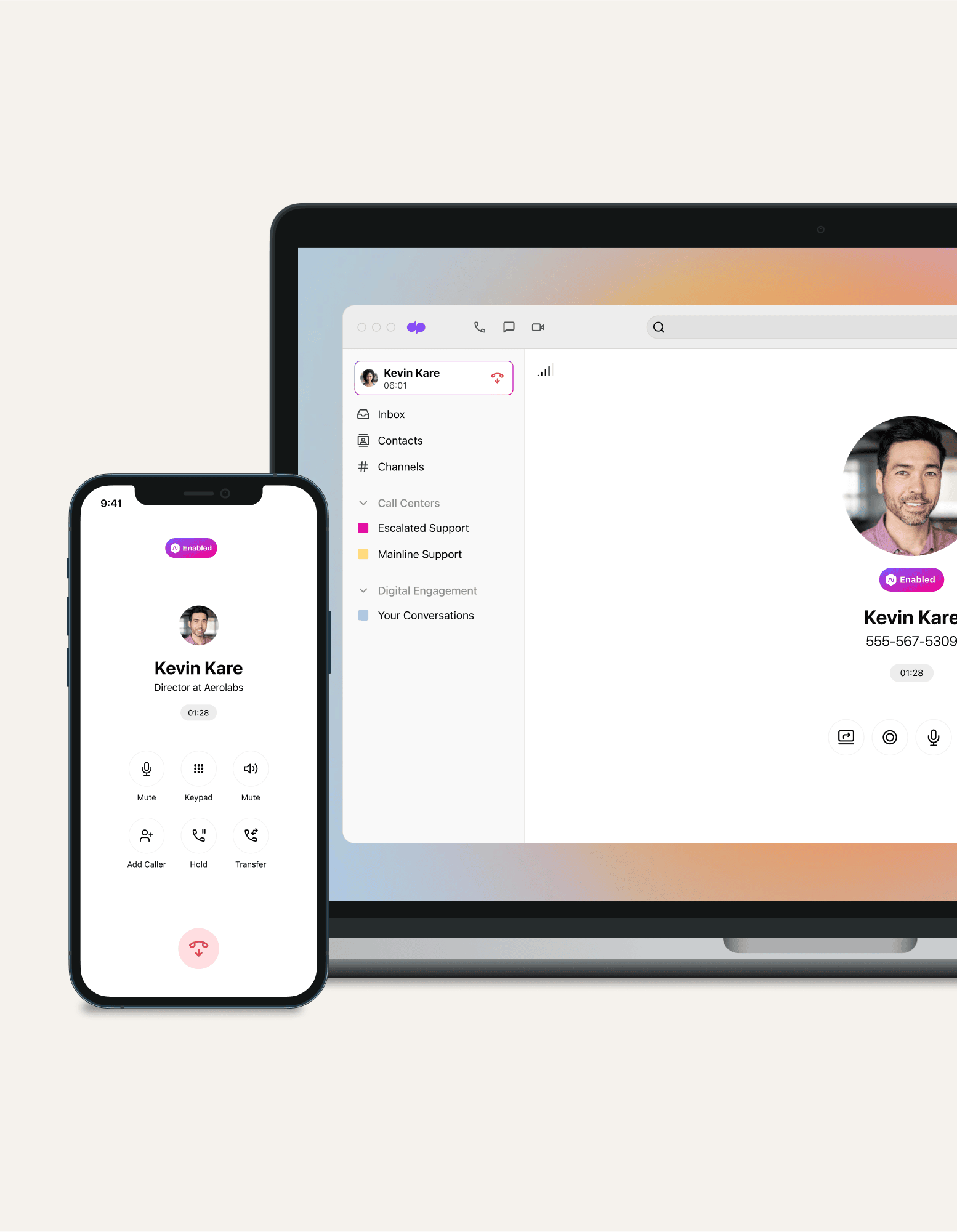 a guide
Choosing a PBX system for small business
Looking for a phone system for your small business? Want to work from anywhere and hire from across the globe? Then a unified communications platform may be for you! Try it for free!
Sign up for a 14-day free trial!
With modern communication evolving rapidly, choosing the right phone system or unified communications platform for your small business becomes crucial. Business phone systems have advanced considerably over the past few years to provide small businesses and enterprises with a range of features and functionalities to enhance internal and external communications.
Traditional PBX systems can be pretty expensive and time-consuming to install and manage—which means they're not the most cost-effective solution for small businesses.
If you're looking for a replacement for traditional PBX replacement, you might want to consider a more modern option like cloud PBX or, better still, a unified communications platform for even more flexibility and scalability.
But first, let's look at what exactly a PBX system is.

What is PBX?
A Private Branch Exchange (PBX) is a business phone system that facilitates call transfers internally and externally between different office phone extensions. (PBX used to be only for internal calls, but has evolved to be a bit more versatile.)
Today, PBX phone systems allow you to do things like check voicemail, put calls on hold, and transfer calls to different extensions.

👀 Thinking of moving to hybrid work?
Grab the Hybrid Work Playbook, which includes real-life case studies and breaks down all things hybrid + remote, from building and sustaining a hybrid workforce to equipping your team for success.
Types of PBX systems for small businesses
Traditional PBX
​​Before the invention of digital business communications platforms, most businesses relied on physical telephone systems stored in equipment rooms or phone closets on-premises.
These PBX systems used traditional copper phone lines or landlines that entered a business's building and connected to a PBX box. This box contained switches that allowed calls to be distributed to all the phones within an office and to a limited number of external lines.
These systems were expensive, and businesses had to pay high upfront costs for hardware and installation by experts.
Not only that, because of this dependence on physical wiring and hardware, expanding this system would require you to put your business on hold, get dedicated support, and find more space for equipment.
If you ever needed to grow or scale up your business, traditional PBX became very expensive, especially for small businesses.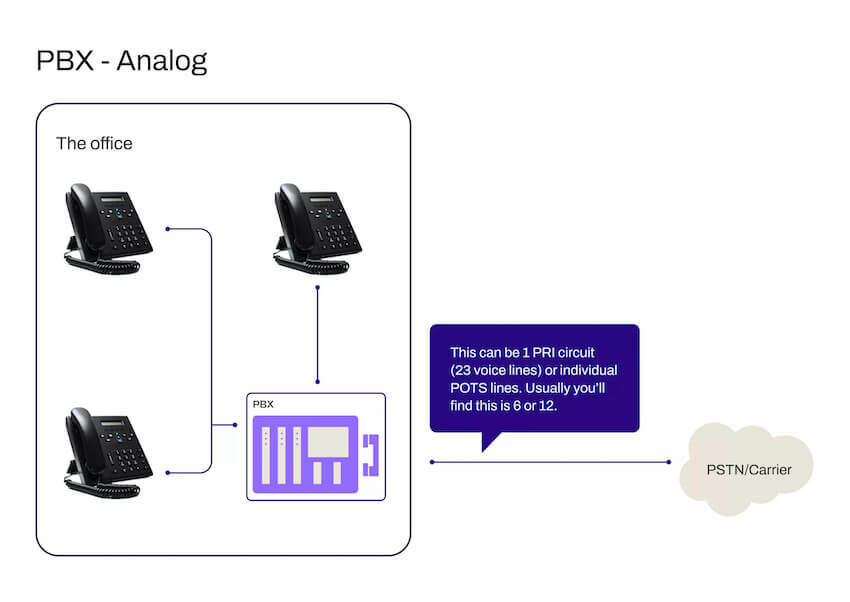 IP PBX
IP PBX, on the other hand, uses Voice over Internet Protocol (VoIP) telephony to make and receive calls over computer networks instead of using the Public Switched Telephone Network (PSTN).
IP PBX phone systems have all the same telephony functionality as traditional PBX, and then some. Some of these systems also give you shared voicemail, custom extensions, and call recording—but often make you pay extra for these.
This kind of PBX is still located in-house, so your business has to handle all hardware and software-related costs.
While an IP PBX system requires physical hardware (IP phones, handsets, and so on) and ethernet ports to function, it's usually more cost-effective than a traditional PBX system because the phone service fees for long-distance calling are typically lower.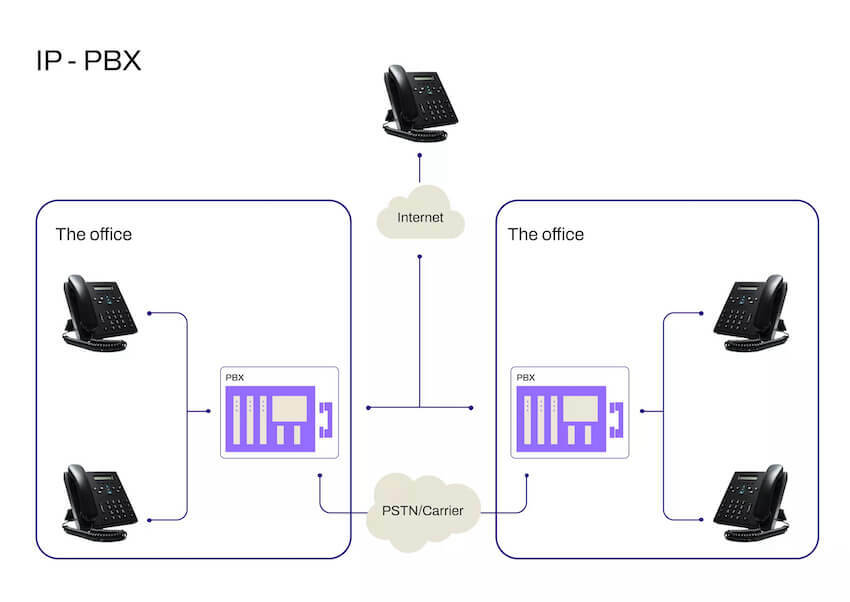 Hosted PBX
Hosted PBX refers to an IP PBX system that's—you guessed it—hosted off-site by a VoIP provider.
Hosted PBX provides all the same features and services as on-premises VoIP PBX, but because it lives off-site, there's no need to store a clunky hardware system in-house.
Instead, your provider manages and maintains all the technology off-site, which helps you reduce installation and maintenance costs. Typically, hosted PBX phone systems charge monthly fees that are more budget-friendly for small businesses.
Like on-site PBX, hosted PBX can transport data via the PSTN, the Internet (using VoIP technology), or a combination of the two. If you're using a VoIP phone system, keep in mind that the call quality can be affected by the quality of your internet connection. If you have good Internet, then this isn't as much of an issue.
Although the technology used in hosted PBX systems is often sold as being located "in the cloud," this is often really just housed in third-party data centres. These are not true cloud phone systems, since calls, signalling, and features still go through an IP PBX server—it's just not sitting in your office storage cupboard.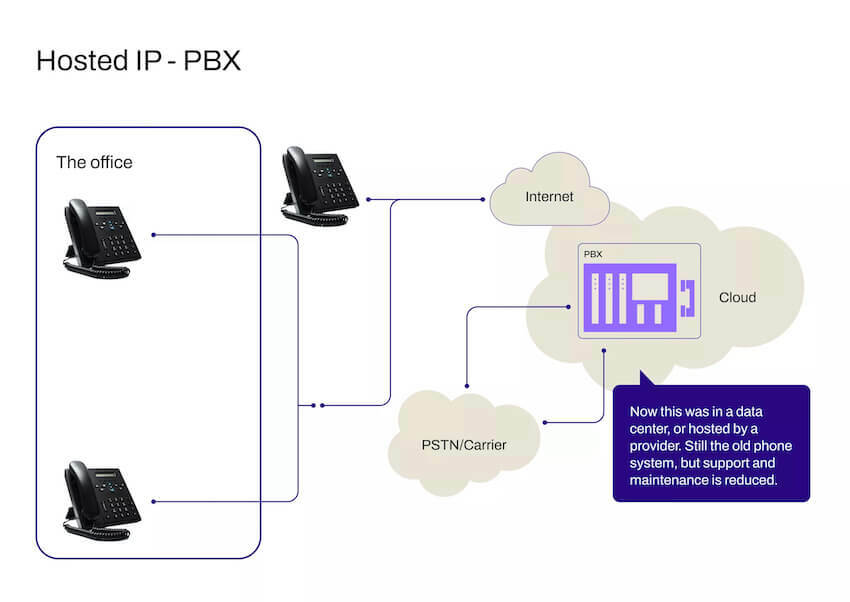 Virtual PBX
This one can get a bit fuzzy. Depending on who you're asking, some might say that a virtual PBX is basically a cloud PBX or phone system that lets you make phone calls through the Internet.
Others say that virtual PBX isn't really a "full" phone system and instead is a part of a hosted PBX that only handles incoming calls.
In the context of this guide, we'd describe it as a PBX phone system that has no hardware at all—either in your own office closet or in a third party provider's headquarters somewhere.
Either way, there are more versatile options if you need an affordable business phone system.
Is PBX still a relevant communication solution?
While PBX systems have evolved a lot over the years, UCaaS (Unified Communications as a Service) solutions are the "next evolution." These use VoIP technology to allow you to make phone calls from anywhere using the Internet—and what's unique about UCaaS platforms is that they can handle multiple communication channels too.
As opposed to using a PBX system that's purely a phone service, and paying for separate tools for video conferencing, and SMS or instant messaging, and so on, a UCaaS platform can bring all of these functionalities into one app (and one subscription fee).
Yes, IP and hosted PBX are more advanced than traditional PBX systems and can reduce some of the upfront costs of purchasing and maintaining an on-site PBX. But today, you're more likely to hear about VoIP systems and Unified Communications as a Service (UCaaS) platforms when it comes to modern business phone systems.
For small business owners especially, cloud-based UCaaS platforms are just a better option from a convenience, scalability, and cost savings perspective—while still maintaining enterprise-grade security and getting access to advanced features.
Features to look for in a communications platform or phone system
Truly unified communications
PBX systems tend to focus on telephony, and although they provide a wide range of phone-based features, they typically don't offer other communication channels.

UCaaS solutions, on the other hand, consolidate all your business communications into a single, cohesive platform. Dialpad, for instance, brings together voice, video conferencing, business text messaging, team messaging, and even a fully integrated virtual call centre platform to provide businesses with a single online workspace:

Call forwarding and routing
Functionalities like call forwarding, auto attendants, and call routing are pretty basic phone system features that almost every business will need.
Most PBX systems (even old school ones) offer basic call forwarding and routing functionality where calls can be directed to another extension in the PBX system. But UCaaS takes this to a whole new level.
With Dialpad, you can forward any incoming business call to your Dialpad number to an external mobile number or an assigned landline number (with a maximum of five numbers) in just a few clicks in your online account:

You can also make other changes, like managing phone numbers, adding new phone numbers, customising your voicemail greeting, and more from your online account here.​
Fun fact: Dialpad's IVR feature comes with analytics that let you see which options your callers are selecting most often, so you can optimise your menu options:


Auto attendant
On a related note, if you receive a large volume of incoming calls, an auto attendant is important to have. Also called an auto receptionist or virtual receptionist, this business communications feature handles call routing for you automatically, where a live operator would put callers through to the right person manually.
An auto attendant greets your callers and presents them with a menu that lists the department options they can choose from to answer their query or resolve their issue. The caller is then prompted to enter the number that corresponds with the department or person they're trying to reach, and the virtual receptionist transfers the call to that department or individual.
This way, you get better call flow management, happier agents, and happier customers. Your employees can spend less time on administrative tasks like gathering information and passing on customers' calls, and more time using their expertise to handle more complex queries. At the same time, your customers spend less time on hold and are always quickly directed to the right person to resolve their query.
(Auto attendants can also filter out spam calls!)

👉 Fun fact:
Dialpad lets you easily customise your virtual receptionist's greeting message for your business's main line and different departments.
Voicemail greetings and transcriptions
Most PBX phone solutions do offer voicemail services, but retrieving voicemails and customising your settings tend to be more difficult than with UCaaS platforms.
Not only can you record or upload a voicemail greeting right in your online account, Dialpad's proprietary artificial intelligence technology, Dialpad Ai, can transcribe audio voicemail messages into visual voicemails, so you can click to read without having to listen to them:
Looking for a small business PBX system?
You might want to check out a UCaaS or unified communications platform instead! Book a demo to see how you can use Dialpad for not only phone calls, but also video meetings and SMS + instant messaging—all in one convenient app. Or, take a self-guided interactive tour!
Unlimited calling
This is not always a must-have, but if you have calls frequently with prospects and customers, it's very useful to have unlimited calling.
And with traditional PBX systems, it gets pretty expensive.
Dialpad's UCaaS solution gives you unlimited calling from Australia, the US, and Canada—from any device. This is available (along with a ton of other advanced features) on even the most basic plan at $20 per user per month:
Mobile and browser accessibility
For most organisations, a mobile app for your phone system is essential. This is essentially what allows you to make and receive phone calls on your mobile phone and computer.
Dialpad actually goes one step further: it's fully browser-based, which means you can join conference calls and video meetings right from your web browser without downloading anything:


And equally importantly, it also lets you choose which caller ID to show when you're making phone calls through the app. This way, even if you're calling from your personal cell phone, you'd still be able to shield your personal phone number: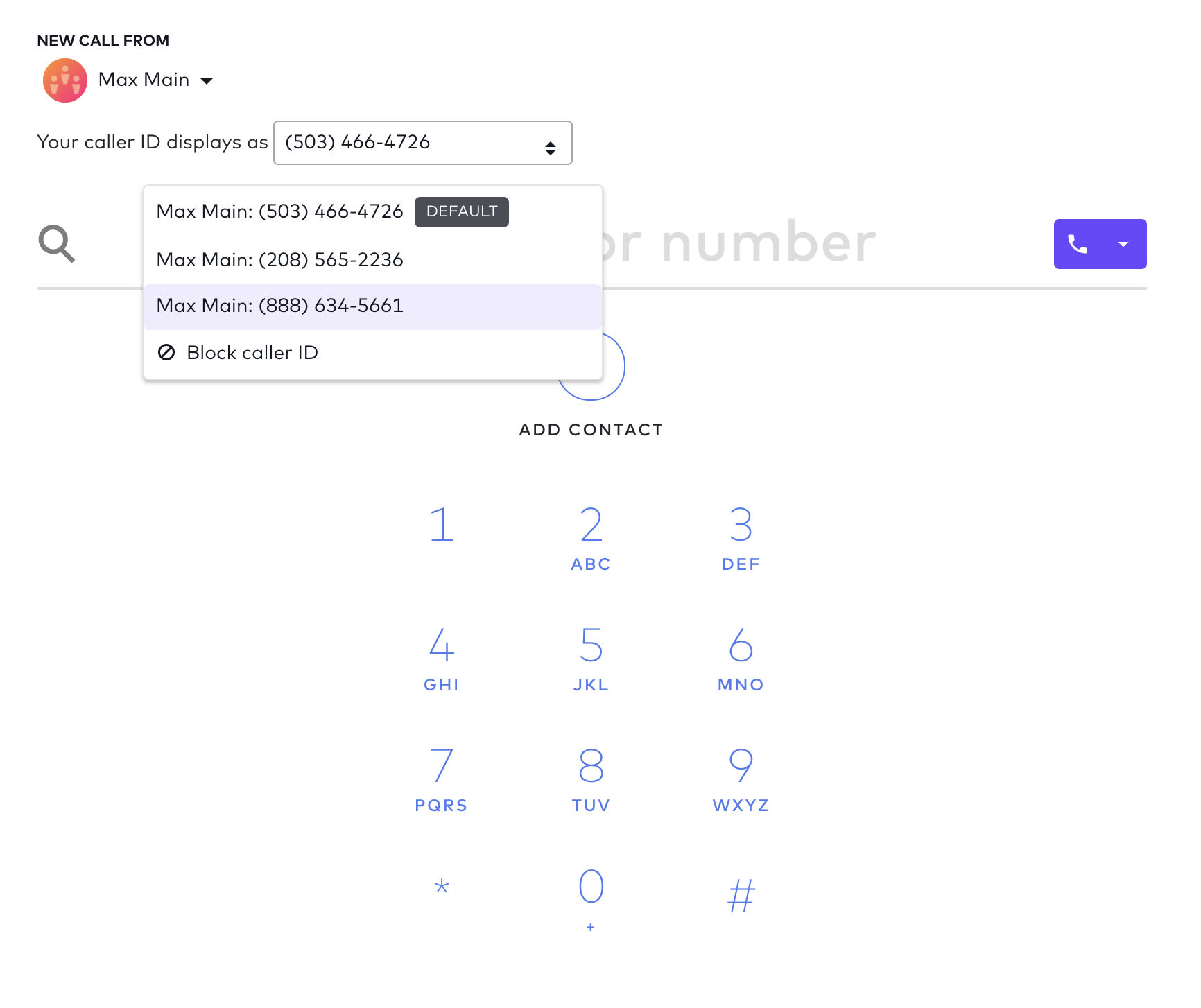 Most PBX systems don't have this—and even if they do, they'd probably require you to pay extra for this service.
Cloud-based admin
Not all PBX systems offer cloud-based admin. For analogue and IP PBX, this means that adding users and phone numbers can get complicated as you need to call in the IT team to install new phone lines.
As we touched on earlier, a UCaaS solution is more likely to have an intuitive administrator portal that lets you easily manage your entire business phone system including adding new phone numbers and toll-free numbers—without extensive IT help.
Upgraded 911 assistance
Your business phone service has to be able to connect you to emergency help quickly and easily and allow emergency response teams to locate you when you call for urgent assistance.
You should be able to place calls to 911 using all associated devices—both from your landline and softphone apps.
This is a little more complicated when you're using a cloud phone system and non-fixed VoIP numbers (which is usually the case when companies have employees who are working remotely), since those phone numbers are key to ensuring emergency services can locate and reach them quickly.

Not sure if you need a PBX system for your small business? Here are 3 factors to consider
How many communication channels do you use?
If you use only phone calls, you might be able to get away with using a PBX system. But for many organisations and businesses, they're interacting with customers and prospects over other channels too, like SMS, video meetings, live chat, and more.
Then there's the question of whether you have a call centre or contact centre team. If you do, then it's probably better to look into a contact centre platform or unified communications platform that covers all of those channels in one place.
Do you use other business software like CRMs?
If you do, then you'll likely need integrations between those tools and your phone system or communications platform.
Again, with PBX your choices are much more limited. UCaaS solutions, on the other hand, integrate with many more business apps. Dialpad, for example, has a robust app marketplace, where you can choose from integrations with tools like Google Workspace, Microsoft 365, Salesforce, Zendesk, Intercom, and more:


Where is your workforce located?
Do you operate a fully remote startup? Or maybe your team is allowed to work from home for a few days a week?
Cloud phone systems give you much more flexibility and lets teams stay connected anytime, anywhere without needing to be tied to desk phones in the office.
PBX systems aren't as easy to set up and scale remotely, so if you do plan to hire around the world or have a hybrid work environment, UCaaS platforms are the way to go.
Are you considering PBX for your small business phone system?
When you're checking out your business phone system options, it's essential to consider more than just the price tag. Make sure to choose a solution that provides the flexibility and scalability to keep up with your business as it grows.
Traditional PBX, IP PBX, and hosted PBX all require some equipment and maintenance costs. UCaaS solutions, on the other hand, don't. You'll pay a monthly or annual fee based on your needs and can customise your pricing plan based on what you and your business needs. Take a few free trials for a spin and check out your options!

Looking for a cost-effective, remote-friendly solution that'll grow with your business?
Book a walkthrough of Dialpad to see how it can cover almost every communication channel you'd need, and how easy it is to set up on your own!
FAQs about PBX systems for small businesses
How does a PBX system work?
Traditional PBX requires copper phone lines to connect to the phone system, which then uses telephony switches to route calls to on-premises phones. More modern business phone systems are VoIP providers that let you place calls over the Internet.
What is a good type of communications solution for small businesses?
Why is it so important to get a business communications solution specifically for small businesses?
What's the best type of PBX system for my business?
Can I keep my old phone number when I move on from a PBX system?
Is it actually impossible to scale with PBX?
Is there a minimum bandwidth requirement?
How much will a hosted PBX cost?
What kind of businesses should opt for a hosted PBX?