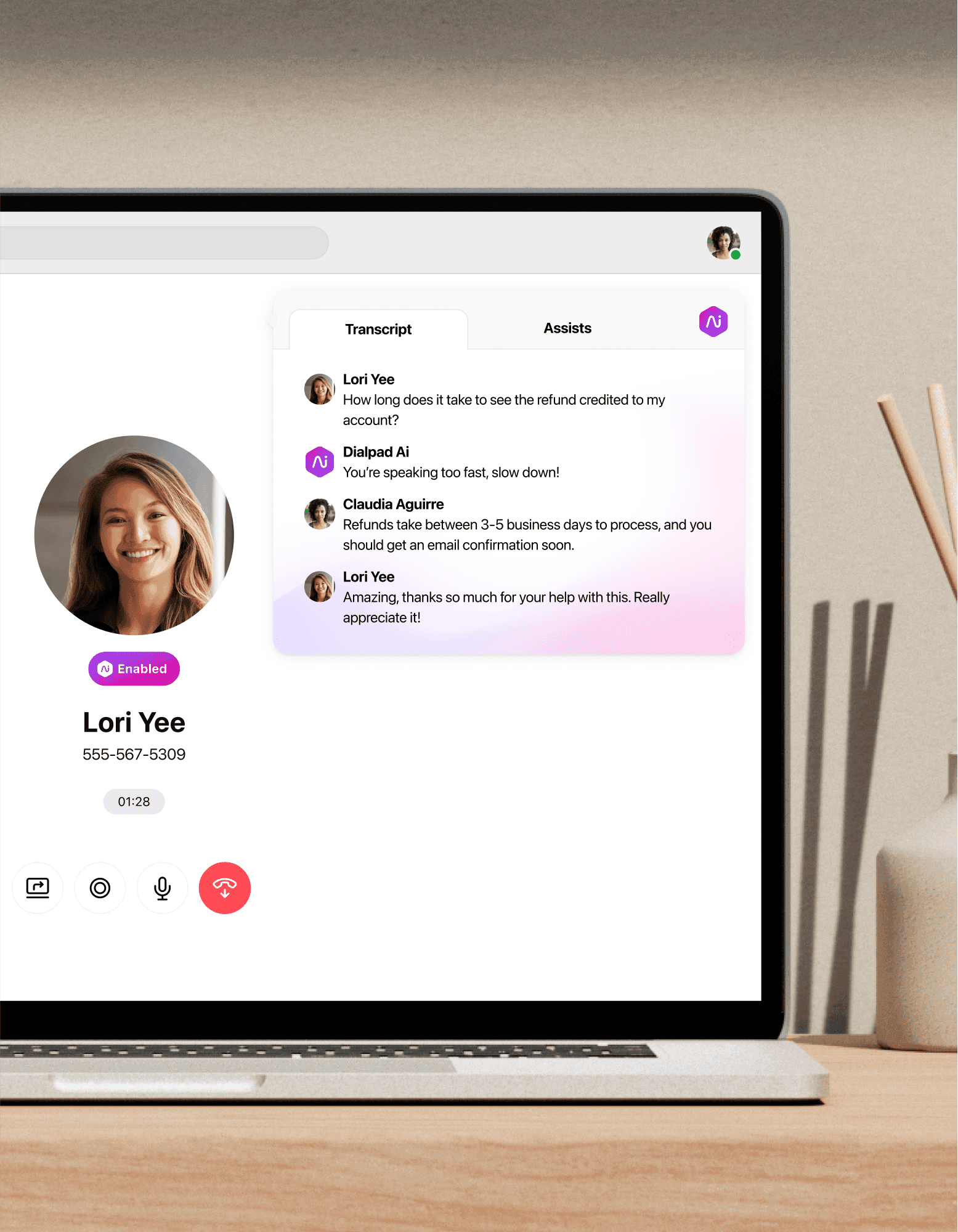 real-time + accurate
AI transcription
With AI transcription of calls and meetings, you can forget manual note-taking and give your full attention to your colleagues, customers and clients. Dialpad's unified communications platform has AI-powered call transcription software built-in to accurately transcribe everything from a customer service call or voicemail to a conference or video call. Book a product tour to see it in action!
What is call transcription?
Call transcription is the process of creating a text-based transcript of a live conversation or call recording. Until recently, transcription was manual. People would use a meeting notes app to write up a transcript after a customer service phone call. This approach was time and resource-heavy, and a recipe for error.
Artificial intelligence technology enables automated, real-time text-to-speech transcription. That means no one has to frantically scribble down notes or wrack their brain to remember conversation details.
It's easier than ever for businesses to transcribe calls, meetings, voicemails, and video conferences. You won't even need specific transcription services or dedicated auto transcription software.
Cloud phone systems and communication platforms like Dialpad come with AI call transcription capabilities built in so you can manage your calls directly.

More than just the typical call transcription software
Dialpad isn't just your average call transcription software. It's a unified communications platform with AI transcription capabilities built-in, alongside other features designed to help you streamline your business communications and improve your customer experience:


The best secretary you never had
Dialpad Ai transcribes calls live as they're happening. Not post-call, a few hours later. You can see the running transcription for your call or meeting, right in your active call window. It can even detect action items because it can recognise voice commands (e.g. "I'll send you an email after this call"), meaning that you can stay on top of your memos—no note-taking needed.
Automated meeting summaries
Dialpad Ai also sends your call's attendees a convenient recap email after the meeting is over, with the searchable voice-to-text transcript, call centre transcriptions, action terms, and recording, all compiled into an easily-digestible overview. Someone missed the meeting? No problem, just send them the recap.

Plays nice with any device
Because Dialpad's transcription feature is built right into its unified communications platform (which works across Android, iPhone, PC, Macs, Apple, Microsoft, you name it), you and your teammates can use it on different desktop and mobile devices. You can even make phone calls and have video meetings on your Chrome browser, no downloads needed.
Real-time agent assists
Not only does Dialpad Ai transcribe calls, it can also help your staff live. Whether you want to show your sales reps how to handle objections or help your customer support agents tackle tricky questions from customers, RTA (Real-Time Assist) cards can help! Managers can create RTA cards and set them to trigger automatically on agents' screens.
Live sentiment analysis
Dialpad Ai does live sentiment analysis, too, another example of helpful AI in customer communications. Sentiment analysis lets supervisors monitor all the active calls going on and quickly see which ones are going south. (Not all cloud contact centre software can do this!) It also transcribes calls in real-time, so managers can simply open up the transcript to get more context before deciding whether to jump in and help the agent.

Voicemail transcription
Too busy to listen to all of your voicemails? Dialpad's visual voicemail feature transcribes all of your voicemails, too—just in case you're in back-to-back meetings all day and don't have time to listen to them one by one.
"
We love the transcription service with Dialpad. We transcribe calls, find opportunities for improvement, and have been effectively doubling the demos-to-calls ratio with better analytics and more sophisticated analytics.
"
Scott Hansen
Founder and CEO of LeadSigma
Who says you have to pay for separate voice transcription tools?
Dialpad's unified communications platform comes with an accurate, real-time transcription feature built right in. Book a product demo or take a self-guided interactive tour of the app!
What else do you get with Dialpad alongside built-in transcription AI?

Truly unified communications
Along with speech-to-text transcription, Dialpad also lets you make phone calls, have video meetings, send instant messages + SMS/MMS texts, and more—all from your favourite desktop or mobile device. There's even a fully integrated contact centre platform, which we built ourselves. That means you get everything with one login, one account, and one cohesive user interface.
Audio recordings included
Another unique thing about Dialpad? You get video and audio recordings too, and you can turn recording on and off manually in a call—or automate it, if you like.
Coaching playlists
Create a "playlist" of the greatest hits (or worst hits) to show your team what good calls and bad calls sound like. With Dialpad, you can pull your audio recordings into different playlists (like "conflict resolution" or "how to talk about Feature X" and share them with agents or reps so they can learn on their own time.
"
The real-time transcription has been really handy, and the post-call summaries give us something concrete to review every month. We can see what people have been asking about, which lets us be better equipped to answer those questions and get ahead of the pack.
"
Deirdre Roraduri
Membership Service & Events Specialist, Western Australian Cricket Association
The benefits of using transcribing apps or software with built-in transcription
The best video transcription software, voice transcription app, or—better still—communications platform with transcription built in will deliver a whole host of benefits:
Improves accessibility and inclusivity
Automated transcription capabilities bridge the communication gap for deaf and hard-of-hearing employees and allow them to participate in calls, meetings, and video conferences without restriction by providing access to accurate, real-time information.
Dialpad's transcription software is built into your communications platform and uses machine learning algorithms and Natural Language Processing (NLP) technology to derive highly accurate voice transcriptions. Such technology allows the best audio transcription software to "learn" over time, ensuring increasing AI transcription accuracy.
What's more, you can even add a specialised business-specific vocabulary to your Dialpad dictionary to allow the transcription technology to pick up on all of those industry-specific buzzwords and acronyms!
Let's face it; nobody remembers everything that's been discussed in a call or meeting. But that's okay. Thanks to Dialpad's post-call automation, after each call, participants—and those who were unable to attend—can receive text-based call notes and summaries directly to their inboxes.
Enhances customer data-gathering process
Voice transcription services can be used for more than just internal team meetings. By transcribing customer calls, your sales and marketing teams gain an effective way to accurately gather important customer data and information in a non-invasive manner.
Every sales or customer support call contains a bounty of information about your customers' likes, dislikes and common pain points. With this information transcribed, teams have the opportunity to analyse and harness this information for making better customer-oriented, data-driven decisions in the future.
Ensures legal compliance
Generating fast and high-quality transcriptions of your calls and meetings is also important from a legal standpoint. In some cases, particularly within the legal and financial sectors, recording phone calls and transcribing them are required by law.
Even if this isn't a formal legal requirement, having an accurate record of everything that has been said acts as an additional safety net when it comes to resolving disputes (particularly those of a legal nature) or confirming legal contracts.
Having a written transcript on record can help you avoid client miscommunications, or worse, legal battles and fines. Plus, automated transcription reduces the risk of human error that accompanies manual transcription work in meetings.
Have better meetings with Dialpad's built-in call transcription
Real-time transcripts reduce participation barriers for employees with additional accessibility needs and make important discussions available to everyone—even those who are forced to be absent from meetings due to workload, illness, or working in a different time zone.
What's more, you don't even need to purchase dedicated AI transcription software. With Dialpad, you'll get to enjoy fully integrated, highly accurate transcription capabilities directly from your existing Dialpad communications platform. You can even add your industry-specific lingo directly to your Dialpad dictionary to make call transcriptions even more accurate.
For an all-in-one communications solution with AI transcription technology built right in, Dialpad offers everything you need in one simple package.

See how Dialpad's voice transcription works!
Book a product demo to get a personal walkthrough, or take a self-guided interactive tour of the app on your own first!
FAQs about AI transcription
What is voice transcription?
Voice transcription is the process of converting audio into text. In other words, dictated live audio (or recorded calls saved as audio files or video files) is rendered in text form.
This can be achieved manually (for example, somebody taking minutes during a meeting or while on a call to provide consensus on what has been discussed and agreed upon) or automatically by using an AI transcription service or software with built-in speech-to-text transcription capabilities like Dialpad.

Many industries use transcription and automatic speech recognition tools for multiple use cases. The process is particularly common in the legal, financial and medical sectors.
The primary purposes of transcription are to record important information for future reference and compliance purposes or to share it with participants who are absent or require written transcripts for accessibility reasons.

How can conference call transcription software help with online meetings?
How long are transcriptions saved or stored?