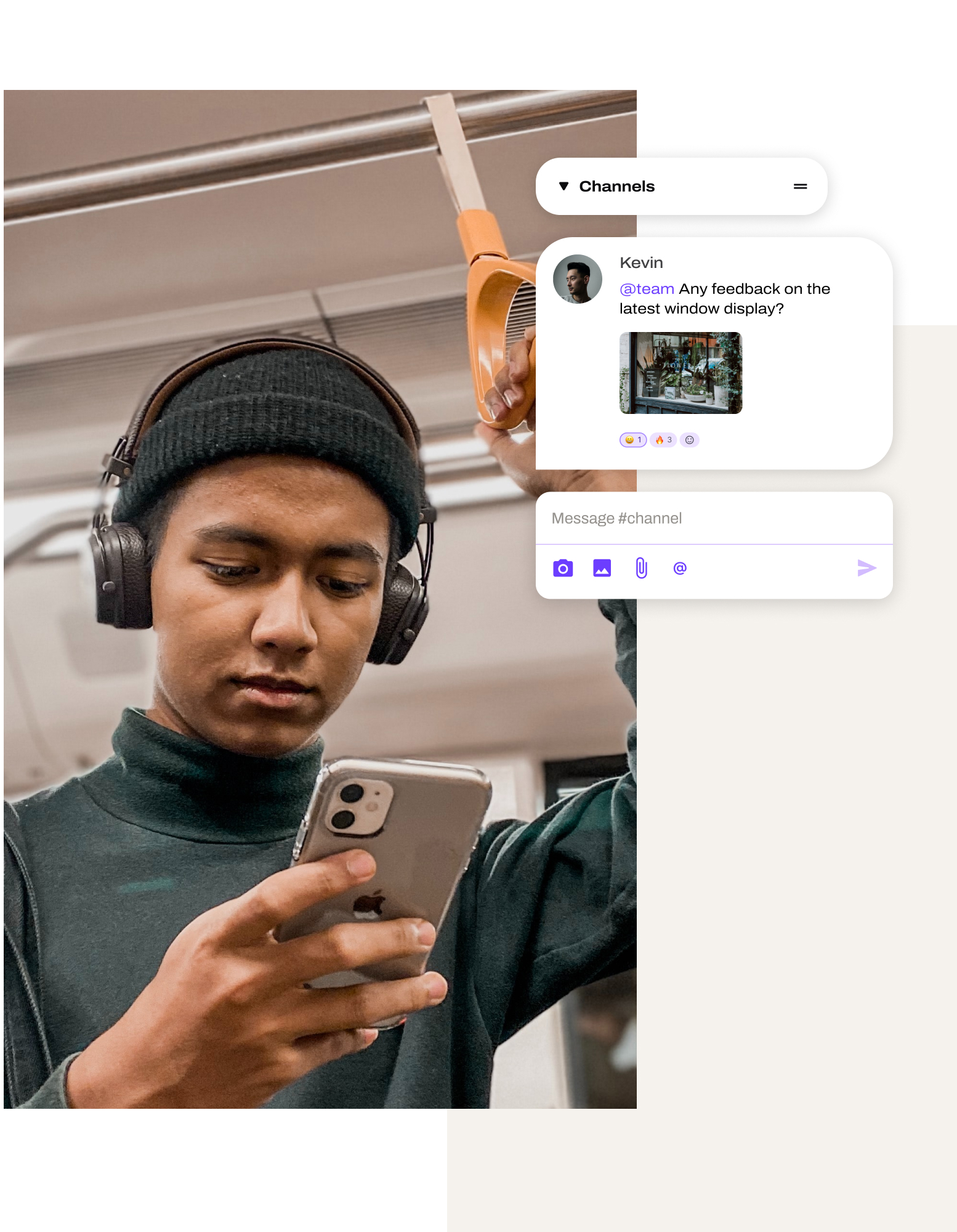 Meeting notes app
Looking for a meeting notes app? Why pay for a separate tool when your business communications platform or phone system can transcribe your meeting for you in real time? That's exactly what Dialpad Ai can do. It takes just a few minutes to try it free with a trial, and you'll be set up with a virtual phone number too.

Sign up for a 14-day free trial!
How does a typical meeting notes app work?
Your typical meeting notes app is a simple tool. It allows you to transcribe notes and sometimes organise them—but this all requires manual input. You're the one typing the notes, which can be a problem if you're also involved in the meeting or discussion (or want to be).
Missed notes and absent actionable points can lead to wasted time on follow-ups and communication errors. Having a notes app that can transcribe in real time helps avoid this pitfall.
That's where Dialpad's integrated solution comes in. Never miss important information again thanks to complete audio and video recordings, transcripts, and call summaries—all of which are created automatically.
Dialpad: An app for meeting notes (and a lot more)
Dialpad isn't just a note-taking app or business phone system. It's an AI-powered, truly unified communications platform that lets you handle pretty much any communication channel you use for work, no plugins or add-ons needed. Here's just a taste of what it can do:


Real-time transcription
Even the fastest typist who doesn't slack at all during meetings is probably still not quite as fast as a real-time transcription feature. And Dialpad can transcribe meetings—and customer calls—for you with a click or tap.

Post-call summary
Dialpad automatically emails a post-call summary to all the attendees. It contains the transcript, a list of action items for follow-up, and the audio recording (if you turned on call recording). The best part? The transcript is searchable, so even if you only remember a specific word or phrase, you can just plug it into the search bar and skip to that part of the transcript or recording in seconds.

Works across desktop + mobile
Not every team member uses the same devices. With Dialpad, you can work from anywhere, no matter what computer or smartphone you're on. From Android to PC, Mac to iOS devices like iPads and iPhones, it works on all of them.
Start having more productive meetings
Take Dialpad for a test drive now! It takes just a few minutes to sign up for a 14-day free trial, and you'll be set up with a virtual business number too. Or, take a self-guided interactive tour of the app first!
"
If I know I'm going into a long conversation with a client, I can focus on the conversation because Dialpad will send me a transcript with highlights after the call. It saves me time, because typically with every client call, I'll go in and start dictating notes. Now I have the whole conversation available in text.
"
Steve Miller
Owner and Attorney, Miller Law Firm
A few more things businesses love about Dialpad

All your communications in one place
Make phone calls, have video meetings, and send SMS/MMS and instant messages, all from Dialpad's desktop or mobile app. Or, just log in on a web browser—no downloads needed.

Robust security
Dialpad's customers range from healthcare practices to law firms and higher education institutions. A big reason for this is its strong in-meeting security controls and compliance certifications.
Integrations with your favourite tools
From meeting note apps to everyday tools like Google Docs, Google Calendar, and Microsoft Outlook, Dialpad has a wide range of integrations that'll reduce the amount of data entry you have to do and streamline your workflows. Want to build your own custom integration? You can do that too with the API.

Easy setup
Whether you want to buy more phone numbers, add new users to Dialpad, or manage your voicemail settings, it's easy to do all of it right from your online dashboard. No need to contact a customer support team, no IT help needed.
👉 But what does it actually do?
Learn more about what Dialpad's artificial intelligence is doing for businesses and organisations across industries like healthcare, real estate, and higher ed.
The benefits of a meeting notes app
Provides convenient communication for internal use
Free and readily accessible meeting notes are great for internal communications. You can easily share transcriptions of meetings and calls in Dialpad. Meeting participants and stakeholders can also receive automatic email copies of every call transcription.
Plus, share previous meeting notes in group chats and other channels for quick reference. Video recordings allow you to share visuals and detailed explanations for easy training, too.
Improves time efficiency and productivity
On top of the ability to take notes automatically, Dialpad's system can attach transcripts to the meetings they were recorded from. This saves you admin time and means no more manual transcriptions or uploads.
With the customisable Zapier-compatible API, you can also integrate all your productivity apps into one platform. That includes your project management tools, as well as popular apps like Google Calendar and Trello.
Enhances call management and customer interaction processes
If you're using Dialpad's platform for call centre management, you can enhance your customer support without the need for a separate notes app. The software's integrated features allow for better client interactions and task management, as well as more productive meetings.
Record full audio and video calls, share notes easily in a group workspace, and associate them with customer accounts in your CRM. You can even cut sensitive information from recordings automatically with the help of speech recognition.
Dialpad: All the features of the best meeting notes app and much more
Whether you're web conferencing with shareholders or helping customers, Dialpad does more than your average notes app. With AI-assisted automation and advanced integrations, our unified platform can save you time and resources.
Sounds too advanced for your small business? Dialpad has flexible price plans to suit any budget and the scalability to grow with your company. Its simple tutorials and integrations mean Dialpad is perfect whether you're an established brand or a new business owner.

FAQs about meeting notes apps
What is a meeting notes app?
Generally, a note-taking app allows you to take notes from a meeting and save them in a shareable format. Depending on the app, it might let you record audio or organise the notes in folders, too.
However, few standard meeting notes apps have the AI-driven speech recognition and transcription capabilities of Dialpad.
With an integrated platform like ours, you can share agendas, previous minutes, and more to get everyone on the same page for your meeting.
During the meeting, you can also share materials like charts and graphs. You don't need anyone to manually take notes, so everyone can focus on the topic at hand. You can even encourage participation from remote staff.
After the meeting, participants are sent a copy of the notes via email, making follow-ups easy. You can also gather feedback on meetings from those present directly in the platform.

How do I keep track of my meeting notes?
Does Dialpad have integrations for other minute-taking apps?