Back to Blog
Top 8 Vonage alternatives: A detailed comparison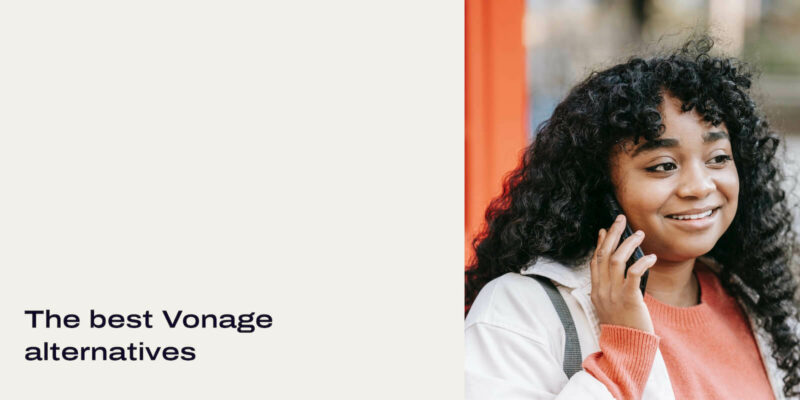 Businesses today need the flexibility to stay connected with global teams and customers without breaking the bank.
And if you've got this far, you've likely concluded that a business phone system or communications platform can deliver on these requirements. But with so many choices, picking the best service provider for your business can prove challenging.
So, what do you need to know if you're considering alternative solutions to Vonage Business Communications?
In this post, I'll take you through the best alternatives to help you find the right fit for you.
What is Vonage?
Founded in 2001, Vonage provides a range of VoIP solutions. Like other VoIP phone services, Vonage allows users to make phone calls over the internet without hard-wired phones.
Vonage also offers many of the common features you'd expect of a VoIP business phone service. This includes video and messaging capabilities as well as the ability to host conference calls and set up call forwarding.
Like Dialpad, the provider also offers several API integrations and a contact centre solution. However, this is not fully integrated like Dialpad's cloud contact centre platform. In other words, our solution is tailor-made whereas other providers use third-party and white label products.
While a Vonage business phone service might fit the bill for some businesses, it's not always the best solution when compared to other VoIP options available today.
Why you might want an alternative to Vonage
Vonage provides many of the VoIP features you'd expect. But that doesn't mean it's a one-size-fits-all solution. You may wish to choose a Vonage alternative if:
You want to offer multiple self-service options to customers
For most businesses, 24/7 live customer support is non-negotiable. The best VoIP solutions, like Dialpad, have you covered at all hours of the day. At the same time, many of us are good problem solvers. We fancy doing a bit of DIY every now and then, especially for more minor issues. In those cases, all we need is a comprehensive knowledge base or a chatbot to direct us to a how-to guide.
When it comes to deployment, you want a system that you can set up yourself with ease. With a modern solution like Dialpad, you'll be equipped with an intuitive setup, multiple self-service options, and always 24/7 customer support.
Unfortunately, you will find self-service options to be quite limited with Vonage. For example, unlike Dialpad, Vonage does not include conversational AI with their UCaaS solution. This means you will be missing out on virtual assistants that can handle many common calls without needing a human agent.
Your business is growing and you need more integrations
Even if you're a startup, you'll need to plan for future growth. Sure, your current business tech stack may be rather humble in size but that won't always be the case.
Vonage does offer integrations with HubSpot and Salesforce Essentials, but many of the most useful integrations are hidden behind a paywall.
A cutting-edge virtual phone system or UCaaS platform like Dialpad comes with a huge selection of integrations with the most popular business tools today. These will afford your small, medium, or large business plenty of room to grow and connect all of your applications in one place.
You need more advanced features without hidden fees
Vonage does offer some advanced features, but pricing isn't always so transparent. Hidden costs and fees can be a rude awakening when receiving your monthly bill. This is because you're charged for usage rather than all-you-can-eat packages like those of most VoIP providers.
Voice calls start from €0.0127 per minute while SMS and API messaging start from €0.0062 and 0.00050 per text message respectively.1 And if you're wondering, no we haven't joined the Eurozone. Vonage is priced in Euros so you will be subject to the rigours of Forex volatility.
Without monitoring and reigning in your usage, you can quickly find yourself over budget. Not exactly what you'd hope for when you're looking to promote communication and collaboration within the business!
Platforms like Dialpad offer transparent pricing per user, per month. This allows you to get the right package to suit your needs and know exactly what you are spending each month.
How we evaluated these alternatives to Vonage
Many VoIP services, including Vonage, can appear quite similar at first glance. Auto attendants, call routing, video meetings, and team messaging are some of the core features you should expect.
With so many fish in the sea, it's worth taking a closer look at the main areas of differentiation. Otherwise, we might as well put on blindfolds and throw darts at a board to choose a provider.
Cost-efficiency
The VoIP market is highly competitive. There are bound to be several options that can perform and meet business needs. But capabilities aren't everything. When it comes to the bottom line, every single pound can make a difference.
So, for starters, we must evaluate whether a business phone solution offers good value for money. This includes avoiding low-cost pricing plans with meagre offerings and those with hidden fees.
Customer support
You'd like to think everything will run smoothly 100% of the time. Unfortunately, that's not how things work. A good alternative to Vonage should ideally provide live 24/7 customer support as well as self-service options. (Some providers will charge you for creating a helpdesk ticket or not even offer 24/7 live support, so watch out for those.)
Call quality
VoIP services give you ultimate flexibility when it comes to communication, but they should also provide you with top-notch call quality. Whether making a voice or video call, you want an HD experience that delivers visual and audio clarity.
How well a platform performs will depend on the service's cloud architecture, internet connectivity, and other technologies involved. The main point is that you don't want to cut corners and end up with poor and unreliable call quality.
Integrations
API integrations for VoIP phone systems and communications platforms are what give your business adaptability and help you scale as you grow. You want a UCaaS provider that equips you with integrations with the most popular and powerful business tools available.
Even better, some providers have open APIs that let your development team build custom integrations and connect any application to your communication system. In this way, your team will be able to work more efficiently from one central hub and boost productivity through automation—not to mention you can gather data in a central place for more robust analytics.
Ease of use
Connecting with team members and customers should be dead easy. In fact, the end-user experience of any business tools you use should be straightforward and intuitive. Steep learning curves can not only hinder operations, but they can also stall adoption completely—which is a huge drain on resources beyond the initial price tag.
The user experience should be the same regardless of what device your team uses. This is facilitated by platforms that offer mobile, desktop, and browser-based apps. For example, Dialpad lets you manage users and phone numbers easily from an online dashboard: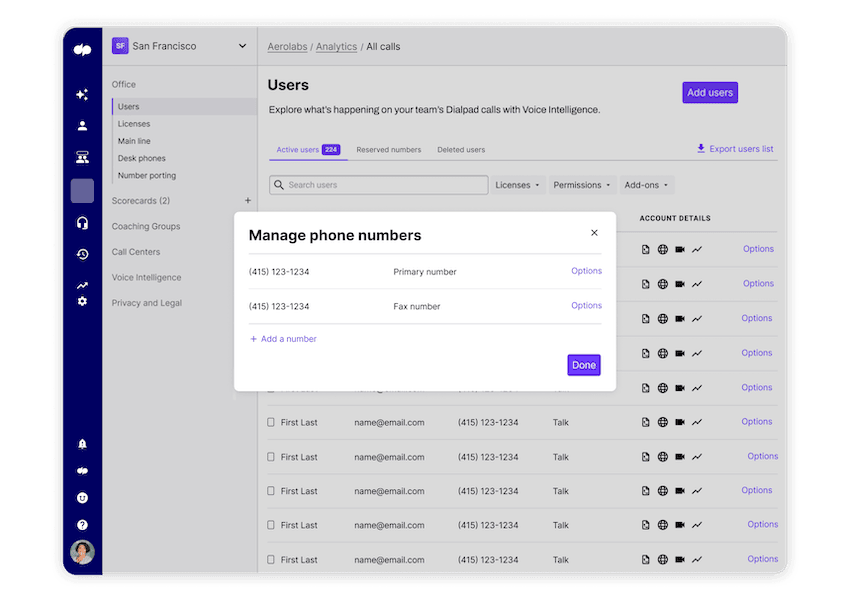 Top 8 Vonage alternatives and competitors in the UK
After running through the aforementioned criteria, we have ranked the best Vonage alternatives available to businesses in the UK.
1. Dialpad: An AI-powered communications solution for businesses of all sizes

Yes, we may be a bit biased, but allow us to explain why Dialpad sits at the top of this list. Not only do you get a super user-friendly interface that fills your boots with essential and advanced features, it's also much more than a VoIP business phone solution or UCaaS platform.
Here are just a few of Dialpad's best features.

Real-time transcription
Dialpad helps you eliminate mundane and manual work like note-taking.
This is accomplished by the unique Dialpad Ai, which accurately transcribes all calls in real time. Besides optimising post-call workflows, call transcriptions can also record entire meetings for those in attendance to refer to later, or for team members unable to attend.
All call transcripts and automated meeting highlights are fully searchable. Through the power of Natural Language Processing (NLP), Dialpad also creates highlights and excerpts to hit on the main points of a conversation.
Automated call transcripts are also highly useful for activities like training and onboarding.


Built-in AI
We mentioned Dialpad Ai earlier, and that's because it's the brain of the platform and the heart of what we do. Our platform's AI is built by our team from the ground up. Unlike other VoIP solutions, our built-in AI has been engineered specifically for our applications.
Our proprietary AI powers our most advanced features such as live transcriptions, sentiment analysis, and Real-Time Assist (RTA) cards that help give your team a leg up on the competition.
Easy deployment
As stated earlier, you can't afford to waste time on complicated and lengthy set-up. Dialpad is among the top ranked when it comes to fast and easy UCaaS deployment. Smaller businesses can do everything they need from the admin dashboard with a few clicks.
Larger businesses or those with more complex infrastructures can also opt for help from our professional team for ultra-fast, hassle-free deployment.
Advanced analytics
Dialpad boasts an advanced analytics suite. As should be expected, the platform comes with a wealth of general call analytics to keep track of metrics like missed calls and device usage.
You also get visual heatmaps that make creating work rotas a breeze, as they'll make sure you get the most out of your wage budget by staffing according to predicted call volumes:


Call routing and IVR
With Dialpad, you can update your call routing and IVR menu in just a few clicks online. An Interactive Voice Response (IVR) system, too, helps callers self-route inbound calls according to their needs, which helps reduce average hold and handle times.
Choose to route inbound calls and handle call queues with the first available, fixed order, or skill-based criteria.
Voicemail
Every cloud business phone system will have some voicemail capabilities. With Dialpad, you get AI-powered features that boost voicemail's usefulness for your team. Of course, incoming calls can be forwarded to voicemail according to custom routing rules.
In many situations where you're unable to take a call, you're also unable to listen to a voice message. Dialpad has you covered with our AI-powered visual voicemail transcription feature so you can read messages instead of listening to them (perfect for those busy days when you're in back-to-back meetings):

A wide range of integrations
App integrations are key to the longevity and robustness of any VoIP phone system or UCaaS platform, because they can both reduce manual data entry and also make sure that information is synced between all your tools.
CRM integrations will be the highest priority for many businesses. This is because the synergy between a UCaaS solution and customer relationship management software can level up your sales and customer service unlike most anything else.
Dialpad lets you take your pick of the lot when it comes to CRMs and ticketing apps. It has many integrations with tools like:

Salesforce

Kustomer

HubSpot

Kizen

Zoho CRM

Zendesk

Front

HappyFox
CRM integrations are only scratching the surface of what's possible with Dialpad. Other popular applications covered include Microsoft 365, Google Calendar, and Outreach. And if you can't find what you're looking for, you can always build your own custom integrations for ultimate flexibility with your tech stack.
Easy call forwarding
Call forwarding is an essential feature in any business phone system. With Dialpad, you can forward missed incoming calls to your mobile phone, work colleagues, virtual numbers, or even a landline. You can decide how—and when—you want to be available with customisable business hours and call routing.
Pricing
Dialpad's pricing plans are scalable and affordable, with no hidden costs or fees. Paid plans start at just £12 per user per month, and include unlimited calling in your country, the US, and Canada. It also includes all of the features mentioned above, at no extra charge.

What makes it better than Vonage?
Along with being affordable and having way more robust features included, Dialpad is reliable, secure, and easy to use. From signing up through to implementation and customer support, Dialpad is a truly comprehensive customer intelligence and communications solution.
For example, Dialpad's most basic Ai Voice plan comes with unlimited call recordings, a multi-level auto attendant, and visual voicemail—you only get these with Vonage's two most expensive plans.1
Try Dialpad for free with a 14-day trial!
It takes just a few minutes to get started, and you'll be set up with a virtual phone number too. Or, take a self-guided interactive tour of the app to play with it first!
2. GoTo Meeting
GoTo is well known for services like GoTo Connect and GoTo Meeting. These solutions are aimed at helping remote teams overcome the challenges of long-distance work.
GotTo Meeting comes with video chat and conferencing capabilities. In addition, you can expect good video quality for all types of calls. This is accomplished through enhanced audio features that can suppress background noise.
There is a chat function, but only when in a meeting session. You will want to stick with a solution like Dialpad if you want true team messaging.
What makes GoTo Meeting a good alternative to Vonage?
GoTo Meeting is a niche alternative to Vonage. If your business has a lot of remote work teams, it can help you stay connected with an intuitive web app interface. You'll get a quality conferencing experience in a tiny yet built-for-purpose package.
Pricing
As exclusively a web meeting solution, GoTo Meeting prices start from £11.00 per organiser, per month for the Professional plan. This package allows for up to 150 meeting participants. Should you need to add features like toll-free numbers, you will need to pay additional charges.2

🗒️ See what IT leaders look for in a communications platform
Grab the CIO Buyer's Guide, (written by our own CIO, who's done a lot of phone system shopping in her time!), which will walk you through what features to look for, nuances to pay attention to when comparing providers, and more!
3. RingCentral
RingCentral has been around since the days of sluggish and traditional PBX systems. The providers have since moved into the market for cloud-based VoIP services for businesses.
RingCentral offers a range of UCaaS and contact centre solutions, and you get video conferencing and SMS/MMS capabilities too. The service lets you send text messages from your business number while using softphones on Android and iOS devices. RingCentral does also offer add-ons like Webinars and a contact centre, at higher price points.
What makes RingCentral a good alternative to Vonage?
RingCentral is a solid choice to meet your need for voice, video and messaging. It works well at decent value for small businesses that need more consistent and transparent pricing plans than Vonage. However, minutes are limited per user and scale with pricing.
Pricing
The Essential plan starts from £12.99 per user, per month but most businesses will need a higher package that includes a multi-level IVR and integrations. Those plans start from £18.99 per user, per month and include 750 minutes per user.3
4. 8x8
Much like RingCentral, 8x8 has been around since the early days of on-premises PBX. They offer unified communications solutions for both small businesses and large enterprises–a balance that can be difficult to achieve.
8x8's business phone solution includes many of the essentials. Namely unlimited calling, SMS and virtual faxing. More advanced features include a multi-level auto attendant, call recording, and visual voicemail (not dissimilar from Dialpad but without proprietary AI).
What makes 8x8 a good alternative to Vonage?
8x8 offers more features, integrations and overall capabilities than Vonage. Depending on what you need, it may save you money over time. And, like Dialpad, It also provides a comprehensive analytics package that will scale with growth.
Pricing
Pricing for 8x8's most basic plan is £10 per user, per month. This package is limited to five users maximum, but should work well for small businesses and freelancers. Otherwise, you'll need to opt for the X2 package at £25 per user, per month.4
5. Lily Comms
Founded in Bradford, Lily Comms has been providing business communications and IT solutions in the UK since 2009. They offer both a hosted VoIP service and on-premises phone systems, as well as several other products.
Their unified communications service comes with features aimed to boost collaboration and communication. Installation and configuration are relatively straightforward but you can opt to have Lily handle everything. The system works well with both IP desk phones and mobile softphones.
Their Collaborate platform is relatively new so there aren't a lot of user reviews around, but so far the service looks promising. Collaborate lets you conduct video and audio conferencing as well as instant messaging.
Unlike more flexible apps like Dialpad, Lily Comms doesn't have many integrations available–advertising just one for Outlook at the present time.
What makes Lily Comms a good alternative to Vonage?
Lily Comms provides many of the capabilities of Vonage but with a more personal and British touch. They can advise you on anything from phone lines to IP phones to mobile and web apps. They're a good choice for businesses that feel overwhelmed by IT maintenance and installation requirements.
Pricing
One of the benefits of Lily Comms is that they provide a more personalised and tailored service–but, you can bet a premium as well. For pricing information, you have to contact the team at Lily to get a quote.
6. CallHippo
CallHippo are VoIP service providers that make products for business communications as well as speech analytics. The company supports local numbers in 50+ countries in the world. (This is almost as many as the 70+ country phone numbers available with Dialpad).
The CallHippo business phone system focuses its features on taking inbound calls and making outbound sales calls. This is backed by a power dialler that is similar to the one offered by Dialpad. These diallers can make quick work of your outreach lists so that your reps make the most of their time.
Other call management features include smart call forwarding, call transfer, and a global connect display that lets your agents know important local information about calls.
What makes CallHippo a good alternative to Vonage?
CallHippo is a viable Vonage alternative for businesses that focus on outbound calls with local number presence, including UK virtual numbers. Advance features like call barging and call recording were made for guiding trainees and onboarding new hires.
If you need feature-rich video capabilities and comprehensive internal communication, though, you might want to consider one of the higher ranked Vonage alternatives on this list.
Pricing
CallHippo has less transparent pricing than most. This is because you'll need to factor in the cost for each local business number that you include. Otherwise, pricing starts from £29 per user, per month with unlimited calling in the UK barring a CallHippo exemption list (translation: read the fine print).5
7. Nuacom
Nuacom is yet another cloud phone provider also founded in 2009, only this one is based on the lush green island of Ireland. Nuacom stands for "new communication", and the company provides flexible office phone and VoIP solutions for businesses of all sizes.
Their cloud phone system boasts more than 50 features including all the communications essentials like SMS, conference calling, ring groups, and team status. The system is focused on desk VoIP phone systems but you can also use desktop and mobile apps for greater mobility.
What makes Nuacom a good alternative to Vonage?
Nuacom offers a lot more features than Vonage, with a focus on teams that mostly work from an office and do a heavy amount of outbound dialling. The merchant does offer customers a "free modern VoIP phone" but you will need to read the fair usage terms and conditions.
If you want a truly untethered business communications platform, then solutions like Dialpad will give you the flexibility you need.
Pricing
Plans for small to medium-sized businesses start from £9.99 per user, per month. However, you will need to get in touch with Nuacom to get a personalised quote.6
8. Bitrix24
Bitrix24 offers a dizzying (and at times confusing) array of business solutions. They provide an IP telephony service that is well-rounded enough for both internal and external calling. This includes apps for a virtual call centre and a website builder.
Instead of the flexibility provided by a platform like Dialpad that has native integrations and open APIs, Bitrix supplies its own tools for CRM, calendar, and project management. This can be a good thing if you aren't already using other platforms, otherwise, it can be a real headache when it comes to making the switch.
What makes Bitrix24 a good alternative to Vonage?
Bitrix24 gives businesses a Vonage alternative that can be a jack-of-all-trades business solution. While many of its included tools may not be as powerful as building your own stack, they should theoretically at least play nice together.
Startups might be especially interested in using many of the "non-VoIP" features like the website builder and Kanban boards.
Pricing
Plans with Bitrix are priced a bit oddly when compared to most. You pay for usage instead of users–costs can quickly get out of hand if you overdo it! Freelancers may be able to squeak by with the cheap and cheerful freemium option that allows for 5 GB per month.
Most businesses will find they will need at least the Standard plan that starts at £93 per month for 100 GB.7
Find the best Vonage alternative for your business
As you can see, there's no shortage of alternatives if you don't want to use Vonage for your external and internal communications.
Depending on what you need (whether it's AI-powered features like real-time transcriptions, or an integrated cloud contact centre solution, or both), there are very strong providers for a range of industries in this list.
If you're in the market right now, might we suggest trying out Dialpad? Not only does it give you free unlimited VoIP calling within the UK, local numbers, virtual number capabilities and competitive rates for international calls... It also comes with a host of unique artificial intelligence features like keyword tracking on calls, live sentiment analysis, and much more.
See how it works now!

Try the best Vonage alternative on the market
Want to try a Vonage alternative that's easy to use and set up? Sign up for a free trial of Dialpad—it takes just a few minutes, and you'll get a virtual business number too! Or, book a personal walkthrough with our team!
1vonage.co.uk/communications-apis/pricing/?icmp=megamenu|mainnav_products_gotothecommunicationsapispage_quicklinks_pricing
2goto.com/pricing/meeting
3ringcentral.com/gb/en/office/plansandpricing.html#office
48x8.com/products/plans-and-pricing
5bcallhippo.com/pricing/

6nuacom.ie/prices/
7bitrix24.uk/prices/