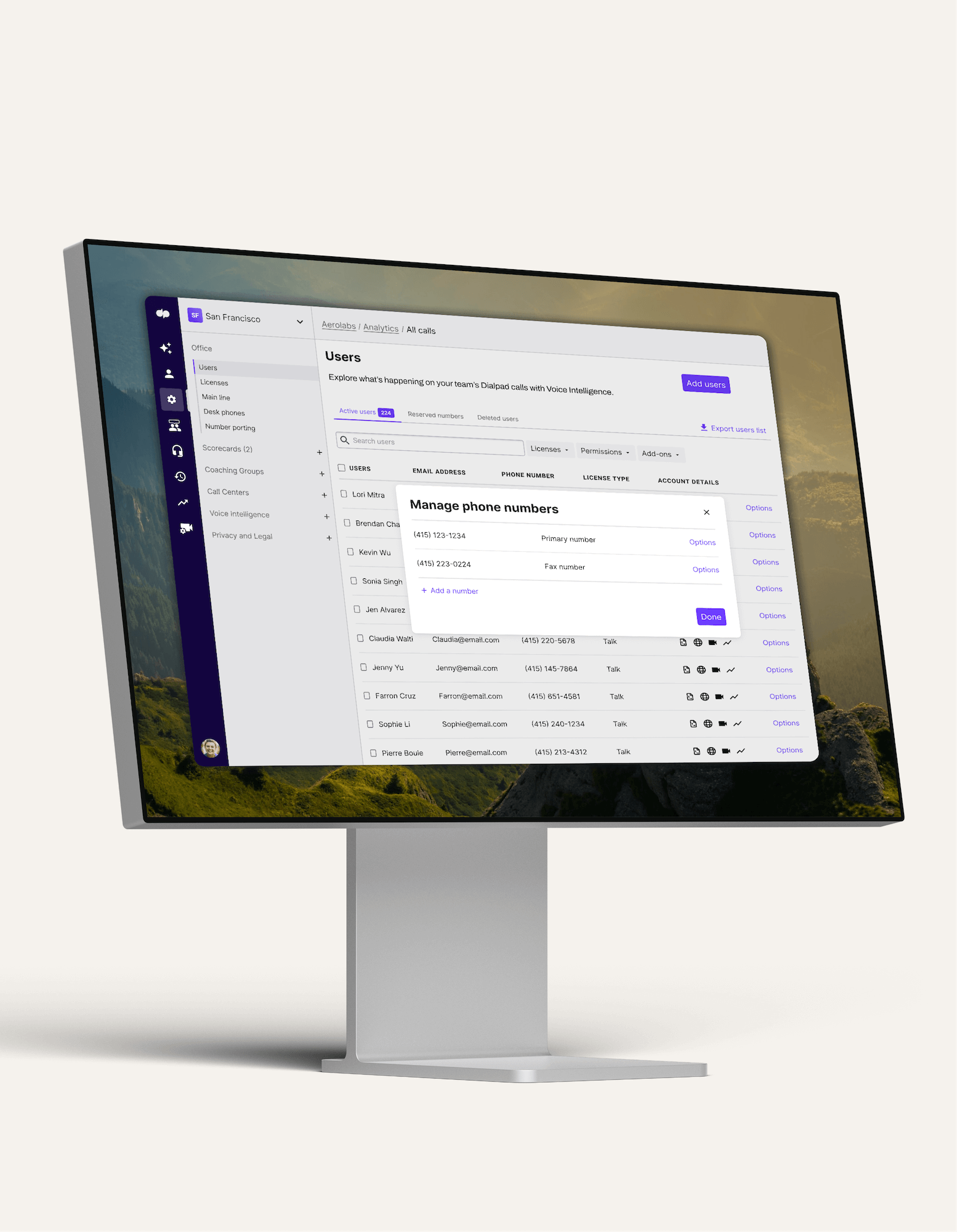 work from anywhere
Get a VoIP number for your business
VoIP technology gives you cheaper phone calls, excellent call quality, and flexibility. With Dialpad, you can use one number for all your business communications, make calls from anywhere, and enjoy smart features like call routing, call recording, and custom caller ID even when calling from your mobile. Sign up with Dialpad to get set up with a VoIP phone number in minutes!
Sign up for a free 14-day trial!
What is a VoIP number?
Unlike traditional landlines, VoIP (Voice over Internet Protocol) systems use an internet connection to make and receive calls. VoIP numbers are virtual—they don't have to be tied to a specific location or device—so you can use them anywhere, on anything from a mobile phone to a computer.
How to get a VoIP UK number
If your business is based in the UK or you want to reach UK customers, you'll likely want a UK VoIP number. Although there are some free VoIP calling services available, your best bet is to sign up with a dedicated business VoIP provider who can give you full functionality and reliability.
The first step is to check that you have a decent internet connection and then select a VoIP vendor. When you sign up with Dialpad, for example, a new VoIP number is included in your package. (Or you can choose to "port in" your existing numbers—more on that later.)
Since VoIP numbers are virtual, it's also possible to choose a local number with an area code outside your region or country. This helps you establish a presence in your chosen area, even if your business is not physically based there.
For instance, if your main office is in London but you have customers in Birmingham, you could use an 0121 number to call them. People are more likely to answer calls that come from their local area.
Why get VoIP phone numbers with Dialpad?
Set up in minutes
Start a free trial with Dialpad, and you'll be assigned a VoIP telephone number to use right away (you can then keep using it if you decide to subscribe). There's no equipment to install; just download the app to your phone or computer (or plug in your IP desk phone) and you're ready to work from anywhere.

Excellent call quality
Dialpad is able to provide top-quality voice and video calls via VoIP, thanks to its global voice network and split cloud architecture. As long as you have a reliable internet connection, you won't experience glitches while you're having an important conversation. Enterprise plan customers are even guaranteed 100% uptime SLA.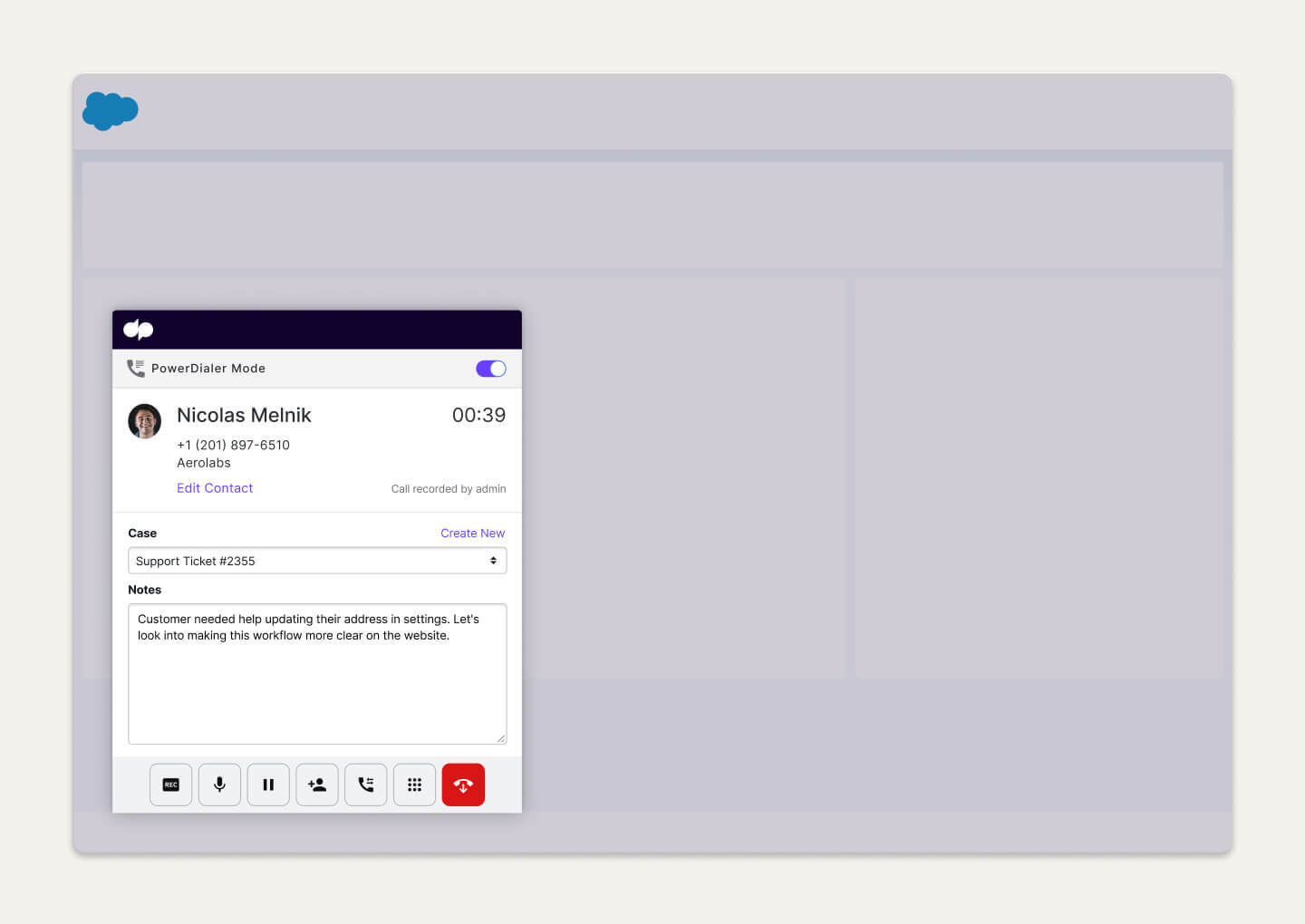 Integrations with your favourite tools
Dialpad's unified communications platform is packed with features, but it also integrates with your favourite business apps and tools. Productivity improves when users don't have to toggle between systems, and you can create a flexible tech stack for your changing needs. Dialpad automatically syncs data and activities across tools like Zendesk, Salesforce, and many more.
Excellent customer support
When you sign up with a reliable provider, you shouldn't experience problems—but if you do need a bit of help, Dialpad is here for you. The Pro and Enterprise plans come with worldwide 24/7 support via phone and live chat. You can also visit the online Help Centre any time to find FAQs and useful articles.
Get started with a VoIP number for your business with a free trial of Dialpad!
It takes just a few minutes—even faster with your Google or Microsoft 365 account. Or, take a self-guided interactive tour of the app!
Other features you get with Dialpad (in addition to a VoIP number)
Auto attendant
An auto attendant acts as a receptionist for your business, providing a professional welcome to callers and directing them to the right place. The system works around the clock, and you can set it up to deliver different greetings for specific days or times or invite callers to leave a message.
Visual voicemail
It's not always a good time to listen to a voice message. Visual voicemail solves that problem. Dialpad's AI technology automatically converts audio messages to text and emails them to your inbox. You can read the transcripts at your convenience and pass them on to colleagues, and both files are stored for future reference.
Call routing
Callers hate to be kept waiting, but with call routing, they don't have to be—the smart system quickly routes all inbound calls to the most suitable agent based on availability or skill set. Dialpad makes it easy to set your own routing rules and adjust them whenever you need to. You can also set up an IVR menu.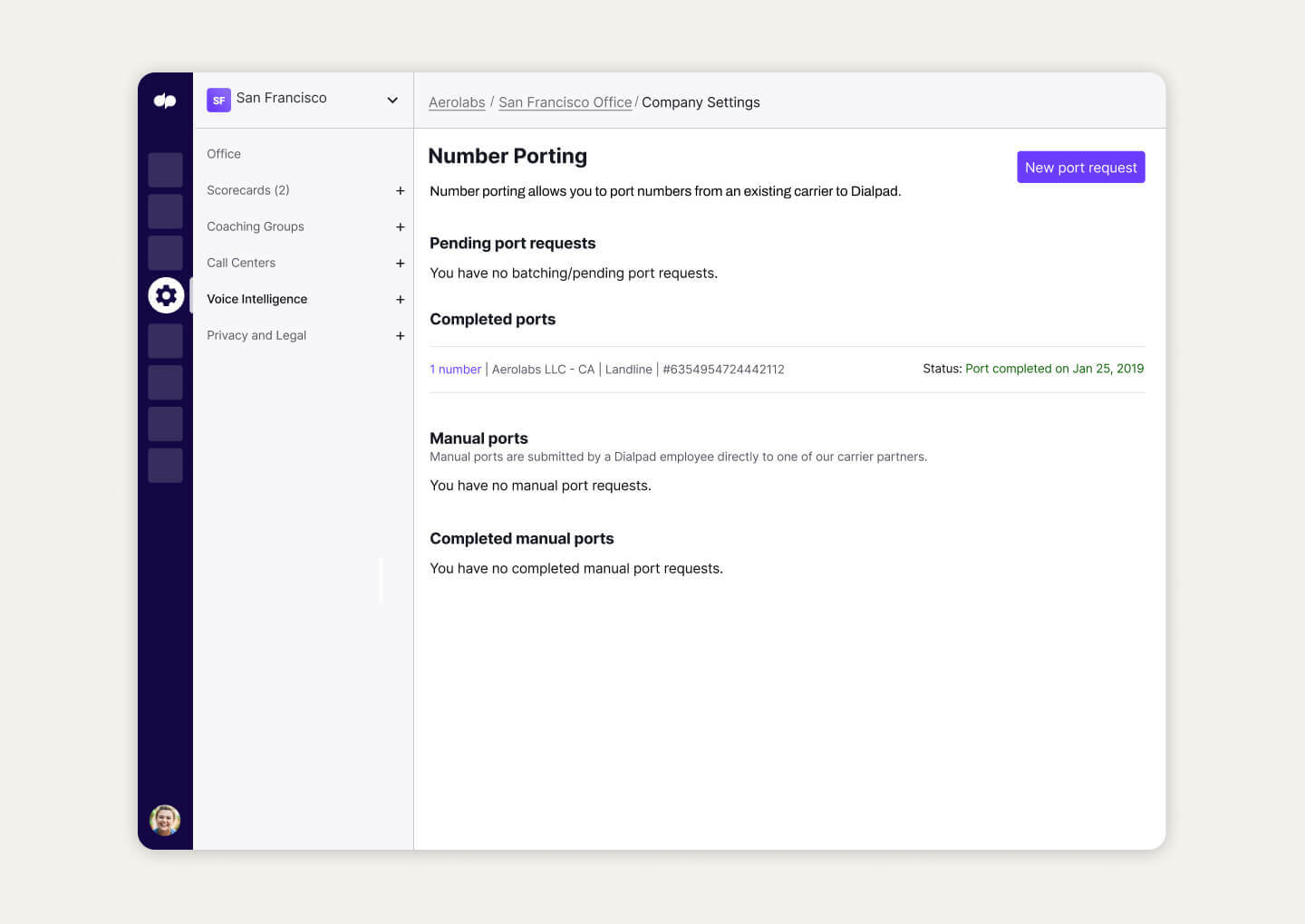 Number porting
If you don't want the hassle of changing your business phone number (and why would you?), Dialpad lets you bring it with you. This is called number porting, and it enables you to continue using existing numbers from a mobile phone, traditional phone company, or even a different VoIP provider.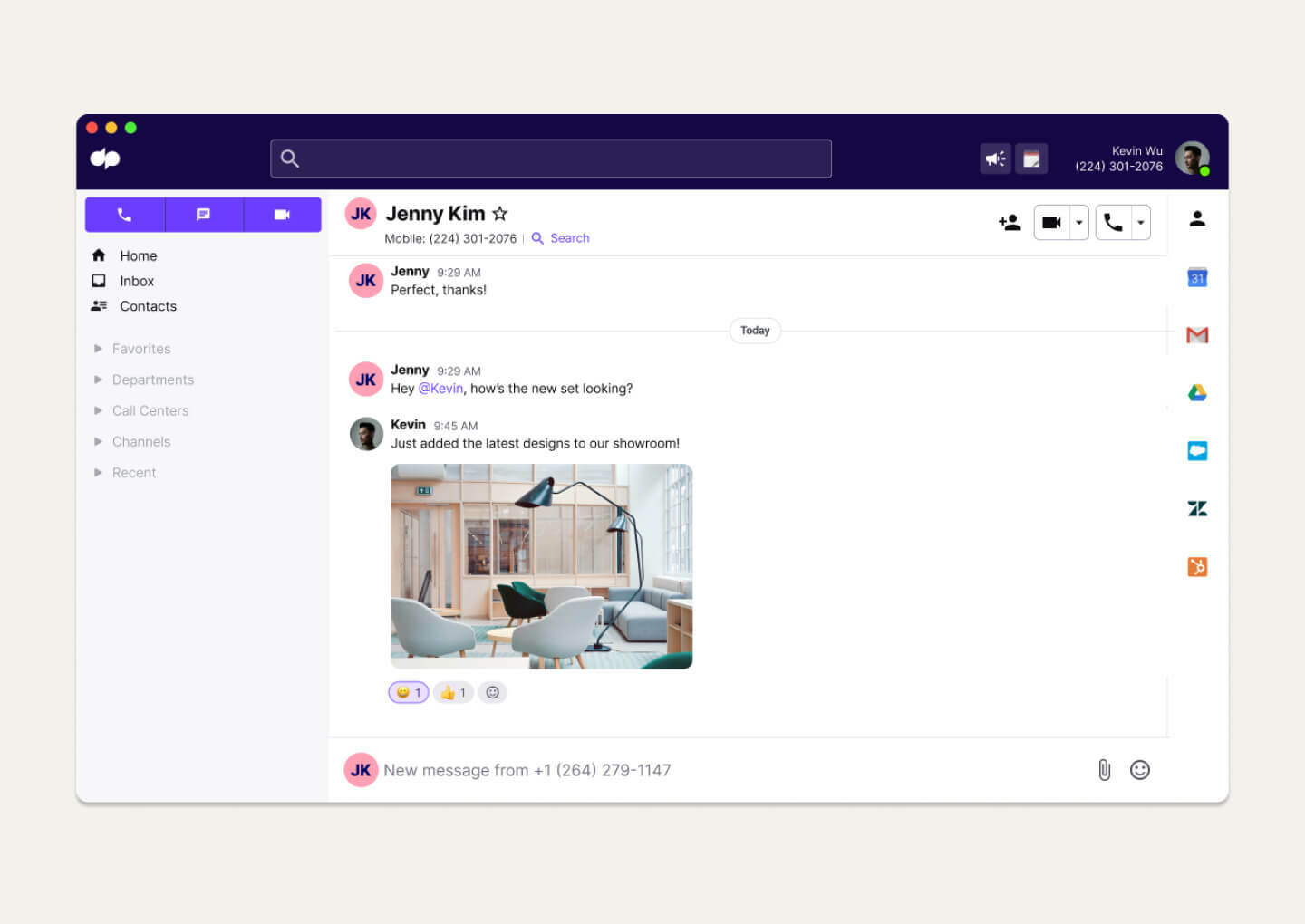 SMS and instant messaging
Some conversations don't require a phone call. Dialpad also gives you SMS, MMS, and group messaging for when you just need a quick chat or an update. You can communicate with your team or people outside the company from the desktop or mobile app. If they don't have the app, Dialpad automatically sends the message as a text.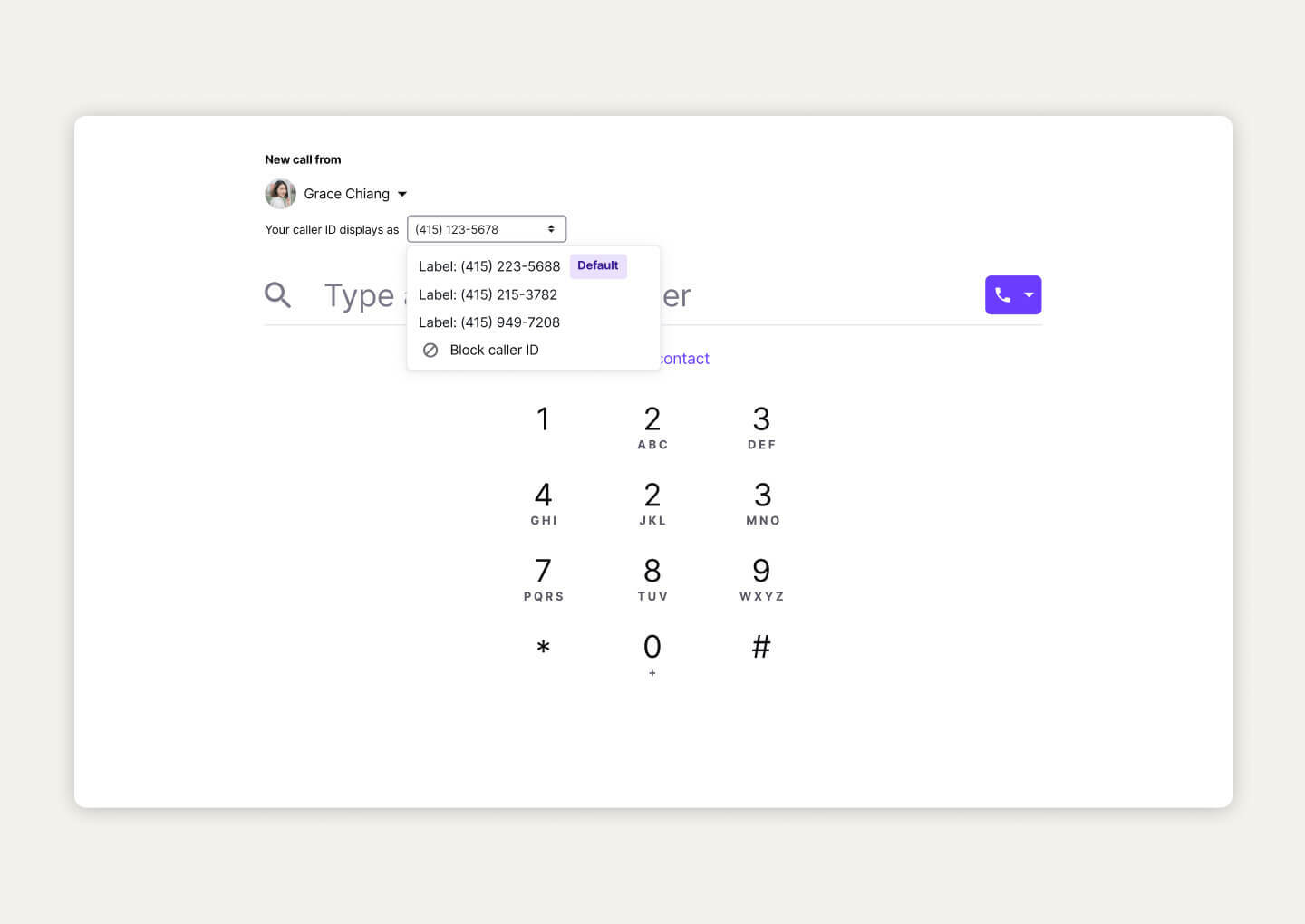 Custom caller ID
Dialpad gives you the ability to choose the caller ID profile that displays when you call someone. You can show a business number (the main company number or a specific department) to protect your privacy when using your personal phone for work, or display a local number with a recognisable dialling code.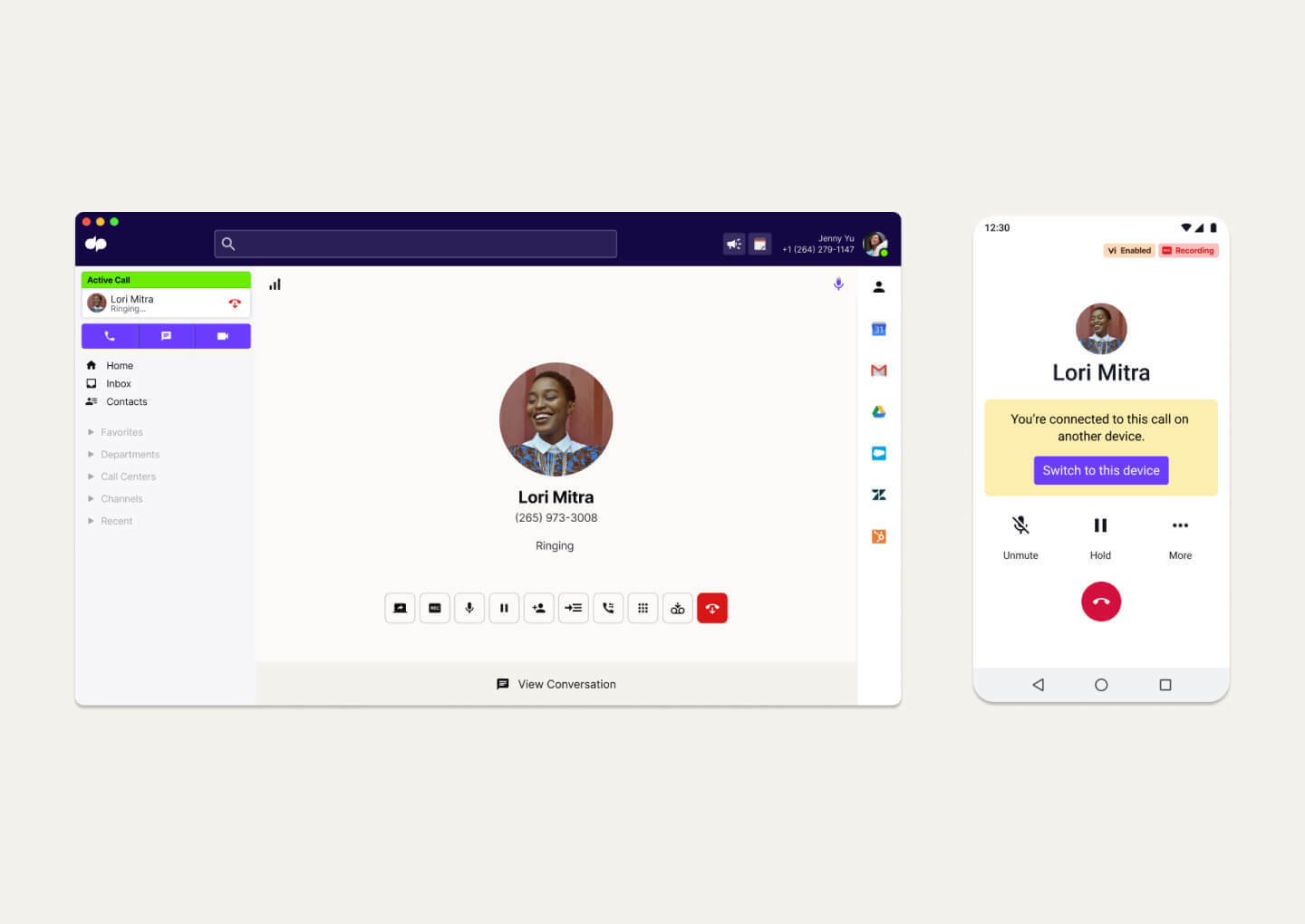 A desktop and mobile app
Dialpad's desktop and mobile apps work across all internet-connected devices, from iOS and Android to Mac and PC. Users get exactly the same experience on both versions, and you can even flip a call between different devices mid-conversation. People who don't have the app can join your video meetings from a web browser—no download required.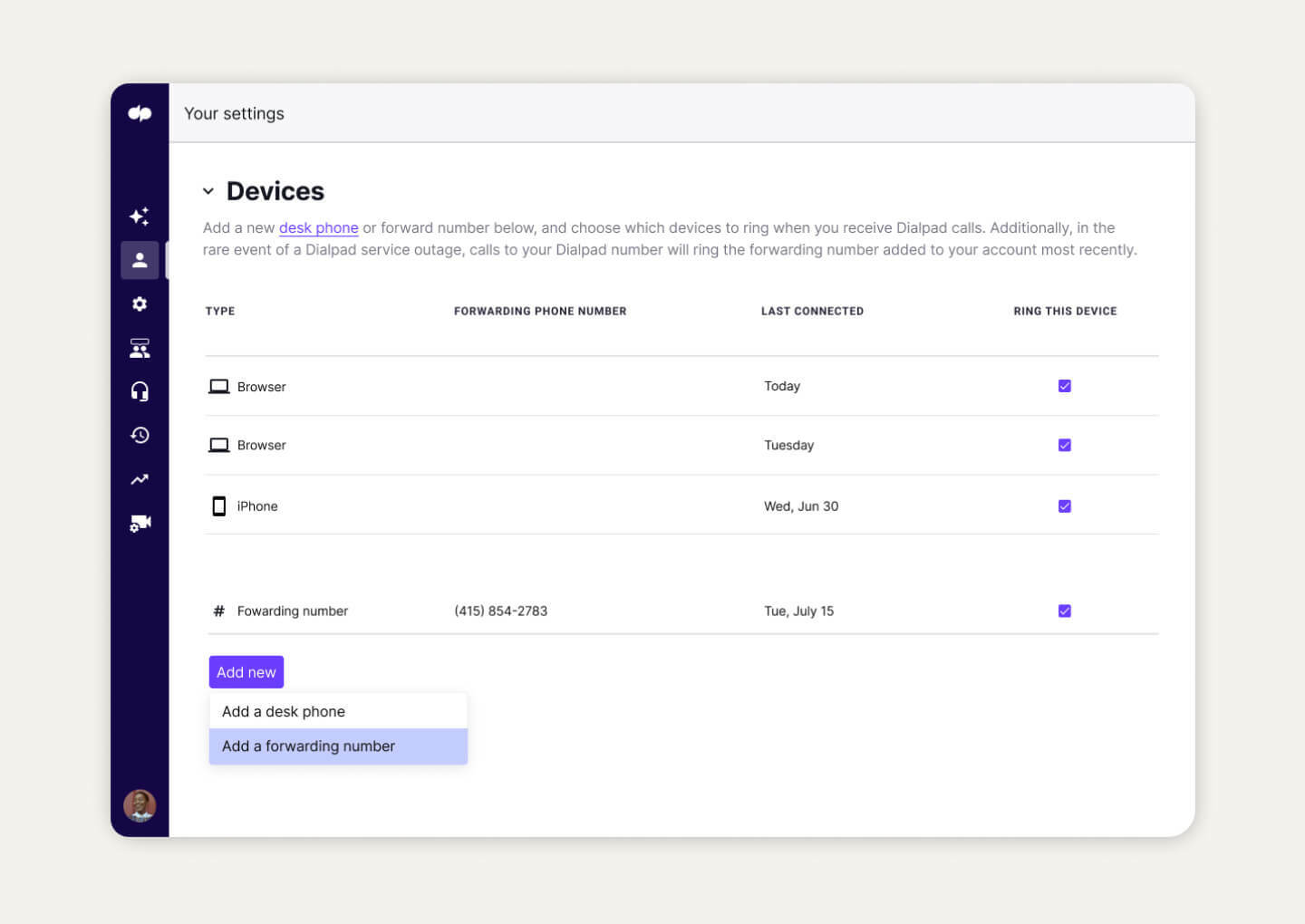 Call forwarding
The call forwarding feature gives you further flexibility, as you can take calls from anywhere or divert them to a different landline or mobile number. You can nominate up to five call forwarding numbers, enabling you to pick up work calls on your mobile or pass them over to a colleague if you're busy.
The big differences between VoIP numbers and landline
Cost
VoIP plans are typically less expensive than the cost of a regular telephone service (or mobile phone contract). That's because VoIP taps into your existing broadband connection and transmits data by the fastest route, making calls cheaper.
Most VoIP providers let you make free calls, instead of charging by the minute. Dialpad is no exception, giving you unlimited calling in your country (plus the US and Canada) even in its lowest-priced plan.
VoIP telephony also means you don't have to pay for the infrastructure of a traditional phone line-based or PBX system, with wiring, desk phones, and line rental for each user. You'll save on installation and maintenance, and the only essential piece of hardware is a router. Turn computers and mobile devices into softphones by downloading VoIP software, or use dedicated IP desk phones if you prefer.
While some businesses install a VoIP phone system on their premises, you're better off with hosted VoIP. With a cloud-based system owned by your vendor, you don't have to worry about maintenance or upgrades. You just pay a monthly subscription for what you use.
Dialpad, for example, gives you loads of smart features in one unified package, including conference calls, video meetings, and messaging. This represents real value for money. (If you want to keep your traditional desk phones, it's possible to convert them for VoIP using a plug-in analogue telephone adapter or ATA.)

Flexibility
An internet phone number gives you a degree of flexibility that you can't achieve with traditional landline numbers. As we've mentioned, VoIP numbers don't have to be tied to a particular device or location. That means multiple devices can use a single virtual phone number, even if they're spread across more than one branch of your business.
VoIP is also ideal for remote and hybrid work, as employees can make and receive calls from anywhere on the same business number (and access the same data and messages as their office-based colleagues).
Because there are no physical phone lines to install, you can set up new employees in minutes. Just download the software or plug in an IP phone, and that's it. VoIP is fully scalable, especially as Dialpad makes it so simple to add or remove users and numbers in your online dashboard when you need to: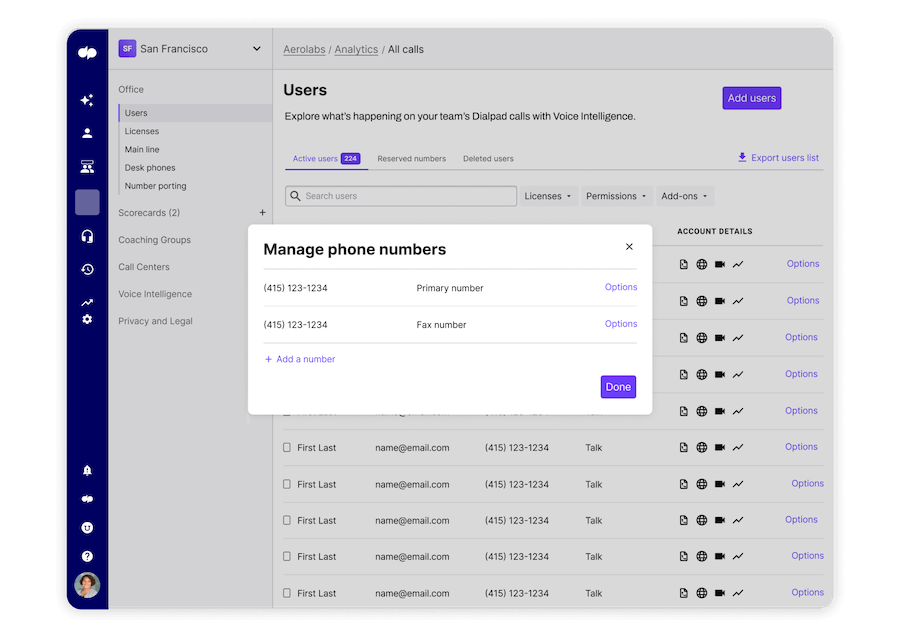 Dialpad's features also give you more flexibility, including the ability to forward calls to different numbers or flip calls between devices. You can change routing rules or auto attendant greetings in a few clicks, and port in your existing number (or take it with you if you ever leave Dialpad—not that you will!).
International/distance calling
VoIP phone services are low-cost or even free when you're making regular calls, but what about long-distance and international calling? Good news; those rates are cheaper too. It's all due to the way VoIP technology works.
With traditional PSTN phone calls, you're being charged on the basis of distance. If you call someone who's far away, it takes more time for the signals to arrive, and the circuits have to remain open for longer. However, VoIP uses the internet to route calls along the most efficient path, meaning the provider doesn't need to charge so much.
This is a real bonus for companies that make lots of long-distance or overseas calls. If you're thinking about expanding your business or client base into other countries or regions, VoIP is the way to go. Its flexibility will also help you recruit employees from anywhere.
Get started with a business VoIP number in minutes
Sign up for a free 14-day trial to get set up with a VoIP number and try out Dialpad!
Are VoIP numbers any different from other phone numbers?
There are many reasons why VoIP numbers (or IP phone numbers, as they're sometimes called) are different from regular phone numbers. For one thing, they're assigned as part of a VoIP telephone system that gives you cheaper calling rates than traditional phone companies.
VoIP numbers are also much more flexible because the number isn't tied to a single device or location. You can take calls on any internet-enabled device, from anywhere. You can choose a virtual local number to attract customers in a different region, or use one main business number for all your branches.
However, the way you use a VoIP number isn't all that different. On an IP phone (or analogue phone fitted with an ATA), you still punch a keypad to make an outbound call or pick up the receiver to take an incoming call. In Dialpad's desktop or mobile app, you tap or click on the keypad, or start typing a number to view your contact list. You'll also be notified when a call comes in.
Can I use an existing number for VoIP?
Is it possible to trace the owner of a VoIP phone number?