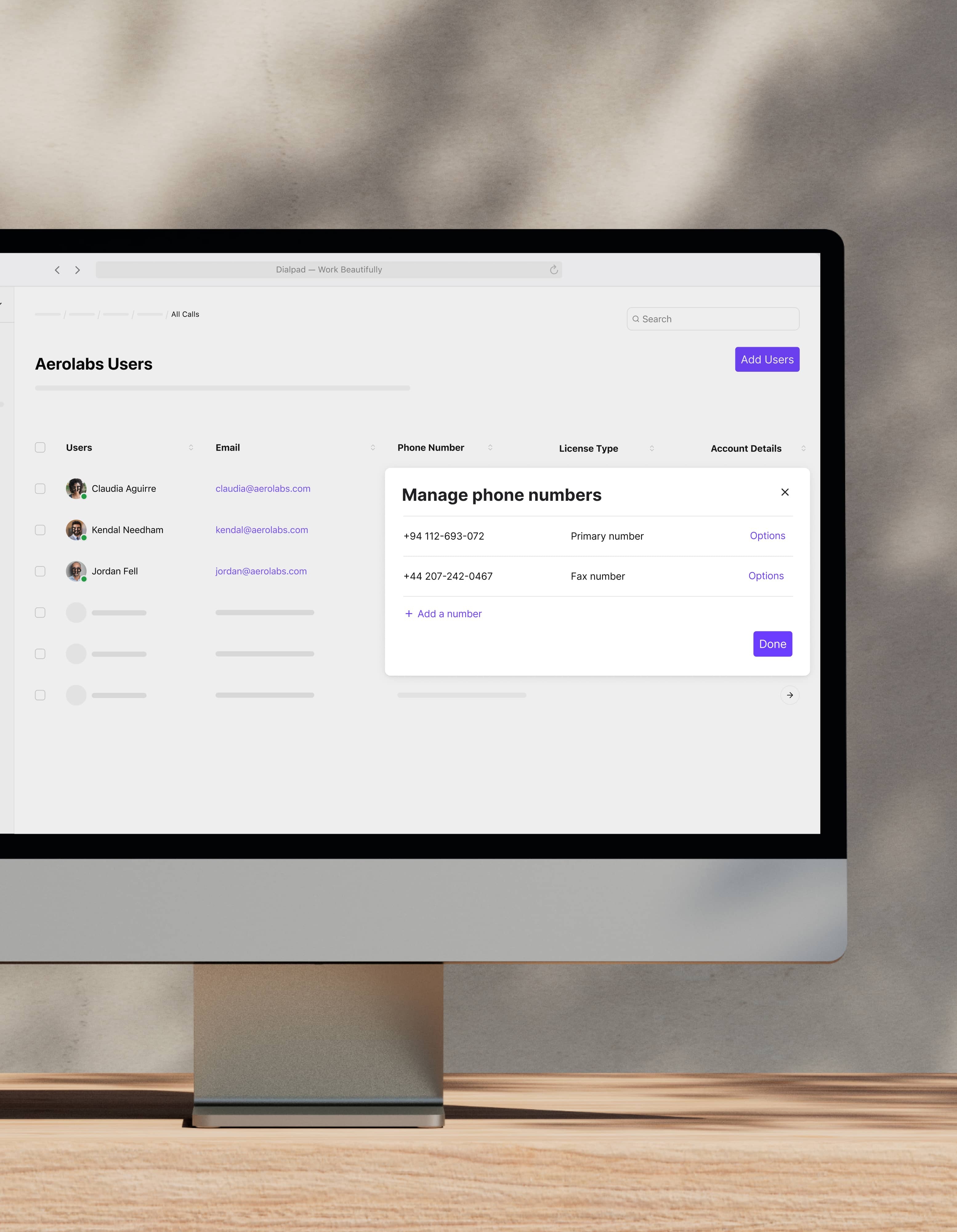 Phone extension
With phone extensions, you and your team can quickly make internal calls. Not only that, but they're a self-serve way for callers to route themselves to different people and departments in your business. Get extensions on all Enterprise plans with Dialpad's unified communications platform. See how it works with a demo!
What is a phone extension?
A phone extension is a short business number, which you dial to reach an individual or department. Typically, it consists of a handful of digits.
An extension phone option enables everyone in your business to easily connect to each other. It's also a way for customers to reach specific team members without being subjected to lengthy auto attendant menus. Many large businesses identify phone extensions as essential to daily internal and external communications.
You can also link extension numbers to marketing campaigns and determine their success by gathering meaningful phone system insights.
How to set up a phone extension number on Dialpad
As we mentioned, Dialpad Enterprise plan customers receive phone extensions as standard (plus local phone numbers and unlimited office locations).
To set up your office phone extension, login to your Dialpad account and head to Admin Settings > Office > Users. Then follow these steps.

Select Options > Calling > Add Extension for each team member.

Enter a four or five-digit extension number, then go ahead and Save.

When you need to add or edit extension numbers, duplicate the steps above and choose Edit Extension instead of Add Extension. If you want to remove phone extensions entirely, select the Remove Extension option.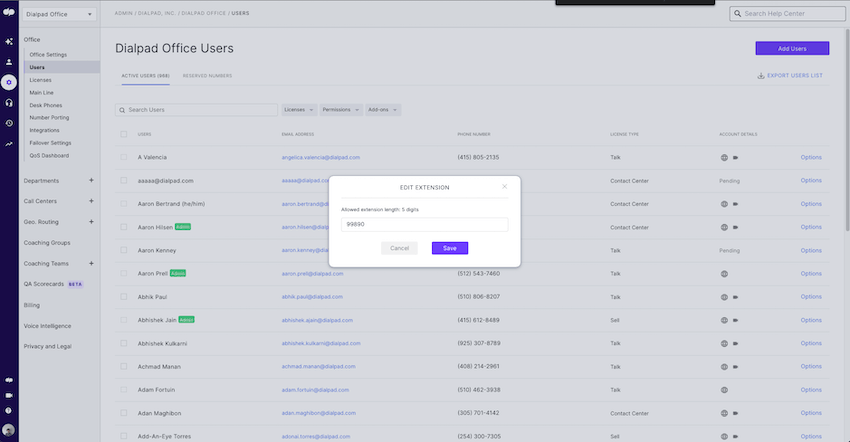 To locate an individual team member's extension number, simply direct them to User Settings > Profile.
To enable outside callers to reach your team members via extension, you'll need to be on Dialpad's Enterprise plan and have assigned extensions to your users.
Don't call it a phone system: Get more than just phone extensions with Dialpad

Truly unified communications
Make VoIP calls, host video meetings, and send team messages, all from a single desktop or mobile app. Or, if you (or your clients or prospects) don't want to download any apps, you can use Dialpad on a web browser. You can even make calls from a browser, too.

Easy call routing
Dialpad's call routing functionality automatically routes callers to the right person or department—no secretary needed. You've got a few routing options, such as by skill level, idle time, or round-robin style. There's also an IVR feature that lets callers self-service and find answers to common questions. For resource-strapped small businesses, this is a great way to reduce the burden.


Setup in minutes
Set up and add phone number extensions with a few clicks in your online dashboard. Dialpad is designed to be easy to administer and manage with minimal IT help. From managing user accounts to updating your voicemail settings, you can complete your everyday tasks in minutes.
Call recording
Something else that most VoIP phone systems don't come with? Unlimited call recordings. With Dialpad, easily record calls for quality assurance and training. For added security, there's an API that automatically pauses recording when sensitive information is being discussed (agents can also do this manually).
Get more than just phone extensions with Dialpad
See how easy it is to add extensions with Dialpad's unified communications platform. Book a product demo to see how it works or, take a self-guided interactive tour of the app on your own!
Integrations with other tools you're using
Dialpad integrates with a wide range of business tools and CRMs like Salesforce, HubSpot, and Zendesk to automatically log calls and activities. For example, it can let you make phone calls from inside your CRM, auto-creates contacts, and populates meeting invites with the video conferencing link.

Meet Dialpad Ai
One unique thing about Dialpad, which almost no other business phone system has, is its built-in AI. From transcribing calls in real time to tracking keywords (like competitor names and how often refund requests come up) and live sentiment analysis, there are various ways it can make life easier for support and sales teams.

Plays nice with any device
Dialpad is compatible with desk phones, mobile handsets, and also Mac, iPhone, and Android devices—basically, whatever computer or phone you use. Dial out, take inbound calls, send texts, and more while you're on the go. No landlines, phone cables, or hardware are needed, making it super DIY-friendly.
Bonus feature: Click-to-call
You can also use the click-to-call feature, found in Dialpad's extension for Chrome, to make calls even more easily. Other names for this are click-to-dial and click-to-talk.
This feature provides you with a phone service inside Chrome, enabling you to click phone numbers on a website to make a call. Functioning in real time and using VoIP technology, it can drive time savings within your business.
All you need to use this feature is a Chrome browser, together with a Mac or Windows desktop or mobile device.
Dialpad's click-to-call integrates with your CRM system, too, which your sales agents will love. It lets them launch outbound calls with a click, and see customer information in one place when they're talking to them.
To use click-to-call from Chrome, navigate to your Dialpad account and select Settings > Extensions > Dialpad Extension > Details.
Choose Extension Options > Use this Dialpad app to place all calls. Then make your selection from either the desktop app, web app, or Chrome app.
Once you've completed these steps, this extension option will be your default choice for placing calls using the click-to-call feature from Chrome.
Click-to-call can be a powerful addition to your business. From driving conversion rates to saving agent call time, it's worth checking out.
The benefits of adding a VoIP phone extension for your business
Better use of VoIP system features and resources
Implementing VoIP phone extensions (also known as Direct Inward Dialling or DID), minimises the number of lines assigned to your business and takes up less bandwidth.
This is because VoIP technology grants each team member a virtual phone number without requiring their own physical phone line. VoIP phone extension numbers can be used with any premium-rate, local, toll-free, or mobile number.
VoIP phone extensions are a useful addition to forward-thinking businesses that need to scale staff up and down depending on the season. During busy periods, you can add new phone extensions for each new team member. During quieter times, you can easily remove these using Dialpad's intuitive dashboard—no IT experience required!
More convenient communication for internal use
Businesses with distributed teams benefit from phone extensions, as they make it much easier to get hold of team members quickly.
However, smart communications platforms like Dialpad have click-to-dial features too, so you can just click a team member's name in the app to call them, removing the need for manual calls. With Dialpad, remote teams can make and receive calls from anywhere and on any device (desk phone, mobile phone, laptop, you name it) using extensions.
You can also send instant or SMS messages and conduct video meetings—all from the same place.
Enhanced call management processes and better customer interactions
Being able to connect customers directly to the team member or department they want to talk to is customer service 101.
When inbound callers can route themselves, your business's phone lines remain free and there's no need for a switchboard, which is a win-win.
Provide a direct line to team members and departments in the UK with an extension number
For popular departments within your business, like billing or customer service, your main call routing menu will have things covered.
For businesses with fewer inbound calls or more niche departments, a phone extension option may be a better choice. One use case for this is individual team members that need to receive direct calls from customers or prospects.
With Dialpad, all Enterprise plan customers get virtual phone extensions at no extra cost. To manage internal and incoming calls more easily, get a product demo of Dialpad to see how it works.

Get phone extensions included with Dialpad's unified communications platform
Make phone calls, have video meetings, send team + SMS/MMS messages—and yes, manage phone extensions and incoming calls too—with Dialpad. See how it works with a demo, or take a self-guided interactive tour of the app on your own!
FAQs about phone extensions
What is a phone extension example?
A phone extension number uses your main telephone number as its source.
Let's look at an example of a telephone extension. Say a business's regular phone number is 0345 523896. Janet in accounts has her own extension number (122). If an external customer calls to speak to Janet, they'd dial 0345 523896-122.
If Patricia from sales wants to speak to Janet, she would simply dial 122 to be directly routed to her.

How do you add an extension to a phone number?
What do I need to know about phone extension codes?