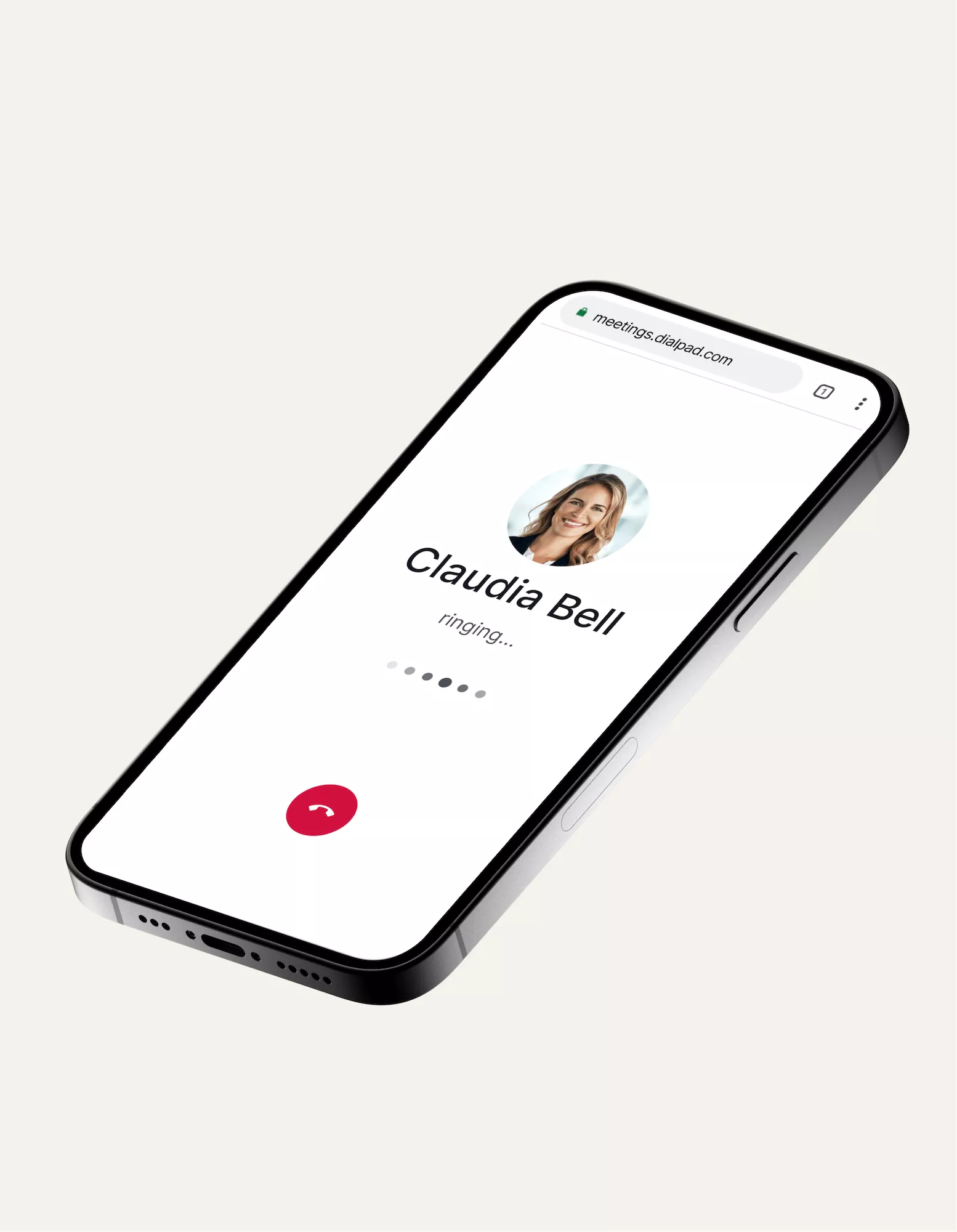 Make phone calls on your web browser
Wish you could make calls from Google Chrome, Firefox, Microsoft Edge and more? Dialpad's click-to-call from browser feature lets you make calls directly inside your web browser—there's no need to download a separate app. Sign up for a trial to get started with a virtual phone number in minutes!

Sign up for a 14-day free trial!
Making and receiving calls straight from your browser, simplified
How much easier would it be if instead of copy-and-pasting numbers from your browser to your phone or an app, you could simply click on a phone number and call from your browser?
WebRTC is the open-source HTML framework that makes this possible, allowing you to make VoIP calls from your web browser. And, unlike many other VoIP providers, Dialpad's unified communications solution has WebRTC built right into its platform.
This means that you don't need to download separate apps to perform web-based VoIP calls. Dialpad has fully browser-based capabilities for the ultimate, streamlined web calling experience.
To make web calls with Dialpad, log into Dialpad from your web browser (you can use the Chrome extension or plugin, Firefox, Microsoft Edge—you name it). From there, you can use the click-to-call functionality to make instant outbound calls.
Say, for example, you see a call button in a client's email signature or on a company's web page. Instead of having to dial that number into a different device, you can click on the phone number to instantly make a call. It really is that simple!
Do more than just calling from a website
Dialpad gives you more than just phone calls. You can also have video meetings and send instant + SMS/MMS messages from your computer or mobile phone—or just use a web browser, of course!


Truly unified communications
Whether you want to make phone calls, send an SMS or have a video meeting with screen sharing, you can do all that in one place with Dialpad. No need to toggle between windows or tabs and no need to pay for multiple tools.

Plays nice with different devices
From iOS to Android to PC and Mac, Dialpad lets you make calls and communicate via different channels across a range of desktop and mobile devices.

Easy call forwarding
Never miss a call again. With Dialpad, you can set up a maximum of five call forwarding numbers so that calls automatically get sent to a colleague, your mobile phone or even another landline if you can't pick up.

Customisable caller ID
Want to make work calls from your personal mobile phone, but don't want to give away your personal number? Dialpad lets you customise your caller ID so that you can show your business number when you're making calls from the app on your phone.

Do-not-disturb mode
Need to take time to do some deep work? Just turn on DND mode and Dialpad will block your pop-up notifications and send your incoming calls to voicemail.

Integrations with the tools you love
Using Salesforce, HubSpot, Microsoft Outlook or other tools? Dialpad integrates with a wide range of software to embed a dialler right inside those CRMs so that you can make a new call directly from there without having to switch back and forth between windows.
Make online calls more efficiently with Dialpad
If you want to make calls online, Dialpad's click-to-call from browser feature streamlines your call workflow and maximises productivity. And that's not all. With Dialpad, you can upgrade your business phone system with call recording, call transcriptions, visual voicemail and much more. Sign up for a 14-day free trial or take a self-guided tour today!

Want to upgrade your business phone system?
Dialpad can give you a whole lot more than phone calls, all in one affordable package. Sign up for a 14-day free trial to try it out! It takes just a few minutes to get started, and you'll be set up with a virtual phone number too. Or, take a self-guided interactive tour of the app first!
FAQS about calling from a browser
How does web calling work?
Web calling works using WebRTC technology. WebRTC (which stands for Web Real-Time Communication) is an open-source HTML5 specification that is compatible with pretty much all of the world's most-used web browsers, including Google Chrome, Firefox, Opera and Safari.
WebRTC enables real-time communications through a web browser. These communications are known as web calls, which are essentially browser-based VoIP calls.
What is VoIP? VoIP (Voice over Internet Protocol) is a technology that lets you make calls over an internet connection. It converts audio signals into digital data signals (known as "packets"). These packets are compressed, sent over the internet, decompressed and presented to the receiver in their original audio form.

How much does Dialpad cost?
Do I need to pay for the Chrome extension?
Can I enable restrictions on the Chrome extension?
What can I do if I accidentally call a number?
Is the Chrome extension required?
Can I uninstall the Chrome extension?
Can I still get HD calls by calling from a browser?