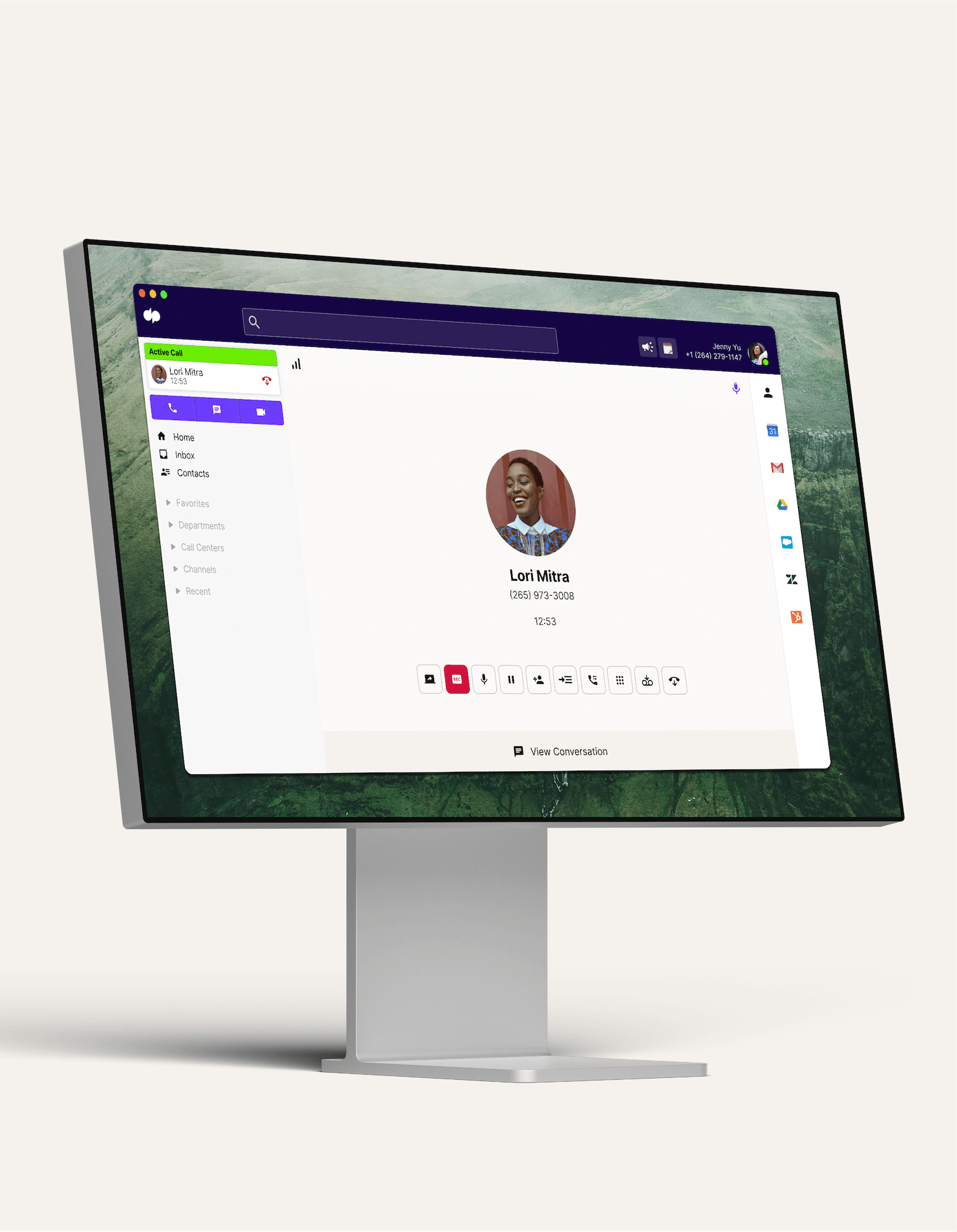 Call centre recording
Call recording can bring serious improvements to your contact centre performance. From improving training, to ensuring compliance, to helping agents upskill on their own time, call centre recording solutions are helpful in a variety of ways. Learn more about Dialpad's contact centre recording feature by booking a product tour.
How does call centre recording work?
Put simply, call centre recording is the logging of inbound and outbound call activity.
A good software provider should come with this feature included. For example, with Dialpad, you don't have to record everything, you can toggle call recording on and off as needed and even set it to stop automatically when sensitive topics such as payment information come up.
Dialpad's call recordings can include both the audio of a conversation and screen activity. So, you can see the steps an agent took to solve a customer's problem by screen recording their workflows.
So why would you bother to record calls? Can it really make a difference in how you train your new hires and improve the customer experience? Yes and yes.
Having these call centre recordings lets you do things like confirm details from conversations, ensure compliance, and even improve training by understanding customer interactions better.(And as we'll see later, you can store data safely to comply with local regulations while recording phone calls.)

Dialpad: Not just your standard call centre recording software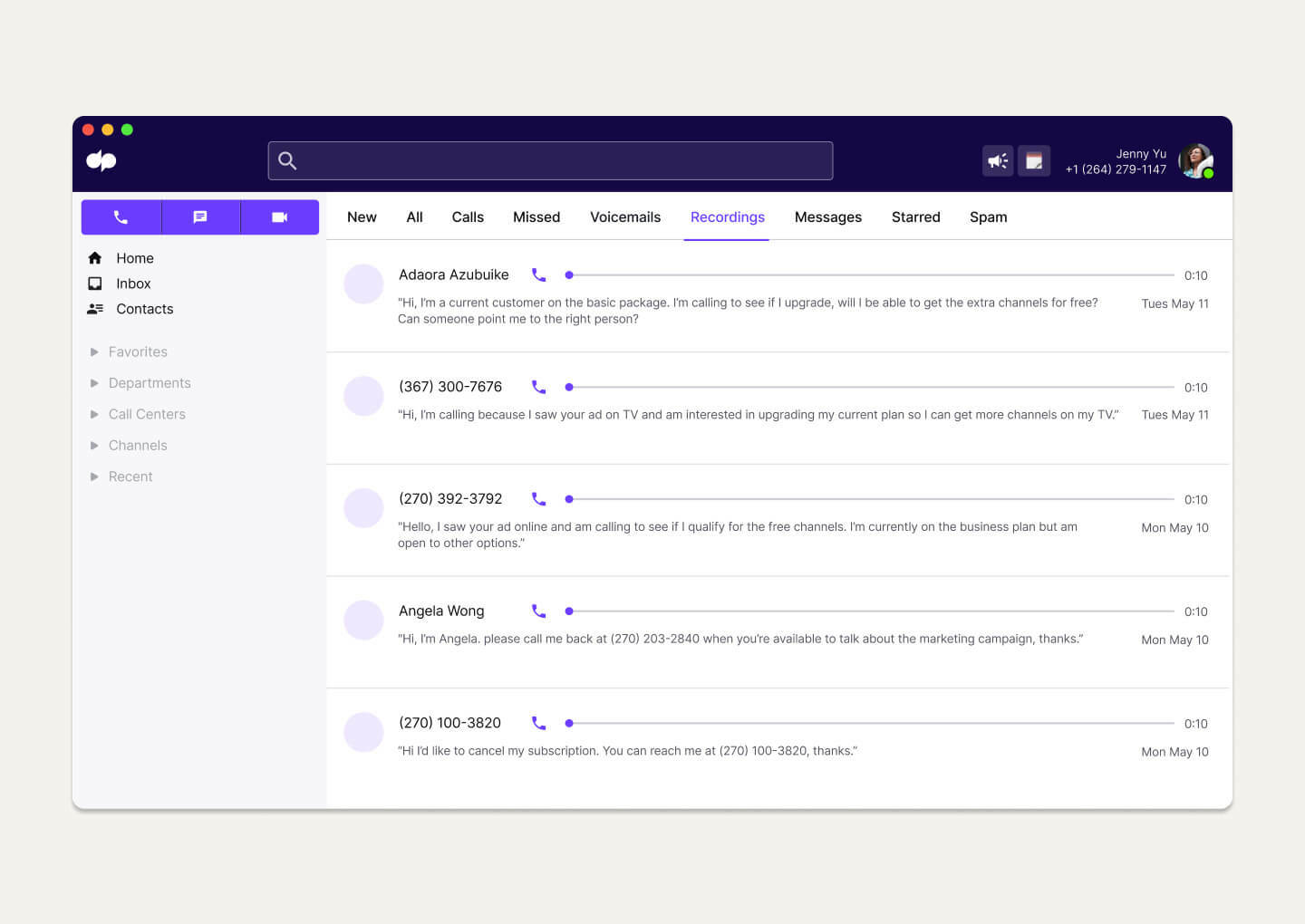 Self-guided training
How can you do quality and call management at scale? Recorded calls can be an easy way for new hires (and even experienced agents) to learn on their own and stay up to date on how to field calls.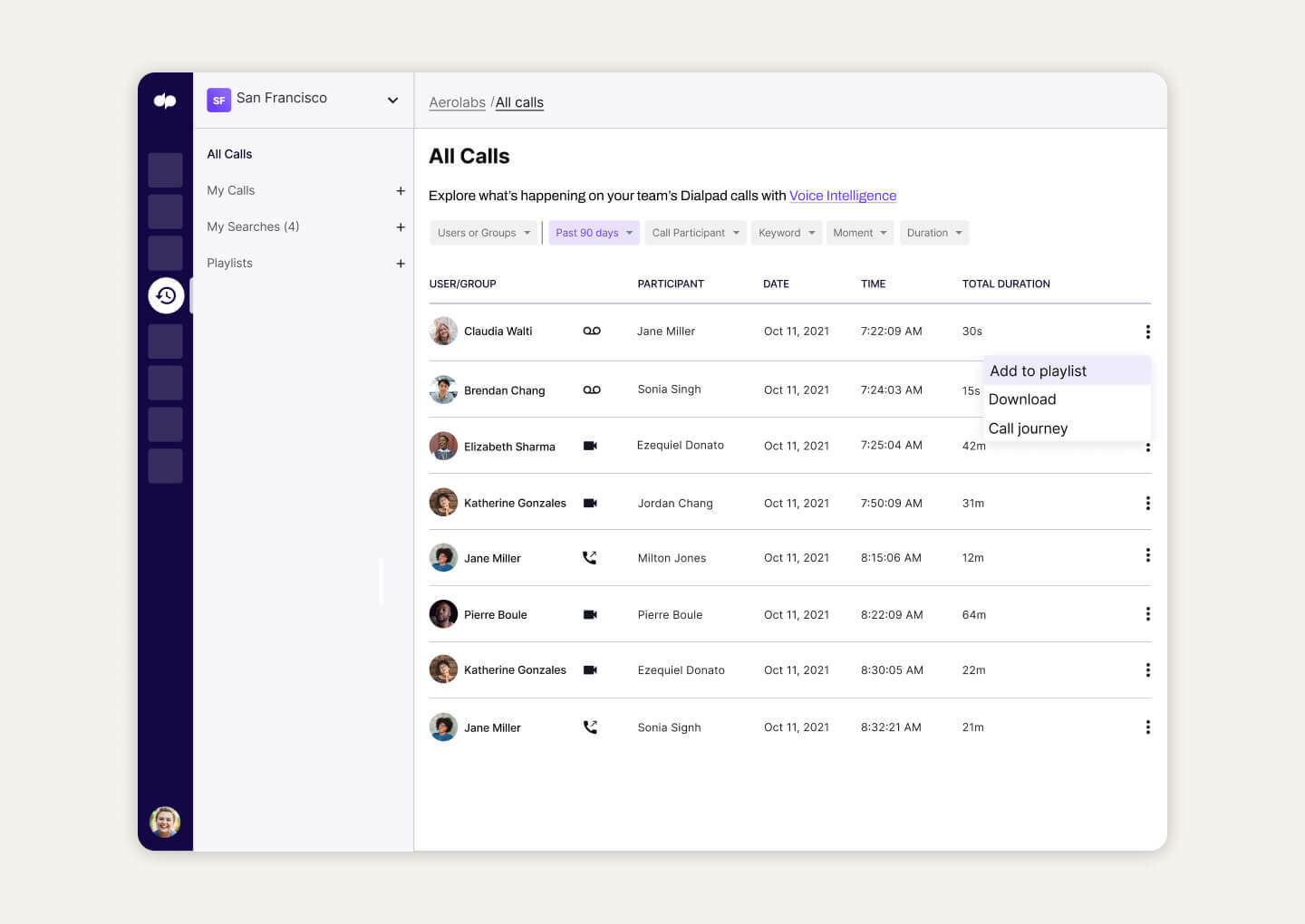 Create coaching playlists
In Dialpad, you can also create a playlist of customer call recordings that highlight where there's room for improvement—or show agents examples of excellent call handling.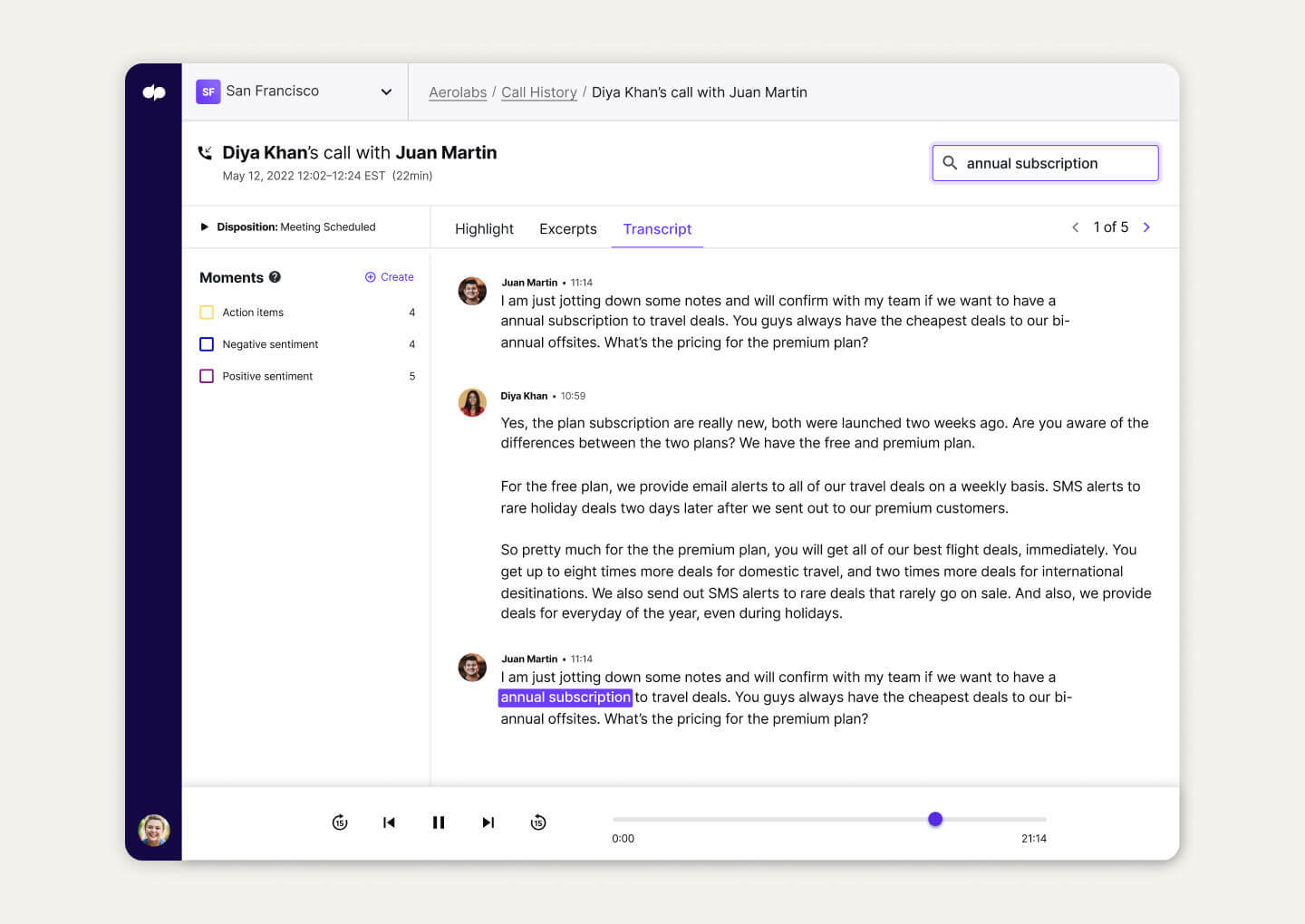 Post-call summaries
Not only does Dialpad allow you to record calls, it also automatically sends out a convenient post-call summary email with the recording, call centre transcripts, and action items so that agents can review how things went.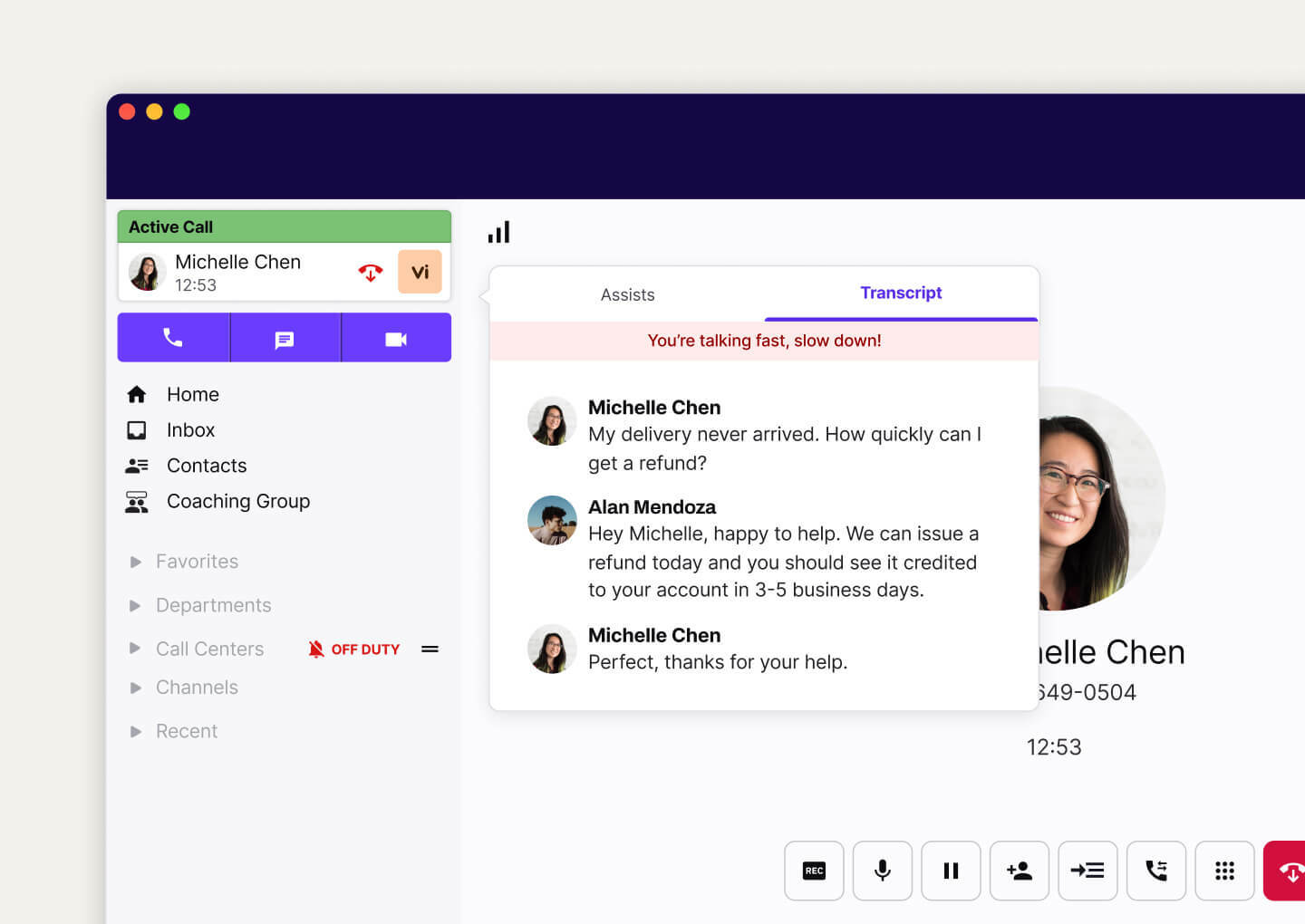 Real-time transcription
For contact centre supervisors who have to oversee many agents, Dialpad's speech and voice analytics technology transcribes calls in real-time. This helps with call monitoring for supervisors, and allows them to scan multiple active calls (and jump in if needed). It's the perfect compliment to call recordings.
Better live assistance for agents
When reviewing call recordings, you may notice that certain tricky questions keep coming up from callers. In Dialpad, you can create a Real-Time Assist (RTA) card, which is like a cheat sheet with tailored notes. Set it to trigger automatically on an agent's screen when certain keywords or phrases are spoken!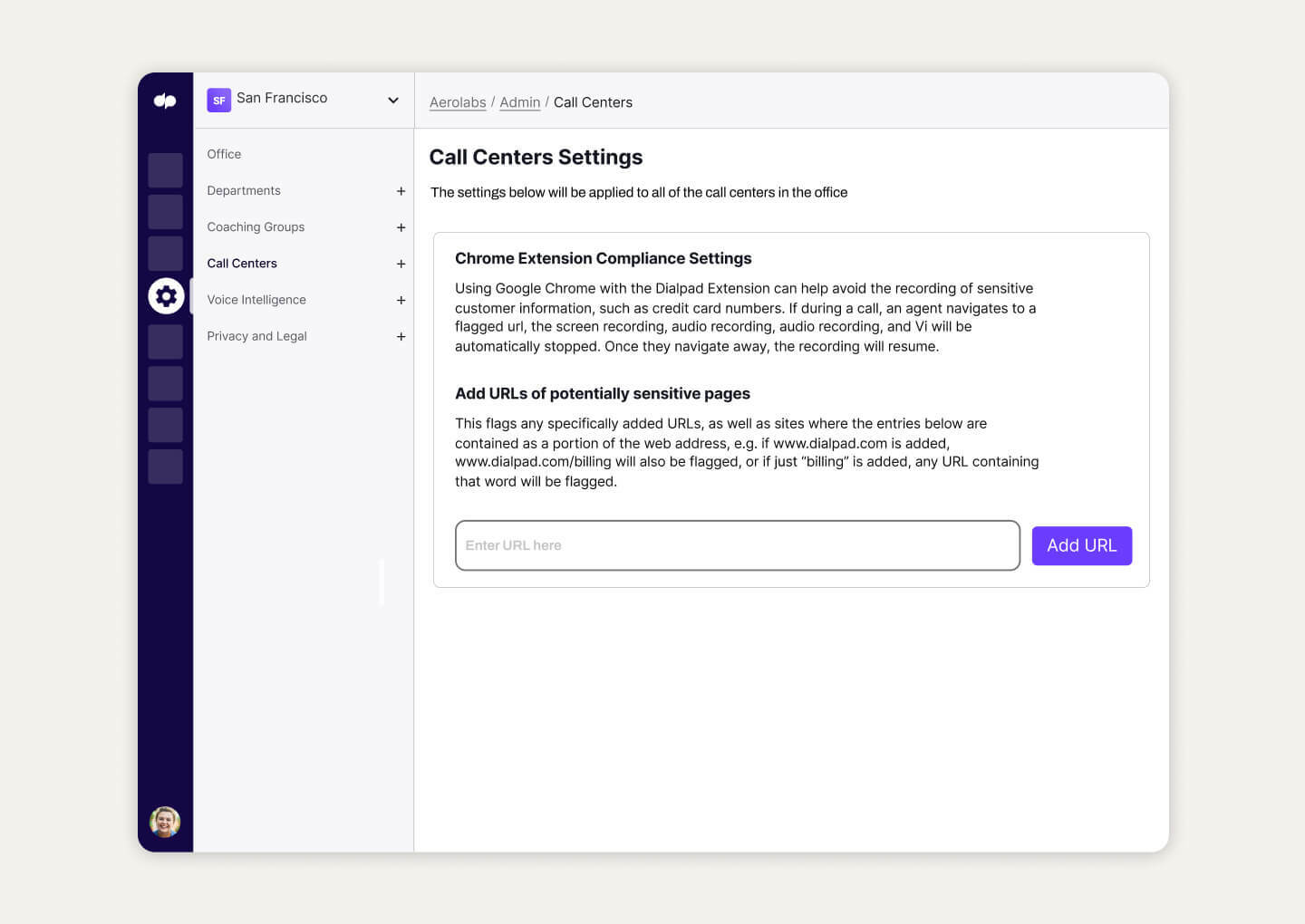 Robust security features
Dialpad's recording and APIs allow agents to automatically pause call recording and/or transcription when they're taking sensitive information. (For example, when they open up a particular screen or field to take down personal information—and restart recording/transcription once they close that window.)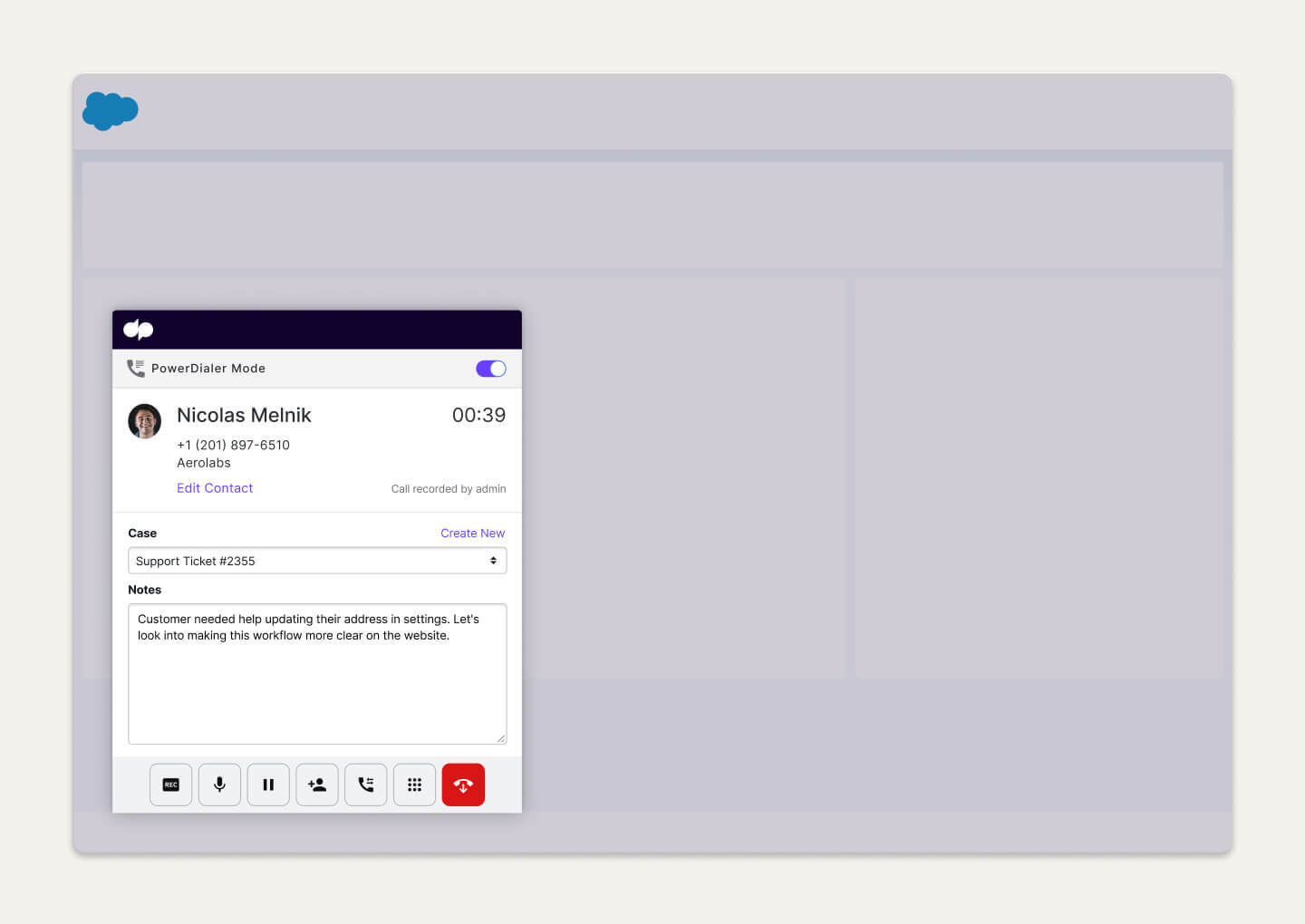 Integrations with CRMs (and more)
Dialpad integrates with CRM software like Salesforce, HubSpot, and Zoho CRM to automatically log calls and activities for agents—and even embeds a CTI dialler to allow them to have phone calls with customers right in the CRM.

Need better compliance and dispute resolution?
Book a product demo to see how Dialpad's call centre recording feature can make that easier for your agents and supervisors! Or, take a self-guided interactive tour of the app on your own first!
"
We love that we can jump right in on Dialpad, pull call recordings, and listen to those. And we can set it so that recording starts automatically, so we don't have to say 'Don't forget to hit record on the call.
"
Will Musto
Director of Operations at The Roman Group
3 types of call recording software or systems
Different types of call recording setups are good for different things, so think carefully about what you want from your call recording functionality.
Contact or call centre recording software
Contact or call centre software can take audio recordings of inbound and outbound calls. Platforms like Dialpad can also provide screen recordings and voice transcriptions of what's said. These audio files, transcriptions, and so on are then stored within the contact centre platform, giving easy access from the dashboard to anyone who needs to review them.
Solutions like Dialpad allow live call monitoring, too, so supervisors can make sure agents are providing a good customer experience.
If this sounds like something you need, pick a platform that will scale with you. Contact centres can grow very quickly, so you need a solution that can accommodate rapid expansion.
An integrated solution like Dialpad ticks this box. As our call recording software is fully integrated with the platform, you won't need to replace it as things progress. Everything is in one place and capable of scaling at speed.
Call recording via PBX phone systems
This is the "old-fashioned" way of doing things. PBX stands for Private Branch Exchange. It's a telephony system that uses a landline to create private phone systems within a business. With PBX, you can make internal and sometimes external calls. There are lots of different types of PBX, including VoIP, analogue, and ISDN. Most of these (with the exception of VoIP) require a landline connection and a physical desk phone to work.
PBX system admins can set up call recording features, although it's not as easy as using those on an integrated UCaaS platform. You might have to negotiate with your PBX provider both to record calls and to access audio files for quality assurance and other purposes.
Third-party call recording software
If you don't introduce your own call recording facilities, your agents will use whatever's available to them. This may be apps, their phone's voice-to-text feature or even old-fashioned audio capture devices.
This isn't a great solution. While it can work if you're a small business that doesn't need a proper contact centre and takes calls on the fly, anything bigger really does require appropriate call recording facilities. Apart from anything else, when everyone is using a different app or device to record calls, it's next to impossible to get any kind of consistency. Agents will be unable to access certain recordings because they were made on incompatible apps.
Then, there are the security issues. You can't possibly ensure that customer calls (and therefore customer data) are safe without a single, unified, and centralised call recording system. And if your customer data isn't safe, you could easily fall foul of regulations like the GDPR. So, unless you're a tiny business that rarely—if ever—takes customer calls, we strongly recommend avoiding the third-party route.
The benefits of using call centre recording systems
Improves operations and collaboration
Reviewing recorded calls is a brilliant way to monitor the performance of your customer support team or sales agents. For both outbound call centres and inbound customer support teams, it can quickly help you identify top performers as well as team members who may need extra support.
This enables you to optimise and improve operations. It gives insights into how you operate, how you engage with customers, and what customers want from you. All in all, this helps you understand the strengths and weaknesses of your customer interactions.
This kind of insight makes it easier for team members to collaborate on new strategies, too. A greater understanding of how your team works and greater access to interaction data is incredibly useful when it comes to collaboration.
You can also use it to tailor automated, personalised content for your voicemail, IVR (Interactive Voice Response), and in-call messages. This creates a much more relevant and personal customer experience, which makes your customers feel both heard and appreciated.
Gleans more insight for marketing campaigns
Call data can be very useful for marketing teams, but it's often left out of market research for the simple reason that it's inaccessible. However, call centre recording facilities—especially those like Dialpad's, which incorporate transcription and artificial intelligence driven features—can put a wealth of customer data in the hands of marketing professionals. At its heart, marketing is about building relationships between customers and brands. You can't build a relationship with someone you don't know.
Marketers use customer data to get to know customers better. Traditionally, they get this data from things like customer surveys and interaction analytics, but conversational data can provide much more organic customer insights. Conversational data is some of the best data around, as it gives a far more personal and "real" understanding of people than mere metrics can.
By studying transcripts, recordings and analysis from call centre recording systems, marketers can get closer to customers. They can learn directly about who your customers are, what they want, and what they respond well to. These insights in turn, enable them to create highly targeted, innovative, and effective marketing campaigns.
Ensures business legal compliance
Data protection is very important. Not only is it essential to maintain trust with customers, but it's also a legal obligation. Your business needs to take data protection seriously if it's to successfully scale.
Without regulatory compliance, your business will be in danger of falling foul of international regulations like the GDPR. This could result in severe penalties. For example, companies which break the GDPR could be fined up to 4% of their annual turnover—an amount which can (and has) run into the billions.
Things like PCI and regulatory compliance are ensured with a good call centre recording system. Dialpad lets you set up exceptions to comply with the regulations in whatever location you're calling from or to. This is particularly important if you do a lot of international calling, as regulations vary from country to country.
For example, you can set your call recording system to automatically stop recording when payment details are being discussed, as this is very sensitive information under the GDPR. However, when calling outside a GDPR area, you can easily reverse this setting if needs be.
You can even customise your call recording options. For example, recording only the agent's side of the conversation to preserve the customer's anonymity while still showing what the agent is capable of.
Increase customer service satisfaction with call centre recording and more from Dialpad
Dialpad offers the best of call centre recording software and more besides. With it, you can play back conversations to see what went well and what didn't. You can quickly scan through transcriptions, get handy hints on common topics, and use voice and conversational intelligence to gain insights into everything from customer mood to conversational flashpoints.
But that's not all. Dialpad offers a full, integrated, omnichannel contact centre with customisable phone numbers, intuitive analytics, and much more.

Need call centre recordings?
Call centre recording is one of many core features that Dialpad offers, along with real-time transcription and live sentiment analysis. Set up your contact centre in minutes!
FAQs about call centre recording
What is call centre recording?
Call centre recording is a process by which inbound and outbound calls are recorded. They can then be played back for review. It's usually done with the explicit permission of all parties over totally secure connections.
Call centre recording may involve things like transcription and analytics alongside simple recording facilities.
Businesses can use call centre recordings for a variety of purposes. They're a great tool for monitoring performance, identifying the most skilled customer service agents, and spotting where improvements can be made. They're also handy for training purposes. For instance, managers can play back examples of good and bad calls for teams to learn from.
Call centre recordings can also deliver helpful customer insights, which are useful for everything from marketing to designing new products.

What is call centre voice recording?