Back to Blog
Communication platforms: definition, types, and how to choose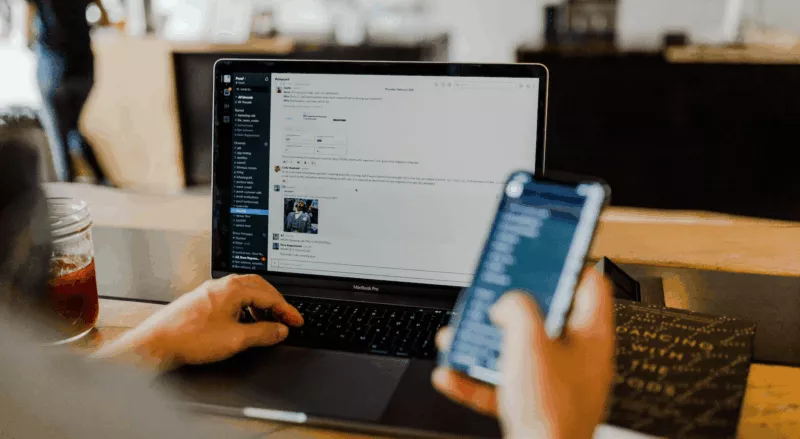 In this guide, learn about how communication platforms accelerate your company's growth far beyond real-time messaging. See which ones we pick.
As a business, you know that effective communication is key to success. But with so many different types of communication platforms on the market, it can be hard to know which one is right for your business. This guide will help you understand the different types of communication platforms available and how to choose the right one for your business needs.
What is a communication platform?
A communication platform is a software application or set of tools that enables businesses to easily communicate with customers, employees, and other parties. There are many different types of communication platforms available, each with its own set of features and capabilities.
Okay, so what is a cloud communications platform?
Nowadays, many communications platforms are in the cloud. What that means is that communication services happen over the internet and cloud storage is available so that the tools can be easily accessible. Cloud communications platforms are often used by businesses that have remote work employees or work from different locations.
How about a unified communications platform?
A unified communications platform, which can also be referred to as a "Unified Communications as a Service" (UCaaS) is a type of tool that brings together all of your company's communication channels into one easy-to-use system. This includes voice calls, instant messaging, video conferencing, and more.
Some of the benefits of using a unified communications platform include the fact that it can be easily scaled to meet the needs of a growing business and that it is generally more cost-effective than on-premise or hosted solutions. When choosing a UCaaS for your business, it is important to consider your specific needs and requirements and to make sure that the platform you choose is easy to use and has all the features you need.
It's also important to keep in mind that there are platforms that claim to be unified, but aren't truly so. For example, their contact centre solution may be white-labeled or relies on an API (i.e. they don't own or develop their contact centre technology). This results in not having a truly unified experience.
Dialpad is a truly unified communications experience, which we call "TrueCaaS", that is designed to help simplify your business communication tools and avoid app overload for your team.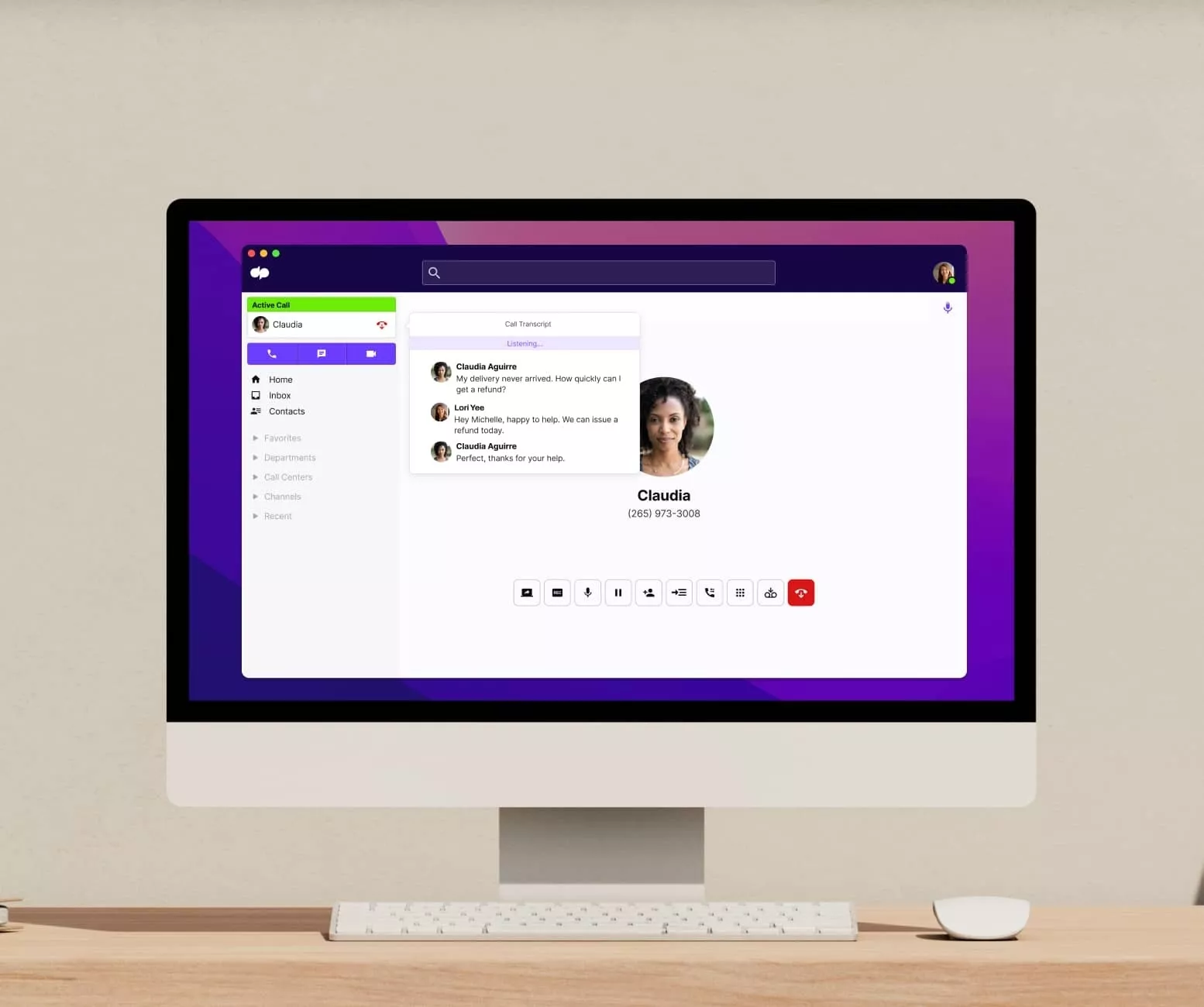 Types of communication platforms
There are several ways to categorise business communication tools. One way is by the communication channels that they support, which we'll cover in the next section.
Another method is to group communication platforms by how they are installed or managed, such as on-premise, hosted, cloud-based, and hybrid.
On-premise systems are installed and managed on your own premises, usually by an in-house IT team. They can be expensive to set up and maintain, but you have complete control over your system.
Hosted systems are managed by a third-party provider. They can be less expensive than on-premise systems, but you may have less control over how the system is run.
Cloud-based systems are hosted by a third-party provider but delivered over the internet. They can be more flexible than other types of systems, as you can scale up or down your use as needed.
Hybrid systems are a combination of on-premise and cloud-based components. They can offer the best of both worlds, giving you some control over your system while still being able to take advantage of the flexibility of the cloud.
Lastly, communication platforms can be categorised by who is receiving the communications. For example, some collaboration tools are used for internal communications while others are used for external and customer communications. With this method of grouping, there will be some overlap since certain tools may be used for both internal and external communications.
Communication channels that you may use
There are many different types of communication channels available for businesses, from traditional voice calls to more modern options like instant messaging and video conferencing. Deciding which channels your business should use will depend on a number of factors, including the size and location of your business, the type of business you run, and the preferences of your customers and employees.
Some businesses may only need to use a few communication channels, while others may need to use a variety of channels to reach all their customers and employees. Let's go over what those are.
Voice calls
Voice calls are still one of the most common ways of communicating between businesses and their customers. They are typically used for customer service enquiries, sales calls, and other general enquiries. Many businesses still rely heavily on voice calls.

Email
Email is another very popular way of communicating between businesses and their customers. Email is generally considered to be less personal than other types of communication, but it can be a good option for reaching a large number of people at once or for communications that aren't time sensitive.
Instant messaging or live chat
Instant messaging apps like Slack and WhatsApp and social media channels like Facebook Messenger are increasingly being used for business purposes due to its convenience for customers. They are often used for quick questions or updates that don't require a voice call or email, though customers expect to hear back from a business relatively quickly when using this channel.
Video conferencing
Video conferencing platforms like Dialpad Meetings, Microsoft Teams, and Zoom are becoming increasingly popular for online meetings and conferences, as they allow people to participate from anywhere in the world. Features like screen sharing are great to help facilitate meetings amongst remote team members or with external stakeholders. Video conferencing can also be used for training sessions, webinars, and other events.

How to choose the best communications platform for your business: factors to consider
Here are seven factors to consider when choosing a communications platform for your business:
1. The communication channels that you use
Before you start exploring the different communications platforms available, you need to first identify which communication channels are you currently using and plan to use. If you primarily use email, then you will need a platform that integrates well with email. If you use SMS or chat more often, then you will need a platform that offers those features.
2. The size of your business
If you're a large enterprise with thousands of employees, you'll need a communications platform that can scale to meet your needs. On the other hand, if you're a small business with just a few employees, you might be able to get away with a less feature-rich and less expensive solution.
3. Your budget
How much are you willing to spend on a communications platform? There are solutions available at all price points, so it's important to set a budget before you start shopping around. Keep in mind that you may need to pay for additional features or capacity as your business grows, so factor that into your budget as well.
4. The features you need
What features do you need in a communications platform? Some features, like voicemail and call forwarding, are pretty much standard. But if you need more advanced features like call tracking or automatic call distribution, you'll need to make sure the platform you choose offers them.
5. Ease of use
You'll want to choose a communications platform that's easy for your employees to use. If it's too complicated or difficult to use, they won't use it and it won't do your business any good. Make sure to try out the platform yourself before making a final decision.
6. Integration with other systems
Does the communications platform need to integrate with other systems, like your CRM, phone system, or accounting software? If so, make sure the platform you choose offers the necessary integration options.
7. Security features
Since your communication platform will be a central place to access all of your customer communications, you want to be very careful about who has that information, how your customer data is processed, and where it is stored. Without the proper security protocols, messages and data sent through the platform can be intercepted by malicious actors. This can cause major security risks and can put confidential information at risk.
Best communication platforms in the UK
To help you choose the best communications platform for your business, we've compiled a list of the best platforms in different categories.
1. Dialpad - A truly unified communications platform
Dialpad is a cloud-based communications platform that supports phone calls, video calls, group chat, SMS, chatbot, contact centre, and more in one easy-to-use platform. Powered by Dialpad Ai, this tool provides you with a number of functionalities that you might not get with other tools, such as real-time transcription of your calls and live customer sentiment.

It's a great tool for both internal and external communications that covers all your business needs. It also integrates with a host of other tools and collaboration platforms that your team may already be using. The app works on different mobile devices (iOS and Android), PC, Mac, and even within your web browser.
2. Asana - Project management tool for easy team collaboration
For internal team communications, especially one that facilitates working asynchronously, Asana is a great tool to help teams keep track of different projects and also attach or share files related to a project. A mobile app is also available if you need to communicate tasks for a project on the go and receive push notifications.
3. Airtable - Project management tool for complex projects
Airtable is a flexible cloud-based database tool that enables organizations to quickly and easily store and manage data. It is designed to make data accessible and actionable, allowing teams to create and customize databases to fit their specific needs. They also provide different templates to help you get started with managing your team's workflow.
4. Google Workspace (formerly G Suite) - A communications suite with a large variety of tools
Many teams already use Google Workspace (Gmail, Google Drive, Google Docs, and more), and the reason we included it because it's a powerful suite of tools that helps teams work smarter, collaborate more efficiently, and stay connected. It enables users to create documents, spreadsheets, and presentations, and provides tools for file sharing, communication, collaboration, and task management.
5. Salesforce - Great communications tool for sales teams
Salesforce is a popular SaaS tool in addition to an industry-leading customer relationship management (CRM) platform that helps businesses manage customer data, build relationships, and increase sales. It is an essential tool for businesses to track their customer interactions, sales performance, and customer satisfaction.
Salesforce also integrates with Dialpad, making it easy for sales teams to click-to-call prospects. There are some automation features available as well, such as automatic call logging so that your team doesn't need to do unnecessary work.

6. HubSpot - An ideal platform for both marketing and sales
HubSpot is a powerful communications platform that helps businesses manage their inbound marketing, sales, and customer service activities. It is designed to help businesses track and manage their customer interactions, streamline their sales process, and increase customer satisfaction.
HubSpot also integrates with other communication software, such as Dialpad.

Better communications
When it comes to choosing a communication platform for your business, there is no one-size-fits-all solution. The best platform for your company will depend on a number of factors, including the size of your business, the types of communication channels you need, your budget, your IT infrastructure, and your team's needs.
Remember that the tool (or tools) that you choose should facilitate employee engagement, both internally and externally. You should now be equipped with everything you need to help you make a decision and find the best communication platform for your needs.
The business communications platform that's truly unified
Try Dialpad for free with a 14-day trial—talk, message, and meet, all in one place. Or, take a self-guided interactive tour of the app first!