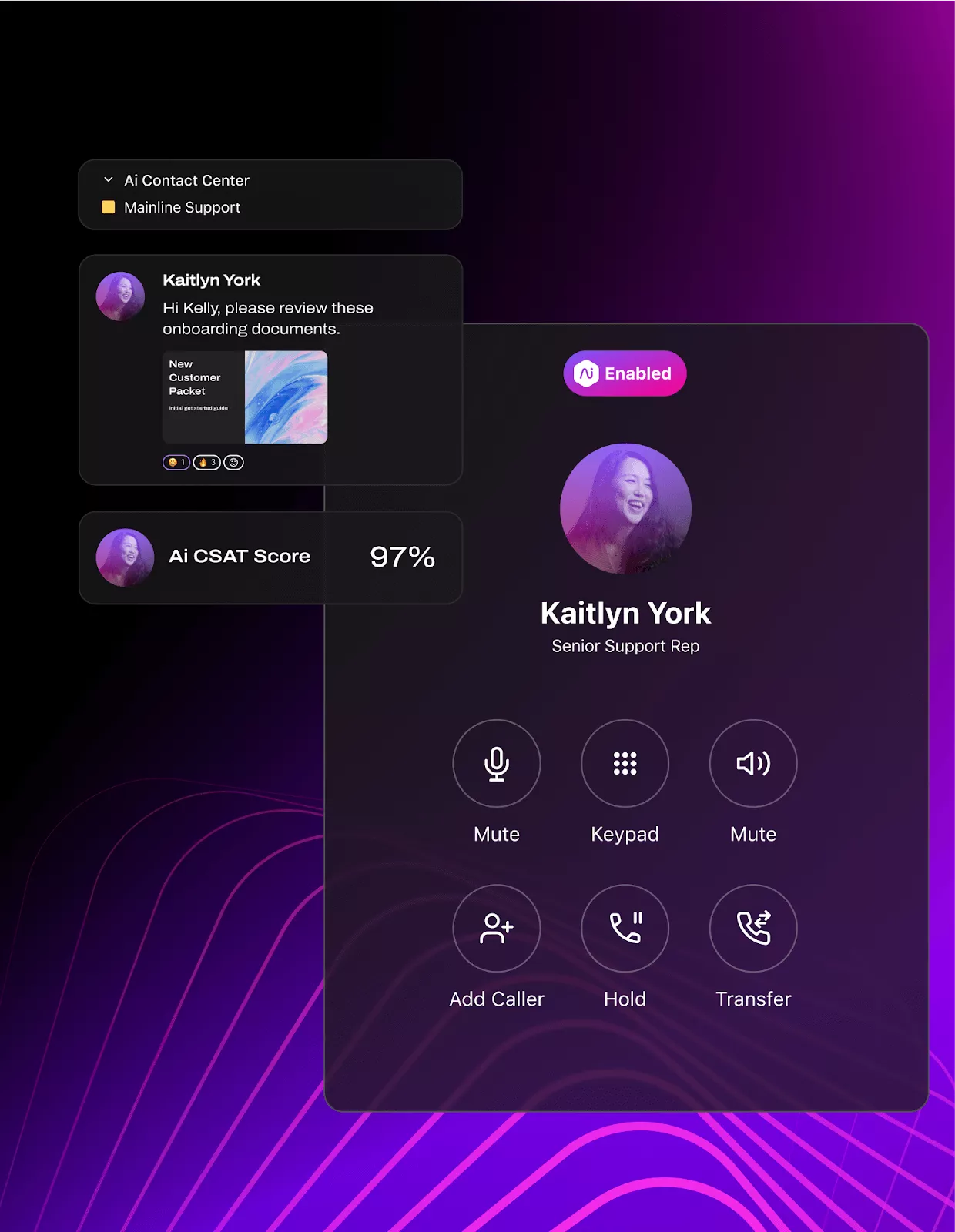 Dialpad Ai
Ai-powered Workspace and Customer Engagement
Wave goodbye to tedious app-switching and fragmented workflows.
Dialpad brings together team collaboration and customer engagement into one beautiful workspace.
Our built-in Ai assistant provides real-time transcription, note-taking, and live agent coaching to keep all your conversations moving in the right direction.
Ai-powered customer engagement
Voice Intelligence transcribes calls, analyzes sentiment, and even coaches agents in real-time.
Call Routing
Get each call to the best agent for the job every time with customizable, skills-based routing.
Auto Attendant
Help callers reach the right person or department automatically with a versatile virtual receptionist.
Call transcriptions
Transcribe every call automatically in real-time. With more than 1 billion minutes of voice transcribed, Dialpad Ai has the most accurate transcriptions on the market.
Call Analytics
Gain new insights into all your calls with real-time metrics and robust call analytics, all from a user-friendly dashboard.
Call Recording
Never miss a moment with call recording. You can record calls automatically or with a click, complete with real-time transcriptions and sentiment analysis.
Outbound Dialer
Make more calls quickly with Dialpad's power dialer, which automatically calls each customer—no more manually entering each number!
Call Tracking
Keep track of every conversation with built-in call logs, complete with caller ID and transcriptions. You'll always have a clear record of who spoke to whom, when, and what they talked about.
IVR
Support your customers around the clock with an interactive voice menu and phone tree to help direct them where they need to go.
Inbound Calling
Make it easy for your customers to reach your team with everything an inbound contact center needs to succeed.
Call Parking
Manage large volumes of inbound calls by "parking" them so that any available agent can pick up the call and take over.
Call Queue
Keep all your inbound calls organized and evenly distributed while reducing wait time with call queues.
Speech Analytics
Gain new insights from every call with voice analytics. Dialpad Ai analyzes calls in real-time, picks up on key phrases, and gleans customer sentiment while assisting agents.
What the experts say



Meet the companies that love us

"Dialpad helps us connect over 700 buildings and 16,000 conference rooms worldwide."
CHAD PIERCE
HEAD OF BUILDING TECHNOLOGY

"Dialpad Ai brings a whole new level of capabilities to our support team."
JEANNA BASH
DIRECTOR OF ENTERPRISE APPLICATIONS

"We saved over $500k on annual telephony costs and now have one global business communications platform for all offices."
ANDREW JESSETT
GENERAL MANAGER, INTERNAL IT
Have a question?
Get in touch!